Wicklow Way Relay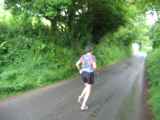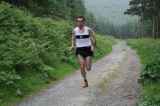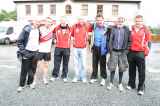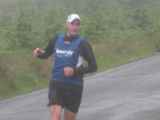 Authors
Joe Lalor
09 June, 2009
A report less concentrating on results.
We cannot really complain about the weather. It was the first bad day in eight year and was well forecast, however I was not expecting the hailstones. The exceptionally heavy rain in the afternoon did not appear to dampen the enthusiasm of the runners.
For some reason leg 1 seems to be where most folk go wrong. Being lazy this year I decided not to run as a member of a team on this leg but rather at the back in a sweeping role. At the finish I arrived behind the last runner and proudly announced that the course was clear, not so, there where two runners still unaccounted for. The problem appears to be the Mick Kellet variant. The long slow pull up on the southern side of Glencullan. After the second gate the route swings to the right with a lesser track continuing straight on. Every year someone go astray here although there is a little yellow man there.
Not much to note on the next three legs except a certain ultra runner turned left instead of right at start of leg 2 in Curtlestown and went pass the start again 20 mins. later.
From leg 5 on the old problem for teams (but what makes the event interesting for spectators) surfaced, that is getting your runner in place in time. With the new rule it was not simple getting another runner stripped off and substitute. At Ironbridge the reverse happened the handover runner was in place but did not know his team mate and lost 20 mins. The naming of some teams might have been tempting fate, Jim.
Leg 7 is long but apparently not long enough for some. I sense a few new rules in the wind.
The highlight for me was the sprint finish into the finish between Sean, Cliodhna and Diarmuid with only a few second separating them. This was a feature this year with more passing and close finishes (even a dead heat ). If anyone is interested (or able) to do Marcus Geoghegans trick of a graphical trace in real time I can send them the file. The mass starters (of which there was surprising many) will complicate this.
The pressure run of the day goes to Don Short who to use his own words had the hounds sent out to chase him down which they duly did.
The award for the most stressful get me to the start goes to Mike Long who awoke on Sat. morning in Gothenburg.
The international team award goes to Hanover, who had two runners fly in from Bermuda and one from Cologne. Team1 might dispute this but I don't know their details.
The most improved run award goes to Rene Blog whose two new pair of shoes must have done the trick.
I know you will not believe I wrote this if I don't mention parking. The award for the worst parked car goes to a silver golf parked on the road bend on front of entrance to Curtlestown Forest.
A big thank you to all my helpers on the day, Nora, Sinead, Mary, Mike, Lindie, Jane, Graham, Vivian, Moire and Paddy. All did not get credited on volunteering page as are not members of My IMRA facility
Rene Borg
09 June, 2009
Full confirmed results
Leg 1: http://www.imra.ie/ad-hoc/L1.doc
Leg 2: http://www.imra.ie/ad-hoc/L2.doc
Leg 3: http://www.imra.ie/ad-hoc/L3.doc
Leg 4: http://www.imra.ie/ad-hoc/L4.doc
Leg 5: http://www.imra.ie/ad-hoc/L5.doc
Leg 6: http://www.imra.ie/ad-hoc/L6.doc
Leg 7: http://www.imra.ie/ad-hoc/L7.doc
Leg 8: http://www.imra.ie/ad-hoc/L8.doc
Overall: http://www.imra.ie/ad-hoc/Total_Times.doc
Gerry Brady
06 June, 2009
The eight running of the Wicklow Way relay with Joe and Nora Lalor and all the race marshalls putting on yet another great day of racing in the mountains. Around 34 teams faced the starter in the morning rain. At the finish of leg one Keith Daly (Donore) had galloped away for a new leg record of 53:48 and a good gap over Ryan Montgomery (Sli Cualann) 55:38 and Kevin English (Clonliffe A) 56:00. There were gaps then to Richie Healy (Crusaders) 59:39, Aonghus O'Cleirigh (Ajax) 61:45, Martin Francis (Sli Cualann) 62:30 and Dave Dunwoody (Clonliffe & Guests) 62:45. John Farrelly (Rathfarnham) 64:24 was next ahead of ninth placed Colm Kennedy (Sportsworld) 64:40. While the course may have been a little shorter than in previous years due to a new path off Kilmashogue, the chunk taken off the record was much more so. Siobhan Duggan was the fastest woman with 79:22.
Leg 2 quickly saw Brian MacMahon (Clonliffe A) chase down the leaders and continue on for a new course record of 59:26 or ninety-six seconds off Gerry Healy's 2004 leg record. Not many would have thought the hour was possible on this leg although it had been discussed in earnest on a recce of the leg the previous Sunday! Places behind him were changing as late substitute Eoin Keith (Clonliffe & Guests) 68:57 moved into second and Peter O'Farrell (Rathfarnham) 68:03 put Carrauntoohil well and truly behind him before next week's European trials with a good run into third just ahead of Robert Healy (Crusaders) 72:54. Further down the field Paul O'Connell (Sportsworld) 68:02 gained ground while DSD runner John Eves in his first hill race ran a remarkable 62:27 for the second fastest leg of the day and fourth fastest ever. Jackie O'Hagan was the fastest woman in 86:27.
Karen Duggan 32:49 started leg 3 with a 17 minutes lead over Rathfarnham and she had a great run to maintain a sizeable lead although Caitriona Jennings (Rathfarnham) 30:20 came through for second taking Jean Carr's leg record in the process (have a look at the course photos to see just how fast she was running) and beat Donna Mahon's 2008 time by one minute. Sonja Fuhrmann (Clonliffe & guests) 32:15 showed further improvement by finishing third ahead of Crusaders Niamh O'Ceallaigh 37:23. Kian Jennings (DSD) had the fastest run to finish in 28:19.
Leg 4 and Donna Mahon (Rathfarnham) chased hard after Desie Shorten (Tallaght and Clonliffe A) 42:00 and duly took Beth McCluskey's leg record with a new time of 42:47. Tish McCann (Clonliffe & Guests) 48:15 held on for third while Jimmy Synnott (Crusaders) 42:59 and Liam McFadden (Sportsworld) 47:18 closed the gap.
Ronan Hartnett (Clonliffe A) 69:50 has ran this leg a number of times previously in the WWR but his memory failed him at a fork in the road and with it went a 13 minutes or so sizeable chunk of the lead. The comments in Drumgoff went from "the leader will be here in a few minutes" to "the leader should be here soon" to "any sign of anyone" to "oh dear"! However Ronan recovered well and stormed into Drumgoff recovering ground with every stride. Adrian Tucker (Rathfarnham) 60:00 had a good run to keep well clear of Martin McDonald (Clonliffe & Guests) 56:27 and Shane O'Rourke (Crusaders) 58:23. Helen White (Sportsworld) 71:20 despite two recces was unfortunate enough to make an unnecessary detour but still had the fastest time in 71:20.
Declan Power (Clonliffe A) 51:07 another debut mountain runner held his composure to maintain the lead over Padraig MacCriostail (Rathfarnham) 51:07. Derek Coogan (Clonliffe & Guests) 54:32 held John McEnri (Crusaders) at bay and Paul Mitchell (Sportsworld) 59:19 settled the nerves after leg 5. By this time Boards AC had recovered from a disastrous first leg and leg by leg were working their way towards a high team placing. Zoe Melling (Rathfarnham) was fastest woman in 65:13.
At the changeover at Iron Bridge the first three teams were there and ready however Crusaders were wondering where they could get mobile phone reception! Not easy to find so Niamh O'Ceallaigh stripped off again having earlier ran very well on leg 3. Shortly after she set off help arrived and Crusaders had two runners on leg 7 for the first mile until a happy Niamh was caught! Niall Coppinger (Tallaght and Clonliffe A) 86:59 stretched the lead on leg 7 with help from some scenic detours of around three minutes by Turlough Conway (Rathfarnham) 91:22. Brian O'Sullivan (Clonliffe & Guests) 87:56 ran a very fast time to stay in contention for the runner-up spot. Fastest leg on the day was Cormac Conroy (Sli Cuallann) 84:28. Alan O'Keeffe (Crusaders) 89:57 recovered well (or borrowed time from John McEnri?) while Sportworld runner Ed McEntee 96:09 I suspect took some additional sights in! Being by far the longest leg of the race no women ran this leg.
And so to leg 8 … Mags Greenan (Clonliffe A) took off knowing that hopes of a course record had already faded. They faded further after a three to four minutes detour and now the challenge was to hold off Brendan Hogan (Rathfarnham) 38:23 who wore down the lead to around 90 seconds. Ben Mangan (Clonliffe & Guests) 41:11 held on well for third team. A strong last leg by Paul Duffy (Sportsworld) 40:52 consolidated their debut team performance. Catherine King (Galway) was fastest woman in 46:06.
For overall times Clonliffe A had 7 hours 24 minutes and 45 seconds. Rathfarnham were 7:26:26 and Clonliffe & Guests were 7:32:18. Crusaders were fourth with 7:53:53 and Sportsworld fifth in 8:05:35. Thirty-two teams finished with the last team Forest Flyers recording 12:56:12.
A great day's racing, the course record of 7:17:21 held firm but evidence was gained that it can be beaten and that eventually the seven hours barrier will go. Joe, Nora and the leg marshalls spent considerably more of the day in the rain than the rest of us and their willingness and spirit to make the race such a success for the participants is much appreciated.