Tibradden Winter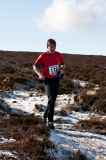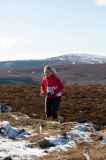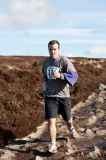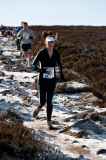 Authors
John Shiels
26 February, 2010
I don't believe there is anything in the IMRA rules that state that a race report has to be by one of those running in the race so here is my report on the race, giving a slightly different perspective.
As some of you will be aware I suffer from a lazy condition which precludes me from racing, or indeed training, and one which is further aggravate by cold and/or wet conditions. Despite this affliction I donned by running gear, rucksack of spare clothes and camera bag and set out to walk around the course to capture the exertions of the IRMA runners.
The first mistake I made was stopping at registration, where I was charitably asked if "I was running today" and if it as my first race, much to the amusement of the seasoned race officials and Jason Reid, who cheerfully invited me to jog up the course with him. He was marshalling due to a knee injury which didn't stop him heading off up the frozen forest track with me in tow puffing like Thomas the tank engine.
We had the benefit of being among the first to head out along the course which was still white and crispy and I managed to make it most of the way to the boardwalk before volunteering to take some panoramic shots of Dublin while letting Jason head on to his station. Once over the first hill it was a fast descent to the next boardwalk with the rest of the field only 15 minutes behind me. The frozen board walk proved too slippy for me so it was into the semi frozen mud and another pair of white sports socks were reclassified as "coloureds" for laundry purposes. With the eleventh hour fast approaching I was quite pleased to make it as far as Mike Long and Mary Collins at the start of the next long up hill.
After a quick chat I was off again, jogging happily up the next 20 meters before my lugs suggested to the legs that they were requiring too much oxygen and a nice slow walk was in order. At this point I also realised that that it was actually quite a long section of uphill and I was unlikely to make it to the cairn before the majority of the field. Onwards and upwards I trudged, past two mountain bikers who were changing a flat tire, (not sure how since I require three hours, a kitchen sink and a Google search to achieve this feat). And then, just as my phone started to make all sorts of strange noises to indicate the race had started I came upon Jason in shorts and a snow drift at the start of the lollipop loop.
For some reason at this point I decided it would be a really good idea to follow the race loop in the reverse direction and off we went, again. In the distance I could see the field spread out along the skyline, little blurs of enthusiasm at the front of the field, not so blurry further back but all rapidly gaining on me. I hit the bottom of the downhill and started back towards the aerials thinking "this would make a great place to get some shots in the snow, wonder what's keeping the runners?" A few walkers passed me looking somewhat concerned, probably thinking "he looks like he's going to have a heart attack" but obviously decide I was ok, or that they hadn't practiced CPR in a while and this wasn't a good time to start.
And then around the corner came Eoin Brady, going well, not looking to concerned but equally not about to stop for a chat, so I shot him a few times and shouted some encouragement and line up Philip Kilgannon, quickly followed by Stephen Cleary.
At this point I stopped to offer first aid to a runner who was dripping from a number of wounds which he cheerfully informed me were "nothing to worry about" as he trotted off after the leaders. Then the real slog of the day back up to the Cain started with a constant flow of runners heading downhill towards me. There was a good mix of familiar and new faces, some posing for the camera and others waiting till I wasn't looking before going on their backsides. So uphill we struggled shouting encouragement and occasionally getting the runners names right, Laura Flynn looked a bit concerned as I shouted "go on Moira", was there another runner just behind her, or was I losing it?
Justin Rea and Diarmuid O'Colmain flew passed me battling to pass each other while staying upright followed by Aisling Renshaw who disappointed the camera by failing to repeat her Broackagh handstand but did manage a respectable high jump. Former IMRA photographer Hilary O'Neill sped past chasing Emma Boland and then the cairn was in sight.
I then had a series of kit-kat moments as one after another runners lost it on the ice descent from the Cairn and I kept dropping the camera to see if they were ok, not much point lugging a first aid kit this far if I wasn't going to use it. No luck, they just kept bouncing back to their feet and off down the hill. The field was starting to thin out now but they still kept coming and were still smiling, obviously thinking the worse was over!
And then it was all downhill to the finish, more or less. Barry Tennyson, Brendan Doherty and Charlie O'Connell all passed me as I made my way down to where Jason was directing traffic in a fetching pair of green Vellore tracksuit bottoms and a teacosy on this head. Given the flat/slight downhill stretching out ahead of me I decide to jog along with the returning runners as we were all heading in the same direction again and was rapidly passed by most of them. The course was now a muddy track with patches of black (ok, brown) ice, puddles with ice bergs bobbing in them and a runner with a dog on a lead. James Higgins was chased passed me in the wooded section by Robert Kennedy and David McEvoy as I considered the insurance implications so running on a domed ice covered path with a camera in one hand. Walking suddenly seem a good idea and this allowed Barry Tennyson, Maureen McGinley and a few other runners, who shall remain nameless due to not displaying their numbers, to catch and pass me as the sun went in and the temperature dropped sharply.
Anne-Marie Cox and Ailis Fagan came powering up the last hill section to were Ailis's Dad and myself were exchanging skiing stories and almost forgot to snap them on the descent. The trails which were pristine earlier were now treacherous as was the "regular staircase made of rocks" which Diarmuid described so eloquently. Once passed the hoards of boy and girl scouts we were back on the regular trails and passed former IRMA runner Beth McCluskey taking it easy on a mountain bike.
I made it back to the finish with only 4 runners left out on the hill and they arrived as I was standing around gossiping and getting cold. Still, got to the pub and one coffee later I was warmed up enough to have a pint of water with ice in it.
Diarmuid O'Colmain
25 February, 2010
187 people racing at Tibradden?!! On a cold winter weekend morning? Sure twas pure madness. In the old days when hill runners were tough and race routes were not tricked up for the namby pamby D4 types, such a crowd would have led to an untold number of sprained ankles and scraped shoulders, hands and faces. As it was there were a few injuries but all rather minor in nature. Where was our beloved rutted path from Tibradden across to the Wicklow Way? Instead we had a path with the smooth consistency of an Olympic running track – no challenge in that for us hill billies. And towards the end of the race, the descent from Tibradden down the crazy, ankle-breaking rocky path that we all loved so much – where was it? Replaced by a regular staircase made of rocks that would grace any (large) modern building. Mind you, if you caught your toe on one of those steps on the way down you could be in serious trouble – I think I'd prefer the old rocky terrain. Then of course, a few came unstuck on the ice on the upper reaches of the course – all part of the fun.
As for the race itself, I can never understand how it is that by the time I have run 100 metres and glance ahead, I can see the leaders about 200 metres ahead of me – how is that possible, 300 metres vs 100 ? I know I'm slow but come on! The race among the leaders unfolded mysteriously (to me at least) with a great win in the end by Eoin Brady. Great to see IMRA volunteer extraordinaire Mick Hanney in the top 4 (yeah ok he was 4th, stop being pedantic). And the bould Gerry Lalor made a cameo appearance in 10th place. We've nearly forgotten what Gerry looks like now – or maybe not; once seen never forgotten, especially in full flight down a mountain.
Kate Cronin, newcomer this year from Raheny Shamrocks dominated the ladies' race, finishing well ahead of Karen O'Hanlon and Karen Duggan, in spite of their good runs. And now I come to a most surprising observation – of the 187 participants in the race, only 37 were women – if you had asked me to guess, I would have said that the numbers of men and women were at least 50/50. You girls obviously make your presence felt! And now I can see I'm in big trouble with political correctness – females/ women/ girls /ladies and gender stereotyping the participants! Better not turn up to the next race! I can think of worse punishments – like running the next race.
Anyway the important part of the race was played out far from the madding crowd at the front, between the stalwarts who have more experience in hill running than many others (yes, I mean the older categories, just trying to be subtle, unsuccessfully). A certain gentleman from the lowlands of the northern continent has emerged quietly to display his pretensions of achieving glory in the M60 category. Having beaten him by just 3 seconds in Annacurra, I was prepared for a savage race in Tibradden. In the event, Henny, having valiantly marked the course route earlier in the morning, couldn't quite hold me off in the last 2k, but no doubt will have his revenge in due course.
Then off to Doherty's pub (or the Merry Ploughboy as it is now called) for well earned refreshments. And that concludes a very biased, rushed and partial race report provoked by Mick's post on the forum. I'll do better next time.
Rene Borg
20 February, 2010
TEAM RESULT
Sli Cualann takes the men's in a tight fight Sportsworld.
Congratulations to Raheny Shamrocks for what I believe is their first team victory in an IMRA race.
MEN
1. Sli Cualann 20 (5 Ben Mooney, 6 Andrew Hayes, 9 Martin Francis)
2. Sportsworld 29 (2 Philip Kilgannon, 12 Paul O'Connell, 15 Paul Mitchell)
3. Setanta 122 (10 Gerry Lalor, 47 Kevin O'Riordan, 65 Paul Keville)
4. Crusaders AC 138 (26 Gavan Doherty, 43 Oran Murphy, 69 Stephane Pradines)
5. Clonliffe Harriers 161 (33 Ronan Hartnett, 37 Dermot Murphy, 91 David Duffy)
WOMEN
1. Raheny Shamrocks 30 (1 Kate Cronin, 14 Niamh Garvey, 15 Niamh Kissane)
1. Crusaders AC 78 (12 Lornie O'Dwyer, 25 Emma Boland, 31 Maureen McGinley)