Croagh Patrick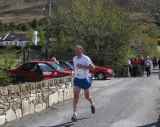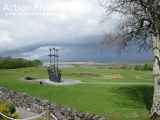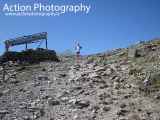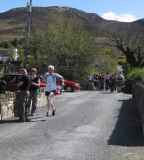 Authors
Croagh Patrick Race report
21 April, 2020 - Brian Furey
2010 Croagh Patrick Race is my favourite IMRA memory. The first round of the Irish Mountain Running Championships on the Saturday of May Bank holiday weekend from the foot of the hill in Murrisk beside Campbells pub.
Race start was at 2pm if I recall correctly. I had a last minute hitch that morning in Dublin. Someone called around to me last minute to look at my old car which i was trying to sell. Car sold and a little late - I chased across Ireland on the Sligo road to make the start line. Luckily I didn't meet any checkpoints or speed camera :)
I made the race start just about – with very little warm-up and thanks to Dermot Murphy RD as well – warm-up was mainly the stress of trying to make the race start.
Sun splitting the stones day and we were away up the hill. Peter O'Farrell, Jason Reid, Bernard, Jason Keogh, Tom Blackburn and a few others out front.
The previous time I'd done this race in 2008 - I had ended up getting a bad injury on the descent which cost me most of a year to get back from. That and the fact I'm from close enough by in Tuam – I sometimes did an easy run on the course when down home which meant it always felt like a special race (in good and bad ways!).
Course is short and sharp – 6 to 7k with a steep climb and hair-raising descent. In between you get to glance at the amazing views over clew bay from the top. I always enjoyed that rocky descent – has a great flow to it. I just remember going out with the group steady then taking off about half way up. I reached the top in first pace – chased by Peter O'Farrell, Diarmuid Collins and the 2 Jasons.
I kept the pressure on for the descent and won it followed by Diarmuid, Peter and Jason Reid.
Jason Keogh had a bad fall, I learned later - with Peter and Bernard going back up to help him down. Its a tough mountain – and the new course is more forgiving - has a boggy grassy finish.
I missed the prize giving too! Not to matter – I was happy – Id won the local one and fulfilled a dream.
Diarmuid O'Colmain
06 May, 2010
I am the spirit of the mountain. I first came here many thousands of years ago, having travelled the earth in search of a proper home. Later, the humans came here and settled in the shadow of the mountain. In those days they knew of me, they feared me. Now and then I would remind them of my power and might, unleashing a storm of thunder and lightning that terrified those puny beings. They were properly respectful, too terrified to broach the rocky slopes. That was to change.
The problems started with that pesky Patrick; he had no respect for the ancient spirits like me. He told the humans to believe there was only one god – for god's sake (oops! well you know what I mean). No respect at all for us spirits who had been around for ever. And worse still, he made out that their god was loving and merciful – I never heard of such nonsense. Try telling that to Moses and those other guys in the countries of the middle seas. Anyway the humans began to think they could climb my slopes with impunity. Soon they had the cheek to climb to the summit.
The priests latched onto this idea and established a pilgrim route – initially this was supposed to keep those humans focused on their spiritual world, avoiding the temptations of the flesh. More aspiration than actuality, if you ask me, but of course none of my business.
Then one fine summer when food was plentiful and they had time on their hands, some over-enthusiastic idiot ran to the summit and back down again. Of course, needless to say, that led to someone else wanting to prove they were as good as her and he had to run up and down as well – I think they became very friendly subsequently, a pattern to be repeated in the future. There was a story about Slieve na mBan, but I digress.
Anyway before I knew where I was, they were running up and down like lunatics, thinking they were great. Respect for the spirits and the gods gradually vanished completely. It's time for me to move on. I'm off to a nice, peaceful spot in Iceland where the locals have a bit of respect for their mountains, and where there is still a bit of fire and brimstone. But before I go, let me just comment on the most recent transgressions by the humans. This year, the year of 4,540,002,010 in earth years, was just the last straw.
That young upstart Furey (and what kind of name is that, I ask you?) raced up and down in a ridiculous time, showing no respect at all for the majesty of the mountain. Did he pay homage to me on his way? Not at all, no more than Collins, O'Farrell, Reid or Blackburn. I thought that fellow O'Farrell had a bit of respect for the hills, but no (he didn't even bother training); and Blackburn, at his age, and coming from the Kingdom of mountains, you'd think he'd know better. It's the fault of those spirits down in Kerry, they've taken to this modern touchy feelie, consensus seeking way of behaving; it's all 'empathy' and 'listening', when what they need are a few good belts of lightening and a couple of banshees to keep them in line.
At least the women had a modicum of respect for me this year, not many of them took part, and those that did added a little style to the event. I know this Devaney one, she's from these parts but new on the scene; wait until she really gets going. And I've met Karen Duggan before. As for Bronagh disguised as Cheetham, the less said the better, next time she should carry the new earthling with her. But where was that woman I saw before – Orla something or other. Hoity toity madam, she looked down her nose at Croagh Patrick but the spirit of Ben Gorm had the opportunity of embracing her the next day – what's wrong with us then? At least Mary Collins had the decency to visit me.
Now whatever about the women, would someone have a word with that ould lad Stewart – it's past time for him to give up on this nonsense, for god's sake. Sure he took an age to get up and down, nearly 10 minutes more than last year, complacent devil. The trouble with him is there was no competition. Last year he was forcing himself, slipping sliding, tripping and falling, terrified out of his wits he'd be beaten; this year he sauntered up and down like he was on a picnic. Where's that other lunatic O'Colmain to put manners on him – must have turned into a wimp this year. But Stewart had better watch out for him elsewhere.
As for Joe Lalor, little raced for a long time; and he suffered the cold heat of acute competition, but watch out for him, he's on the way back now. And finally Tumbler – would somebody get him a big rubber costume (like the Michelin man) so he does less damage to the hill the next time. They say you can't get blood from a stone but his bones are pretty hard I can tell you and the mountain rocks are covered with bruises after him.
But that's me off now – no feckin hill running on the volcanoes in Iceland – I should get a bit of peace and quiet.
Peter O'Farrell
04 May, 2010
Up, Down. The weekend races remain a simple pleasure where the big concern is whether to wear a T-shirt or a singlet cos it may get hotter with exercise but it's surely colder higher up. Hmmm.
Went with the ROAR T-shirt cos it's new and shiny and then took it off about 6minutes into the race, so much for that decision.
I found myself in the lead going up the first steep bit and across the flat bit wondering about the echo my lungs had developed just behind me but that was because Brian Furey was biding his time and sure enough when the going got tough, so did he. I started walking at about the same time he accelerated and went away for a fine win in a very good time of 47.26
Coming back down I managed to convince myself he was getting closer, it never ceases to amaze how delusional I can be in race mode as he put another minute into me on the descent and then to cap it all Diarmuid Collins ran past with the greatest of ease. I made the mistake of ignoring Vivian's words of warning and looked up to see where Brian was and promptly took a tumble in front of some startled pilgrims. Diarmuid got a good lead up as I examined my leg and then came back to me in the lumpy stuff and we went through the gate very close but then he leapt down all the steps in one mighty leap (that's how it looked to me anyway! ) and was gone for a good second place.
Great craic.
Kevin O'Riordan
03 May, 2010
Summit times for King/Queen of mountains competition
First 10 men qualify for KoM points
Pos Number Name Time
1. 340 Brian Furey 31:31
2. 213 Peter O'Farrell 32.05
3. 521 Jason Kehoe 32.27
4. 430 Diarmaid Collins 32.28
5. 43 Eoin Brady 35.35
6. 163 Jason Reid 35.45
7 884 Andrew Lynskey 36.00
8 1611 Tom Blackburn 36.43
9 476 Paul Mahon 37.04
10 75 Zoran Skryba 37.32
---------------------------------------------
11 467 Chris Caulfield 37.32
12 890 James Kenny 37.52
13 882 Donncha Cuttriss 38.07
14 448 Theo Mooney 38.17
15 2 Mick Hanney 38.34
16 887 Tony Holmes 38.34
17 892 Richard O'Donnell 39.32
18 885 Noel Brady 40.32
19 1651 Ger Griffin 40.34
20 891 Derval Devaney 40.36
21 241 Eamonn Hodge 40.40
22 14 John O'Neill 40.47
23 149 Dermot Murphy 41.00
24 778 Shane Enright 41.49
25 819 Paul Smyth 42.13
26 894 Turlough Conway 42.15
27 1653 David McBride 42.22
28 20 Damian Kelly 42.30
29 54 Martin Francis 42.36
30 3 Kevin O'Riordan 42.39
31 883 PJ Hall 42.45
32 1640 Joe Aherne 42.50
33 371 Jeff Fitzsimons 43.14
34 84 Rosalind Hussey 43.52
35 880 Peter Dooley 43.53
36 881 Rory Sheehan 44.17
37 246 Michael Maughan 44.35
38 268 Susie Mitchell 45.00
39 1652 Brian Mullins 45.18
40 124 Cormac O'Ceallaigh 45.45
41 235 Joe Lalor 45.50
42 478 Karen Duggan 45.55
43 634 Caitriona Nic Caba 46.00
44 151 Denis Carey 47.30
45 889 Ann Marie Egan 47.40
46 279 Fergal Buckley 47.50
47 575 Arkadiusz Mikolacjzyk 47.52
48 765 Ercus Stewart 48.04
49 1631 Loretto Duggan 48.16
50 67 Thomas Galvin 51.11
51 93 Mary Collins 51.35
52 694 John Greene 51.51
53 40 Melanie Earwaker 52.14
54 893 Colm O'Maille 52.55
55 408 Bronagh Cheetham 53.19
56 886 Gerry Moran 54.17
57 1632 Kieran Lynch73 54.17
58 26 Aidan Roe 54.40
59 888 Padraig Keane 54.43
60 89 Stuart Scott 55.52
61 205 Michael Phillips1 56.00
62 313 Roisin O'Connor 57.37
63 573 Colin Doyle 60.12
64 828 Tim Murphy 61.42
65 512 Mick Kellett 68.33
66 115 Charlie O'Connell 68.50
Queen of the mountains competition
1 891 Derval Devaney 40.36
2 84 Rosalind Hussey 43.52
3 268 Susie Mitchell 45.00
4 478 Karen Duggan 45.55
5 634 Caitriona Nic Caba 46.00
6 889 Ann Marie Egan 47.40
7 1631 Loretto Duggan 48.16
8 93 Mary Collins 51.35
9 40 Melanie Earwaker 52.14
10 408 Bronagh Cheetham 53.19
---------------------------------------------
11 313 Roisin O'Connor 57.37
Mick Hanney
03 May, 2010
Who is the uphiller and who is the downhiller? Analysis of gains and loss of places using Total time / Overall Place / King of mountains time & place.
Martin Francis and Karen Duggan gained the most places with great descents. The rest of us need more practice!
Name Gain / loss Descent time Descent Ranking
Brian Furey 0 00:15:58 1
Peter O'Farrell -1 00:16:56 5
Jason Kehoe n/a
Diarmaid Collins 2 00:16:25 2
Eoin Brady -2 00:19:27 13
Jason Reid 2 00:16:28 3
Andrew Lynskey -9 00:24:13
Tom Blackburn 3 00:16:39 4
Paul Mahon 3 00:17:43 7
Chris Caulfield 3 00:17:41 6
Zoran Skryba 3 00:18:11 8
James Kenny -4 00:22:57 28
Donncha Cuttriss -14 00:26:15
Theo Mooney 5 00:18:50 11
Mick Hanney 4 00:20:18 20
Tony Holmes 3 00:21:33 25
Richard O'Donnell 7 00:18:46 10
Noel Brady 4 00:19:39 16
Ger Griffin 7 00:18:32 9
Derval Devaney -4 00:23:23 31
Eamonn Hodge -4 00:23:28 32
John O'Neill 5 00:20:37 22
Dermot Murphy -3 00:23:17 30
Shane Enright 5 00:20:11 19
Paul Smyth -12 00:28:10
Turlough Conway 4 00:20:36 21
David McBride 6 00:19:48 17
Damian Kelly -3 00:23:55
Martin Francis 11 00:19:21 12
Kevin O'Riordan 10 00:19:27 14
PJ Hall 3 00:22:43 27
Joe Aherne 9 00:20:06 18
Jeff Fitzsimons 0 00:23:30 33
Rosalind Hussey -1 00:23:04 29
Peter Dooley -4 00:26:55
Rory Sheehan 6 00:21:49 26
Brian Mullins 5 00:21:11 24
Cormac O'Ceallaigh 2 00:24:21
Joe Lalor 1 00:24:38
Karen Duggan 11 00:19:36 15
Caitriona Nic Caba 7 00:20:45 23
Denis Carey 2 00:24:44
Ann Marie Egan -2 00:30:23
Fergal Buckley 3 00:25:06
Arkadiusz Mikolacjzyk 2 00:27:22
Ercus Stewart 2 00:29:46
Loretto Duggan 5 00:25:18
Thomas Galvin 0 00:29:33
Mary Collins -8 00:41:38
John Greene 0 00:29:53
Melanie Earwaker 5 00:27:34
Colm O'Maille -4 00:38:54
Bronagh Cheetham 4 00:27:29
Kieran Lynch73 7 00:26:01
Gerry Moran 1 00:36:19
Aidan Roe 5 00:28:45
Padraig Keane -2 00:40:43
Stuart Scott 5 00:31:22
Michael Phillips1 n/a
Roisin O'Connor 5 00:33:16
Colin Doyle 9 00:26:36
Mick Kellett 2 00:37:11
Charlie O'Connell 2 00:37:30
Michael Maughan n/a 00:00:00
Susie Mitchell n/a 00:00:00
Tim Murphy n/a
Rene Borg
02 May, 2010
TEAM RESULTS
Men
1. Rathfarnham WSAF 8 (1 Brian Furey, 3 Peter O'Farrell, 4 Jason Reid)
2. Setanta 47 (6 Paul Mahon, 20 Shane Enright, 21 Kevin O'Riordan)
3. UCD 62 (7 Eoin Brady, 9 Zoran Skrba, 46 Stuart Scott)
4. Boards AC 69 (12 Mick Hanney, 25 Eamonn Hodge, 32 Jeff Fitzsimons)
5. GEN 135 (35 Joe Lalor, 49 John Shiels, 51 Mick Kellett)