News Item
Medals and Memories B&I 2022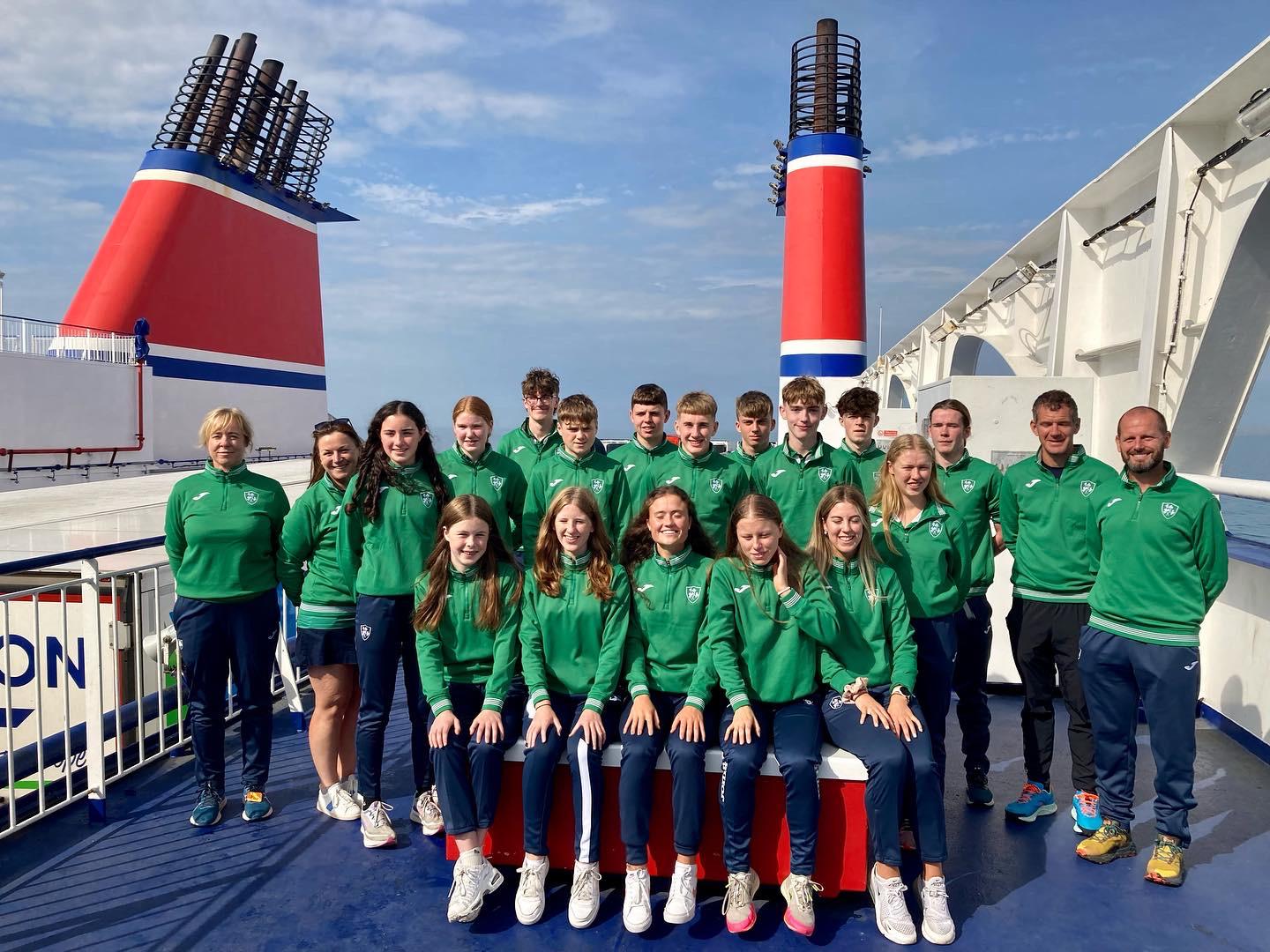 Saturday September 10 - Miriam Maher
The squad of 16 athletes and 4 managers that made up Team Ireland in the British and Irish Junior Mountain Running Championships gathered at Dublin Port early last Friday morning, September 2nd
For this trip to Ambleside in Cumbria, we travelled with the NIMRA team and their managers. A collaborative decision that worked out very well for all of us, especially the athletes. This travel option was proposed by Angela Flynn, one of our team managers and an IMRA committee member who keeps our focus strong on taking the 'greener choice' on all travel matters. Phil Hodge, NIMRA Juniors Manager, did all the heavy lifting on organising the coach and ferry bookings, for which we are very grateful! One thing off the list :-)
The ferry crossing and coach trip to Ambleside passed without issue and we arrived in the late afternoon, allowing us enough time to have a check of the race route after dinner and just as darkness fell. Our English hosts provided excellent and well organised accommodation in the University of Cumbria student residences. Everyone all set up for the races on Saturday.
Angela and I did an early morning amble around the race route to check it out – lovely route, leaving me envious of those living in that area at having trails like that in their back garden! Both race routes included a very steep uphill lung busting stretch on a tarmac road at the start before moving onto the trails which were a combination of rocky, grassy, boggy, mucky, undulating stretches before looping back to the final fast descent along the tarmac, now steep downhill, finish.
With minimal, if any, fuss our teams of U17 and U20 athletes got themselves organised and headed off to the nearby park where the races started. A huge number of parents and family members travelled over to support the teams which made for a great atmosphere at the start/finish area and all along the route itself.
I stayed at the start/finish area. Angela, Tim Grummell and Owen Connolly, my co-Team managers, all spread themselves around the race routes. The U17 races took place first. The route was 4.80 km with 250m ascent. After cheering them on their way, all we could do then was wait and hope the races went well for them and they arrived back strong and happy with their own performances. Our star individual performance from the U17 races, and of the morning itself, came from Ryan McCarthy, 8th place finish in 23.19 mins. Ryan is an IMRA runner through and through with 37 races under his belt already! He has had a super year and we are looking forward to seeing more of what's to come for him locally and internationally. Ryan was followed across the line by his teammates - Tom McCarthy, 16th in 25.12 mins, Joseph Richards, 17th in 25.15 mins and Ruairi Jago, 20th in 27.30 mins. Tom is new to mountain running and shows great potential, Joseph has made significant improvements in form already this year and Ruairi won the award for hard core racing as he lost a shoe in the bog about halfway around the race but still raced hard to the finish, across that terrain, one foot covered only in a very mucky sock by the end! The U17 boys team came 4th out of the 5 teams.
The U17 girls' team had a strong performance too with Caitlin Hughes leading her team in, coming across the line in an excellent 10th place finish in 27.03 mins. This was Caitlin's first outing in an Irish singlet, and we are keen to see more of her on the mountains! Caitlin was followed by Laura Nunan, on her third Irish junior team outing, 18th in 30.16 mins, Della McLoughlin, 19th in 31.33 mins and Polly Duffy, 20th in 33.07. For Della and Polly this was their first time outing on an Irish team and they both raced strongly and with good development signs. The U17 girls team came 5th out of the 5 teams.
With both U17 teams safely back across the finish line, we turned our attention to setting the U20 teams off. Their race route was 5.72 km with 296m ascent. Again, we waited at the finish line to see how the races went for all of them. For the U20 boys' race, first across the line in 13th place, 27.32 mins was Matthew Glennon, followed swiftly by Cian Law in 15th place, 27.43 mins, Luke Weldon in 18th place, 29.53 mins and then Cillian Moran in 19th place, 29.58 mins. For Mathew and Cian, these were strong races performances in their last year of racing at junior level. Luke and Cillian have another year in this age category and show great potential. The U20 boys team came 5th out of the 5 teams.
Last race of the morning to complete was the U20 girls' race. Claragh Keane, continuing her strong all around racing performance for this year, national steeplechase junior champion and national junior 5k title holder, finished 10th in the race in 32.53 mins! Next across the line for Ireland was Patrice Holmes, 13th in 34.28 mins, Niamh McDonald, 14th in 35.05 mins with Kate Connolly, 15th in 35.06 mins. This strong all-around team gave us our first sets of team medals at these championships since 2017! Seeing the girls up the podium with their bronze medals for 3rd team was an amazing way to finish off a great set of races in a fantastic setting. We set off for home, back on the coach and onto the ferry with medals and great memories of an action packed two days. A 'footnote' to their race was Kate finding Ruairi's lost shoe in the bog, scoping it up and handing it over to a nearby marshal ;-)
In preparation for the trip, Sarah McCormack had provided our squad with a training plan, and we'd gathered them for one meet and train session the week before the trip. As our squad was spread out across the Island, the rest was over to them. Cian, Matthew, Patrice and Niamh have raced their last races at junior levels. We wish them all the very best in what lies ahead for them all and hope to still see them on the hills and trails in the years ahead. For the rest of this group and all other junior mountain runners out there, time for some XC racing now and we hope to see them back out on the mountains next year!
My thanks to Leo Mahon for his tireless work in the background, especially on the kit provision front for this trip. Thanks also to Sarah McCormack for her training plan and advisory support to the squad, we are so lucky to have a coach of her calibre available to us. Angela, Tim and Owen, my co-managers, made this trip so easy and removed a lot of the inherent stress of a group trip, thank you so much!
This was my last trip in my capacity of Junior Development Officer for IMRA. I'll be stepping back from this role next year. In my past three years on the committee, it's been the greatest privilege to have the chance to work with the juniors and be part of these trips. Without exception, we are lucky to have groups of motivated, focused and extremely pleasant young athletes on these trips. They are a credit to themselves, their ever-supportive parents, but mainly to themselves.