Nav Challenge 2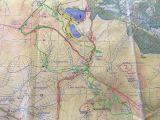 Forum Messages
Author
Date
Message
Keith Fitzsimmons
Aug 25 2019, 10:53pm
Hi All, with a week to go there are a few things that are really needed to help this event run as smoothly as possible.

I am putting the call out for a few non-running volunteers, primarily First Aid and a Laptop operator (the Laptop operator could be someone willing to upload the results from the sheets later). Thank you to those who have already volunteered

Car parking is extremely limited, (there were over 40 vehicles at Nav Challenge 1)

The area has a problem with cars being broken into.

While doing recces' we had our car broken into.

To help prevent similar incidents registration will be now be at the start location. (the access road to the Kippure RTE mast)

We really need everyone to carpool to reduce the risk of vehicles being damaged, and we can provide security at the start location.
We suggest using Enniskerry as a good location to carpool from.
If everyone helped with this we could manage to get approximately 15 vehicles squeezed in at the start location. (This would mean 3 or 4 people per car)

In order to facilitate this only carpooled vehicles will be allowed to park at the start so hopefully people can use the carpooling facility on the website to organize this.

We are sorry for this change but given the hassle of getting out car repaired etc this is the best solution.
We cannot use the access road up to Kippure Mast.

There will be post-race refreshments at the start/finish area.

This year we are returning to an earlier version of the NC races. Runners will have to supply their own map for these events. (see race details)
A list of 6 figure grid references and control site descriptions will be given out at start of race.
To make the race as inclusive as possible 5 minutes later a master map may be inspected for those worried that they have transcribed the GRs incorrectly.

Although this is an open moorland course, I have tried to ensure that the short course is relatively accessible, for those who are worried about their navigational skills. However if misty the ability to use a compass will be necessary.

If you are usually over 160% of the winning time I would suggest taking the early start if doing the long course or a regular start time for the short course
Early start will be 9.30

The aim is to have everyone back in by 1pm (in or around).

Don't forget your pen for marking your map!

A map with corrections will be available at registration

At 10.00 am (race start) runners will be handed an upside down sheet of paper with a number of 6 figure grid references, control feature description and race instructions. Once all runners have received a sheet, they can be turned over and runners may begin to plot their grid references and go. For runners who are not confident with plotting grid references, 5 minutes after race start, runners may view a master map which has the grid references marked out on it. Taking a photograph of this map will not be allowed!!
**Please note the control description sheet will NOT be laminated so please bring something to keep it dry like a Ziplock bag if it is wet day**

Also does anyone have the notices "Caution Runners"? I'd like to put some on the road to warn drivers thanks
Mick Hanney
Aug 27 2019, 3:13pm
Hi,

I may not make this Sun's Nav, but anyone who is due to collect a Dublin / North Wicklow map needed for this, I'll leave them with Keith for collection. If uncollected the remaining maps can be picked up at the next Nav.

Regards,

Mick
Ger Power
Aug 28 2019, 12:42pm
Is there anyone who wants to do the early start that is willing to car pool I will be leaving from Blackrock at 8am I will pass through Enniskerry or can pick you up anywhere along the route to registration.
Jenny Lawler
Aug 28 2019, 3:44pm
Hi Ger,
I'd love a lift please!
Oh ate 7 too nine won tree won ate 7
Am based in Shankill!
John Condon
Aug 29 2019, 11:54am
Hi Keith, On those "Caution Runners" Signs, contact me on
john dot condon at imra dot ie
Stuart Scott
Aug 29 2019, 1:07pm
Hi Keith. I have acquired a 'caution runner' sign courtesy of Pol. I'll either bring it on Sun or get it to you another way if I can't make it.
Keith Fitzsimmons
Aug 30 2019, 8:53pm
Thanks Stuart and John for the signs that great. If you bring the signs on Sunday Stuart that will be great thanks so much.
Keith Fitzsimmons
Aug 30 2019, 8:53pm
Thanks Stuart and John for the signs that great. If you bring the signs on Sunday Stuart that will be great thanks so much.
Keith Fitzsimmons
Aug 30 2019, 9:16pm
Hi All,

With 2 days to go, I'm looking forward to seeing you all at the start and hope you'll enjoy the challenge I've planned.

Here are a few things to think about.

Please carpool as car parking is an issue. Please see the first forum post.

The weather for Sunday is looking variable.

Please ensure you have the IMRA mandatory kit & map and compass for the event.
The Map for the event is not waterproof, some way of protecting it maybe be useful if the day turns out to be really wet.

Don't forget that online entries close tomorrow evening at 6pm, race vouchers accepted on the day.

Early start 9.30am

Don't forget to bring a pen/marker which will write (controls) up on your map even in the rain - test it in advance to ensure it works.

There will be post-race refreshments at the start/finish area.

Bring your own mug if you fancy a hot cup afterwards. (We're trying to be as environmentally friendly as possible)
Conor O'Meara
Aug 31 2019, 2:19pm
Ger
I'm helping out tomorrow.
If I could get a lift from Enniskerry about 8:20 ish that would be great. One less car at start line.
086 8579624 thanks Conor
Conor Short
Aug 31 2019, 3:27pm
Ger, if you still have a space I'd love a lift from Blackrock as well.
086 0618157
Cheers,
Conor
James Doyle
Sep 1 2019, 7:23am
Last minute decision to do the early
If anyone looking to carpool I've 3 seats available heading through enniskerry 086 8095286.
John Condon
Sep 1 2019, 3:18pm
Many thanks to Keith and crew for a great 'challenge' The weather gods were definitely smiling on us, and the treats afterwards were most welcome. Reckon the short course could have done with a few less controls though ;)

Regards,
Bedraggled
Andrew Hanney
Sep 1 2019, 3:24pm
A prize for most bedraggled person finishing a race. What an initiative and well done John Condon on winning the first one!
John Greene
Sep 1 2019, 6:03pm
thanks to Keith & helpers for today's slog...

my 'choice' was 10, 11, 1, 2, 4, 9 ...and finally 7

you can see i had "issues" between 9 and 7

https://www.imra.ie/photos/view/id/155884/

i hope next week's challenge is reduced to 4 or 5!
Mike Long
Sep 1 2019, 7:25pm
Great day out in the hills Well done to Keith and his team I thought the area east of the road was particularly nice We should use it again
Keith Fitzsimmons
Sep 1 2019, 7:59pm
A huge thanks to everyone today for carpooling and rising to the Navigation Challenge.

Also huge thanks to Peter Gorman for helping with timing, control collection and sandwiches, Stuart Scott for doing the laptop after his run, Conor Short and Roisin for control collection and Conor O'Meara for organising the cars and general helping.

A few water bottles and a mug lid were left at the finish and will be given to Joe Lalor, race director for Nav Challenge 3, to bring next week.

A reminder, as well, that walkers and runners using the Lough Bray area are asked to disinfect footwear to help stop the spread of a disease that could possibly wipe out the Irish Hare.

Results will be posted asap.
Thanks everyone Keith
Keith Fitzsimmons
Sep 1 2019, 8:17pm
Also forgot to thank Mike Jordan & Maike Jurgens for waiting at the finish until everyone was finished
Thomas Roche
Sep 1 2019, 9:58pm
Thanks everyone for a great day out getting lost in the hills. Looking back on my strava it looks like I missed 5 and hit 9 twice (don't ask) don't know if that's a DNF but I think it's only fair to the other runners that completed the course that I mention it.
Brian Fennessy
Sep 1 2019, 9:59pm
Hi Keith

Thanks a million for a great race today and my first IMRA event this year it was brilliant. Lots of extra work goes into the nav challenges so hats off to you and Peter and all the volunteers
John Murray
Sep 2 2019, 8:59am
A big thanks to Keith, Peter and the rest of yesterdays team of volunteers for another super Nav Challenge yesterday!

Completely different terrain and running to last weeks Nav 1 race. More open mountain running through dry sharp heather. Less features and thumbing of the map and more compass work. An abundance of route choices for both long and short courses...although the short wasn't as short as people expected! lol Great fun!

Thanks guys!
Stuart Scott
Sep 2 2019, 12:02pm
Thanks Keith for a great day out yesterday. The route choices were endless and I still don't know what the optimal route was - the sign of expert planning! The area was perfect too. Not much climb and plenty of slog.

It would be really interesting to know what controls everyone dropped. I dropped Kippure summit because I was lazy and didn't want to climb but in hindsight, 3 might've been better?

On the plus side, I was able to prove that my antique "collector's item" original Dublin & North Wicklow map was indeed fit for purpose and perfectly adequate for the task in hand. Unfortunately my antique legs weren't as adequate :-)
Gordon Place
Sep 2 2019, 1:15pm
Thanks everyone for another great day.

Well Stuart, I dropped the non existent 13th control off to the left of the actual number 12....

My map needed some eh, hand drawn repairs, one of which was writing back in GL 13, which I then decided to drop as a control.......

The strava flyby is as interesting as usual. Think Andy wins for the longest route!

https://labs.strava.com/flyby/viewer/#2670704911?c=gc7qrvne&z=D&t=1TQuUw&a=D7kvn5S4Sp-A_UCfaeM0n8VWL59INi-fIwA3nyUzNp9iWi2f
Philip Brennan
Sep 2 2019, 6:41pm
Thanks Keith for a great race yesterday, clever placement of controls with lots of route choice & tough physical terrain - a super day out in the hills.

I lost my compass long the way - I suspect possibly when leaving the control on the fence line just below the summit of Kippure. Its a Moscow thumb compass so if anyone finds it please let me know.
John Murray
Sep 2 2019, 9:05pm
I found a black Inov8 glove at control #1, if anyone lost it! Forgot to hand it in at the finish and just spotted it now emptying my bag.

Will bring to Nav 3 challenge.
Stuart Scott
Sep 3 2019, 2:03pm
Does anyone know how one might disinfect runners from the nasty bunny-killing disease? The only time I've had runners disinfected was by a none-too-impressed Dept of Agri worker in Dublin Airport during foot-in-mouth but I forgot to take notes. Thanks!
John Condon
Sep 3 2019, 3:01pm
I'd imagine a bit of Detol, some warm water and a brush will do the trick.
Maike Jürgens
Sep 3 2019, 3:29pm
"Good disinfectants include 10% sodium hydroxide, 1-2% formalin, 2% One-Stroke Environ, and 10% household bleach." is what wikipedia recommends.
Maike Jürgens
Sep 3 2019, 3:29pm
"Good disinfectants include 10% sodium hydroxide, 1-2% formalin, 2% One-Stroke Environ, and 10% household bleach." is what wikipedia recommends.
Maike Jürgens
Sep 3 2019, 3:29pm
"Good disinfectants include 10% sodium hydroxide, 1-2% formalin, 2% One-Stroke Environ, and 10% household bleach." is what wikipedia recommends.