Hellfire Spring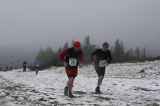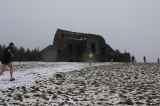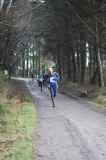 Authors
Richard Nunan
18 March, 2013
As I turned up at Hellfire it was good to see the roads clear. It was strange to see the car park so empty at 11:30 with a race at 12:00pm. Either the Snow had put them off or people had headed to the Pubs early. Dermot greeted the Race Registrations sporting some Hawaiian flowers around his neck colored Green White and Gold!! Looking Festive for Paddys Day. The cold wasn't going to dampen his spirits or the spirits of Mags or Suzanne and it wasn't long before we were gathered at the Start line waiting instructions. Sam who had raced back from marking the course gave an overview and instructed us not to descend the ridge that we would climb on the way up to Hellfire on the way back.
On the front line were Ian Conroy dressed in running vest and shorts, Diarmuid Meldon in his surf shorts and entered in from the side came Elizabeth Egan in shorts and running vest, thought maybe I should take off the coat.it was -2C. So hoping not to get chicked by Mags the race began. Up the Fireroad we galloped as Ian Conroy, moving at speed, looked as if he was running down hill. After a 1km or so up the fire Road it was time to climb, I could see Ian far up the ridge with Waren in second place followed by Diarmuid. Elizabeth, Angus, Paul and I were behind. I was expecting a slow down here, but everyone put the head down and up we climbed.
As I busted a lung up the ridge you could feel the cold as the Snow got closer. Then as we broke up beside the Hell Fire Club Caitlin was there Marshalling backed by a sharp wind that had you almost heading back down to the warmth of ones car. As we were directed to the right the snow and wind continued. I overtook Paul at this stage as we started to descend, uping the pace as we headed over the snow.I was glad I wasn't wearing road runners today.
It was really nice running across the snow on the slightly down section, this was cancelled out by the next Kilometre. Somebody, Coilte – had left us a present of carved up trail, freshly ploughed path for the challenge. Going up was like running in sand dunes, from snow to crumbly mud. It was a slog on the climb but better on the descent. On the Descent I gave chase to Elizabeth who was making fantastic progress along with Diarmuid who wasn't far in front. Coming off the descent I got overtaken in the process by Barry Moore so I wasn't moving fast enough. The plan was to try and recover on the next climb. You could see everyone struggling on the naked mud on the last climb up before re-joining the path the snow and once again into the cold cold wind here John Farelly passed me as the wind and my lungs couldn't find a balance that would enable me to run again without wobbling.
Then at last across the snow and onto the Fireroad for what was to be a 1km descent but became a 2km descent going around the Ride that we had climbed on the way up. The Rocky descent in the snow was deemed dangerous in this spring league race. I gave chase to John and Barry but lost sight of them on the way down and took a wrong turn down one of the walkways off the fireroad. Luckily some passer by roared down after me and told me I was going the wrong way. I ran back to the fireroad and ran the next 1km until at last the Orange Cones were in sight for a final sprint finish. Finishing in 8th is for me my best result so far….But more importantly wasn't chicked by Mags… It was pretty good going you actually get to see the winners still panting. Still in their shorts and running vests and hearing the story of how Angus had clipped Diarmuid who almost got beaten by Elizabeth (1 second between them). Great running to all who turned out on miserable terrain in parts.
Well done to Ian and Elizabeth on winning the Male and Female categories. Well done to Diarmuid, Brian, Suzanne Aidan, Sam, John, Brian and Caitlin for organising a great wee race, the perfect start to a Paddys day.
Angus Tyner
18 March, 2013
101% of Ian Conroy's time, I'm going to frame that and show it to my grandchildren!! Anyone who is familiar with either of our usual results will know that I shouldn't be within as ass's roar of Ian but the clock does not lie! I should add that my performance was not drug enhanced...except for a bit of caffeine.
St Patrick's Day and the weather contributed to a relatively small turnout of 42, almost half of last year. Of the 42, almost 2/3rds were veteran. Is this a record for an IMRA race?
As we gathered for the start I didn't notice any of the usual strong runners which led me to think I could score an unusually high placing. Then Ian appeared in his Raheny strip, no point in eying him as competition!
Dermot set us off. Ian went off alone like a scalded cat. I trundled up the fire road near front of pack settling into a top 10 position. The legs felt a little heavy after a long day the day before and I thought I may struggle. The first major climb is up to the Hell Fire Club and I felt it was important not to blow out on this. There is plenty more climb later to make up time. We met the settled snow half way up which concealed the unevenness and with snow blowing in my eyes I struggled to focus on ground ahead. The sight of Caitlin signaled the top and I made a conscious effort to up the speed. I often transition well from uphill to downhill and I made quite a few places on the grassy top and settled into 4th place on the descent about 50m behind Warren with Diarmuid in between. It stayed like this the whole way down the muddy decent. The path was like it was ploughed and at times my studs were not shedding the mud making it even more slippy.
On the next climb which was equally as muddy I felt my legs has totally cleared the heaviness from previous day and I started to reel in Warren and Diarmuid. I was also conscious of Elizabeth behind who seemed to be climbing strongly. Warren in particular was possibly suffering from his quick ascent of first hill. Diarmuid and myself passed Warren about half way up and I used my quick pace transition at top of hill to ease pass Diarmuid. I tried to maintain a good pace along next level section and by time I returned to very top a quick glance showed that I seemed to have a reasonable margin.
Here was a route change from last year which was communicated well by Caitlin. Instead of taking the steep decent back down the way we came up we took a much longer and gentler decent mostly down fire road. It was here I met Ian coming back up. I thought he had finished and was coming up to give encouragement to the slow coaches behind him! He asked was I in 2nd place and I confirmed, and then he asked which way is it to finish! It dawned that he actually hadn't finished! Alas, this was my opportunity to steal a race win...but my slow thinking or perhaps my integrity instructed him to just stay on road all the way to bottom... So he took off making me feel like a tortoise and I concentrated on keeping my form. It was actually quite far and I had forgotten the extra switch back and I was doubting my own instructions of to just follow the fire road to end. I kept expecting a challenge from behind, but this never happened and I finished in a comfortable 2nd place.
With the extra distance, the race was 6km long with a bit more climb than previous year as well.
I'm sure had Ian ran on to finish the margin would have been 3 minutes if not near 4 minutes....but I'll take my 101%!
Elizabeth Egan came in just behind Diarmuid to be first lady home.
Thanks to all concerned for giving up some of their Sunday and Paddy's Day in making sure this race ran smoothly.