WMRA World Masters Women and M55-M75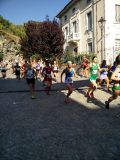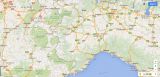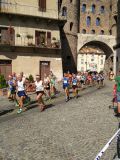 Authors
World silver for W40 and W45 teams and bronze M55
27 August, 2016 - Gerry Brady
World silver for W40 and W45 teams and bronze M55
The first day of the World Masters mountain running championships were held in 32 degrees on a tough uphill course in Susa, Italy. The first two kilometres of the race went through the town followed by 4.5 km at 17% gradient on a narrow dirt-track.
The women's race covering all ages was first off. Shileen O'Kane (6th) and Jackie Stamp (7th) were the leading Irish runners early on and they maintained their positions to the finish in times of 53:07 and 53:51 respectively. Hard on their heels was Becky Quinn (5th) in 54:14 and an excellent international debut. Italy won all team races except for the women's 40-44 category where Great Britain had a clean sweep of the individual medals. Ireland won silver team medals in both the 40-44 and 45-49 age categories. Zoe Melling prospered on the tough course to complete the women's 45-9 team while Donna Mahon and Aisling Kirwan (in her international debut) completed the women's 40-44 team.
Ireland won gold medals in the men's 55-59 age category in 2016 but had to settle for bronze this time based upon excellent runs by Ger Maloney (5th) and Martin McDonald (6th).
WOMEN 35-39 (14 finishers)
1. Flavia Boglione (ITA) 49:19
2. Lara Mustat (ITA) 50:07
3. Angela Serena (ITA) 50:37
WOMEN 35-39 team
1. Italy (1,2,3) 6
WOMEN 40-44 (15 finishers)
1. Lou Roberts (GBR) 47:16
2. Julie Briscoe (GBR) 48:19
3. Kirsty Hall (GBR) 49:08
5. Becky Quinn (IRL) 54:14
9. Donna Mahon (IRL) 01:01:18
11. Aisling Kirwan (IRL) 01:02:23
12. Hazel McLaughlin (IRL) 01:04:15
WOMEN 40-44 team
1. Great Britain (1,2,3) 6
2. Ireland (5,9,11) 25
3. Italy (4,8,14) 26
WOMEN 45-49 (27 finishers)
1. Simonetta Menestrina (ITA) 49:17
2. Marta Santamaria (ITA) 49:45
3. Nives Carobbio (ITA) 50:17
6. Shileen O'Kane (IRL) 53:07
7. Jackie Stamp (IRL) 53:51
15. Zoe Melling (IRL) 01:00:38
19. Vanessa Sallier (IRL) 01:06:13
WOMEN 45-49 team
1. Italy (1,2,3) 6
2. Ireland (6,7,15) 28
WOMEN 50-54 (29 finishers)
1. Maria Soledad Castro Solino (ITA) 51:07
2. Jana Matyasova (CZE) 53:16
3. Rita Lilia Quadri (ITA) 53:35
21. Laura Flynn (IRL) 01:08:36
WOMEN 50-54 team
1. Italy (3,5,6) 14
2. Czech Republic (2,13,16) 31
3. Great Britain (8,9,18) 35
WOMEN 55-59 (28 finishers)
1. Marie-Luise Heilig Duventaster (DEU) 52:44
2. Maria Giovanna Cerutti (ITA) 54:45
3. Ali Keates (GBR) 55:43
WOMEN 55-59 team
1. Italy (2,4,6) 12
2. Germany (1,5,8) 14
3. Great Britain (3,15,23) 41
4. Slovakia (13,18,21) 52
MEN 55-59 (57 finishers)
1. Claudio Amati (ITA) 42:26
2. Dr. Winfried Huber (DEU) 44:24
3. Luigi Bortoluzzi (ITA) 46:02
5. Ger Maloney (IRL) 47:41
6. Martin McDonald (IRL) 49:07
31. Eugene McCann (IRL) 59:05
46. Syl Ivers (IRL) 01:06:11
MEN 55-59 team
1. Italy (1,3,7) 11
2. Germany (2,10,11) 23
3. Ireland (5,6,31) 42
4. Poland (8,23,40) 71
WOMEN 60-64 (24 finishers)
1. Ann Marie Jones (GBR) 54:31
2. Anna Magrethe Trave (NOR)
3. Annamaria Galbani (ITA) 01:00:11
WOMEN 60-64 team
1. Italy (3,4,6) 13
2. Great Britain (1,14,16) 31
MEN 60-64 (52 finishers)
1. Gian Paulo Englaro (ITA) 47:59
2. Marino Portigliotti (ITA) 48:41
3. Alvaro Diez Gutierrez (ESP) 48:43
22. Gerry Brady (IRL) 56:11
38. Peter Bell (IRL) 01:04:10
48. Willie John Brown (IRL) 01:21:10
MEN 60-64 team
1. Italy (1,2,4) 7
2. Germany (8,9,13) 30
3. Spain (3,21,31) 65
4. Great Britain (6,32,40) 78
5. Ireland (22,38,48) 100
WOMEN 65-69 (15 finishers)
1. Annamaria Vaghi (ITA) 01:00:33
2. Gianna Annita Vaccari (ITA) 01:02:07
3. Emi Vaquero (ESP) 01:02:41
WOMEN 65-69 team
1. Italy (1,2,7) 10
MEN 65-69 (53 finishers)
1. Pierino Barbonetti (ITA) 47:50
2. Adolfo Accalai (ITA) 49:21
3. Aurelio Moscato (ITA) 50:00
34. Sean O'Neill (IRL) 01:02:48
MEN 65-69 team
1. Italy (1,2,3) 6
2. Germany (10,12,21) 43
3. Great Britain (4,22,33) 59
4. Slovakia (17,18,41) 76
WOMEN 70-74 (10 finishers)
1. Barbara Prymakowska (POL) 01:12:00
2. Karin Risch (DEU) 01:12:33
3. Halldis Nagell-Dahl (NOR) 01:22:17
WOMEN 70-74 team
1. Italy (4,5,7) 16
MEN 70-74 (23 finishers)
1. Vincenzo Imbrosci (ITA) 59:11
2. Claudio Milan (ITA) 59:20
3. Carlo Marino (ITA) 59:27
18. Patsy McCreanor (IRL) 01:16:57
MEN 70-74 team
1. Italy (1,2,3) 6
2. Great Britain (4,5,22) 31
WOMEN 75-79 (2 finishers)
1. Eva Carlsen (NOR) 01:23:36
2. Gaby Pohlmann (DEU) 01:31:14
MEN 75-79 (11 finishers)
1. Giuseppe Monini (ITA) 01:00:45
2. Seiffert Gerold (DEU) 01:01:56
3. Georg Gross (DEU) 01:04:37
MEN 75-79 team
1. Italy (1,4,5) 10