Galty Crossing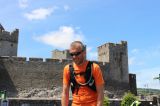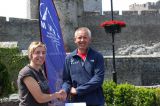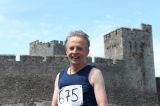 Authors
Loren Harnett
13 July, 2017
IMRA Galty Crossing – 2nd July 2017
The Galty Crossing, is a race across the Galty mountain range, which stretches for 32k from Angelsborough in Co. Limerick, to Cahir in Co. Tipperary. It passes over many of the highest peaks in the range, including Galtymore and Galtybeg, with a total elevation gain of nearly 1,600m.
I had thought about doing this event a few times over the last few months, and even marked it in my calendar, but hadn't signed up, as it was on the week after Gaelforce. However, a few weeks back, Derek Kiely said he was doing it, so I had a change of mind, and signed up straight away. It didn't take a lot to twist my arm! I had done no bike training / speed work for Gaelforce, so I decided to make that a training day, and was happy to keep something in the tank for the Galty's anyway.
About 7 years ago, I had my first experience of the mountains when we did a hike with a group from work to Lough Diheen, which is a glacial lake between Galtymore and Galtybeg. I was captivated, and I considered joining one of the walking clubs at the time, but never got around to it. Skip forward a few years, and since joining GoTri Adventure, I have had the chance to explore many a hill, but had not been back to the Galty's, so was thrilled to be returning, with the chance to cross the entire range in one go.
The race expects runners to be entirely self-sufficient, including water, and the course was not marked, so requires navigation across the open mountains, with runners having to visit several mandatory points to prove that they had completed the challenge. I've done basic navigation, but I still have a lot to learn, so was very glad that there was a GPS route available, that I could follow if needed. My plan was to try to stay close to some others, but these events are limited in numbers, and the field can spread out very quickly. Furthermore, visibility can be almost zero depending on the weather, so could not rely on being able to see anyone, or anything. The forecast in the days before the race changed constantly, ranging from mist and cloud to sunshine.
The day rolled around anyway, and myself and Derek left Annacotty and headed for Cahir to register. We had a great chat in the car, and Derek had a strategy for a strong race. Having won the IMRA Wednesday race at 12 O'clock Hills a few days before, he was in form, but a key factor was that neither of us knew the course – little did we know that this was going to have a big impact! There was a good buzz and some nervous tension at registration, as people poured over maps, and recorded the mandatory checkpoints on a little orienteering card. We did some last-minute adjustments to gear selections with the conditions looking like a warm day – changed the mandatory jacket to a lighter one, packed the peaked cap for the sun, put on some sun lotion and insect repellent.
There was a short bus trip to the start line in the little village of Angelsborough, and before we left, we got a final briefing from Tom Blackburn on the race requirements – these briefings always make me more, rather than less nervous! On the way, myself and Derek further discussed approaches – Derek was going hard from the start (he was looking around the bus, and sizing up the competition), whereas I was adopting my usual cautious approach, and I said that I hoped to finish in under 6 hours. My time estimate was based on comparing some previous finishing times of people I would estimate to be about the same as – it was all we had to go on.
The race started, and everyone took off down the road towards the stile, where there was a short breather while everyone got over, and we headed off across the fields and through a short forest stretch, and off up towards the first mountain. It was at this point that I started to regret having done Gaelforce the previous week, or indeed signing up for this event! The climbing was relentless, and I was just over 50 minutes into the race before I got to the first summit of the day at 765m.
My trekking poles, which I had decided to bring, only after I saw others with them, proved useful, both as an aid to get me up the mountain, and as a conversation piece, with others asking if they helped. Even now, after the race, it's hard to say 100% one way or the other – they definitely helped in parts, but in other places, it would have been easier to have had both hands free.
On the climbing went anyway, up and down (but mainly up), until we reached the summit of Galtymore, topping out at just over 900m, reaching there at the 10k mark in the race, in around 2 hours. The views were just amazing, and we took a short moment to have a look around, found the orienteering flag, punched our cards, and got moving again.
Next stop was Galtybeg, the other key mandatory checkpoint, only a kilometre away from Galtymore, but with a 200m descent and 100m ascent in between, and checked that one off also. This part of the course was quite busy with tourists, and it's always a great buzz to run past others on the mountains – they must think we are completely mad. On we went anyway, continuing through some fantastic scenery, but the constant climbing and descending, through open mountain rough terrain of knee deep heather and grass, peat hags, rocks, and stones, was energy sapping. I seemed to be finding the worst line imaginable through the course! Every so often, I would look up, see a high hill top in the distance, and ask myself if we had to climb it. The answer was mostly yes!
As mentioned earlier, my plan was to try to stick with people through the race to give some assurance that I was going the right way. There were various people around me at different times, and we had some brief chats, discussed navigation and the usual things. It's one of the really great things about these races – people are always happy to share some stories. I met a very friendly lady (Joan) from Silvermines, and we were running close together for a while, but she was a super descender, and managed to cover the difficult terrain with ease. She pulled away after a while, and I tried my best to keep her in my sights, but she disappeared. I was very happy to see that she came in second placed lady.
As an aside - I was talking to Derek after the race, and we both commented that we had not done enough training in the terrain or elevation – I found it hard going, and the change between soft uneven ground (more ankle strength needed), hard course rocks (tougher feet needed!) battered my feet and the steep ascents and descents hit the calves and quads. It was a lesson learned the hard way! We will be spending a lot more time in the Galty's, for sure.
At some stage, the climbing finally came to an end, and I managed to find my way to the forest entrance, having taken a bit of a scenic route! I saw two lads that I had spent a good chunk of the race following, head off in a direction that appeared to be different from my map, and I had a choice – either try to stick with them, and risk getting completely lost, or follow my own plan. I headed after them at a gallop, but I was losing them, so I decided that caution was the better option, and went my own way. This was roughly 7k from the finish, and from then on, I didn't see another competitor until the finish line. I was confident that I was on the right track though, so just kept a steady pace going through the forest. I had been conserving my water supply most of the race, and I was running very low. I was quite warm all day, and at this stage, and I knew I was dehydrated, so just kept taking small sips – there was a few tempting looking puddles (not to drink from obviously!) and I took the opportunity to stand in one to cool my feet a bit, which helped. I was going to wash all the grit out of my shoes, but my race brain kicked in, and I didn't want to lose any places at this stage, so was just a splash and dash!
I was expecting another checkpoint marker at the forest, but I could not find it. I had a small concern that I might get a DNF for not marking my card, but I decided at that point that I didn't care! It turned out afterwards, that it had been removed, so just as well I didn't spend too long looking for it! At the end of the forest, it was on to the back roads of Cahir, and onwards for another 2 miles towards Cahir Castle, and the finish. I fell over the line after 5 hours and 42 minutes, so was on target, and happy overall, but I was absolutely shattered. Derek messaged to say that he also had a tough day. He thought he was well down the field, but he ended up finishing 4th, in just over 4 hours. A great result.
I headed straight for the stream beside the castle, and waded in to cool down in the afternoon sunshine, along with many tourists. I chatted to a few of the lads, and headed for the post race meal in the nearby hotel. This was a very tough race. I have done several ultra events this year, and while not quite as long, it was right up there in terms of difficulty, and not to be underestimated. It's a classic race, and I couldn't recommend it highly enough – it's great to have it in the calendar. Thanks and congratulations to the race director Patricia Ryan, all the volunteers for organising such an amazing event, and well done to everyone that finished the Galty Crossing.
We may be loonies, but what a day!
13 July, 2017 - Mandy Parslow
The Galtee Crossing, this mythical beast that I have heard whispered about for years.
I'm lucky to live in the Glen of Aherlow, looking out on the Galtees and their changing moods every day. I've even climbed them on a number of occasions – walking. But the whole length of the range in one outing? Surely no one is crazy enough to run across them? Is such a thing even possible? Do these super-humans exist? Turns out they do and I'm lucky enough to know a few of them.
After doing my first MMRA event in 2015, the Loop de Loop half marathon, I got it into my head that I'd love to do the Crossing. Maybe looking across the valley at the Galtee mountains during the Loop gave rise to this madness. Due to several factors, it didn't happen in 2016, so for 2017 I was determined that the Crossing was stamped into the diary. I spent the first half of the year training away, enjoying my 'back-yard' runs on Slievenamuck, a couple of trail half-marathons (Slievenamuck and Ballyhoura), and the Muster league runs. So far, so fine.
Then the year creeps on and it's time to get into the mountains. Cue a drizzly foggy Sunday morning in May. A group of us head out to do the first section of the Crossing as far as Galtee Mor. You can't see 10 metres ahead of you, it's blowing a gale and altogether miserable conditions. I always knew it was going to be difficult, but reality strikes home like a lead weight. I'm exhausted after it and we've only covered the first third of the Crossing. Doubt creeps in. Can I do it? Will I be able to navigate? What if mountain rescue needs to be called out for me? The fear - the embarrassment!
Registration opens, decision time. Jo and Louise register and I'm feeling the pressure. I sign up – I know I'll be kicking myself if I don't - with the proviso that if the weather is awful, I'm not doing it. Four of us decide to stick together, myself, Jo Drea, Louise Rennie and Tricha Blackburn. We're looking to Tricha for experience, the only one who has done the route before. The next weeks see some work on navigation and a few trips up Temple Hill (it never gets any easier) and we're as ready as we're going to be.
A few days before the event and I'm a bundle of nerves. Why did I think this was a good idea, I haven't enough training done. My bag for the day gets packed and repacked, jogging around the kitchen to see how it feels. WhatsApp is buzzing with messages between us discussing nutrition and kit. We're realistic, we know we're going to be out on the mountains for a long time.
The morning arrives bright and clear and the nerves are gone. I'm ready and looking forward to it. Ger's 'one, two, three, GO' sets us off from Angelsborough with a smile on our faces, and despite the tough climbs, it doesn't leave my face for the day. I'm feeling a bit like a pack-horse – I'm sure I've too much stuff, but I'm happy to be out on the mountains with great company and spectacular views. We took the first climb, up the inappropriately named Paradise Hill, and on up to Temple Hill nice and handy, knowing it was the hardest climb of the day. By the time we reach the top, most runners are out of sight.
Dropping down from Temple Hill you really are in the heart of the Galtees and we had the perfect conditions to enjoy it. A climb again to Lyracappul where I enjoyed the tastiest apple I've ever eaten. We had the reassurance of the wall to follow from here towards Galtee Mor, and some nice running ground, pausing to wave to a couple of swimmers down below us in Lough Curra. After the obligatory photo at the cross on Galtee Mor, it was on to Galtee Beg, passing lots of walkers out for the day as we went.
On Galtee Beg there was the stark realisation that we were only a third of the way and had a nice few climbs still to go, including Greenane, Farbreaga and Slieveanard. Navigation got a little trickier after Galtee Beg also as we didn't have the high peaks to aim for, but between compass and GPS we kept pretty well on course. Conditions underfoot were in the main excellent and dry – although a couple of us still managed to sink up to our knees in bog, more than once, gingerly extracting the leg and foot, ensuring the shoe was still attached.
Towards the end we were getting tired and overshot our entrance to the wood, having to back-track to find it through dense gorse and heather, sapping the last bit of energy from tired legs. We were very glad to see the forestry track and the reassurance of red and white tape. A quick boost of Jelly Babies and off we headed for the last section of track, onto tarmac road and into Cahir. Running over the river, past the castle and into the car park with my three club-mates was a fantastic end to a fantastic day. It was finished off with a welcome washdown and cooldown in the river followed by a lovely meal and lovelier pint in Cahir House Hotel.
Huge thanks to Tricha, Louise and Jo for the great company, it was a real collective effort. And to RD Tricia Ryan and all the volunteers that make an event like this happen – and for waiting on us!
I am still in awe of the times that many can do this event in. You really are super-human. But I would hope that there will always be a place in MMRA for those of us at the other end of the field.
See you next year!