Mullaghmeen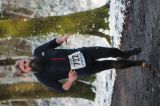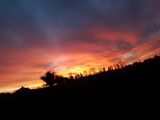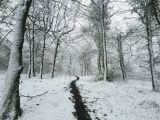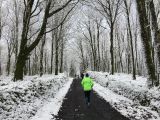 Authors
Snowy Mullaghmeen
12 February, 2018 - Mick Hanney
Mullaghmeen. First time trip up for this and boy was it worth it for an unique event given the weather conditions which prevailed. Its a long drive but as we neared north Meath the snow started to fall, cars coming towards us were increasingly snow covered and we sensed it was going to be an interesting day.
On arrival the forest in Mullaghmeen was very picturesque with snow. Luckily the organisers had their own impromptu shelter for registration and later for post-race treats to keep things somewhat dry.
Was very cold beforehand too, with many people staying in their cars to the last minute before the off. After brief pre-race words from our race director which mentioned mud a lot, we were started.
Off down a muddy track. And the thought that if this was the on-road track, how muddy will the off-road be? And the answer was very.
Normally it is easy to see your running competition but when everyone is covered up, so focused on finding their feet it gets harder. I did note Jason Dowling and Theo Mooney around me at this point.
The first kilometre was speedy enough with lots of cold mud splash to wake you up.
The 2nd kilometre brought a sudden reduction in speed as we struggled upwards towards the peak on slippy slidy mud, leaf fall and snow. Even those of us with the trusty X-talons were slipping, making forward progress interesting. Thus set the pattern for the day. Do you trust where others had run and possibly slipped or try find fresh ground alongside which could be beset with other dangers – snow covered holes or branches.
The next couple of k were downhill some on a camber of the hill through trees and over tree roots. More slipping and sliding. I blur a bit recalling the detail but I think at this stage we skidded down steeply through the trees, some of us on our back-sides, to a marshall who was probably having a great laugh at our lack of control. Ahead I spotted Torben and Karl both running well.
Mid-way mark and another climb, which on strava is called 'ya b@st@rd'. More mud and snow.
Another fast muddy section followed and I think I managed to break away from Gordon Place here, But looking at the watch I was dismayed to see only 7k travelled when the legs felt like it was nearly over.
After some disorienting single tracks in the forest, when I was worried I might be following earlier marking, we took in the last main climb of the day. The wall. Pretty severe at the best of times, in mud and snow it was pretty damned hard. Add in some downed trees to go under and over.
After that the worse was over and it was nearly all clear muddy fireroad to the finish, that's if the legs could actually turn at that stage.
Great great fun. Rarely have I seen so many people caked in mud after a race, but smiling throughout. A fine spread of food and refreshments afterwards courtesy of our hosts. Thanks to St Brigids running club for a great event. Worth traveling for, for sure. The photos from the race on Facebook are a treat.