Brockagh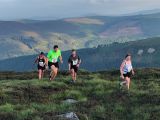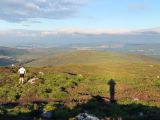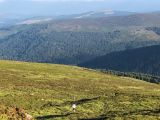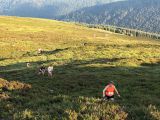 Authors
Brock-Aaagh!
19 July, 2018 - Graham K. Bushe
Leinster League race number 7 for me, having missed some of the earlier outings. Looking forward to it, especially the grassy descent, trying to ignore the rest…
I manage to convince my son Adam to come along and we get a lift up thanks to Caoimhín and Rían MacM. With registration taken care of I decide to pop over and see if there is anyone around at the Adventure store, but the door is locked. My phone pings and I look to see that England are 1-0 up. My phone has now decided that I need regular updates on the World Cup; what I really need is something to get me around the course tonight! The usual great chats ensue, I get to congratulate Paul Keville on his recent round achievement (and still looking fresh!)
RD Rachel addresses the masses and suddenly we're off. Now there are some races where a fast start is to be expected like Trooperstown or Alan Ayling's Djouce, But Brockagh? Seriously? In a matter of seconds, I'm engulfed in a swarm of runners all vying for a spot close to the front and I don't have much time to dwell on a plan. I opt to go with them. Join the Wicklow Way and the climb gets a bit steeper, but the pressure remains constant. As we turn the next bend I am passed by Peter (of the Bells - who is getting a lot of press coverage in this race) I watch as he quietly tucks in behind brother John. Aha! I know what you're up to. Sit there and wait… Cunning plan. But then all that goes out the window as he draws level and has a chat with the bro. We negotiate the rocky bit and zoom the next descent but remembering the climbs ahead. Places are being gained and dropped all around. I had forgotten the cut-back bit and how steep it is. Eventually we reach the gate out onto the mountain and I'm hoping for lots of ferns to slow the pace a bit. I'm not too disappointed, but the growth is high as I push my way through, trying to keep Paul Keville's heels in sight I hear a voice… It sounds like Mikey. I look around but all I can see is ferns. "I'm here Mikey", I gasp waving my arm above my head wondering if he can find me in this jungle. We cross a few dry drains and I try not to fall in. As we move along the side of the trees the ground is rough, but the ferns are gone. All too soon we turn out and head towards the summit. And now I remember the heather! Only it's longer this year. As I slowly try to negotiate my way up I begin to realize that I am at a bit of a disadvantage. All around me long-legged runners are gliding along, carefully and seamlessly picking their steps up the side of the hill. Meanwhile I am reaching and jumping, bringing my knees half way up to my ears in an unsuccessful attempt to get over the stuff. My phone gives a few pings and I'm hoping for goals, but it will have to wait. I dare a glance behind and see a flash of yellow. Thinking it's Barry Murray I press on happily only to realize that Barry is actually miles ahead, and it's Torben who is closing in… along with Mikey. Thankfully, and not too soon, we reach the summit, and the next bit that I have been looking forward to. I pass Paul and look to see who is beyond. After a bit I am on the heels of Peter Gorman. With more pings on the phone I'm expecting a goal-fest. I slip into follow mode behind Peter for a bit, but we're moving well anyway. Then I look further ahead and see that Barry is almost out of sight. This is just where the descent steepens a bit. So, I decide to put the boot down. Not that I am going to catch anyone, but I do remember the long run down the fire road and I remember the runners who are just behind me, each capable of a super-fast finish!
Yes! I get through the gate, work done, out onto the Wicklow Way to some lovely tin-whistle tune. I reckon there is about 1.5km to go. But then I hear footsteps behind. Very close behind and gaining super-fast (just like I said!). In an instant I have company on my left shoulder. Its Damien McParland "Oh wonderful! NOT!!" 1.5 km of relentless pounding is looming. Needless to say, he didn't just sit back. He went for it! And now it is me on his shoulder, trying, just trying to hang on. I decide it is going to be a battle to the end. Muscles screaming, mouth parched, gasping for air, legs threatening to buckle, on and on it went. Just before the last turn Damien eased of, just a fraction, but I use this to give me momentum. I turn the corned and nearly die to see the hill ahead. Yes, a mere bump on a normal day, but right now it might as well be the sugarloaf. I desperately hope Damien doesn't notice my slump and I push for the finish line. Wow, that was hard work. Adam has been back an age and greets me with the score "What? Only 1-1!" and he is looking at me like I'm a mad yoke (not for the first time…) We decide, collectively, that we will go to Lynham's for the last bit of the match. And we were there for the all-important winning GOAL!! Then back home, stopping for chips and cold cans in Roundwood. Another superb summer's evening.
A massive thanks to Rachel and her crew for giving us folk a chance to run amok around the hills in Wicklow.
Well done to Barry Minnock and Becky Quinn on their respective wins. And to Peter who bested brother John.
Brockagh Bells
13 July, 2018 - Barry Murray
A 5hr drive cross country in a camper is probably not the best preparation for a mountain race, but enough excuses. Managed to arrive just after 6pm, jumped out of the camper, grabbed a bag off Rachel, and started taking cash at the entrance for the "poor" farmer.
Had to get changed for the race in a bit of a hurry. Usually prefer to have a relaxed build up but still had time to get a jog in with the lads and start getting the craic going. Nothing ventured , nothing gained, was sort of my intention. I have written before about starting off controlled and building in to the race. However, over time, I've managed to get some speed back in to the legs and I have been able to go off at the front of most races. So that was the plan here. A nice brief race briefing from RD Rachel, and we were off.
I went off and led the race for about 5 seconds. Barry Minnock then sped off but I thought I'd catch up with him again on the technical sections ;-). Up the first few fireroads that Mikey loves and the pace was fairly tempo. I was happy to get the legs turning over, and Neilus went a few steps ahead of me. Up the first slight drag and old man Peter O Farrel shuffled by me and aimed for Barry. So I'm in 4th at this stage but its very early doors. Before we hit the open mountain, I had deep breathing on my shoulder, caught a glimpse of a blue singlet and saw it was Bernard. I led us into the ferns, which with the sun made them tough to navigate. I could still see Peter, Barry and Neilus ahead of us through the glare. As we approached the side of the mountain, Bernard skipped by me and I just then tried to stay on his shoulder. He got a few yards ahead and just before we turned right up the mountain, I heard a shout from Damian MacParland telling us to go right. I then thought Bernard had missed the right turn and I sort of stopped and headed up right, shouting at Bernard at the same time. He kept going though so I immediately knew he was still on the right track. It meant I just lost maybe 5 seconds on him and Damian and a couple of others closed in on me. When the racing is that tight, seconds do count !
Anyway, OAP Paul Mahon was at the official turn up the hill and this led us up the summit. No trail here, just marching through the gorse/heather. Good for the longer legged people. I had Karl Maguire on my shoulder here and another lad I didn't know. Bernard had managed to get a bit ahead of us. I was thinking once we hit the summit, I could get the running legs going again and make up some ground.
Karl and the other lad were just ahead of me. The descent is lovely grassy not too steep flat out running. Just didn't have the pep in my step I thought I would have. I was just behind Karl who was moving well with the other lad just ahead. Thought for some reason we might catch up on non technical Barry M but as Peter pointed out, that was a con.
I knew we had the fireroad to the finish so I was holding back some gas for this. Karl didn't lose any pace though and I couldn't make much ground. 1-2mins in a race can be won or lost in a variety of ways. And in these IMRA races, no matter what part of the race you are in, you can beat someone you know one week by 1-2mins, and the next week they can do the same to you. So many factors dictate this - the route, the conditions, your day, the side of the bed you got out of, etc. So anyway, I started off in 1st, finished 7th, so probably not my best paced race. But numbers are just numbers. I always prioritize just enjoying the occassion and having fun. And it was. Lovely warm evening, fast running, in the garden of Ireland. The fun didn't stop though, and as I was just getting my breath back at the finish line, there was a big cheer. Peter Bell crossed the line with his hands in the air, as if he just won the Irish Championship ! He might as well of, as you can read in his report, his first time ever beating his bro John in something like 120 races ! He even beat Mikey too but Mikey is still getting the holiday out of his system !
Probably the most important part of my race was getting a few of the lads back to the new camper for some cold beers. I was actually thinking about this all through the race ! No better way to rehydrate. Might have to get Mikey on the beers soon too ;-) Packed crowd back in Lynhams for the big match. Good to be able to catch up with everybody. Recovery is tricky at these evening races. Not much chance of a proper "recovery" meal. So beers it was, and then back in the camper, pistachio nuts and parmesan cheese was the odd selection of choice. But c'est la vie. Camped out in Trooperstown dusty carpark and got a rinse down in the river in the morning.
What a trip.
The times they are a changin!
12 July, 2018 - Peter Bell
Bob Dylan.
So my first race report,has to be done. Ive even cracked open the 10 year old scotch whiskey for this one. Race over,showered,niece piece of salmon for dinner, dead south on for the tunes and here we go.
Home early today and time to relax and chill before the race,weather looks perfect for the race, bit of cloud helps. Im remembering last years race and it was el scorchio. I decided then just to take off like a mad man and enjoy the glory of being ahead of johnboy for 2-3k, ha. only to blow up of course and pritty much walk the rest. But it was a fun 3k. To the guys who dont know who john is, hes my older brother who basically kicks my ass every week. Anyway, today started with the man 3 strings Fennessey picking me up with johnboy and Fenos little one Kate. Great to see the next generation out enjoyin the races. (no kev as he hurt his little toe playin football or somethin).
Arrived to see the usual imra legends all gearing up for the race, Baz Murray, Mikey, Bernard, Becky, Graham and the rest. Now i decided to have a quick snoop in Barrys new VW camper as he was collecting the monies at the gate. straight to the fridge obviously to check if the beers are chillin for the finish. No sign but i knew he had a cooler stashed somewhere.
We headed off to the race start, feelin good and i decided to just chill and enjoy the race, Not to go off like a mad man again.
3-2-1 and we are off. yeeeeee haaaaa
ha ha i love that bit.
Good pace at the start, leaders flyin off. I look around to see Becky, Graham and John. Happy enough to be keeping pace with these guys, headin up the fire road. Passed Graham and Becky and tucked in behind John, and taught to myself just sit here and follow him to near the top then go for it, flat out, but then i taught screw it, i probably wont see him again for the rest of the race. Have a bit of fun and got up beside him to say hi, overtook him and hit the nice little bit of downhill through the trees ( good fun this bit) knowing what was at the bottom, the dreaded uphill again. Graham flew by and powered on, John passed and followed. Ok i taught, just chill, recover and go again.
lost another 2 places, but kept at the same pace as the 2 guys in front. Through the ferns( good work on the choppin of d ferns) tough slog up the hill through the heather, started to feel good again so was able to get the run goin again. John was just ahead i could see his lovely shorts and he looked like he was struggling in the heat, so i knew it was now or never as i know how good he is on the desent. Got to the summit, looked back to see he was 20 sec or so behind. Nice run along the top section ( i like this part), uneven, boggy, bumpy, the odd rock, perfect. I can make a bit of ground here. I start closing on the runners ahead, Torben and Mikey i think. Hit the top and start the class decent, grassy, rocky, flat out, legs going as if there not even connected to the rest of your body anymone. This here is what i love about Imra, the downhill flat out buzz. See Mikey and decide to go for it now as i know he might be saving a bit for the fire road cause i know how much Mikey loves the fire road at the end. HA HA Painful!! more fire road for Mikey imra please.
Hit the fire road and held it to the finish.
Great race, great people, great fun.
Back to Barrys camper for ice cold beers straight from the cooler and a clean t-shirt (cheers baz), knew i could rely on baz. ha
Headed back to lynams for a packed pub full of sweaty lads and lassies watchin the England Match and then all the imra crowd arrived. ha first time we werent the smelliest in the pub.
well done to all the winners and thanks to rachel and her voulenteers who made it happen . Good crac, good friends, Great night.
And a final word from my friend Bob ( you didnt forget did u)
" The line it is drawn
the curse it is cast
the slow one now will later be fast
as the present now will later be past
the order is rapidly fadin
and the first one now will later be last , for the times they are a changin.
johnboy theres a new kid on d block.
ha ha
imra u legend goodnight baby
Peter O'Farrell
12 July, 2018
A great race. Thanks to Rachel and all the team for putting it on. This endless summer keeps on giving, the ground was as dry as it has ever been and even the midgies are finding it hard. Desiccated bog. Desiccated..
The race was great, the gallop from the start was a vibrant triumph of hope over pragmatism with lads heading hard for the middle distance only to find it wasn't really the promised land once they got there.
Once the most optimistic lads had dropped back the familiar view of Barry Minnock's back was at the head of affairs with Neilus keeping company close behind. Working very hard here I got up past Mikey Joyce Fry, Barry Kerryman Murray and the lads and up to Neilus and then settled into the hard steady painfulness that doesn't really feel too painful in a race and thought to myself sure it's only Barry ahead and according to himself on the forum he doesn't like technical descending. Things were looking good. I kept the pace at hard steady and didn't try to gain any more time on the climb as I'd pushed hard on the fireroad to close the gap. Between the forum post and Brian Furey putting time into him on last week's descent this plan seemed feasible.
What I didn't realise was that it had all been a big con job! He lulled me in a false sense of security with the sadly mistaken idea that if I got to the top with him I would drop him on the descent as my thinking was he would be better on the fireroad climbs and I would be better on the steeper ground.
Part A of this plan went swimmingly, I slipped into the lead in the maze of ferns where Barry went awry with the sun in his eyes. This cast me into the wrretched role of pathfinder which proved troublesome with the sun and led to the lads catching up again. I was sad, as I'd gone pretty hard to get in front of them on Mikey's blessed fireroad.
Up to the summit with Barry on my shoulder and part B of the plan kicked in action with me putting the head down and charging off the peak, leading Barry towards Mullacor unfortunately. Whoopsy. Just your typical nav error with a huge piece of marking tape 2m away.. I realised quickly enough and then Neilus called us back. No harm done and thanks Neilus.
Part B of plan A was dusted off and kicked off again, on the correct path this time but something was wrong. I wasn't Brian Furey. The self proclaimed non technician Mr. Minnock was happily sitting on my shoulder waiting for the flat bit between the Brockaghs where he put his plan B into action and charged off into the middle distance, the actual promised land this time. I had no response, I had gone pretty hard on the climb thinking the descent would be easier. boo.
I was a beaten docket pretty instantly and went into high listening mode for the pitter patter of heavy feet knowing Bernard/Neilus/all the gang was out there somewhere and I was wearing a very white top.
Back to the pub and two tasty pints washed down with the remnants of the Connacht BBQ crisps. And then spot prize chocolates. yummy. Becky had her usual stormer with our new glorious leader Tanya in second, Joe Lalor gave me some good route advice to pass on to Orla for Carlingford, Caitlin Bent won the W70 and Hilary the W50 and all was good in the world.
ps : Here's the photo (thanks Kevin) where Barry knows the con has worked.. https://www.imra.ie/photos/view/id/142248/
Peter bells day:))
11 July, 2018 - Mikey Fry
So no 99ers today r jelly's with the lads and then a chipper I had to watch the lads eat at 6pm I was just about to throw the towel in and have treat tea but no I stupidly went off towards gledo for the usual Wednesday night fun in the hills ...drove into the field to park meet by Barry Murray collecting money for his petrol money home to dingle in camper van:)..parked looked around and knew it would be a tough race lots of good heads around ...nice chats with the lads John Brian Peter Barry and then warm up Rachel chatted for a bit and were off up the horrible fire road at a good pace i knew tonight the legs where going to struggle something off but I keep going left off the fire road some downhill bits turns ups got passed by a few then some more up hill fire road which was delightful..we hit the ferns nice comfy under foot and weaved r way across and up towards the open mountain when we did eventually take the right turn up towards the summit very tough going all the way up mostly walking ..torben just behind me Damian graham etc ahead phew I'm glad we're at the top so I was hoping legs were going to work Damian passed me a little way dow
n then torben at a good pace but I couldn't get my legs to work any faster so keep on belting up the last little up hill and on to fast stuff I was heading down and could hear some loud breathing I tried to keep them off wondering who it was then Peter bell passes me and and shout well done cause he's being trying to beat John bell his brother for about 100 odd races and he's got this one in the bag since there's no sign of John on his heels(super well done again dude) so I go after Peter with not much luck see him heading into the trees near the end but he's to far way I really hate that bit at the end of the race it's so flaty crappie but flying over the finish line is a relief John comes in shortly he had to do his yoga at the summit:)....as always some great race banter and back to field where like grannies Peter Barry Brian John and myself continued the nice chats we had started probably should have stayed there and started onto the drink..Barry always likes a wee beer after the races...
Down to the pub oh did England lose whoops..well done to Barry Peter and bernad..and Becky and sorry names how slipped the mind for great running..thanks again to Rachel and the crew your the best well done:)
Mikey
(Barry hope you've parked in a safe spot peters not going to sleep tonight is still very excited about he's win he might makes a call out to your van:))