Wicklow Way Relay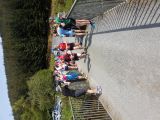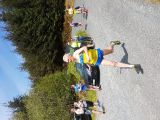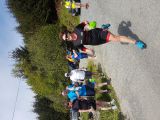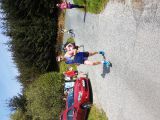 Authors
Wicklow Way Relay 2018 - by the numbers report
20 May, 2018 - Rene Borg
A report – run by the numbers and from the numbers – if any offense is taken for any representation, write it off as the lack of social skills displayed by the statistician.
Triple (Trinity?) Crown
It is linguistically fitting that TT Racers became the first team to win three back-to-back relays. They truly are 'Relay kings' having also won the inaugural 'The Relay' in 2017 – four trail relays on the trot for the Trinity Track! They are now second in the medal table – behind only Rathfarnham.
Title race?
Rathfarnham were in 9th after leg 1 but almost made the race memorable by pulling into the lead on leg 5 and 6 taking maximum advantage of the TT Racer mishap. But it wasn't too last – Des Kennedy ran the fastest time on leg 7 to draw back in the lead. Linda Byrne kept it that way.
A fading force?
Last year TT Racers dominated nearly every leg. This year they only 'won' leg 1, 4 and 7 with the other legs going to Mountain Toppers, Le Cheile, The SIG-nigificant others, Rathfarnham and UCDO. Is there hope for the chasing pack in 2019?
Getting faster? (insert Rocky music)
TT Racers winning time of 7:23:04 was the 25th fastest in terms of average pace for the distance and the 10th fastest 'overall time' (harder to compare as the race has been 101 to 104 km long with different terrain).
To fully appreciate Rathfarnham's 7:03:13 record consider: they ran 19 seconds faster for every single kilometer over the 104 km of the 'normal' course. It'll take some breaking…
The average teams time improved by 6 minutes – roughly the difference in distance between last year's course and this year's shorter course. The top-3 and the top-10 both got slightly slower – the third year in a row that this is the case.
Record breakers?
None of the impressive records from yesteryear fell this year but re-routes and route changes led to a few new 'best times' as these courses were run for the first time. Not all should be considered true Course Records:
The shortened leg 3 saw best times of 32:44 (men) and 35:05 (women). As both times are slower than the time for the longer version, they cannot be considered records.
The lengthened leg 4 saw a best time of 40:54. While it has to be considered the best time for the new course (200-300m longer), the 'spiritual record' must remain the 37:42 run by Kenneth Kelleher in 2015 – over 3 minutes 12 seconds faster. The ladies record sees the same situation – the current time of 41:37 remains the mark to beat although Becky Quinn's 46:05 is the fastest time run on the longer course.
Valter Valente's time of 52:30 was the fastest time run on the re-routed, shorter leg 5. As it is slower than the record for the longer route (51:43) it could not be considered a record even if this re-route was permanent.
Leg 6 has returned in something near its previous incarnation. The longer grassy section undoubtedly makes the course slower but not quite enough to justify calling Louis McCarthy's otherwise excellent 52:48 better than Diarmuid Collins astounding 47:40.
Giving no ground
Only one team never faced the dishonor of being passed out. Crusaders AC gained or held their spot on every single leg. They helped themselves somewhat by beginning with a 20th place – eventually working their way up to 3rd and the podium on leg 7 before defending it on leg 8.
'Getting caught'
There was plenty of passing out on the day with many teams being passed out 4 times during the race (on half their legs). The Kilcoolers and 'Tipping off' lead the list for jerseys passed out the most – having both been caught 5 times!
The 'worst streak' of the race was set by Overboards who lost positions 4 legs in a row moving from 4th on leg 2 to 10th on leg 5 before arresting the slump by climbing again on leg 6. Three teams ran them close having 'bad streaks' of three legs bleeding places in a row.
'Hunter of the day'
The undisputed pass-out-master of the day was Michael Whycherley of Crusaders AC who passed out ten runners on leg 2. As he may have been somewhat aided by his team being further down than expected after leg 1, honourable mention should go to Kieran Walsh of Lactic Lunatics who passed out 8. In general, leg 2 saw more passing out than any other – not surprising as runners are still closer together and perhaps therefore we cannot truly talk of 'best hunter' as runners on later legs have less favourable conditions for overtaking. On leg 8 no one gained more than 2 places whereas Valdas Tylunas of Wicklow Waysters still managed to pass out 5 runners during his 21.1 km ordeal.
Worst finish
This honour goes to 'Not fast but certainly furiouser' who conceded one spot on each of leg 6, 7 and 8 for a triple-leg slide!
It's 'swing time'
27 out of 35 teams had 'come back for more'. 7 of the 27 teams improved, 14 finished worse and 3 finished in exactly the same spot (TT Racers will be most pleased about the latter statistic).
Most improved
Improvements were small for teams with no team improving more than 2 spots on last year – three managed this: Mountain Swifts, Ticknock Trailers and UCDO.
Locals 'hang in there'
Glendalough AC just hung onto their top-10 status for another year but had it not been for Mountain Toppers big time penalty it would have been over as they would have moved from 12th to 8th place.
Bye bye top 10
Leaving the top-10 is like being relegated from the Premier League – there should be a parachute payment. In the end only one of last year's top-10 – Tinahely Tri Club – were pushed out with a 15th place finish. They had a tough day starting in 26th and improving every leg all the way to 14th before a one spot slide on the last leg.
Biggest slide!
A surprising amount of teams had a significant downturn in fortunes with 6 teams sliding 4 or more spots 'down the table'. Le Cheile were hit hardest moving from 14th to 24th. Why we ask? Bad luck, playing the reserves, resting on the laurels? We'll never know…
Double jobbers
A few runners were not satisfied with just one leg: Olwyn Dunne did the back to back double of leg 7 and 8 whereas Torben Dahl ran for two different teams – doing leg 1 in the morning for 'Not fast but certainly furiouser' before running leg 7 for Glendalough AC after a half day recovery! Rumour has it he did not make his planned Marlay Parkrun outing…
And…it's a penalty!
Four penalties were doled out – 3 x 10 minute penalties for bad parking and a 1x 15 min penalty for not providing promised volunteers on time. Hopefully the need for such policing will remain at a minimum in future years – teams don't enjoy it and volunteers don't enjoy it.
Insult to injury?
A few teams decided to penalize themselves – among them TT Racers who decided to add 1.7 km to leg 5. There's a view that this should have been bigger and runners should be forced to run back to where they diverted (if in fact they could find the point of diversion) but currently the relay operates under a 'we don't add insult to injury problem'.
They were not alone – Glendalough AC's runner started 90 seconds late on leg 2 and Na Piarsaigh's leg 4 runner is estimated to have started 20-35 minutes after his leg 3 runner arrived! These stories are not exclusive. Sure we have all the time in the world don't we!
Wicklow Way Relay 2018: Rathfarnham AC Team Report
20 May, 2018 - David Power
By David Power, Team Captain
One of the highlights of the IMRA calendar, a real celebration of team spirit, adventure and surprises. Rathfarnham AC was hoping to continue our proud history in the Wicklow Way Relay, an 8 person relay over 100 kilometers from Dublin to South Wicklow. In our way stood the reigning champions, going for 3 in a row, TT racers.
After 7 hours of racing, only 7 minutes separated the teams. The mass starts at 7am in Kilmashogue let 35 teams off. Peter O'Farrell got the ball rolling with other Rathfarnham clubmates Greg (UCD) and Turlough (Overboards) putting in good times. David Power on leg 2 was left waiting, as a smiling Mike Long (UCD) took off towards Curtlestown. David clawed back some places on the way past Djouce, bringing Rathfarnham up to 3rd.
It was a hot day - great for the many teammates driving along the route, not so good for the runners later on. Newbie Beth Neal was up against some strong pedigree on leg 3, but that didn't bother her and she got us up to 2nd place, after Cathriona Jennings (TT Racers) went off course. Over to Paul Fleming on leg 4 and he put everything in, to get us to halfway at Glendalough in 2nd. Paul charged past some startled tourists along the way – what's the Japanese word for "track"??
Ciaran Aylward took the diverted route up Glendalough. While Louis waited at Glenmalure, team captains Terry (TT) and David (Rathfarnham) were anxiously staring up the hill. To our surprised delight Ciaran flew down the hill in the lead. TT's runner had missed a turn on the descent, meaning he lost over 7 minutes, running an extra mile. Race back on!
We had a 90 second lead, which Louis increased to 2.5 minutes on leg 6. Brian Furey was on the long leg 7 and put in a strong effort in warm conditions. Des Kennedy (TT), who's in the form of his life, snuck by to retake TT's lead. Clare Sullivan patiently waited and ran well on leg 8 to bring us home 8 minutes behind TT Racers.
Overall a thoroughly enjoyable day for all of 35 teams and 200 plus runners. It's a unique event, with a great sense of camaraderie and goodwill. Race director Jason Kehoe did highlight the risk to events like this, if volunteers don't help make it happen, with marshals, as well as the need to respect local road users and keep the countryside clear of litter. That message echoes what many club coaches see every week – selfless work to make things happen for others can go unnoticed. Well done to all the organizers, competitors and supporters. Now onwards to planning our 2019 team…