Ticknock Tick Tock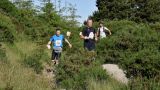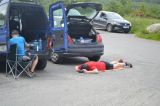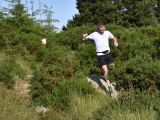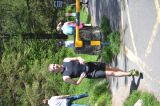 Authors
More loops than runners
25 June, 2019 - Gordon Place
Rarely do a report, so two very longwinded ones in as many weeks is pushing it. Apologies if it's boring, starting one is a bit like Pringles, but hopefully it might encourage more people to enter this great and very sociable race next year.
It is not as complicated as it might sound, with little or no navigation required other than being able to follow a trail map for the first couple of laps, and it was a lovely route suitable for all. Just bring a chair, or mat and fill the car with water and food.
I was really looking forward to it but still felt wrecked during the week. Uphill seemed ok but the flat and down was still a struggle on Wednesday's Djouce race, with the right knee still getting sore after a few km. So the plan was to go along anyway, see how long the running would last and have a bit of craic for the day one way or the other, knowing I wouldn't be too far from the finish no matter what lap I lasted to or where I might have to pack it in, with the hammock thrown in van just in case.
We were blessed with the weather compared to anyone who opted for the Galtee Crossing on Sunday instead but the midges were still out in force at 6.30 am. At least James was prepared with the full head cover. Reg was quick and maps were handed out for serious scrutiny. The deck chair was up and the camping gas set to boil the kettle for the first break after Lap 1.
Lap 1 Clockwise
A quick explanation from James and he rings us off with the cowbell, half of us reaching for the watch button but there are no watches today. This was a non scoring way finding lap with everyone going clockwise. No one was too quick to volunteer for the pathfinder role and we all more or less stuck together until control no. 1, which when found, inspired a bit of confidence and I think we split into two groups here. On control no. 3, I had to stop and take off the long sleeved top, it was already pretty hot at 7.15am. Paul was in the lead so we lost him here and hoped we wouldn't be lost without him for the rest of the lap. Between us, we found the remaining controls easily enough, got back to base and into the deck chair ASAP. Thinking about whether to force in some food every break or not. Had a bit of brekkie but left the coffee for later. Anthony has the right idea and is snoozing on his mat!
Lap 2 Clockwise
Eilis takes a few pics of the small start line and the first scoring lap is off, I think roughly split half and half between clockwise and anti-clockwise runners. So who are the speedy ones? Who, if any will tear off in the early laps? I know Peter Gorman will be off to a flying start, with Paul close behind. Nicolas is unknown and I am not sure of the other lads either but I think they are off in the other direction. Peter is quickly gone ahead, with Paul and I following and Nicolas close enough behind, not sure who else is on clockwise now, if any. Paul and I chat our way around, sizing up the rest of the small enough group of runners, both surprised that more have not entered. We pull away slightly from Nicolas on the last climb and finish side by side, but he's still marked as one to watch. The anti-clockwise runners come in just after us. Everyone is straight to their seats, topping up on water, food and a snooze.
Lap 3 Anti-clockwise
It looks like the groups are the same but the directions swapped. It goes pretty much as before with Peter on ahead, Paul, Nicolas and I more or less together behind. We chat our way around again, agreeing it'll be a good social day and training run if nothing else. We meet Peter at the next bend doubting his route choice so all 4 of us arrive at control 3 more or less together with Paul just ahead. We meet Greg Byrne out for a stroll with the buggy and camera, who jokingly accuses Paul of being up to his old tricks….
(Apologies here to Greg, I quoted his 2017 winning time a few times during the day as 5.34, when it was actually 5.23!!)
Peter pulls on again and disappears. We get to the last control where Nicolas speeds up and tears on ahead, and Peter surprisingly pops out behind us. Paul gets on to the gorse lined single track ahead of Peter and doesn't leave much room to pass. Nicolas is gone so Peter is chomping at the bit, 'squeezing gently' past a widened Paul after a couple of failed attempts and taking off after Nicolas. Paul follows but I'm stuck in the only gear I seem to have at that stage and can't go with them.
Lap 4 Clockwise
It seems like it is a random selection now of clockwise and anti so my romance with Paul is over for now. Hard to know now how to go on this lap, Peter G, Paul & Nicolas are going Anti-CW so Peter should be out in front again. But will Nicolas try to keep up this time? Will Paul then have to chase, or vice versa, or will Paul just get in a quick lap while we are apart? And I'm down a bit on the last lap too. I decide to try and stick with the same relative effort and hope to be just on the right side of the half way mark when we meet. The climb up from the first control seems a lot harder than it was on Lap 2 and the day is getting warmer. I meet Peter well into my half and he looks to be cruising. I expect to see Paul at every bend. He's not too far behind and I reckon its close enough to half way but he's put a bit of gap on Nicolas. What does that mean, is my halfway guess a bit off? I try to make the most of the downhill and am surprised to be in ahead of Paul even if it is only by very little. Back in the deckchair and kettle on! A little bit of food, so not too full going out again and just enough time for a mouthful of coffee.
Lap 5 Anti-Clockwise
At this stage I think I am favouring anti-clockwise as there seems to be longer slow drags on the clockwise whereas it seems you can get the climb over with quicker on the anti CW, plus I thought I was very slow on the previous CW climb that should have been run well enough. No watch makes it hard to know how you are doing overall, along with the changes in direction. Plus I keep forgetting to check the clock when we get in to see if either way is actually faster, or whether lap times are being roughly maintained. Seems it is all in the head as it turns out there was only 20 odd seconds difference across those 4 laps despite each feeling different.
It's the opposite of the previous lap so on my own again, wondering if Paul will try to make up that minute on this lap. But I am feeling better on this one, warmed up at last and manage to run up at least half of the old WW. I still meet Peter on the wrong side of the half way point but seems like a longer gap to Paul this time. He reckons he's a little further back from where we met last lap, but then we finished close again so he must have pushed on from there. Back to the chair and the coffee is still warm enough to enjoy. Lash on the sunscreen as it's getting pretty hot. Seems nearly everyone is starting to groan at this stage but the next lap is non-scoring so some respite and a chance to get in a bit more food and drink.
Lap 6 Free Direction choice and can Drop 2 Controls
James and gang are surprised that it takes people so long to think about this one, but no one is taking the slightest chance of going an inch further than they have to. Peter and I opt for Anti-CW dropping controls 1 and 2, which means linking up with the tarmac road in the middle. I think most others cop that you don't have to follow the route from the start and could do the same thing but going CW using the same road. This leaves us with the tarmac road as the long downhill at the end of the loop rather than a long slog up it at the start. Same gain but still thinking its better to get it over with on the steeper climb…. We take it fairly handy and for some reason I'm really feeling it on the way down. Maybe the non scoring element on the rest lap makes it harder going in the mind. The 2 dropped controls mean you still finish in around the same lap time so get the same break, plus I brought a bottle of water to sip along the way which helped.
Lap 7 Anti-Clockwise
The five minute warning bell goes, starting to dislike that bell now. Andreas decides he has had enough and doesn't head back out, we only realize then that Sandy finished a little bit earlier but everyone else is still going. It's getting fairly hot now in the sheltered spots out of the cool breeze. Paul and I are back together again so we run and chat our way around another lap taking it fairly handy by the looks of the results. The time passes easily chatting and there's not much time to worry about the legs; we finish again at the same time. Peter looks to be long in. Back to the deckchair, a bit less rest time on this lap but lash on more sun screen and a change of t-shirt. There's a crust of salt and sunscreen all over, the calves stinging like mad from a combination of bites/bug spray/sun/salt/scrapes/sunscreen. The hips and groin are now locking up every time I try and put the feet up for a rest. The other lads seemed to take a bit longer on that one, making for little rest time before the dreaded warning bell. It's getting tough now.
Lap 8 Clockwise
I think it's this lap or the previous one were James gives the option of running the next two as normal, taking a break after each, or running them back to back and taking one single long break after the second. You must declare your intention before starting. We all decide back to back will likely result in a slower second lap if not both, and with it a shorter overall break time, plus maybe a longer single break will make it even hard to get going again...
Except Nicolas who bravely takes on the double!! The bell goes again and we are off.
It's another chatting lap with Paul and it passes quickly enough. By now there is little or no difference between lap directions, they both hurt equally! Thankfully the knee is still grand and it's just wrecked legs. The day is going far better than expected, but still a while to go yet. Paul and I finish again side by side.
Lap 9 Anti-Clockwise
At this stage, there's only the 2 or 3 mins between myself and Paul from the two laps we split up on. Nothing in it and Paul could easily jog on a bit in the final two laps and finish ahead. We've guessed at 9 scoring laps based on the 2017 results so surely there must be another non scoring 'rest' lap to come. Hmmmm, it definitely won't be the last lap, and hardly the second last so if it's coming, it must be no. 10. It's also unlikely we'll be running all the remaining scoring laps together.... Will Paul be flying on the last two if we are going in opposite directions again? I know I won't!! Should I try a bit of a push on this one either way and see what happens? I decide to leave it and see how it goes when the legs start moving and the lap gets going.
Richard has decided to call it a day now so seven remain and we are rung off again by the cowbell. We reach the split in the road and it looks like its Peter, Paul and me going anti-CW, Peter is still right in front for a change and not gone from the start. Are we pushing a bit harder already or is he slowing down? Seems like the legs made the decision up to this point so the brain follows. I quickly choose to try and stick after Peter and push on; Paul is not hanging around either and doesn't let go.
That's it... there's no going back now, gauntlet thrown, bed made, flag hoisted, and just have to bank on the next lap being a 'rest'. Can't back off now or I'll be made to pay for this impulsive treachery. The downhills are hard but try to stay running on the ups, Peter is still just ahead. I am doing my best to hang on to him and Paul is right behind.
Still wondering if Peter is slowing or if we really pushing it on this one. The lap times might not reflect it but the effort was way up!! Putting in your 'last' burst knowing there's 3 laps to go doesn't help! The three of us catch each other at every control punch now, there's that little in it. On the third last control I get in just ahead of Peter, dividing myself and Paul, or I wonder maybe if there's a little bit of payback in Peter....
I take advantage of the rocky downhill to the next control and get out on to the fireroad as fast as I can before the next bit of uphill, final control and the single track bottle neck. Peter catches me at the last control and I burst a lung getting to the finish behind him. Was absolutely boiling coming in and picked up just over a minute for all that effort. It was my fastest lap of the day but still only getting down near Peter's low end, no sign of him slowing down yet. The calves are twitching away and it is nearly impossible to find a way to sit that doesn't cause a cramp somewhere.
Lap 10 Clockwise
Thankfully 10 is actually a rest lap! Fergus calls it a day here. Peter and I are on CW and the opposite to lap 6. On the way out Paul tells me I've nailed my colours to the mast and I feel a bit like I've done the dirt, but no question of buddying up on the previous lap. Peter stayed on his lap times.... I just broke my h0le and could well pay for it yet.
It really is a long slog up that tarmac and glad now not to have to run down it this time. We all more or less meet at control 5 regardless of direction and someone has stolen it?? The lads coming in the opposite direction say control 9 has been swiped too. There is one spare control left at base and Eilis quickly runs up and replaces number 5.
No. 9 is pretty much unavoidable regardless of direction so there's no problem with it missing. Wobble back to the deckchair on very shaky legs.
Lap 11 Clockwise
The dreaded bell again. Nicolas has declared himself finished now after his brave back to back laps so 5 runners remain. Absolutely wrecked now but the rest has helped the cramps die down, although it's very tough at this stage to get moving again. Paul passes on the long up hill but I catch up again just as it levels out and am right behind on the stony trail down to the old WW. There's no chat left now and it's just grinding out the last couple of laps on very tired legs. Paul's toe catches a rock and he goes down. I trample over him and carry on with a maniacal cackle.....
No, I didn't, and rumours of a trip are unfounded. Paul says he's fine, he will walk it off and to go on, but it looks a nasty enough graze on the knee and turns out he caught his elbow too. I'm very glad to see he is quickly back running with no major damage done. It's a slog up past the cabin on to the finish and then trying to stretch out the cramps. Feeling a bit wobbly so try to eat something but not happening. I tried a thick Gu gel just as the bell was rung but didn't drink enough to wash it down so that did more harm than good! Anthony arrives in with just a minute to spare and there's no sign of Peter Doyle yet.
Lap 12 Anti-CW
Final lap, thanks be to Jaysus! Serious fair play to Anthony, literally turning around and going straight back out, and to Peter D, who did the same, even after finishing slightly behind time on the 11th loop, absolutely determined to finish all 12 at that stage. Well done lads!!
All are completely knackered now but just as determined to finish well on the final lap. Every leg muscle is now twitching to cramp if the feet are lifted over two inches off the ground, but still managing to run as much as any other lap and surprisingly it's not quite the slowest of the day. Paul is still going well even with his few knocks and we meet pretty much on the halfway point going in opposite directions, so there's time for a quick high five. Peter finally decided it was in the bag and gave himself an 'easy' final lap. And that was it.
A nice relaxing prize giving followed sitting in the sun, with plenty of spot prizes and the midges coming out again.
It really really is a great race format. I won't lie and say it's easy, the last four laps were torture and I think someone is having a laugh giving this one a 7 on the TAD scale, unless that's for each lap!
But anyone really can give it a go and test themselves for as many laps as they can stick. And no matter, even if you do call it a day on a later loop, you will have had a good day out and a new racing experience, all for a feckin fiver!! I've no doubt all there would agree. Anyone that did finish a bit early stayed on for the day, helped out and had the craic, with a few of others calling by to say hello during the day as well. Another nice thing was getting to run that sort of distance with nothing but your mandatory jacket. No watch, no backpack, no drinks or food etc. etc.
Thanks again to James, Donna, Gerry, Alan, Eilis, Linda, Zoran and all the volunteers for giving up so much time and looking after everyone, all the runners for a very very enjoyable day, and especially to Adrian for coming up with the idea as Paul said. It's been one of the most enjoyable days I've had and I really hope to see it back on the Calendar next year. Although I might stay on the other side of the barrier next time!
Tucker's Ticknock Tick Tock
25 June, 2019 - Anthony O'Reilly
A Fisher Price moment here: My first race report.
I think a race report is mandatory after completing this brutal, non-forgiving and ferocious race. This race was the brainchild of Adrian Tucker (RIP) and he designed it to truly test the physical and mental health of everyone who had the audacity to sign up for the Ticknock Tick Tock.
The alarm clock woke me up from a deep slumber. I had to think for a few seconds as to why my alarm clock went off so early on a Saturday morning. After a few yawns, I wolfed down some porridge and put on my runners. Upon registration, I received my map and punch card. Now this was getting real and I was beginning to get a bit jittery. The idea today was to complete as many of the 12 laps as possible, each being apparently 6.5km with 250metres of climbing and with 9 checkpoints. Each lap needed to be completed within the hour.
Ten hardy souls, five volunteers and a million hungry midges were at the start line. At 7 bells we headed on our way to discover the route which we would follow for the next 12 laps.
Lap 1: (Non-scoring - Clockwise). We headed off, all excited, sharing ideas of where we should go next and hoping not to get lost on Lap 1. I challenge Paul Mahon before we got to kite 2 and was the only person to go wrong. I won't be doing that again. Paul headed off into the distance with Gordon, Peter, Nicolas and I sharing nav duties but really relying on Gordon's nav skills. We were delighted to see Eilis at kite No. 9, we all punched in and headed back to the start/finish line. I rolled out my mat and lay down thinking it will be a tough day out.
Lap 2: (Scoring - Clockwise). We headed off in the same direction as before. I was clutching onto the map and my punch card. I was hoping that I wouldn't need the map but it came in handy a few times and made it back to the start/finish with 15 minutes to spare. I was looking forward to lying on the mat, it was so comfortable.
Lap 3: (Scoring - Anti-clockwise). This was the first time going anti-clockwise. I made sure I had my map with me and I definitely needed it. I very very rarely run and map-read. I landed back at base and retired to my mat.
Lap 4: (Scoring - Can't remember direction). The body is beginning to stiffen up now and I lug my way around this course. I know this course like the back of my hand now, I thought as I left the map behind. Five of us are running clockwise and five of us are anti-clockwise. I meet Peter, Gordon and Paul galloping like it is the Grand National. The lads are in flying form. Back at base, I look at the clock and my rest time is getting shorter, just had time for a gulp of water and a slice of cake. Sandy calls it a day after four laps as she head off for her 24-hr relay.
Lap 5: (Scoring - 70% sure it's Clockwise). I thought to myself, try to look around and notice three new things on the route that you haven't seen before. I though this was a good way of occupying the mind. Can't remember what I noticed. Landed back at base to hear all the encouragement from Eilis, James and Co. I was delighted to hear that the next Lap was non-scoring. Time for a sandwich and a few gulps of water.
Lap 6: (Non-scoring - Clockwise). Happy days. We only have to go to 7 checkpoints and we have a choice on the direction. I decide to leave out Checkpoints 1 & 2 and to go Clockwise. Gordon was discussing why he was going anti-Clockwise but I was only half listening as I was only after getting back. I was contemplating whether to change my t-shirt and socks while wolfing down a Stoats bar and looking for other goodies in my box of snacks. Gordon was busy setting up his own coffee dock in the back of his van. This dock was only open for 20 minutes every hour and was closing when I arrived back. I doddle up the road avoiding checkpoints 1 & 2. These laps are getting interesting now. James has us going in both directions. I get back with some time to get some food in. Andreas decides to sit the next lap out and get something to eat.
Lap 7: (Scoring - Can't remember direction). We have a choice, we can do a double-lap or keep going the way we are. Nicolas is the only one to do the double lap. If he continues to go the way of his last few laps, he could have a good 30mins rest. I decide to go as normal as the body is now in turmoil, my hips are beginning to get sore now. The thoughts of a double-lap was making me feel jittery. Gordon is now going in a different direction to Paul and he has plans to make it back to base first. The first kilometre is tough and I trip over every rock and branch on my way around. I meet Fergus, we shout words of encouragement like it is all downhill from here. I land back with 7 minutes to spare. I am completely disheartened. My last few laps have been around the 45-46mins and now it has taken me an extra 7 mins or so to get around. I'm thinking, one more lap and I will go to the chipper in Stepaside. Maybe a curry chip would sort me out.
Lap 8: (Scoring - Anti-Clockwise). My head is gone. I just want this lap to be finished. If I make it back after the hour, I am heading for The Chipper. I thought to myself in an hour and a half, I will be wolfing down curry chips. I set off. Richard and I headed for kite No. 9. Just 150 metres from the start, I become dis-orientated, the trees blend into the forest floor, I can't make out where the kite is. I don't really care either, I'm heading to the chipper. Richard shouts its over to the right and I follow him. Then for some unknown reason, I started running a loop that Eilis and I run regularly in Ticknock which we call the "Tucker Loop". Richard shouts over "the kite is over this way". The conversation goes something like this:
Richard: Oi, the kite is going over this way.
Me: What?
Richard: the checkpoint is over this way.
Me: I'm doing the Tucker Loop.
Richard: The kite is over here.
Me: Oh yeah, dunno what I was thinking.
Richard: Yeah, my head is gone too.
I struggled around and make it in under the hour. The chips will have to wait. I take in lots of water and snacks.
Lap 9: (Scoring - Can't remember direction). After getting a lot of encouragement from the volunteers, we all doddled up the road in the knowledge that the next lap will be a non-scoring lap. Maybe I will get some time to lie on my mat. It is taking longer on each lap for the body to realise what I am trying to put it through. I meet Peter going the opposite direction and we encouraged each other and head on our way. Peter D makes it back to base just ahead of me. I'm wondering if we have made it in time. We sure have and we both get lots of hearty cheers for fellow runners and volunteers.
Lap 10: (Non-scoring - Anti-Clockwise). Everyone is delighted. I haven't seen everyone smiling since 7am. We're all thinking, just get this lap over and done with. I chatted with Paul for the first half of the lap and met Peter and Gordon bombing it in the other direction looking fresh as daisies. Nicolas says this is his last lap, I try to persuade him but his mind is made up. Back to base for a good rest and I stuff my face. I just want to finish the next lap and have made my mind to dig deeper than deep and get back in time for the last lap.
Lap 11: (Scoring - Clockwise). I don't remember much of this lap. I met Peter D and he is determined to make the last lap too. I said something like, "why wouldn't you, after doing 11 Laps." I was delighted to have made it back in one piece with a minute to spare.
Lap 12: (Scoring - Anti-Clockwise). Wow, my body is in a mess and I just want this to be finished. Peter G, Gordon and Paul are chasing each other again, another time-trail or grand-national. These lads are on fire and so are my hips. I meet Peter D again, we stop, shake hands and arrange to meet at the finish. We both doddle on and I meet Eilis about 600metres from the finish. I am walking now, one step at a time. We have chats and jog back to base. Delighted to have finished. This is by far the toughest thing I've ever done.
Big shout-out to:
James: we know where you get your organisational skills from. Hats-off to you. 12+ hours standing around waiting for us all to make our way round. Give yourself a good clap on the back.
Eils, Donna, Gerry, Derek, Linda, Alan, Zoran: thanks for taking your Saturday off. Thanks for all the support at the start/finish of each lap. It is very much appreciated. Take a bow.
10 souls: Cheers for the encouragement out on the laps and taking part.
Lessons learned:
1. Never give up.
2. You get nothing out of being disheartened in the middle of a race. Lots of people would love to be able to do this, plus everyone else is probably feeling the same.
3. Drink and eat more after every lap.
4. Change socks and t-shirt after every 4 laps.
P.S I did end up getting a lovely curry chips and cheese burger and washed it down with a beer. Savage.
2019 Ticknock Tick Tock Results
23 June, 2019 - James Tucker
1 Peter Gorman 5:44:34
2 Gordon Place 6:06:20
3 Paul Mahon 6:13:21
4 Anthony O'Reilly 7:46:37
5 Peter Doyle 8:41:46
6 Nicolas Mejri 10 Loops
7 Fergus O'Farrell 9 Loops
8 Richard Moriarty 8 Loops
9 Andreas Kusch 6 Loops
10 Sandy Carr 4 Loops
Full breakdown available here:
https://bit.ly/2LcoQMg