Circuit of Avonbeg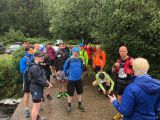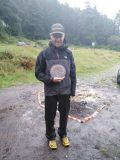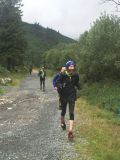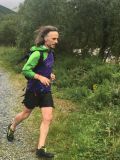 Authors
A Marshall's Day out - CIRCUIT OF AVONBEG
10 August, 2019 - Phil behan
Being honest, reluctantly I volunteered for the Circuit of Avonbeg. Reason being is this... It's a Saturday ! However, after recently completing the Glendalough Tucker Trail, I seen how these races are only possible by volunteers giving up an immense amount of their time. I therefore decided it was time I sacrificed a Saturday. This sacrifice had nothing to do with the fact that my wife and kids are conveniently away, and I assumed I'd sneak in a run in the hills after. Oh Phil, how wrong you were !
So here it goes. DISCLAIMER: This report contains little information about the race itself, but it may fill you in on the conditions you might meet should you brave the race or volunteer on it in the future.
So I arrived around 10am to Ballinafunshouge car park. The rain, the rain, the rain, was just awful, no other way to put it sorry rain. Meet the lovely Ann-Marie (RD), took a walkie talkie, and headed off up to Caminabolouge. I smiled having never heard of either of these funnily named places before.
As I stupidly didn't have a map or a compass with me I winged it up to Caminabolouge summit. The weather was so bad the hike up took nearly 2 hours. I could barely see my hand in front of my face for most of it. This meant I had a early swim in Avonbeg River, my phone is drying out in a bowl of rice as we speak. After my swim things went from bad to worse. Just as I got to the junction of Table Track and Caminabolouge about to ask for the final directions to the summit, the battery on the walkie talkie went. No phone reception either. This meant the first 4 runners met me after the summit. Is there an IMRA volunteer role for Apres Summit Marshall ? Thank you to the mysterious runner who told me '' it's that way man ''.
As Steve Wright once said ''if you want the rainbow, you got to put up with the rain'' sorry Steve that rainbow never came, but most of the other runners did. It was funny getting their looks of pity and disbelief thinking some idiot was standing up there for most of the race. Don't the Marshall's usually feel sorry for the runners ?
Eventually my phone came to life. '' Phil you can come down now '' Sweet Christ, I'll never delete that text.
Anyway I want this story to end well.
Despite all the above I had an absolute blast. Maybe that's just me though, I naively see the best in everything. Wait hold on here, was that why they asked me to be a summit Marshall on such an awful day ? Was I targeted for this event ? Interesting....
Anyhow, a huge Congrats to all who competed in that weather. My sincerest apologies to those who I missed on Caminabolouge, and to all the volunteers - a serious serious well done to you all. I look forward to doing this event again next year and I really hope it continues on the calendar next year.