Carrauntoohill Classic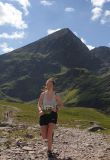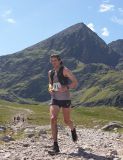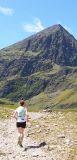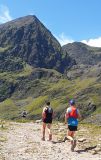 Authors
Thumbs up to the Classic
20 July, 2021 - Barry McEvoy
On the way to Cork University Hospital, struggling take part in conversation, head rolling, overheating, stomach doing cartwheels. Paul Carroll making sure I'm okay 'ya still with us their boy' Him and my girlfriend Aoife looking into the back with those 'poor chap in the back' eyes. Paul is driving my car to Cork - saviour and legend. The adrenaline is wearing off and the trauma is setting in, pain - a different pain than jaunting suas Carrantuohill, that's good pain, life experience pain, that's where other pain, internal pain can be converted, that's where you look back at a chap picking up fag buts off the ground in Sydney and know you have to take the next step, you know you cant go back to that so you go up and touch a cross because the act of touching it brings freedom and joy, up high near the clouds where breathing seems easier for me, up high where I never feel low.
This pain is a dislocated thumb that's reminds me of ZigZags. They've trouble getting it back in and I'm squirming on the trolley inhaling some sort of pipe full of gas that has me looking funny at the lady low in sodium across the way. They call another doctor, he gets it and it pops and the hand is like a balloon and I head off to the pharmacy to get quizzed as to why I'm buying a box of nurofen plus, then into the city to accommodation Aoife's organised, thank god for her help and for Paul - dropping me at the hospital, then bringing Aoife around the city to find the accommodation, people amaze me and it's a selflessness I crave myself that Paul has naturally. Paul kindly explains to Aoife its time she learns how to drive!!
Before all that I arrived in Cronin's yard ready to run the classic for the second time. So, how'd it go?
It was hot in the glen, it was a swelter and there was competition for shade. Talk of the Reeks was in the air - from my position of obscurity I notice the faces of IMRA legends, past winners, mountain champions. I chat to Tom Blackburn and I listen. Then Robbie starts it and there's no more shade, just out in it, open and exposed and the blue-sky rays beating down hard. It's all laid out in front of us like a fairytale, most know the story and that can make it harder.
I went out quick, so I'd avoid the stampede through a stream near the start, a spot its very easy to roll ankles. Buffs down and it was me and Sean at the front and this was how this race was written. We pushed on from the get go, sizing each other up, testing one another. The boulder rocky run in and out has to be one of the most awful on the feet, it saps the life from your toes, we pick our way through this, no let up, deep outward sighs at the top of climbs, pause then roll quick down hill. At the ZigZag I don't hear anyone else and as I began to hike Sean continues the uphill trot and moves away, my plan is hike all the way, hard and fast, counting steps, then counting more, all the way counting. This year every zig is to be hiked up and zag to be ran down and I prefer it that way, although I don't think I will be able to compare with last year's time. Its nice having the marshals along the way, simple words of encouragement and half way up I stop saying thanks to people who say 'good man yourself' don't have the energy levels for that. Before the top of the ZZ I get one of those glimpses of the mountains, crystal clear surreal nature, magnificent and grand and still, I let it in, filters deep and i'll remember it walking by all the housing estates that look the same back home.
Sean is 300m ahead as I get the jogging legs going again, I go over the top of Cnoc na Toinne, not around the side and Sean is further ahead he must have bombed it down. So, begins the trek up to the cross. More upright hiking style than ZZ, I feel better, I work, I never stop, I catch Sean and follow him for a bit, then go ahead and touch the top first, he follows me back down main path, no shortcuts this year, we run it straight. Back up again and Sean moves past as I hike, with that running upward bobble that must be crafted over years in the mountain, as we hit the brief flat mountain top he's 100m ahead and we begin the descent. Every runner we passed spurred us on and I tried to encourage them too and that's a special thing in this sport.
I fall into a gentle rhythm down the ZZ over tough terrain, the turns are sharp, and the quads feel it, but I don't feel under pressure, I'm cruising down, I have a little stumble near bottom on grass and hop straight back up. At the bottom Sean and I are together and once again picking our way through, the rocky watery boggy section, as we exit and hit the main track I move ahead and don't feel a resistance from Sean. I'm tired but I'm not pushing it that hard just gradually kicking on, I think I will win at this point. Then 3k from home not far from where I fell last year I go again but this time its hard and heavy and I slide roughly along the rocks. I lie there face down vibrating wondering what just happened, my thumb is in tatters, Sean stops, I tell him I think I'm done and to go on, I stand up, feel like fainting, walk for a bit, try not to look at my hand, then jog on dazed then bit more with it, then all of a sudden I'm not that far behind Sean again, hardly could, could I? nearly trip again, forget about first place, look behind see no one, focus on getting to the end. It was a brilliant battle with Sean, pushing us both to the limit, he has extreme grace on the move in the mountains, Congratulations.
Finishing is some feeling, the shouts and claps and I go straight to the first aid area and people are looking at my hand weird, I'm operating on adrenaline and just laugh along as they wrap me up from head to toe in bandages, Tom Lupton text me afterward saying he has seen Egyptian mummies with less bandages!! I received great care and felt embarrassed everyone was so good, I downed 2 cans of coke and Paul offered to drive us to Cork after he had finished cheering on his partner Dee. Salt of the earth down in Cronin's yard, that's all I've to say.
In a sling currently, typing this with my left hand, not sure where my season goes from here but hopefully ill get back to the mountains again in 2021! Go raibh maith agat to Paul, Robbie, Aoife, all the volunteers, my favourite race on the calendar!