Glanageenty Half Marathon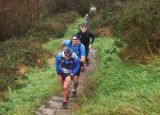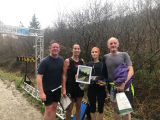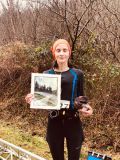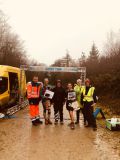 Authors
MMRA Loopers
14 December, 2021 - Barry Murray
A misty murky morning but mild air, as I arrived at the Glenageety Trailhead it was none other than John Lenihan who I was first to meet and shake hands with. Not only is he an integral part of the volunteering for most of these events, you will see him out regularly on the route throughout the year digging and maintaining the trail rain, hail or shine. The Glenageenty Loopers are the local club that have organized this race for the last few years but this was the first year that it was an official IMRA race which helps put it on the radar. 3 races, with an arduous marathon, a 1/2 and and 10k. So plenty of organization needed and the Loopers have a great crew of dedicated members and backed up by MMRA this year.
A new parking arrangement sent us meandering up a tractor path , a long mile, to a farm surrounded by windmills that the local farmer kindly let us use. It was a nice long mile jog down to the registration, same can't be said for the hike back up to the car after the race though ! Anyways, plenty going on at the start area with the marathoners coming through and the 1/2 runners getting ready for the start.
There is no bloody way I am going to put a piece of fabric over my nose and mouth in the open air, in a forest , so I didn't. Thankfully, most people can see sense now. Hopefully the committee can too as its just become absurd at this stage. I won't go on. Organization was flawless with the Loopers having their own campervan for registration, gazebo for your kit drop, chip timing and even portaloo's !
RD Niamh sent us off and I went off at the front, knowing that I had at least Sean Quirke for company. After the first short loop, it was myself, Sean and another lad that pulled away. You know within the first 1-2km what side of the bed you got out off. On this particular morning, it was the wrong side for me. Just felt I was overreaching at the early stage and even over heating in the mild air. As we started the first main loop, Sean and two other lads had pulled away from me. I know the course well and I knew the grind that lay ahead. It is the most varied gradient, varied pace and varied effort trail around. You are never in the same gear for long and you constantly have to make big shifts. I knew that I ran a 44min loop in the last 1/2 race two years ago, so clocking around 48min as completed my first loop this year I knew I was well off my pace. With the 10k just after starting I then had a lot of traffic for loop 2. Legs were starting to feel heavy and I knew I had no pep in my step.
The second loop was definitely more of a grind and the up's and down's became more draining. Lots of people to pass and side step too which at least diverted attention from the grind a bit ! Looked at my watch as I started the last main big climb after you cross over the bridge and my watch read 1.50hr... which is what my finishing time was two years ago so knew I was a good bit behind . It is the sort of course that you literally can complete several minutes faster/slower depending on how you feel on the day. I arrived in 4th and glad to just finish in one piece.
The hike back up to the car was slow . It was nice to stop off at the pub, one of those places that is stuck in time, where the Loopers had enough soup and sandwiches to feed an army. A sambo and a pint of creaminess and chat with Tom Blackburn, Sean and a few others was a nice way to end the morning. There are so many great events now on the Calendar that we are almost spotlit for choice. To have this event with 3 races at the home of the "Tough as Leather" man is certainly a treat for those of us in the southwest that can't make the big journeys to the east. Well done again to Niamh, Loretto, Brian, David and all the Loopers crew.
Stay sane !