Carrick Mountain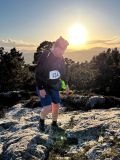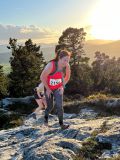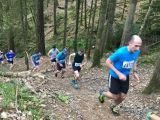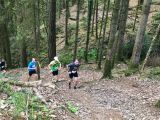 Authors
Out of the garden & into the Hills.
13 May, 2022 - Dave Docherty
So I've sorted a lift. Stuart, just a few K up the road. Hop on the little bike. A bit early and caught in a rain shower, I straddle the small wall outside the house and huddle into the bush to avoid the rain. There is Stuarts old car, even has some duct tape on the back wing, must have moved it out on to the road to allow for the tradesman's van in the driveway. He's probably busy dealing with that, he'll be out in a bit. I'll just hide here in the bushes, out of the rain for a few more minutes.
Then the cranky auld bollix comes out.
"Get outta me f**kin garden!"
"Is this not 98?"
"Yeah, it is and I'm gonna call da Gards!"
"But..but, Stuart…"
Then Stuart phones. I find the right house with the right car, no duct tape surprisingly . Throw the bike in the back and the three of us (Kevin) hit the road.
We get to Glenealy and drive up the immaculate driveway with forest covered Carrick behind, never looked at it from this here, it's a beautiful hillside. Into the large concrete yard and the volunteers are shoehorning the cars in nut'ta'butt. That'll be interesting after the race, but of course there is no early start tonight, so this just might be a genius use of space. Quick, smooth registration and I meet my old buddy Steve, new to running and very new to IMRA, it's his third race and what a race. We head out the trail and soon realise its tradition start point including the killer climb.
The group gather round the start area, Sean commands the crowd well in his first RD role and presents tonight's laptop driver with a Wicklow Round finishers award. Amazing achievement, someday, maybe, I think I might. Also, giving the legend that is Joe Lalor a well-deserved round of applause for what was his 400th race last week. A job I should have done at PWS and while I'm at it congrats to Eva Fairmanor for what was her 300th race last week.
Sean sends us off, out the road and after a few hundred meters it starts. As I've said to anyone who'll listen, the first time I saw this race, it was like that scene from the movie World War Z. Where the zombies clamber over one another at terrifying speed to breech a massive wall. As we watch the lead pack of runners hit the mountain and spread out on hands and knees surging upwards over a technical downhill mountain bike trail, its a sharp shock to system to be hit with this early in the race. And up up up it goes, runners still finding their place in the race, pushing past and nipping up steeper bits all to get to a better position. The hill grinds on, up and up, we cross a fire road, I try to recall what's ahead from previous races, is 1.2k or 1.5k till this ends? Either way, it feels like forever. A tall lad carrying a jacket sprints past attacking the incline and the ever chatty Andreas cheers him on, he stops and power hikes for a bit then attacks it again. "This guys is doing intervals, good man!" Andreas shouts.
Finally we near the top. Is there anything left after that? Can we still run. The race takes a sharp right, some runners have gone left, as I turn the corner they zip back in front of us, only to be admonished by Andreas and a few others. We are now moving at a nice pace twisting and weaving through some shallow lumpy forest, I have recovered somewhat from the climb and really enjoying this bit. I think I can push on, but the auldwans in front are still chatting even at this quick pace, its impressive but I can't get past. We burst out onto a bit of fire road and I open up a bit I leave Andreas and the girls behind only to be scorned for it. I get past Paul Morrissey just before we take a left back into the single track.
Another climb here, I start chasing runners up ahead pushing on. Out onto what feels like the M50 of fire roads, what's this doing at the top of a mountain? Wide and unusually straight with a hill at end that just shoots to the heavens. Another movie reference, Inception, when world folds back on itself. There are 3 runners off in the distance, including the interval runner, surprisingly I start to reel them in, quick chats with the first guy about that hill laid out before us, he gives me a breakdown of what's left, this year's course is nice twist on the usual route. All that fire road has given me a sharp little chip bouncing round in my shoe, I try shake it round to see if I can get it to stay where I can tolerate it. We get over the gravel hill and now back into trail, still climbing, heading for the summit now. I stop and deal with the chip, amazingly nobody passes. A few steep bald rocks sticking out of the gorse to clamber over and there's Hazel our summit marshal crouched down beside the cairn atop the rock. She got some amazing shots of us (thanks Hazel). "Touch the cairn" and down some techy steps.
I look ahead, nobody, they didn't like being reeled in and have made a break for it. Back zigzagging through sparse wood, keeping an eye for tape, I catch glimpses of an elusive blue streak up ahead at each turn, then gone, there he is, nope gone again. A few boggy puddles and back at the big rock where the killer climb ended. Some nice techy zigzags and now killer decent begins. The streak is long gone as I head into abyss, these are totally the wrong shoes for this shit, I try dance between the sharper rocks while leaping down drop offs, cross the fire road and drop in again. This thing doesn't end, on and on, down and down. It veers to the right a bit and the next fire road, the steepest bit till last. I throw myself over the edge in a squat to try control the fall, it kinda works. I can hear the finish line, pushing fast through channels gouged in the hill and then one last hail Mary leap over the last jump and I'm at the bottom. Stride over a lump and then it's just fire road ahead. Don't look back, just run. Empty the tank on the last sprint and its done. What a course?
Few chats while the midges start to nibble. I congratulate the streak on a fine job, he was oblivious of course. Steve crosses the line looking in pretty good shape. We head on back to the cars, which have cleared out nicely. Change and down to the pub in Ashford. Nice couple of pints and chats. Congrats to the two Bell bros on their wins and my friend Kate on her first win. Stuart drives us back to the correct house (cheers Stuart) and back down home on the bike. Wednesdays are deadly! Massive thanks to Sean and his crew. It's the beach next week….lets be havin ya.
A road runner's perspective
12 May, 2022 - Warren Swords
Thanks Sean and the team for a fantastic race. Brilliant set up for registration and parking.
My first hill race for a few months after a dalliance with road running. What's that? Yeah, I did the Boston marathon, 2.53, took it handy.
As a road runner, I take my warm ups very seriously so ignored the jibes of Mikey who suggested I'd be wrecked by the time the race starts.
1.6km into Carrick, I realised my twinkle toes have deserted me as I stumbled over rocks and tree stumps. How I missed the smooth fast asphalt roads of New England.
Recovered somewhat on the downhill, managing to overtake some people and get right behind Pat. We are running hard and mikey comes into our sights, he looks to be suffering on the fireroads.
On the long fireroad climb, Pat passes Mikey and I think it's only a matter of time before I get by him. Mikey makes a mistake on the last rocky climb and I'm already thinking of chasing Pat as Mikey goosed.
Alas, Mikey takes off on the last descent and my downhill legs have joined by toes in deserting me. But what's this? There's Pat. On the very last forest section, I take the inside corner like Valentino Rossi and surge onto the fireroad. I push hard but Pat is on my shoulder. Reaching into my Darks Arts book, I ease off to lure him into a false sense of security before surging again. I get back onto his shoulder but Pat kicks again finishes ahead of me. Great racing.
Unfortunately the race ended on a sour note and I'd like to report Peter Bell for unsportsmanlike conduct. I think committee will find all the evidence they need in this photo and DQ him from his first Leinster League win.
https://www.imra.ie/photos/tag/id/179144
Heart Beats and Mountain treats
12 May, 2022 - Peter Bell
Ba Da Dum, Ba Da Dum, as i sit in Holles street Hostipal listening and watching that tiny little heart beat loud and fast on the monitor. Another wee Bell awaits the world. Its May 11th and ive left work early to see the scan of my new baby. Its exciting times. Its really got me buzzing. Mommy and baby are doing great.
We head home and i got loads of time, so its a cupa tea and to the hammoch to chill in the sun.
6.30pm and its time to pick up Johnboy. I have to be patient, hes slow getting ready. Old age i suppose. We head off for Carrick, arriving at the new reg area in the amazing stables. Wow! what a place.
Good few of the usual legends about, Liam Vines, Becky, Warren,Rob to name a few. Bernard has made it too, good to see him. Mountain Machine!
We all line up, Sean gives us the run down and sets us off. Pól takes the early lead. Hes been up North on secret training so i just tuck in behind. We hit the steep climb, Neilus and Matt pull away. I keep them in sight. I can hear the breathing behind and want to stop and walk but know i will be gobbled up by the pack behind. Hit the top nice encouragement from the marshalls. Go hard and catch the lads in front. A quick overtake and im in front. Its harder here, you gotta pay attention to the flags. Thankfully i wasnt marking today. We hit the flat track and i know Matt is comming, he has great speed on the flat. He flys by and off. I manage to keep him in sight. Neilus is right on my heels now. I push hard to stay ahead, reach the summit. I see Matt, ive got a shot here. Go hard and get the overtake. Best not to think of the outcome of a fall here. Make it back to the finish in one piece. What a decent, what a buzz.
Matt arrives in just behind, followed by Neilus. Great to see Neilus again. Such a Gent.
We all head back to the pub, Sean has done a great job. Sambos and a pint after a good hards race are just the fix. Poor old Mikey has done his hammy, but i doubt itll keep him out for long. Good chats with Liam, Rob,James,Alan and Ben. Such great people, full of great stories and adventures. From Liams epic spine race to trying to intice Bens son Robin back to the mountains.
We head home, its 11.30pm, only 30 min left in my 30ies. My heart is still racing as i try to sleep, thinking of that amazing day & little heart beat.
Ba Da Dum, Ba Da Dum.
May there be many many more days like this.
Night IMRA
I love u baby.
P.s No way you can prove thats me Warren, theres clearly no race number to identify the runner in the photo.
The change
11 May, 2022 - Mikey Fry
A little doodle through the woods Sean talks boom where off again pòl goes blasting off again late for his dentist appointment Matt flappers past me and pete bang left turn up and up and more up trying to get the breathing right john passes I keep up till just at the top he flys off down the hill pretty much lose him in the twists and turns we're heading down the way we usually go up which is first time I've done it that way really nice just letting go down this part lovely jump off rocking sections round and and round over fire road new bit nice little bike track weaving through more foresty bits no deers jumping out at me thankfully I now most of these tracks then boom we're on the worsed fire road imaginable I can see most of the lads ahead here I push on can hear someone behind me and then mr pat foley passes me I try keep up but when we move onto nice tracks he's a little bit ahead we hit Carricks true top which is actually hard to find I go off the wrong way slightly but practically have jump off so rocks I notice I'm being hunted from behind ah yeah it's warren he's on my case we turn right I go back towards other top we're we've been already keeping warren behind me I hit the down hill with a nice uncontrollable rhythm I'm going to catch pat that's all I'm thinking and not letting anyone behind pass me hopefully so I go hard it's an amazing downhill bit I remember a few years back I actually did a somersault forward straight back up and boom there's pat picking daisies I catch up and pass him still no swords chopping I'm doing ok flying like a red kite I hit the bottom I press on then boom I get a slight niggle in my right hamstring I let slightly off the gas I'm safe behind over the finish line forget to stop watch again now I thinking I'm going to have to let viv know cause I'm supposed to be running leg 2 on Saturday bugger let's see how it goes….so happy to hear Pete's won the race it's being coming and nearly on he's birthday which is tomorrow…thanks Sean and all his helpers for an amazing race(just that fire bit I'd put in the bin:)) lying down listening to music icing my leg still no donuts from Matt who came second well done dude…mikey