Maulin - Irish Universities Championships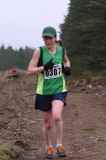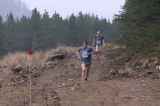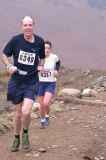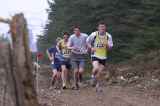 Authors
Unknown
28 November, 2009
La brea fuar a bhi ann............................ and almost one hundred hardy souls turned up to enjoy the winter sunshine for the Annual Irish Universities Championship which was held in conjunction with the third race of the IMRA Winter League.
From the off by the Paddock Lake a fast four or five were in evidence with current Winter League leader Garry Crossan leading current summer League Champion Paul Nolan followed by a group comprising of Gerry Brady, Keith Daly and Turlough Conway. This order was somewhat maintained for the first part of the race until the famously steep Maulin Ride where all but the hardiest few were reduced to walking the final section. At this stage the leader took a right turn in lieu of a left and when called back by the second placed Nolan had lost about 200m in total, a lead which he was never able to fully close. The wily Nolan maintained the gap in a fast final descent section and on the climb to the finish in the car park Nolan sportingly slowed a little to allow Crossan to cross the line with him. Keith Daly sporting the UCD colours (But leaving the younger students to comprise the team) crossed in third ahead of the fastest M50 hill runner in the country Gerry Brady and Turlough Conway having a good season opening run to finish a close up fifth.
First Student home was Adrian Watson of NUIG in 10th overall followed by UCD's Kenneth Nugent who took the individual silver medal just ahead of young George Warren of St Columbus College. Aisling Coppinger as usual made little of the wintry conditions and the opposition winning the ladies race but only just ahead of the impressive Eimear O Brien of UCD who took the individual gold ahead of her UCD team mate Hillary Hughes with Rosie Temple making it a double individual bronze day for St Columbus's College. UCD took both team golds with the mens team of Kenneth Nugent, Barry Colfer, Philip Mansfield and the ladies team of Eimear O Brien, Hillary Hughes, Maria Slattery and Clare Sullivan. Other winners on the day were Laura Flynn (nee Mc Ginley) in third overall, Fidelma Ayres and Aaron Henry in the F and M 40 Categories respectively, Jane Porter in M50, Calvin Torrans in M60 and Caitilin Bent in F60.
Thanks for great work on the day from the following:
Laptop Operator: Liam O Rian
Course Markers: Fidelma Ayres, Laura Flynn and Mike Long
Registration and Manual Finish: Gary Morlee
Number controller: Clare Walsh
General Duties: Jane and Graham Porter, Cormac O Ceallaigh, Jim Dalton (and the UCD lads for the De-mob work)