Bray Head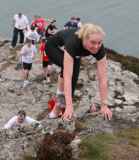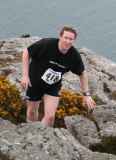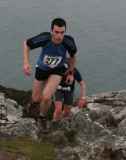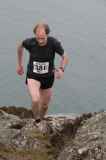 Authors
Unknown
28 November, 2009
Priding myself on having organised my kit the night before and it tucked safely under my desk, I was somewhat take aback to get an email from my husband who was working from home, asking had I intended to take the bag with 2 pairs of runners that were festering by the front door?
What followed was an action plan put in place that would have put General Custer to shame ? Rene Borg agreed to the handover of a precious parcel in the shadows of a car park in the Sandyford Industrial Estate in exchange for the loan of a pair of shorts and a book ? who says the old custom of barter is not alive and well!
Once I was reunited with my runners I was all set for action.
The crowd lined up enthusiastically for registration, greeting old friends/explaining to novices what it all was about/ queue jumping/ stripping (Justin Keatinge at least had the decency to go around the corner!) and all the while listening to Laura McGinley?s helpful tips.
Once lined up at the foot of Bray Head we had an audience of several bemused walkers, footballers and dogs! Pity those poor people who thought they had left the city for a quiet stroll up Bray Head and were engulfed by 222 people impersonating ?The Flying Scotstman?. Up we headed towards the Cross wending our way through the trees and rocks and being guided gently by the dulcet tones of Paul Mahon heralding the summit cross. Placings soon changed; those like me who had felt some pride at being able to run up steep parts were chastened by bodies rushing past! I busied myself with catching our President whom I had been swapping places with whilst marvelling at the returning speed of Barry, Paul, Diarmuid, Aaron and the front markers. Once past the Cairn guarded by James McFadden I gave myself a stern talking to and told myself that I was not to be the usual sissy I metamorphosize into once it comes to steep downhill so with the encouraging words of Paul ringing in my ear ?go on Razor Tongue, what are you waiting for? I swooped (well I tried to imagine I was a bird of prey descending on my victims!) down and was elated when only one guy passed me and I actually caught two people, Krissie had the audacity to sprint by me on the sea front and finish seven places ahead!
Barry, Paul and Diarmuid had had a classic race with all three jostling for pole position throughout. Paul took the lead early on with Diarmuid passing him on the gorse on the first climb but roles were reversed again on the rock climb up to the Cross. Barry decided then it was his turn to lead on the track out the south top, with Diarmuid just behind him. Both Paul and Barry hit the Cairn at the same time and then Paul took a back seat on the track back to the Cross, until his famous descending skills came to the fore but he admitted afterwards that he had no answer to Barry?s flat speed on the run in with Diarmuid finishing a close third.
Jenny McAuley was in a league of her own and finished with a top twenty place. Becky Quinn ran strongly for the runner up spot with a smiling Caroline Reid taking the 3rd place. It was nice to see Caroline racing after putting in a lot of time volunteering at the Winter League and co-ordinating Junior affairs.
Top of the M40s was Mike Long who had spent the earlier part of the evening trying to off-load bottles of water left over from the Wicklow Way races. Jean Bader had a strong run to win the F40 class with Jim Corbett and Ger Power leaders of their category. Sean Clifford raced in with a group of the ladies (and Henny!) to take top M60 and the fit Charlie O?Connell rang strongly for 1st M70.
Well done to Laura McGinley on a Trojan job efficiently carried out with her army of helpers.
TEAM RESULTS
1. Rathfarnham WSAF 14 (Barry Minnock 1, Aaron O'Donohue 4, Mike Long 9)
2. Fingal 187 (Ray Linn 57, Jonathan Corrie 60, Dough Corrie 70)
3. UCD 194 (Eoin Syron 6, Declan Carolan 79, Barry Carolan 109)
4. Setanta 217 (Sean Hassett 30, Kevin O'Riordan 32, Tony Doolin 155)
5. GEN 225 (Paul Nolan 2, Alan Ayling 89, Brendan Doherty 134)
6. Sportsworld 337 (Henny Brandsma 91, Sean O'Byrne 101, Charlie O'Connell 145)
WOMEN
1. Crusaders AC 40 (Rachel Walters 7, Eva Fairmaner 13, Marina O'Kearney 20)
2. Sportsworld 102 (Jacqueline O'Hagan 11, Deirdre Horan 33, Kate Healy 58)
</br>
<b> Inter-county women </b>
1. Dublin 45 (11 Jacqueline O?Hagan, 13 Eva Fairmaner, 21 Niamh Ni Cholmain)
2. Sligo - (16 Deirdre Hopkins)
3. Meath - (19 Ann Tobin)
4. Louth - (45 Michelle Fanning)
</br>
<b> Inter-county men </b>
1. Dublin 107 (22 Charlie McEntee, 27 Niall Fox, 58 Ray Linn)
2. Wicklow 163 (17 Cormac O?Ceallaigh, 53 Brendan Lawlor, 93 Sean Clifford)
3. Meath 271 (44 Eamonn Hodge, 110 Barry Carolan, 117 Bert Kerr)
4. Cavan - (80 Declan Carolan, 99 Sean Carolan)
5. Offaly (1 Barry Minnock)
6. Mayo - (6 Eoin Syron)
7. Kerry - (9 Mike Long)
8. Westmeath - (25 Patrick Ryan)
9. Cork - (39 Mark O?Sullivan)
10. Louth - (50 Robert Costello)
11. Kildare - (78 Declan Donnelly)
12. Galway - (114 Sean Ward)
13. Waterford - (127 John J Barry)
14. Wexford - (136 Mick Redmond)
15. Donegal - (148 Seamus Sweeney)