Scalp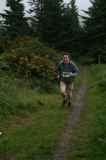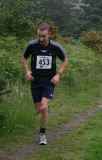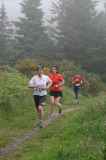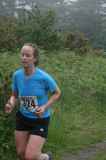 Authors
Unknown
28 November, 2009
<br><b>Scalp?s Law</b>
In theory Scalp should be one of my favourite Leinster League races. It's short, fast and the 'mountain' could hardly be considered a molehill. However, my memories of this race are not pleasant. In 2005 I was running well until I went astray only a few hundred metres from the finish line, losing 3 places in the process. In 2007 I was in a good attacking position just behind Gary Crossan at the top of the hill, only for my race to come undone with my shoe laces on the descent. And so my anxiety levels were higher than normal on route to Scalp. Adding to my concerns was my pi$$ poor preparation ? the WW relay on Saturday combined with a stag party and track race on the Sunday had taken their toll. I was wrecked. To top it all off, the heavy rain fall while biking to the race with John McEnri and Peter O?Farrell was quashing any remaining optimism within.
Still, I had reason to be confident of a good finish. So far the Leinster League has been kind to me and I knew my main competitors were also either tired or distracted. What could go wrong? Well, when Scalp and I get involved it seems if it can go wrong it will. Everything was going well for the first 10 minutes or so ? the regulars were all up towards the front, with Peter O?Farrell just ahead and Eoin Keith, Ryan Montgomery, Bernard Fotune, Cormac Conroy, John McEnri, Shane O?Rourke, Conor O'Dwyer & others in close proximity behind. And so it transpired with the help of headless chickens and some slightly dubious marking (sorry Joe ? always mark the outside line, not the inside :) that the leading group of somewhere around 10 went badly wrong. How much time was lost is difficult to estimate, but based on the finishing stats I reckon it was somewhere in the region of 3-4 minutes.
It was devastating for the whole group to go from top positions to somewhere around the mid-70s (based on runners I remember passing). Do we pull out or solider on? On we went, with Eoin taking the initiative. He seemed to pass people up hill on single track with ease, while Peter and I were struggling. Perhaps we were too polite, but to be fair the runners ahead deserved to keep their racing line. I was struggling and it seemed easy to just use our mistake as an excuse.
Up and over the single track hill we went and I was a happy man to see wide track. I pushed hard, harder than I?ve done in any IMRA race. I was struggling and the situation seemed desperate. My legs were aching after the weekend activities, but Eoin ahead was giving me reason to believe. I remember passing the likes of Aoife and Dermot and thinking ?they can?t be far off the lead?? It was a sense of deja vu after the WW relay. On Saturday it was just one runner, Dessie Shorten, ahead by 6 or so minutes. Today it was countless runners with an unknown gap.
Eventually I got past Eoin, but could still see what seemed like a never ending line of athletes ahead. Colleen Robinson looked a little puzzled with the race order at the start of the second smaller race loop, but diligently continued taking photos. We were running out of road, but when passing Martin Francis I was thinking there really can?t be many more runners ahead. The technical forest section was my friend as the remaining 10 or so runners ahead seemed to struggle and when I eventually passed a group containing PJ Carroll, Daniel Buckly, Niall Somers, Eoin Syron and Tim Grummell I got renewed confidence. Could I really be leading the race? My legs were now completely shattered. I could hear Eoin Keith in close proximity behind so I pushed with any remaining energy I could muster from very deep within. Phew, I just managed to hold Eoin off into the finishing shoot.
I looked at the finish marshals and immediately asked ?was I first?? Alas, it wasn?t to be. William Powderly made the most of the situation and took his maiden victory. Like Saturday I never caught a glimpse of the leader and so didn?t receive that extra impetus I needed to push my body to its limits and beyond. For me it was another day as the bridesmaid or should I say groomsman? All considered it was a special race and I was delighted to have got back to a podium position when the odds were stacked against and now I feel and will go into future races with greater mental strength. If I?m allowed to say so myself it was no mean feat for myself, Eoin and Peter to all finish within 40 seconds of the leader given our position half way through the race.
I?ll get off my high horse now and start talking about the real stars of this race. To William Powderly, congrats! Eoin Keith goes into An Turas Mor in flying form, taking the masters prize in the finishing straight from PJ Carroll. Aoife Joyce took another victory in the ladies race, with Karen O?Hanlon not that far behind in second. Emma Sokell must be getting back to some form as she finished well in third. Top masters woman was Eva Fairmaner ? she just keeps getting stronger and faster! Other category winners with Richard Houihan (first junior and 10th overall), Martin Francis (M50), Roger Moulding (M60), Charlie O?Connell (M70), Ruth Lynam (F50), Caitlin Bent (F60) and Rachel Bell (first junior woman).
To Niamh Ni Cholmain, Sarah, Donough, Moire, Joe, Nora, John, Danny, Deirdre, Sarah, Niamh O, Colleen and any others who helped - my sincere thanks! Being volunteers in those conditions cannot have been easy and I think all will agree that an excellent job was done!
<b> Club Results</b>
Overal LL: <a href="/ad-hoc/LLOverallTeamResults7-12.xls">here</a>
MEN
1. UCD 29 (Tim Grummell 7, Eoin Syron 9, John Kirwan 13)
2. Sli Cualann 29 (Daniel Buckley 5, Richard Hourihan 10, Martin Francis 14)
3. Setanta 50 (Eoin Keith 3, Tony Doolin 20, John McEnri 27)
4. Crusaders AC 50 (Jason Kehoe 12, Rene Borg 17, Shane O'Rourke 21)
5. Rathfarnham WSAF 63 (Barry Minnock 2, Peter O'Farrell 4, Robert Costello 57)
6. Team BCD 163 (Alfonso Ruiz De Azua 41, John Ahern 52, Declan Flanagan 70)
WOMEN
1. Crusaders AC 10 (Aoife Joyce 1, Emma Sokell 3, Rachel Walters 6)
</br>
<b> Inter-county women </b>
1. Wicklow 41 (6 Liz Ryan, 12 Jean Bader, 23 Ruth Lynam)
2. Dublin 60 (11 Eva Fairmaner, 20 Deirdre Ni Chearbhaill, 29 Louisa O?Sullivan)
3. Sligo - (7 Deirdre Hopkins, 41 Audrey Martin)
4. Wexford - (1 Aoife Joyce)
</br>
<b> Inter-county men </b>
1. Wicklow 37 (7 Tim Grummel, 14 Martin Francis, 16 Mick Hanney)
2. Dublin 103 (17 Rene Borg, 26 Niall Fox, 60 Charlie McEntee)
3. Westmeath - (18 Patrick Ryan, 49 Christian Foley-Fisher)
4. Louth - (57 Robert Costello, 106 Aidan Callery)
5. Offaly - (2 Barry Minnock)
6. Laois - (8 PJ Carroll)
7. Mayo - (9 Eoin Syron)
8. Meath - (35 Eamonn Hodge)
9. Kildare - (46 Eoghan Carton)
10. Cork - (55 Mark O?Sullivan)
11. Waterford - (109 John J Barry)