Ballinastoe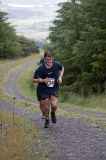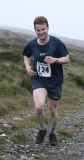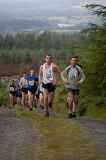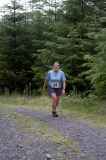 Authors
Unknown
28 November, 2009
I thought that a race report might be welcomed from a relative new comer to the IMRA slopes. Ballinastoe.... Certainly requiring more endurance than the other races, I was glad that it did not combine the steep incline of a race like Scarr (that was quote steep wasn?t it??- I can?t keep track anymore) with the cross-country terrain we experienced. I felt like at the end of Ballinastoe I could say with pride not quite experienced before that ?I went mountain running last night?. Plus I had all the bumps, bruises and bites to go with it.
The race began on time with a good crowd of people and midges. The road led everyone gradually onwards and upwards slowly teasing us into the tricky terrain of bog, mud and forest track. Feeling sure-footed after having completed the last 5 league races I was determined to risk more on the muddy passes. Clearly, the mud was more determined than I was - trapping my feet whenever I was bold enough to try and just slosh right through it. I couldn?t figure out how those in front moved so quickly through the muddy trails but I will be sure to ask them at the next race.
The cleared forest area gave a short respite from the mud pits but also proved to be an obstacle course resulting in a possible twisted ankle or bad scrape at any moment. I tried to practice some kind of mental projection imaging myself leaping over this course of stick and log with the grace of an antelope or dear but rather I think just managed to muddle my way through it with all the elegance of a new fell-runner ?not that impressive. It certainly proved a new kind of terrain challenge I had not yet faced on any previous run.
The ?river? ?yes I am allowed to exaggerate- I should not have let myself to worry about before the race. I suspect that most runners found it to be a soothing relief and a nice cleanse from the mud before, preparing for boggy areas after. A big thanks to the solid hand stationed there to help us cross. The help was most welcome at that point in the race.
I can speak for the part of the middle group in saying that I felt like for the majority of the race we developed a little community ? running amidst a group of 10 or so seemed willing to alternatively share the lead. Unfortunately, I gave into the temptation to turn off my own mental GPS system and follow whoever the leader of my group was at the time into a little off-course excursion. No harm feelings as I was quickly led back out onto the correct trail by this comfortable group of runners with little time lost. It seemed to make Ballinastoe all the more worthy of its designation as ?difficult terrain? ?difficult to run and difficult to mark.
Once I made it out to the road which led back to the start many runners seem to be injected with a new vigor and I found myself truly racing the last 2 km when all I wanted to do was walk! However, I seemed to find my downhill legs on the now solid ground of the trail road, happy to be out of the sinking mud pits and the cleared forest space. I was triumphant when I came in, happy with my time. I looked at my Garmin and it had registered a solid 12.32 km. Since then I have learned that my Garmin cannot be trusted as the route was just over 11km but I was still happy with great run that left me invigorated and excited about a great season so far.
TEAM RESULT
Overal LL: <a href="/ad-hoc/LLOverallTeamResults11-12.xls">here</a>
The messy conditions on the day and the upcoming Europeans meant a low turn-out for the men's competition but this didn't stop a captivating battle were a strong running Setanta finished in front of Crusaders AC who only held off Sli Cualann with a whisper. Clonliffe Harriers made a welcome return to the scores. With a low 100 still on their list, it looks like a very tight finish for 3rd between Setanta and Crusaders while Sli Cualann's 2nd spot could still come under threat at Sugarloaf.
The Crusaders women went unopposed at Ballinastoe and took victory with Emma Sokell back among the scorers.
MEN
1. Setanta 36 (Eoin Keith 1, Kevin O'Riordan 16, Andreas Kusch 21)
2. Crusaders AC 54 (Jason Reid 7, Jason Kehoe 17, Gavan Doherty 30)
3. Sli Cualann 56 (Colm Mullen 6, Jimmy Synnott 12, Cormac O'Ceallaigh 38)
4. Clonliffe Harriers 172 (Dermot Murphy 15, Tony Kiernan 63, Rob Cleary 94)
WOMEN
1. Crusaders AC 30 (Eva Fairmaner 8, Niamh Ni Cholmain 10, Emma Sokell 12)
<b> INTER-COUNTIES </b>
Dublin had a double victory in the inaugural leinster league county team competition. Keith Daly led home the men and was ably supported by Greg Byrne and Niall Fox. Wicklow and Meath took the silver and bronze positions in what was a good competitive turnout.
Jacqueline O'Hagan was first scorer for Dublin in the women's race with Suzanne Lyons and Eva Fairmaner completing the scoring trio. Cork were second team with Jacqui Howard, Grainne Coughlan and Leanne Cooke all running well. In all 55 runners registered their county compared with 59 club runners.
<b>Men</b>
1. Dublin 33 (Keith Daly 8, Greg Byrne 11, Niall Fox 14)
2. Wicklow 108 (William Powderly 10, Cormac O'Ceallaigh 38, Martin Francis 60)
3. Meath 161 (Brian Cully 37, John Rowe 57, Kevin Magee 67)
4. Cork - (Eoin Keith 1, Kevin O'Riordan 16, Mark O'Sullivan DNF)
5. Wexford - (Bernard Fortune 4, Sean Hassett 29)
6. Donegal - (Shay Foody 32, Martin Hegarty DNF)
7. Galway - (Cathal Lally 44, Damien Cunningham DNF)
8. Louth - (Robert Costello 46)
9. Kerry - (Berndt Heim 47)
10. Waterford - (John J Barry 82)
11. Longford - (Pat Farrelly DNF)
11. Mayo - (Chris Caulfield DNF)
11. Westmeath - (Patrick Ryan DNF)
<b>Women</b>
1. Dublin 15 (Jacqueline O'Hagan 2, Suzanne Lyons 5, Eva Fairmaner 8)
2. Cork 33 (Jacqui Howard 4, Grainne Coghlan 14, Leanne Cooke 15)
3. Wicklow - (Liz Ryan 7, Una Coghlan 28)
4. Longford - (Emma Walsh 25)
5. Laois - (Finn Ryan 29)
6. Kildare - (Loretta Nolan 35)