Ballyross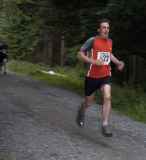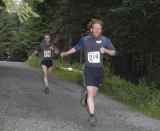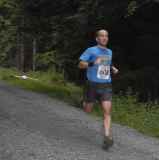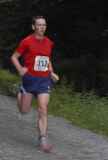 Authors
Unknown
28 November, 2009
The Maulin midges dived in formation, performing perfectly executed barrel rolls to evade the flapping fingers of the frantic IMRA volunteer force. While runners are safe as they move faster than a midge, the hapless helpers fall easy prey to the ravening hordes. Those midges must put a note in their diaries ? the IMRA Trail League is on again, and the eejits will forget to bring their hats: we?ll be well fed that night, lads!
Anyway we?ve learned. Hats and a packet of Havana cigars are going to be essential equipment for the next skirmish in the ancient war between humans and insects which takes place next week at the Earl?s Drive. The humans certainly lost this round at Ballyross as no amount of frantic flapping and ambitious armwaving could keep the midges at bay.
However, one particular human had a good day as former international runner Vincent O?Sullivan impressed with a scintillating time of 33.40 lopping 28 seconds off Derek Coogan?s record time from last year. Vincent was pushed to the turn by the flying Scot Ryan Montgomery, Keith Daly and blast from the past Kevin Keane. Vincent pulled away gradually on the descent to win by a comfortable 63 secs from Ryan with Kevin getting up to third a further one minute 25 secs behind.
Jenny McCauley had to settle for second place behind the flying Donna Mahon and saw her record of 40.04 from last year fall to the fast Rathfarnham girl who recorded a rapid 39.22. Third place went to Crusader Emma Sokell. There were some good performances throughout the 111 strong field on the fast, but surprisingly demanding, course, but needless to say the midge airforce won comprehensively routing everybody to the Powerscourt Arms in jig time.
Thanks to everybody who helped out - Lindie, Con, Niall, Rachel, John, and everybody else who helped make it a great night.
Douglas
</br>
<b> Inter-club men </b>
<b> CLUB TEAM RESULTS </B>
OveralL TL: <a href="/ad-hoc/TLOverallTeamResults1-3.xls">here</a>
1. Sli Cualann 20 (4 Colm Mullen, 5 Daniel Buckley, 11 Mick Hanney)
2. Team BCD 81 (19 John Ahern, 25 Alfonso Ruiz de Azua, 37 Declan Flanagan)
</br>
<b> Inter-club women </b>
1. Crusaders 25 (3 Emma Sokell, 10 Deirdre Ni Chearbhaill, 12 Emma Walsh)
</br>
<b> Inter-county men </b>
1. Dublin 24 (6 Greg Byrne, 8 Keith Daly, 10 Niall McAlinden)
2. Wicklow (7 Clive Alley, 11 Mick Hanney, 12 Andrew Hayes)
</br>
<b> Inter-county women </b>
1. Dublin 25 (1 Donna Mahon, 10 Deirdre Ni Chearbhaill, 14 Whitney Thurston)