Bray Head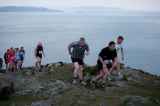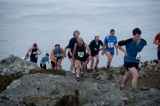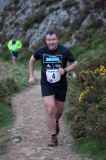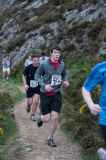 Authors
Caroline Reid
05 May, 2009
Ahh at last…you know Summer is here when you're out in Bray for kick off to the Leinster League! Despite arriving early, Micks team of volunteers had already swung into action. Seeing all the familiar faces, added to the pre-race excitement; Mike Gomm looking fresh from months of winter skiing, John Fitzgerald back from injury, Aisling Coppinger rustling up some race directors for the Leinster League and Vivian and Denise O Gorman out in support (hope to see you back running again soon Vivian!).
Everyone gathered at the barrier amidst the frenzy of catching up with old friends. After some race instructions from Rene and Mick, the race started and the mad stampede up Bray head began. After the steps, my view was of legs trying to tippy toe and pirouette over and around tree roots and rocks! I spied Tommy Gavin and decided to move to one side of him recalling his fall last year where my efforts to assist him made things worse :-o
All too soon, we were in single file for the rocky ascent. One of IMRAs most loyal hard working volunteers, John Shiels, had perched himself in a perfect position to photograph the agony of the climb mixed with the relief of making it to the top! From here it was lovely to stretch out the legs and enjoy the views while trying to stay with the group just ahead! All too quickly Eoin Keith zoomed by in the opposite direction looking way too relaxed!
Concentrating on the rough off track section….a few little trips here and there, I was glad to get back on track for the chase to the finish. I normally remember waving and saying hello to people on the way back but this year, it's all a blur…I think that's called oxygen starvation! The decent was just about staying upright and not getting knocked over by some of the enthusiastic gentlemen running around me! The run up the promenade broke hearts and ripped the bottom out of lungs, but it was all worth it in the end for the high of knowing you completed the race!
Back to the pub where the excitement was palpable…plenty of banter, catching up and slagging between friends. This is what Leinster League is all about!
To all those new to mountain running, a special well done! It does get a bit easier with every outing. Get yourself well acquainted with google maps, Discovery Map 56 and the car pooling link on the IMRA website so that you can make it to any summer league race! Volunteering is a great way of getting to know people, so also check out the volunteering link!! Roll on long summer nights in the mountains : )
Thomas McLoughlin
29 April, 2009
Looking back from the front of the pack at the start line I could see the sea of hair that were the heads of the Irish mountain running community; definitely 200+ I thought to myself. Then, not having ran Bray Head before, my mind started to wander, wondering if there would be space to manoeuvre on this "hill" with so many runners, not to mention the walkers who didn't quite get the quiet evening escape that they may have expected. Instead they got over 400 feet pounding the cement on the first couple of hundred metres that led up to the "rather-awkward-length" steps. I positioned myself in the first 20, as per my norm, and we started on the steep, root-filled incline. Damn it was steep, and I swear the trees were trying to grab me and pull me down off the hillside that they most definitely consider to be theirs but I triumphed; although not without damage as I was now down to around 30th (I figured) as we neared the first peak. This was reached but not before negotiating the rocks and boulders which had replaced the roots as the obstacle of choice.
Hard part over.
I pushed myself on the flat but could not make up any places, and my attention kept being drawn to the views over the cliffs edge and out to sea. Mega.
…And back to reality, the pain. I started to think that I had lost my competitive edge as I could not go fast enough to catch the guy in front who seemed like a man standing in the shadows and as I step towards to see his face the light dims and he seems farther away. I was beat mentally by the 2nd peak; but alas, my strength – the descent.
Made up 1 place on the flat back to the first peak…hardly worth noting, but had made some ground and down we go. 1…2…3 passed, see ya Cormac! Sorry. Nuuuuuuu-mmmber 4. Ooops, going too fast, guy in front of me to the left, strangely slanted tree going from left to right, to late to put the breaks on. IDEA. Jump at the tree, hug it, twirl and somehow land without killing myself or the other guy. Continue. Jump over guy who decides to do something with his shoe. Tell him that's not the best idea as passing.
Is that 6/7? CRAP- whew almost went over the edge; JK you may have saved me there with the advice at the start. Good looking out. See walker look at me with a half smiley/shocky look on his face. I grin as if to say, that was close. He laughs in agreement.
And now to finish, 2 in my sights, going to get them, got one, coming up to last bend……Got him. Where the hell is everyone? The end is NOT where we started??? How the hell did they forget to mention this? I'm a strong finisher, as long as I know where the friggin thing is. I'm knackered. Where the hell is it? Can't see? I…can't…do…it. Come on, just push it a bit further. Am now along the water front, walking, grass appears on my left, can see the finish. Time to up it and get across that finish line. I'm there, in bits & angry.
Can't do next week but bring on Hellfire and Brimstone. Bu-Yah!
Rene Borg
23 April, 2009
MEN
A highly competitive men's competition with several teams, including Sli Cualann, Crusaders and Sportsworld, mustering enough athletes for two or more teams, ended with a narrow victory for the men of Wicklow against Irishtown's Crusaders who were lead home by brothers Richie and Rob Healy. Colm Mullen showed he is on his way back as he spearheaded the winners.
Defending champions Rathfarnham were 3rd with newcomers Boards AC edging out Clonliffe, Sportsworld, and Tommy Galvin's Glenasmolians.
RANKINGS
1st - Sli Cualann 24 (Colm Mullen 2, Des Byrne 9, Jimmy Synnott 13)
2nd - Crusaders AC 27 (Richie Healy 5, Rob Healy 7, Shane O'Rourke 15)
3rd - Rathfarnham WSAF 68 (Aaron O'Donohue 4, Mike Long 23, William Griffin 41)
4th - Boards AC 80 (Eoin Keith 1, John Ahern 30, Jeff Fitzsimmons 49)
5th - Clonliffe Harriers 130 (Gerry Brady 8, Dermot Murphy 36, Tony Kiernan 86)
6th - Sportsworld 159 (Colm Kennedy 33, Liam McFadden 54, Eoin O'Brian 72)
7th - Glenasmmole 281 (Thomas Galvin 68, Cillian Stewart 90, Ercus Stewart 123)
WOMEN
In the women's former Crusader and women's Carrauntoohil record holder Beth McCluskey came back to haunt her old club as she helped Sli Cualann secure a double win on the day.
Wicklow Way Trail winner Jackie O'Hagan, running her first race in the Setanta shirt after the switch from Sportsworld, put Setanta on the board in third.
Encouraging to see three ladies teams competing so early in the League.
RANKINGS
1st - Sli Cualann 14 (Beth McCluskey 1, Martina O'Kearney 6, Aisling Renshaw 9)
2nd - Crusaders AC 40 (Niamh O'Ceallaigh 10, Eva Fairmaner 13, Marlon Davies 17)
3rd - Setanta 50 (Jackie O'Hagan 5, Hazel Thompson 11, Melanie Walsh 34)
Gerry Brady
23 April, 2009
COUNTY RESULTS
A large field of 226 runners finished the long course plus a few other stalwarts such as Fechin Heery (St. Brigid's and Meath) who would have been 7th in the race but unfortunately missed out because of arriving too late for registration. There were 116 finishers from 18 counties and 98 finishers from 33 clubs in the results. If you have not yet recorded your county or club team in the database, you can email it to me at Gerry.Brady@imra.ie and I will compile them for Sinead Roche. Preferably use your county of birth to get a wider distribution but county of residence is equally valid (Dublin and Wicklow have a lot of runners so if any of you were born in another county and want to revert to fly the home colours ...)!
Dublin won the men's team beating Wicklow by four points with Cork in third. Meath, Westmeath and Mayo also had full teams. Five counties had two finishers. In the women's team Dublin won again from Wicklow.
Men
1. Dublin 15 (4 Aaron O'Donohue, 5 Richard Healy, 6 Ryan Montgomery)
2. Wicklow 19 (2 Colm Mullen, 6 Ryan Montgomery, 11 William Powderly))
3. Cork 91 (1 Eoin Keith, 36 Kevin O'Riordan, 54 Richard Nunan)
4. Meath 219 (57 Ambrose Flynn, 78 Michael Boyce, 84 Eamonn Hodge)
5. Westmeath 283 (41 Patrick Ryan, 100 Alan Collins, 142 Danny Ward)
6. Mayo 373 (77 Enda Walsh, 143 John Coleman, 153 James Higgins)
7. Wexford 37 (3 Bernard Fortune, 34 Eoin Mahon)
8. Donegal 95 (37 Ronan Hegarty, 58 Shay Foody)
9. Kildare 160 (35 Dermot Murphy, 125 Michael Blighe)
10. Louth 190 (52 Padraig O'Dwyer, 138 Pol O'Murchu)
11. Cavan 217 (87 Finbar McGurren, 130 Phil Ward)
Women
1. Dublin 12 (3 Karen Duggan, 4 Laura Flynn, 5 Jacqueline O'Hagan)
2. Wicklow 37 (9 Aisling Renshaw, 12 Liz Ryan, 16 Ruth Lynam)
Moire O'Sullivan
23 April, 2009
Short report on Bray Race and on Leinster League now up on Mud, Sweat and Tears:
http://www.mudsweatandtears.co.uk/2009/04/23/bray-beckons-irish-runners-back-for-some-summer-mountain-racing/