Carrauntoohil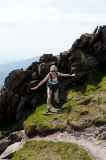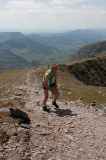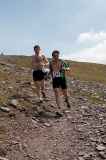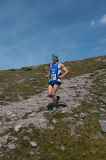 Authors
Rene Borg
29 June, 2009
TEAM RESULTS
MEN
1. Rathfarnham WSAF 19 (4 Turlough Conway, 5 Peter O'Farrell, 10 John McEnri)
2. Bilboa AC 51 (7 Thomas Blackburn, 19 Joe Aherne, 25 Mike Cunningham)
3. Clonliffe Harriers 56 (3 Stephen Cleary, 14 Dermot Murphy, 39 Rob Cleary)
4. Gneeveguilla 82 (8 Sean Twomey, 30 Brendan Lynch, 43 Jonathan Leviston)
5. GEN 94 (15 Alan Ayling, 29 Joe Lalor, 50 Mick Kellett)
6. Boards AC 96 (26 Joe Ahern, 32 Richard Nunan, 38 Eamonn Hodge)
Peter O'Farrell
08 June, 2009
Another June Bank holiday, another race organised with maximum efficency and minimum fuss from the back of Vivian's car. Weekend racing is where it's at, especially when you get a chance to race against the man who managed to be Kerry sportsman of the year and plies his trade away from the bright lights of Fitzgerald Stadium.
This weekend race kicked off on a beautiful hot sunny day, nearly ideal conditions for running. The last couple of years I've come to this race determined to go hard all the way and this year was no different, alas and alack the mountain had other ideas and I had to console myself with some useful KOM points and the privilege of watching some of the finest IMRA runners descending like dervishes past me and the oft repeated but still awesome sight of John Lenihan running and skipping up a mountain everyone else was toiling painfully on.
Bernard Fothune HAS to win one of these races soon, he just needs to start running about 20 minutes before eveyone else to get his steady start out of the way and get his fast finishing into play a little earlier. 2nd on the day is his best result in this race and with John Lenihan running so well on his mountain only equipment failure was likely to stop him, sure enough his shoes mutated into flip flops for the last 3km but he just kept running for an amazing 19th win. He was due in to town to meet us for a celebratory drink but only got to the milking parlour at 10pm as one of his Kerry co-runners turned his car over after the race and needed assistance. Maybe he should have gone for office as he truly is the man for everything!
Gerry Brady
02 June, 2009
COUNTY RESULTS
Kerry on home soil held off local rivals Cork by two points although had Donal Coffey gained those seven seconds on Sean Twomey the positions would have been reversed! John Lenihan made it a Kerry double with another outstanding individual win from Bernard Fortune. Dublin were third county ahead of Limerick. Karen Duggan winner of the ladies race led Dublin home.
Men
1 Kerry 22 (1 John Lenihan, 8 Sean Twomey, 13 Tony Holmes)
2. Cork 24 (3 Stephen Cleary, 9 Donal Coffey, 12 John Lynch)
3. Dublin 30 (5 Peter O'Farrell, 10 John McEnri, 15 Alan Ayling)
4. Limerick 37 (7 Tom Blackburn, 11 Keith Ryan, 19 Joe Aherne)
5. Donegal 46 (6 Leo Murray, 40 Shay Foody)
Women
1. Dublin 4 (1 Karen Duggan, 3 Niamh Ni Cholmain)
2. Cork 12 (5 Grainne Lynch, 7 Clare Lawson)
Vivian O'Gorman
02 June, 2009
Carrauntoohil Race Report
A beautiful summers day. The cuckoo calling – the willow warblers warbling ( as they do!) – and de mountain waitin ta be run!!
Brian Byrne glided up the track just before 10 – the rest of us just slog – to take the King of the Mountain times and places.
In former days it was the deep heat for the muscles in the dressing room before the match, on Sunday it was the sun tan lotion – factor 30 at least – in the car park.
As the fantastic Race Director was unable to run down the road to start the race,he eventually got there and started it a little after 12 and not a Joe Lalor start at 12 on the button!
Off they went with John Lenihan, Peter O'Farrell and Bernard Fortune leading the way – but not gliding! A phone call from Brian said John was coming to the summit all on his lonesome with about a three minute lead with Peter next and then Bernard. Unfortunately for Peter it was an off day with Wexfords Bernard, Stephen Cleary from Munster and the Sligo man Turlough Conway all passing him on the way back.
John, the 14 times in a row winner of this race, kept the pressure up on the decent until Caher. Although John had every intention of careering down the Mountain to the ridge and across the bog, his shoes had other ideas! One just gave up and the other was well on the way to doing the same. As one walker asked afterwards " Who is that guy? He didn't just run down he "flip flopped" down"!! I said I didn't know! Some guy from Kerry – a former World Champion or something I think.
So with his 19th (?) win in this race – a record that surely won't be broken – in 1.25.28 John Lenihan is most definitely the master of Carrauntoohil.
With Johns shoes disintegrating Bernard was getting closer and closer and got to within a whisker at the end with Stephen Cleary coming a very good third.
There was no such excitement in the Ladies with Dublins Karen Duggan leading out from the start and winning well with Kerrys Majella Diskin second and taking the vets prize and Dublin's Niamh O'Ceallaigh third.
There was a good race for the over 50s with James Kenny from Clare holding off defending Irish over 50s champion Joe Aherne from Limerick while Glenasmoles famous son Ercus Stewart, having dragged himself up to the top, kept the old legs going, to win the over 60s ahead of Patrick Cleary from Kerry and Limericks Joe Laffan. The pipe smoking bandana wearing Mick Kellett had no trouble with the sun and the heat and came in smiling to win the over 70s.
Very well done to everyone who finished safe and sound and all in under three hours!
As always my thanks to my helpers Brian for going to the top – Trish and Roisin for helping at the finish and collecting all the rubbish. Also to Sheila and the staff of the Climbers Inn who looked after us and for sponsoring the first prize.
Vivian
Sinéad Roche
01 June, 2009
Summit Times - Carauntoohil 31 May 2009
1 John Lenihan 52:23
2 Peter O'Farrell 55:40
3 Bernard Fortune 55:54
4 Turlough Conway 56:41
5 Stephen Cleary 57:14
6 Donal Coffey 58:17
7 Tom Blackburn 60:27
8 Leo Murray 61:31
9 Keith Ryan 61:56
10 John McEnri 61:24
11 Sean Twomey 61:41
12 John Lynch 62:29
13 Tony Holmes 63:23
14 Robert Cleary 65:14
15 James Kenny 65:26
16 Dermot Murphy 66:09
17 Frantisek Neupauer 67:36
18 David McBride 68:12
19 Alan Ayling 69:23
20 Joe Aherne 69:48
21 Damien Cunningham 70:45
22 Niall O'Ceallaigh 70:55
23 Sean Tangney 71:38
24 Tony Kelly 72:24
25 Brendan Lynch 72:37
26 Ger Griffin 72:40
27 Bernard Pabon 73:28
28 Ciaran Clissmann 73:44
29 Mike Cunningham 74:10
30 John Aherne 74:25
31 Richard Nunan 75:02
32 Joe Lalor 75:04
33 Damien Jones 75:08
34 Ercus Stewart 77:16
35 Shay Foody 77:28
36 Karen Duggan 77:46
37 Cormac O'Ceallaigh 78:09
38 Eamon Hodge 78:37
39 William Rock 78:50
40 Majella Diskin 79:57
41 Tony Frawley 80:09
42 Donoupil Vitezslav 82:17
43 Niamh O'Ceallaigh 85:50
44 John Fitzgerald 86:36
45 Jonathan Leviston 86:56
46 Tony Kiernan 89:55
47 Richard Lenihan 91:34
48 Patrick Cleary 91:36
49 Thomas Galvin 91:50
50 Grainne Lynch 92:16
51 Eithne McShane 94:30
52 Declan Baxter 94:52
53 Mick Kellet 95:58
54 Jennifer Lawson 97:38
55 Claire Lawson 98:15
56 Deirdre Finn 98:18
57 Tina Reed 99:20
58 Joe Laffan 100:18
59 Don McKinnon 101:59
60 Paul O'Grady 102:20