European Trial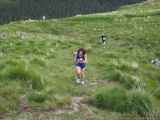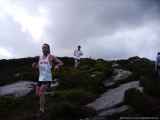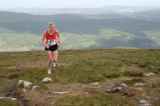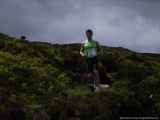 Authors
Peter O'Farrell
15 June, 2009
"If you're not in you can't win" could have been my thought for the day as I surveyed the start line of the European trial race.
I was there for KOM points, club medals and a decent run to banish my latest blow-up on Carantoohill into history.
On the start line I reflected on the vagaries of injury and personal choice that had decimated the potential line up and left me with an outside chance of an unbelievable result, I allowed a flutter of hope to join the wings of resolution beating in my chest and then we were off.
Brian McMahon took up the running and sailed off into the distance, untroubled by anyone or anything to finish in a fine time. Further back Kevin Keane gave a reasonable facimile of Brian and was away on his own for most of the road section before Mark Ryan, Kian Jennings and Vincent O'Sullivan closed on him by the turn onto the mountain. Two runners passed me here and I found myself in 8th place and with some negative thoughts along the lines of much more of this and there won't even be 1 KOM point to bring home from this run.
The almost immediate brutality of the incline seemed to bring the runners ahead closer and the head kicked into gear, I was breathing horribly but managed to get into the 4th before the open mountain.
Happy thoughts about my grippy trailshoes and hopefully better footwork were quickly banished by Martin MacDonald passing me easily and then it was game on for the next 20 minutes of pure effort, we both managed to put gaps into each other but couldn't make them stick, ebb and flow stuff, the terrain didn't seem to matter, we both had surges that opened a few seconds of a lead which the other would claw back and it was more by luck then design that my last effort in front coincided with the finish line.
Mags Greenan and Alwynne Shannon both ran very steadily to scoop up first and second with Donna Mahon and Helen White both finishing well to make a good team to send to Telfes.
Kevin, Mark and myself got the shiny medals and Brian took the overall glory. North Laois AC showed their strength in depth for second club team further adding to my lonely crusade to have the Wednesday league renamed the South Dublin and North Wicklow Evening league :)
Gerry Brady
14 June, 2009
Excellent weather conditions helped make for a smooth running of the national club championships, and trial race for the European championships, on Cloghernagh in Glenmalure valley. Around 50 runners were set off by the starter Ryan Montgomery for the road run into a long steep mountain climb.
From the start Brian MacMahon (Clonliffe) broke away. He held his lead for the duration of the race to win by just over two minutes from Kevin Keane (Rathfarnham). Keane is back in training a few weeks after an injury in April and he was pleased with his performance on a testing course. Mark Ryan (Rathfarnham) missed the second half of the cross-country season through injury and is only back running a few weeks. However he managed to maintain his fitness through interval workouts in the pool and he should make substantial further progress between now and the Europeans.
The race for fourth place was a close affair with Peter O'Farrell (Rathfarnham) holding off Martin McDonald (North Laois) to give his club another national championship. McDonald had bided his time on the early part of the climb before coming through strongly to overtake his club mates Tony Reilly and Derek Coogan. They combined for second team. Behind them Sli Cualann and Crusaders were battling it out for third team with Sli Cualann getting the edge thanks to Vincent O'Sullivan's run in sixth. Boards were fifth team led home by Mick Hanney.
Donna Mahon (Rathfarnham) was the early leader followed by Cathy McCourt (North Belfast), the latter's father Jim won an Olympic bronze medal in boxing in 1964 and he was down to watch the race. Mags Greenan (Clonliffe) paced herself well on the road and early climb before working her way into the lead with Alwynne Shannon (Newcastle) coming through for second as she worked hard to keep in contact with the leader. Mahon held on for third place and Helen White (Sportsworld) ran an excellent race to take fourth place. Last year's trial winner Angela Speight (Omagh Harriers) came a tired fifth ahead of McCourt.
In the junior men's race, Michael Treacy (Rathfarnham) and James Griffin (St. Laurence O'Toole) ran much of the race together for a 1-2. James Speight (Omagh Harriers) kept in touch with them for third place ahead of Kian Jennings (DSD). Shawn McCormack (Gowran) was fifth ahead of Ben Mangan (Parnell). In the junior women's race Niamh Denny (DSD) won from Aine McCann (Mourne runners) after the pair had worked well together for most of the race. The first two in both junior races will be running for Ireland in the international Youths challenge in Germany in two weeks time while James Speight will be competing for Northern Ireland.
Thanks to all the registration and start volunteers, to the drivers, and to the finish marshalls for making everything go without a hitch and to the many photographs on the course. Ben Crane has assembled considerable footage for what will be an interesting race video.
Men's club
1. Rathfarnham 9 (2 Kevin Keane, 3 Mark Ryan, 4 Peter O'Farrell)
2. North Laois 20 (5 Martin McDonald, 7 Derek Coogan, 8 Tony Reilly)
3. Sli Cualann 38 (6 Vincent O'Sullivan, 14 Colm Mullen, 18 Martin Francis)
4. Crusaders 39 (10 Richard Healy, 13 Robert Healy, 16 Jason Kehoe)
5. Boards 66 (19 Mick Hanney, 22 Marc Barrett, 25 Paul Joyce)
Rene Borg
14 June, 2009
On the men's side, twice defending champions this year brought out a slightly different line-up than had secured previous titles. Long-term hill runners Peter O'Farrell and Kevin Keane were joined by cross-country man Mark Ryan. Sli Cualann mustered 6 runners, Crusaders and debutantes Boards AC mustered 4 each, and North Laois 3.
Only downside in an otherwise good turnout was that winner Brian McMahon had no club-mates to share his victory and the lack of northern clubs with Omagh Harriers being a runner short of scoring and no representatives from Newcastle and Mourne Runners, two other traditional hill running clubs.
Early on it became clear that despite strong running from North Laois, Rathfarnham would be difficult to beat, Mark Ryan and Kevin Keane battled it out for 2nd and 3rd with Brian McMahon running away at the front. Peter O'Farrell, pacing himself well, may have given the Laois men hope as he sat in 7th towards the end of the zig-zags. Once on open mountain, however, the seasoned hill runner dispelled all doubts about Rathfarnham taking a third title on the trot as he worked his way up and forced a 4 second gap on leading North Laois man Martin McDonald as he finished 4th.
North Laois stil scored impressively with Martin McDonald in 5th, Derek Coogan 7th and Tony O'Reilly 8th. With 1st and 2nd both being secured by convincing margins, the tight battle of the day was for the Bronze medals.
Here the current top-2 in the Leinster League went head to head in a battle that swung back and forth before being decided. First finisher was Vincent O'Sullivan in 6th then Crusader's brothers Richie and Rob Healy arrived in 10th and 13th before Colm Mullen came in in 14th. Sli Cualann had a 3 point lead to protect before the final scorer and Jason Kehoe, had he known, may have thought he had done enough arriving in 16th. Martin Francis, however, managed to finish at 18th man, giving Sli Cualann a one point edge.
It's fair to say there was disappointment in the camp of the losers whose new team are enjoying a good season, but credits must go to the local men for their efforts in the close joust and well-deserved national medals. The contest between the two clubs will undoubtedly continue Wednesday in the Leinster League.
Finishing a good 5th in their first attempt at the National Championship, Boards AC had marathon-man Mick Hanney leading them home in 19th followed by Marc Barrett 22nd man and Paul Joyce 25th in the male category.
MEN
1st - Rathfarnham WSAF 9 (2 Kevin Keane, 3 Mark Ryan, 4 Peter O'Farrell)
2nd - North Laois 20 (5 Martin McDonald, 7 Derek Coogan, 8 Tony O'Reilly)
3rd - Sli Cualann 38 (6 Vincent O'Sullivan, 14 Colm Mullen, 18 Martin Francis)
4th - Crusaders AC 39 (10 Richard Healy, 13 Robert Healy, 16 Jason Kehoe)
5th - Boards AC 66 (19 Mick Hanney, 22 Marc Barrett, 25 Paul Joyce)
Mick Hanney
14 June, 2009
An uphill only race was never going to be easy, and it wasn't, but when you finish it you feel you've accomplished something.
The opening stretch on the road was totally forgettable. Tactically you wonder should you be giving it socks here so you're not way back by the time you hit the zigzags? Personally I did neither and ran conservatively on the road. The serious club guys went off into the distance and you wonder if they'd keep that going on the hill. Most of them did and that puts the rest of our abilities into sharp perspective :-)
Turning into the zigzags for the 2nd phase of the race its a case of head down and keep plugging away. By and large its a very nice surface to run on and it owes a tremendous amount to the work done by the Mountain Meitheal guys over the years that its in such good shape. Made a few and lost a few places on this section as those that had paced themselves very well on the road started to make ground on the incline. The lead guys were out of sight at this stage. Mags Greenan went past me easily at one point, there was no staying with her. Also Jason Kehoe who ran very well throughout. At the top of the zigzags you're turning right and into the 3rd phase of the race when the going gets ever tougher and rougher. Over the stile and onto the 'path' which would take you to the top. The path was as dry as it gets here but quite eroded in parts. At this stage the legs were beginning to suffer and I found it more efficient to run stretches and walk stretches. In doing so I also found I wasn't losing ground on those around me. I was past by some who are in their element in the these uphill stretches i.e. Martin Francis and Paul Smyth to name but two. Hats off to you guys. Took encouragement from Brian and Mark (who had finished their run and were on their jog downhill at this stage). I stayed on the heels of Donna and Dessie for the most part and was happy, if surprised, to get past Dessie towards the end. The peak takes a while to arrive when you're suffering but arrive it did. Finishing on an uphill brings a huge relief, but it makes for a happy bunch of runners as the photos taken at the top show. And the views were tremendous. Hats off to the quality of the runners in the top end of the field. The winning time was unreal. A big thanks to Gerry and his team of helpers on the day. The rest of us are looking forward already to the August up and down Clohernagh event.