Maulin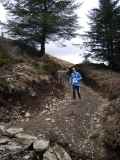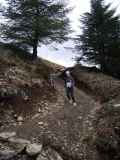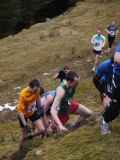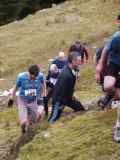 Authors
Rene Borg
09 March, 2010
Team Results
MEN
1. Rathfarnham WSAF 9 (2 Peter O'Farrell, 3 Brian Furey, 4 Niall Somers)
2. UCD 26 (6 Eoin Brady, 7 Luke Kenny, 13 Zoran Skrba)
3. Sli Cualann 34 (8 Ryan Montgomery, 12 Ben Mooney, 14 Martin Francis)
4. Crusaders AC 78 (9 Rob Healy, 29 Jeffery Healy, 39 Oran Murphy)
5. Boards AC 97 (11 Mick Hanney, 35 Eamonn Hodge, 50 Jeff Fitzsimons)
6. Clonliffe Harriers 174 (10 Ben Crane, 68 David Duffy, 96 Kieran Rocks)
7. GEN 223 (53 Joe Lalor, 55 Alan Ayling, 115 Brendan Doherty)
8. Sportsworld 231 (24 Jakub Splawski, John Fitzgerald 89, 118 Charlie O'Connell)
LADIES
1. Raheny Shamrocks 23 (4 Denise Ryan, 7 Niamh Kissane, 12 Niamh Garvey)
Peter O'Farrell
08 March, 2010
In seven punchy kilometres this newish route on Maulin tests uphill power, downhill technique and fireroad speed. Endurance could be added to this ticklist of hardy hillrun attributes with a second lap, for today some of the triathletes and Gerry Lalor cycled out to the race to get their second lap in early, so to speak. These eco-warriors were in the minority and Barry Tennyson was kept very very busy directing all the single occupancy cars into the public carpark.
Converted to the Bernard Fortune SoSS approach (school of steady start) after watching the tactic used to perfection by Jason Reid last time out I duly found myself looking at many eager runners ahead of me going up the first fairly brutal incline. The second path had more of the same inclinity about it and by the time we reached the monumentally steep grassy bank the leaders were in sight with a determined Ian Conway continuing to run with the rest of us deploying the slow painful shuffle we like to think is a power walk.
The drop off Maulin was full of the joys of freerunning fun made all the sweeter by the novelty of descending a slope we normally toil up and the sight of Ian coming back and then all of a sudden I found myself with a lead and the happy happy joy joy kinetic speed of bouncing through heather only a fast fading memory.
Some more bouncing, slipping and sliding brought us to the fireroad section of the race and the pace duly heated up. For a while I couldn't hear anyone and continued to hope I had somehow miraculously found speed but the incessant approach of orienteer Colm Hill dashed that optimism as he duly used his fleet feet to catch up, ran alongside for a while and then he gradually turned the screw in the last 600m until I found myself dropping back ever so gradually off his pace.
Colm powered away for a good win and only the fast approaching finish line saved me from a repeat of the experience as Brian Furey's bloodied legs closed down on the pair of us with grim intent. An earlier fall on the descent had cost him time and as the margins at the end were a few seconds Brian will be thinking of a Carrick win next week. For this week CNOC's Colm Cnoc is the man! I think Niall Somers was the first of the 2 lappers home.
As always thanks to all the volunteers ably marshalled by this weeks captain, Rachel.