Circuit of Avonbeg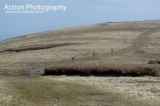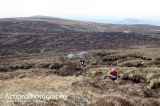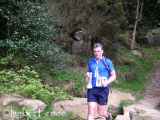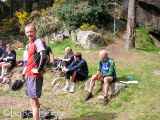 Authors
Rene Borg
16 May, 2010
One of my most treasured IMRA memories was doing the Aughavannagh race in 2007. I was barely running four months at the time I set out on the mountain odyssey taking in the peaks of Lug, Corrigaslaggaun, Carrawaystick, Fananierin, and Croaghanmoira and won so famously by John Lenihan in 2000.
So when the Circuit of Avonbeg, by all look and feel the big-brother of Aughavannagh, went up on the calendar I felt its pull inexorably day by day yet I struggled with how to fit in a race so draining into my preseason plans.
Just a week ago, I had written it off as too big a risk. And the race certainly is big and a worthy descendant of its hallowed forefathers: Circuit of Glenmalure, Circuit of Glenmacnass, and Aughavannagh. The big horseshoe races of Ireland emulating the tradition established by the ancient fell races like the Langdale, and Fairfield Horseshoe, Ennerdale, the Rydal Round, and the Wasdale and Borrowdale classics.
The start would be familiar to runners of last year's steep trial on Clohernagh except this time, the old zig-zags from Ballinafunshoge led up a steeper route from Art's Lough rather than the longer more protracted climb up Wicklow's premier massif. I set off with a policy of "no pain, plenty of tiredness" and the easy start in the forest was delightful with time for a bit of chat with Martin Francis before he headed off on the steep slopes of Clohernagh.
We'd taken the ideal route straight to the control and met a lot of runners coming back on us here. This advantage quickly eroded when I took a bit of a curved approach to the cairn. Alan Ayling had moved in front with a straighter line and he set a pleasant solid pace over the most enjoyable part of the route: The grassy ride leading to Lug. Most seemed to start their race in earnest here as several runners opened up on the descent. I passed out a few myself before tagging onto Cormac O'Ceallaigh for a while as he come jumping past midway to Camenabologue.
This stretch took me on a fantastic tour down memory lane of a particularly scorching recce of the Wicklow Round in 2007 when the rocky path here had been a ray of light after a horrible traverse of the marshlands around Lough Firrip and the Three Lakes below. Familiar terrain turned unfamiliar as I saw Cormac head onto a deer-path countouring along the inner side of the col between Table Mountain and Conavalla. I had mapped in two alternatives routes here, staying high or dropping down Table track and taking Conavalla summit via the forest. In the end, Cormac's path looked too inviting not to follow and off we went.
Kevin O'Riordan was near in front of him and I decided to try on this route choice. While runnable a bog hole took both my shoes, one so deeply buried I contemplated how to run the remaining thirteen kilometres with one shoe before eventualy retrieving it from its earthly womb, and I found myself making my own way up Conavalla. I hit a good line here and came over the top seeing Cormac's blue singlet in the far distance. A challenging descent later the four "false summits" ahead of Lugduff saw muscles tiring as I plodded along with only bands of hikers for company taking notes that this would be a great training run if started from Glendalough. Watching my route from Lugnacoille to Mullacor on GarminConnect was a joy as looked a mirror image of the route I had drawn on my map. The circular ridge of this brilliant creation of Paul Nolan's seems to intuitively drag you along on a clear day. A wet day would make it a different race.
I took the conservative longer route off Mullacor, back down to the Wicklow Way, and met a stream of runners coming up (Caroline Reid, Roisin, Joe, Paul, and a few others I didn't recognise). Entering the forest, I lost concentration expecting an easy cruise, and with a blue runner behind me, I grew impatient and took the second right turn instead of third. This led to me running into a series of dead-ends. At one point I met up with Theo Mooney and we had a brief chat running down before he said "I'll slow down a bit here." I rushed on happily (but unwisely) and another detour later I finally found the track to the car park but my woodland picnic had cost me three kilometres and a host of positions.
Despite entering the race simply to get a nice day out, this felt like an anti-climax after a nice clean run on the mountains but then again at Aughannavagh two years earlier I also added 3-4 kilometres to the route, so perhaps my subconscious wants longer races which I can't understand after having experienced Three-Peaks (a notion I believe Mick Hanney and Joe Lalor will gladly second).
Any further negativity was quickly washed away sitting in the wonderfully icy river and by Paul Nolan introducing me to a fellow Dane, Torben Dahl, who, like me four years ago, had seen his mountain debut take in Lugnacoille. Rather than hobbling down in ignominy as I did, however, he had recorded a fine eighth and proved that just because you're born on the flat doesn't mean you can't climb. Perhaps a Danish team for Snowdon some day???
Peter O'Farrell may tell his own story but seemed to have won out by slowly pulling back Niall McAlinden and Colm Hill from Lugnacoille onwards. Coming off Mullacor, he met the chasing Colm and route choice would decide the outcome from there. In the end Colm went for a risky route described as "a straight bearing from Mullacor to the car park" but the gamble didn't pay off as Peter used the main trail down to secure a fine win. Paul Nolan aptly summed the time up as "obscene" at the prize-giving.
Shortest course of the day was measured out around 25.5km and if I thought my own 29km would take the cake, I would be mistaken as Mick Kellett opted for a 35km Mega-Traverse of Avonbeg which might be the future route for the next WMRA Long Distance Challenge.
For some the day was for points, for some a break from studies, for some from work, for me from training. Whatever it was, it was a memorable day to rekindle your love affair with the mountains.
Rene Borg
16 May, 2010
TEAM
MEN
1. GEN 60 (11 Alan Ayling, 19 Joe Lalor, 30 John Shiels)
Colm Hill
16 May, 2010
Welcome to the Valley of Death. A fortress of the United Irish men during the 1798 rebellion due to the access problems for British army, a steep sided valley with a scattering of trees with the Avonbeg river flowing down the middle - some call it hell, some call it heaven.
11am arrived, kit check done, changed and ready to lock and load. This was it. Epic race of the year number 1.
Start line - Paul explains the story. I half pay attention. We wait. 12:00:00 and we're gone.
Niall, Peter and myself sit at the front. I tense up, waiting for someone to make a break from the line. No one does anything crazy and we get into a rythem running up the switch backs, its only the warm up. Chat chops and changes. Peter drops back to chat to one of the other lads. I keep an eye on him - waiting for him to take a different route.
No one does anything nuts and we continue to climb. Niall looks very comfortable, I can feel the pace ramping up but I keep it cool. Track keeps rising and we hit the open mountain. Across the terrain and Niall gets a small bit in front. We hit the control at Arts Lough (25:52, 4.11km 360m) Views are unreal
Punch the control and we head towards the ramp. I jump in front of Niall and up the anti slightly. I want some breathing space between myself and Peter. We walk up the ramp hard and search for the track. No dice. We back track and head up a sheep path. (After, Peter assumed we were going for it, he seemed happy that we reappeared)
The serious climb to Clohernagh began. I sat in behind Niall. He led the way. We continued to climb. I felt the burn as Niall got a gap. I waited and bid my time. As we climbed, I saw Dons bright top. I headed in his direction. Niall yelled over, I looked up and realised the cairn was to my left, I turn and leg it over. On touching the cairn I decided its time to leave the party and go for it (18:51 1.84km 300m).
I run along Niall briefly before I inject a small bit of pace and get a gap on Niall and Peter. I just put the head down and focused on the summit. The mountain is covered in hikers as I continued to drive up the highest mountain in Leinster. I can smell the summit, the summit of victory, two stone cross to lug titles. The Circuit of Avonbeg title has a nice ring to it I think. As I climb a hiker asks is it an IMRA run, I resist the urge to say what I really feel and nod as I hammer it up, climbing closer and closer to the cairn. The Prison looks amazing with the sun shining on it, I had never been up Lug from this side befor. I reach the cairn. The crowd look horrified as a skintly clad manic touches the piller and turn tails to leg it down off the mountain. (15:05 2.83km 122m) I flake it down the spur in the direction of Camenabologue. Its a beautiful descent. I take on a wee bit of liquid and glance behind me. I've increased the gap on Niall. I don't have a visual on Peter. I know he's there, he's always there, waiting... waiting to pounce.
As I reach my trail of pain, the one I usually suffer up as I attempt in vain to break 2hours for Stone Cross to Lug... I'm flying down it - the first dodge route choice also comes my way as I accidently contour around the small summit. None intentional. I clip along as I hit the "track" and continue on. Just keep the legs ticking over. I reach my decision point. I can follow the track up (directly to the cairn) or I can veir off and be a beast and do it along my route from S2L. Its an easy choice as I leg it off the track and head directly for the summit. Through the peat hags, feeling strong. Up across the the first rise, not feeling as strong. Deep heather. In a world of pain. I look down at my watch and read 12.75km - my heart plummets. Not even half way and I'm in bits. I pull out my magic water and I feel better as I climb. I reach the long flat summit and I catch a glimps of a white hat bounce up along towards the cairn from my left. The person is wearing a red singlet. PANIC! Who the hell is that I wonder. It looked like Lawlor... I begin to freek out and attempt to up the pace. The thought occurs that I have just made a MASSIVE route choice error and dropped +20mins.... (Your brain does funny things where your oxygen dead) I begin to curse myself as I attempt to re focus and not panic. I wonder how far ahead Peter and Niall are. This is not goina be fun coming back over Lugduff if I have to chase hard. I run around the cairn (26:32 4.87km 130m).
As I run after this red singlet runner I look harder. It doesn't seem right. As I look again, it wasn't a singlet - it was Peter O'Farrel with a red bag!
With that minor glitch sorted I gave chase and went low and straight to Conavalla. Peter went around. I dropped low and went for it. When I hit the slope I began to go backwards. I put my hands on my knees and pushed on. I didn't know where Peter was, it didn't matter. I reached the flat surface and hung a right and legged it for the cairn (19:57 2.87km 150). I yelled at the hikers if any runners had gone past. Apparently one in black or white had. They pointed back in the direction I came from. I assumed it was some other random person out for a run. Surely no IMRA runner would have wussed out and gone around a second time....
Onwards to Lugduff. I descend down and up through the blasted peat hags. Lucky enough the ground was dry enough. I got onto the spur and was happily motoring along. Views were amazing. A cloud had covered the sun and there was a slight breeze in my face. Perfect day in the mountains. At this point, I assumed Niall McA was long gone and I had no idea where Peter was. I was just enjoying the run.
As I ran along, I saw a glimps of white through the hags. I did a double take as Peter was clipping along about 60m to my left.
(How the hell did he end up over there!!?)
It was game on... again
We got chatting and we discussed how we ran the routes so far. He was pretty horrified at the time gain I got by going straight. Advantage Colm.
He then upped the anti or perhaps all my breaks were applied. Advantage Peter! I had run completely empty! I looked down and it was bang on 19km. I was gutted. I looked down at my map where I had cunningly written lots of stuff to keep me going. Choice pieces were
Relax, HTFU
Everyones hurting, stay strong
Focus, SFYA
Never give up
but the one that got my eye the most was "they'll come back to you, they always do". Heading for Lugduff I was hurting but I knew Peter had to be is well. He's human. He has two legs, two arms and a set of lungs just like everyone else. I put the head down and kept going. Hit Lugduff, the gap was the same as Camenabologue (23:10 4.15km 100m).
Peter didn't look as fresh as he did 2mins ago. The hunt began in ernest. Head down, keep the legs turning over. I was closing the gap, inch by inch. He hit the climb for Mullacor and he didn't look too healthy. I cut the gap further and just kept plugging away. I hit the climb and realised why Peter didn't look to healthy. This was one hell of a STEEP climb. I kept plugging away and the gap was closing. He upped the pace as he reached the flat(ish) summit. I ran past the first cairn and ran at Peter. He turned and headed for me. "Your route choice to win it" he says smiling (he's always bloody smiling in the mountains). I hit the cairn (15:30 2.63km 100m) this was it. The route choice to win or lose it.
This was the big gamble of the day. I said I wouldn't do it if I was winning but I had nothing to lose by taking it now. I went straight for the forest. Head directly for the ride. My compass was taped for this win or lose route. I stumbled down through the rough grass. I was nearing the forest but I couldn't see it. I kept running. I knew it was there, somewhere! I saw a slightly wide gap. Bingo! Into the forest onto a motorway. I was at my limit coming down it. I could see the road. As I neared, Peter ran along it. I had him. There was nothing in it. I dropped across the road and onto the ride on the far side. I had him. It was mine for the win. I was at my limit coming down through the forest. My vision was going blurry with the water leaking from my eyes. I popped out onto a small felling track. In front of me was a wall of green.
My heart plummeted. And then I plummeted straight into it. I fought and cramped, ducked and dived as I tried to get through. Limbs and equipment got caught as I forced through it. I kept forcing my way down. I knew Peter was well gone. I was now in a position to lose further places. I reached a track. I knew where I was. I had a choice to head left and run around by the trails or run down the river. 350m above the last control. I cursed myself and went straight for the river. It was horrible. Fallen brances and bits of twigs everywhere. The ride that is clearly marked on the map is non existant on the ground. If I took this route in an orienteering course I'd nearly dsq myself for been a muppet. It didn't matter. I reached the road and was on top of the last control 3 mins later. I just cruised down the rocky track to the finish.
I think reccing takes the fun out of races - no regreats taking the straight route choice.
Finished up 2nd in 2:42:20 26.13km and 1370m climb. Happy days
EPIC course. Definitely a keeper in my books. Even as a training loop it would kick ass. It had everything. Climb, heather, bog, descent and even a bit of forest. A proper mountain run.
Paul should design more exam time races! Good hussle :)
Niall McAlinden
16 May, 2010
For me the day started at 8:30…. Up eat massive breakfast of porridge, toast and coffee. Double checked my gear and went to meet Shane (My designated driver for the day). After getting stuck behind a bus all the way to Glendalough it was a relief to arrive and still have time for a few stretches and quick warm up. Paul gave us a quick briefing path marked to the fence, control on fence, don't try climbing the cliffs… if your not enjoying it take table track back home was all I got.
At 12 on the button we were sent on our way and myself Colm and Peter formed a lead group on the fire road. None of us risked short cuts through the forest it was too early to be playing those sort of games. When we eventually reached the open mountain I spotted Paul's fence and made a break for it. Colm and Peter followed and there was probably only 10s between the 3 of us at the control. On the steep slog up the "ramp" myself and colm started to gain some ground on peter until we made a silly mistake not breaking right at the top of the ramp. So the 3 of us were still only separated by 10s or so at the top of Clohernagh. As we made our way up Lugnaquillia I decided it was time for some water and a gel. I've learned that its much better for me to have my gels before I need them, that way the sugar in them has time to be digested. Colm pulled away a little bit but I wasn't too worried. Still a long way to go. I stayed ahead of Peter and got some friendly if slightly mistaken cheers from hikers…. "Keep going your nearly there".
On the decent of Lug Colm went quite far right. I knew I should try stick to the path so slowed up and made certain I was going the right direction. While I was triple checking my route Peter came flying past me, so I knew I was on the right track. I took after Peter and stayed close to him until my shoe got stuck in a bog hole and I had to waste a minute trying to undo the laces and clean all the mud and stones out of it. By the time we reached the climb up Camenabologue Peter had extended his lead on me to about 2min and Colm was nowhere to be seen.
At the top of Camenabologue I think the order was Peter, Colm +1min, me +2min. Colm having gone on a random pathless way from Lug. I say think because I didn't see Colm until the climb up Conavalla and peter was ahead of him at that point. The top of Camenabologue presented runners with our first real route choice. Peter chose to minimise his climb but add distance while both myself and Colm went down and back up again. In the end I think it made little difference, as the order at the top of Conavalla was Peter, Colm +2min, Me + 4min.
From Conavalla Peter took a strange line to the left while myself and Colm tried to cut as straight a line as possible to the ridge. This gave Colm a chance to catch back up with Peter but I was too far back to really have a chance to catch them. I had my 2nd gel at this stage knowing that there was still a long way left. After hitting the path on the ridge to Lugduff my running speed really started to increase but so did Colms and Peters. My guess at the order at the top of Lugduff is Peter, Colm +15s, Me +5min (you'll have to ask Colm or Peter for the real times)
On to Mullacor and running speed stayed fast on a good path. I could see Colm on his way up Mullacor as I crossed the Wicklow way but was too far back to really challenge him. I ran the entire climb of Mullacor as I was unsure if there was anybody behind me. At the top my guess at the time gaps is Peter, Colm +45s, Me +6min.
The descent of Mullacor was another opportunity to have a clever route choice. Colm figured he had nothing to loose a tried to cut a line straight through the forest. Peter on the other hand played it safe cutting back to where the Wicklow way entered the forest. As it happened Peter made the right choice and got home 3min ahead of Colm. I followed a similar line to Peter through the forest and came in 9min down although I took it very easy on the badly eroded miners path.
Overall I was delighted with my run, I felt strong all the way and even though I was no threat to the first two strong men I had them in my sights most of the way round. I would like to say a massive thanks to Paul and Izzy for making this race possible. Saying it was epic is an understatement! For those that took the time to look up the views were spectacular. I really enjoyed looking back at the route we had already covered when I reached Lugduff. I hope I get a chance to run this race again. Hopefully in equally nice weather.
Paul Joyce
16 May, 2010
(In the spirit of "the more the merrier", here's another report from the CofA, this time from down the field. Forgive the self-indulgence throughout)
Arrived early, on a glorious day, when the compass could stay in its pouch. Visibility was great: there would be no navigating through cloud today. The circuit itself- Clohernagh, Lugnachoille, Camenabologue, Conavalla, Lugduff, Mullacor- is one of the toughest on the imra calender, and over 40 brave (and some foolhardy) runners, listened to final briefings from the RD, before setting off up the zigzag trails to Arts Lough. Pace was handy enough at this point, as everyone was mindful about saving energy for a long days slog. I felt great at this stage, comfortably in the top 10, and enjoying the climb up to the summit of Clohernagh. Some great views from up here, among the best in Wicklow. Lug lay in the distance, along a flat enough ridge, and the return route could be seen to the east.
As I hit the trig point, my calf started to tighten up, nothing too bad, so I eased off the juice a bit along the ridge- shouldn't have been to much of a problem, there was a lot of running in front yet, and I otherwise felt good. The long ridge to Lug was covered in walkers, taking advantage of the clear air up here. Turned at the summit, and began the 5k journey to the next peak. I could see Mick Hanney in his bright yellow top up ahead, a beacon showing the correct route (he had latched onto master navigator Adrian, smart man). It was somewhere along this section that I started to crash, energy levels just disappeared. Slowed to a walk on slight gradients that should have been runnable, and took a gel. It felt like hitting the wall in a marathon, only my legs, body, breathing, all felt fine, just I could not get any pace into my forward movement. Was passed by a few here, the first of many on the way home.
C to C was as the crow flies, which was doable under the dry conditions, and the while the climb to Conavalla was a slog, I was not going much slower than others climbing behind me. Once at the summit, though, the problems really started. Most of the hard work should have been done by now, just a summit run with a few ascents, before the down for home, but try as I might, I found it increasingly difficult to run. A lot of this section was a sorry affair, as I walked among spells of dizzyness. My household all have colds, so I can only surmise that I have the beginnings of one, and my low energy a symptom of this. Even the downhills were walked along here, try as I might to run them.
Lugduff was finally gained, and I took the opportunity to drink in some of the views. Down again towards Mullacor, the final summit, and I chatted with a few others who were likewise suffering at this stage (albeit they were still going faster than me when they ran). Have to confess, I stood on the slope of Mullacor and looked up, contemplating for 30 seconds if I should leave it, and take the available and attractive track option down to the finish. Anyway, I'd come this far, and hate seeing DNF beside my name, so just put one foot in front of the other, and thankfully the summit came quicker than expected. There were a few runners around me at this stage, and they passed me on the descent to the track.
And if this race report seems like a long streak of misery so far, bear with me, because it's about to turn around. I had done a prior recce of this descent, and knew of shorter options down through the forest. So as a few others followed the zigzag track down (and many went the wrong way here, and got lost), I went straight down, to crash through bushes and briars, and emerge on a fire road that led up to the last control point. As I ran up, I eyeballed a runner just stamping his number, who took off on the final zigzags to the finish. He was a fair bit ahead, but I decided my race would be to catch him, and I went over the side of the track, down along the steep undergrowth, in a controlled fall. There was about three occasions when he ran by beneath me, along the Z-shaped trails, and could see me getting closer each time I appeared on the track, before jumping straight down between the paths again. I finally appeared just behind him, and the two of us went hell for leather down to the finish line. I passed him on the inside, and just got in front on the line- turns out from the results that we in fact were fighting for the 2nd M40 place home, so there was a bit of value in my chase!
Anyway, tough day out there, but that's what sometimes happens, learn from it and move on. I would have been disappointed but for that final flurry at the finish- instead that last chase is what I remember, so all is well. Total distance came in at 25.3k, which may have been the shortest route on the day, (if nowhere near the fastest!).
A couple of runners got lost- so there was a general search before they turned up safe and well. Back at the pub, the RD (who was manning the finish area from 11am until nearly 8pm), was wondering if it was too hard a course. Certainly, its one of the toughest, and there would have been a lot more lost had there been low cloud or bad weather. However, it's a real achievement to finish it, and everyone was full of praise for the great route. No-one wants to put restrictions and regulations on who can run the mountains, but the fact is that some people are turning up ill-prepared for the navigational challenges a long route requires. A better understanding of how a map functions, would have meant an earlier night for the race officials, so maybe it should be a requisite of unmarked courses that runners have attended a map-reading course? Failing that, other options we discussed included mandatory mobile phones (not much use in an area with no signal), two-way radios for novice runners (need a direct line-of-sight), and, my own humble contribution, a huge hot air balloon, which would be docked high above the valley. Runners would hold long elastic strings throughout the circuit, attached to said balloon, and hand them over when they finished. It will give you some flavour of the post-race cheer back at the pub, when I tell you that we ordered another round, to further debate the merits of such a system:)
Well done to Paul and Izzy: don't change a thing for next year.
Mick Hanney
15 May, 2010
An epic race. A thankfully fine day greeted us today and that made my mind up to give this event a shot. I was seriously doubtful about running it if the weather was iffy as my navigation skills aren't up to much. The race called for 25k+ of running around the hills with some serious climbs on some difficult terrain. My objective was to try enjoy it, not go astray and see what happens.
Some 41 runners registered with mandatory race kit (compass, map, water etc) checked. An unexpectedly large no. for a long unmarked race in the hills. We set off from the Glenmalure valley and headed up zigzag trails towards Arts Lough. A lead group of 3 runners had extended a lead from the outset – Colm Hill, Niall McAlindon and Peter O'Farrell. I was in a small bunch after that with the rest behind. Ran a bit alongside Dan Morrough, Zoran and Paul Joyce in this section. The pace was comfortable. Not too fast, not too slow. It was going to be a long day after all, so no sense pushing it too early. I'd never been up around Arts Lough before and it looked tremendous. A little lake nestled under cliffs with the Glenmalure valley spread out behind. Some runners met us head on.. they had attempted to cut up to Arts Lough a different way, but it cost them some time as the orienteering kite was back the way we came from... After Arts Lough it became a bit of a slog up (walking time) towards Clohernagh which is marked by a small mound of stones. We tend to underdo the markings of mountain peaks in Ireland – you'll see that throughout this report. Even a trig point with Clohernagh peak on it would be nice :-) From there we followed a worn trail which lead up towards Lugnacoille. 9k in, 18+k to go. Past groups of walkers. A busy day on the mountains. After Lug I headed north on a patchy trail towards Camenabologue. I'm not familiar with this part of the route so I stopped to check my bearings at least twice and in doing so I was caught by some other runners. Dan, Zoran, Adrian Tucker and another runner I didn't recognise. Turned out to be another Danish runner who has joined IMRA to give Rene a bit of Danish competition! We all ran together for a while, safety in numbers type thing with at least some of them knowing where they were going for sure. The going was tough in parts and involved a bit of walking. On a race like this a run / walk strategy is almost essential. You run when you can. Walk when you have to. Camenabologue nearly had a smaller mound of stones marking its top. The next peak is Conavalla. You've a decision to make on this part.. Do you lose height and head directly for it across some uneven boggy ground to make up the climb on the other side or do you contour around towards Table mountain where the ground conditions might be iffy too? A few of our group took the latter option. I ran with Adrian Tucker the most direct line, a wise choice as I knew he was a man of great running and navigational experience (Wicklow Round and all that). Pace was slow up and down through boggy ground, through big tufts of grass and up, down and around peat stacks. Lost and had to reclaim one of my runners in a boggy bit. Walking was necessary on the steep uphill bits again but that gave you the chance to take on water and some food, in my case I'd a couple of bags of raisins tucked away which did the trick. From Conavalla we headed left bearing towards Turlough hill in the distance, up and down peat stacks as we went, before we turned right to bring us on a fairly direct line towards Lugduff. During this section I ran, and walked, side by side with Adrian, chatting away. No sign of other runners so did our direct line to Conavalla work for us? We'll find out later. A couple of stones marked the top of Lugduff and from there it was a case of following a bit of a trail down then up the flank of Mullacor, crossing the boardwalk for the Wicklow way in the process. The Wicklow way traverses our race route. Slowly up towards Mullacor we passed some walkers. They said that 3 runners had gone ahead of us.. the 3 leaders perhaps? Less than 4k to go at this point. Getting tired but at least the climb in the race was done at this point. We passed a pile of stones on Mullacor.. not the peak. The peak is the next pile of stones - the smaller pile! - but we all know that don't we? Turned right at the stones (!) and headed steeply down the mountain until we encountered the Wicklow way again. Followed this for a good stretch – tough trying to run fast on hard firetrail after so much hill running. Especially when you are wearing very light and unsupportive inov8 Xtalons like I was. We turn the requisite turn on the trail, saw a bit of reassuring marking tape and heading on from there. An orienteering kite on the trail showed we were on track. From there it was steeply down a set of zigzag tracks of what used to be a miners path to finish at the Ballinafunsoge car park.
I finished literally a second after Adrian. He was 4th (and 1st M50).. some running! Found out later than Peter O'Farrell had won, just ahead of Colm Hill with Niall 3rd. Again navigation choices were to pay dividends or not for runners. From the group I had ran with earlier those who had taken the other (higher contouring) navigation option early were quite some minutes behind us. Thanks Adrian for the running company. Objectives achieved. Well done to Paul and Izzy for running the show.