Fraughen Rock Glen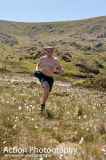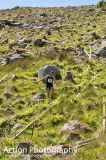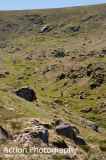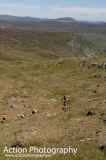 Authors
Aidan Roe
22 June, 2010
Fraughen Rock - A View From The Back
A picture postcard day and 34(?) lucky runners line up at Barravore for the start of race to top of Lugnaquilla true Fraughen Rock Glen. It's very hot. Just looking at the lads warming up has me breaking out in a sweat. I spot Derek+ John Fitz. Good. It's nice to havecompany out on hill.
We're off now and soon cut into remains of forest by old ruin and up zigzags.It's all single file here so theirs no room for passing. I'm behind Henny with someone on my heels. Pushing. I'm already feeling the heat. Some walkers stand in to let us pass with bemused looks."What are they at? Surely theirs a pill for such an ailment."
Out on to the forest road I'm nearly last out. I'm thinking of throwing it there. "Why bother. I'm sure there's a pint with my name on it somewhere? You need to earn it first. On ye go". By the foot of waterfall I've passed Stuart Scott but by time I get near the top he's passed me and heads off at angle. I don't see him again and wonder does he know something I don't. I follow Derek, Henny, John Fitz, Thomas & Eithne. I can't seem to reel them in. I don't know this side of glen as well as the other, I normally use track on East side of river but today its off limits, so I can't try anything clever. (Theres some nice scrambling in gullys on the other side) I try a direct line between 2 small crags that everyone I can see has passed on right, to try and cut off Derek and Eithne. For awhile I can see no one. It's getting steep and soggy and I'm wondering if I've made right choice. I clear rise and Derek, John Fitz. Tomas and Henny are still ahead (but nearer), but I've got past Eithne .
We are now approaching steep ground at back of glen and the leaders are on return leg. Brian Furey flys past and a couple of mins behind is Colm Hill. I'm frying now. Shortly after that, I'm just behind Derek, and one of the real speedsters, tearing downhill looses footing, rolls a couple of times shoots to his feet and continues. Seamless. Spectacular. It's a pleasure to watch these guys move.
By now 75m shy of breaking onto plateau, Derek is attacking this doggy-style on all fores (and pulling away again). I must ask Rene about this at next Hill Session. At the top now and I take in the views (Paul mentioned these in brief and I think there cumplosary). I have been up here countless times over the years, in all weather and I can say today, hand on heart it was stunning. Definitely top ten.
By this stage all the lads have passed me on return leg. I get to cairn, run AROUND it, not TOUCHING it and head down. Am I cheating?? Have I caught that nasty French cheating virus from my wife? They all cheat the French. We'll discuss this later. Like that time Thierry Hen.... I digress.
I build up speed heading for lip of glen. I'm going to go for it. Like the lads up front (who are probably finished now). I'm nearly at full tilt. I'm heading over. I look down. And bottle it. Not as easy as it looks. Yep! I'm full of shit. I do catch Derek, John and Henny and trundle past. No seamless acrobatics for me.
I have Niamh Garvey in my sights now. I turn down some steep ground to try sneak past her. I stick my leg (not my foot, my hole leg) into one of them secret wholes Wicklow is full of. It hurts. I get up. I can see the lads following now.
Getting to the waterfall I miss the main track down. Completely. But theres only one way now. Down. The lads have made a stupid mistake too. They've followed me. By the time I meet John Shiels at the base of waterfall I've started to pull away. He helpfully tells me I've made it hard on myself. Shite! Well it will be hard for lads as well. That'll learn them. He also offers some advice."Don't fall". Late but appreciated.
I'm onto track proper now and pass Mick. (Kellett not Hanney) I'm wilting. Last hill now. I look behind and the lads are 400 or 500m behind. I have them beat. I start to dawdle. I'm not paying attention. Moving down tru zig-zags I'm enjoying view. Legs are tired now. I get to ruins and instead of just running straight across for forest road I stand looking for track. The heat has me tired. Confused. I can't see it. I then spot Des. I head towards him, say hallo and he alerts me to the fact that Henny and Derek are right behind me. Feckers! Trying to steal my hard earned places. Blitzing me in the last 200m. Not today boys. I should point out that places are as keenly contested at the back of field as they are up front. I give it one last effort and come in seconds ahead of Derek. Henny just behind him. John Fitz not far behind. A super race.
Thanks again to Paul and Izzy for spending their time on such a beautiful day organising it. Another gem. Congratulations to all the lads up front with your ridiculous times and well done to Brian who won the Leinster Championship. It's inspiring to watch yous go at it.
Glenmalure is always a great place in Wicklow for a run with one of the nicest pubs around to finish up in. Spent a glorious few hours their with family in sunshine afterwards.and I was right. There was a pint with my name on it.
I'll sign off now b4 I Hodge this:)
Colm Hill
21 June, 2010
In The Hunt for Redemption
Brian Furey may now be crowned the Leinster Champ but I sure as hell made him work for it.
The morning dawned early, 0700 is an ungodly time for an alarm to go off. Up coffee, rush to pack kit and out the door. Got dumped off at the Red Cow and luas into town, followed by a rasher sambo, picked up by Shane and off to the steep steep slopes of Glenmalure. Again.
We arrived and I was disgusted. Not a cloud in the sky again. It was hot and zero wind. It was going to be a tough day at the office. Bouncing around the start there was the usual gathering of hikers shiver. Brian, Jason, Aidrian, it would be fast at the start. I got changed, slapped on the factor 30 (missed a small bit on my shoulders) and got pumped. Running up the hill away from the start of the race, I got confused and couldn't work out where we were meant to be going. I decided I'd sit in and wait. It would be a long way to the top.
Back on the start line, 4mins till start. I dumped my left over pre race water onto my buff, necked what was left and went over a few scenarios in my head. Cover the breaks if they look serious, leave em go if I know I can reel em in slowly.
And we were off, 1200 on the button as usual. The nervous feeling has set in. I was keeping my wits about me - people are known to do crazy things in the heat!
I was covering Brian and Jason. From Carrauntoohil, they were the guys I had my focus on during the climb. We tipped along the road until the turn off across cleared forest. I upped the pace slightly and happly skipped across the felled area. Up past the building and I froze, I wasn't meant to be leading, I didn't know where to go! Brian ends up beside me, he looks at me as if to say "your the navigator, which way do we go!!", my look is a blank one, I had no idea. Neither of us is sure where to go, Jason is beside us. The 3 of us have stopped like stunned rabbits in a set of headlights. Zoran breaks right and we take off after him. Up a small track, following Pauls well placed tapes. Zoran, Jason, Brian and myself. It has a ring of the Euro Trial to it. Up a narrow steep track, not much space to pass. No need to do anything crazy yet - thats for the descent...
We climb up the switch backs, passing hikers. A few nice roots on the ground. The climb is pretty constant but its all runnable. After what seems like an age we pop up onto the fire road. I look up away from Brians heels and take in my surroundings, I wanted to spot a feature for where we'd turn back in on the descent. The ground was more open. A large earthbank with a boulder. Bingo. Can't miss a boulder 10ft in the air.
The pace ups, I focus on Zoran and slowly set about reeling him in slowly. No point making a sprint and wasting myself. Zoran is passed as Brian and I battle it out. Brian keeps the pace steady. I sit right on his shoulder. I want him to know I'm going to be right behind him on every step he takes on route to the highest point in Leinster. At present there are a lot of bodies around us. Taking that sneaky glance over my shoulder I can only see Jasons top but I know that there is more than that. Too many clattering of feet and studs on the fireroad. The road contuines to go up, suddenly it dips dramatically - take note for the descent, have something left.
The fire road eventually runs out along with the clattering of studs. The sound of the studs is now a faint distance sound. Up the gravel track, feet sliding a wee bit. Not too worried. Up the final piece of track and we're into the serious climb. Brian keeps a constant pace and gets a gap. I settle into my own slower climbing pace and begin to plug away. The aim is to not give away ground. Keep it simple stupid. Turn the legs over. Jason passes me by and hangs onto Brian. I'm sitting in 3rd and the climb isn't letting up. I'm down to a hard walk. Up in front so are Brian and Jason. Stay calm. You can allow them to get a gap on the climb, just not too much. Possibly the past 3 weeks racing is taking its toll. I have to keep them as close as possible on the climb. Can't afford to lose too much ground. As we go up, Des catches and passes me. My focus is still on Brian and Jason. I've never seen Des, his shoes don't look good for the descent. I'd take him at the turn.
The climb flattens out (550m up). I try to open up my stride and get the shuffle going, I try in vain to open up into a run. Upfront, Jason has legged it off across the marsh. He's flaking it. Des follows. I look up and catch a glimps of Brian off to my right heading for the spur. I assumed Brian recced the route so I follow him off right. Jasons route is tempting, a brave one. I put my faith in Brian and go after him.
As I chase Brian, I see him struggle in the rough terrain. I suffer up each step, its just like that b1tch of a climb that O planners love to throw in for no good reason. I can see Brian hurting so I put the head down and get on with it. Just getting one foot in front of the other. Brian's headed up the small re entrant onto the spur. As I begin the climb I see him disappear over the edge. My route choice of up the spur, contour into the big re entrant and then up the "wall" seems like a good one.
I shuffle up the spur. I look behind me and I see Aidrian about 100m back. Too close for comfort. I force my legs to get running. I have no idea where Brian has gone. He drifts from my mind as I get stuck into the job at hand. As I climb I see a ROAR top ahead. I have a pulling feature. I make a bee line for it, assuming Paul Mahon will give me dog abuse. Turns out to be John Shiels clicking away like mad as usual. As I near John, I hear none other than Don shout out abuse from above.
I run hard wanting to get a gap on those behind me. I reach the wall. Its fecking vertical. I can't wait to come down this! I start into it. Its one foot in front of the other. I can't see any other climbers, I wonder where Brian, Jason or Des have ended up...
By this stage I'm using my hands. My legs are coping well but my brain needs blood. Don shouts up from below "get a move on, your meant to be proud to run in a CNOC top". This makes me get the finger out and I up the anti as much as I can. My hands are grabbing at the tuffs of grass as I use every means necessary to drag my sorry ass up the wall. In hindsight it has a sence of pure beautiful maddness to it.
As I near the plateau, I look left and see Des flying up along the flat(er) ridge coming up from Arts Lake direction. I force my legs to get running as it flattens out almost immediately. Up in front I only see hikers. I wonder where Jason and Brian are. I can't see anyone. That split second of elation. First to summit - SWEET! I have a spring in my step as I bounce towards the cairn. Over to my right, I see a runner flying. It appears to be a black top. I can't believe it. I grit my teeth, put my head down and force myself to run harder. The mystery runner does a lap of the cairn and begins to descend towards me. My thoughts are one of, whoever you are, you better descend hard, because I'm hunting for you. As the mystery runner nears I realise its Brain Furey. He is bouncing. He looks comfortable.
This look of calmness incises me. I gun it for the cairn. As I run the lap of the rocks, hikers seem horrified. I get a nice smile inside - can't let it show on my exteriar. Its war face time.
I sprint off the plateau. Jason comes around the South Prism as I head for the drop. I want, need, have to catch Brain. Losing again wasn't an option. For descending you have to believe you are the best to have good technique. As I hurtled off the flat summit, heading for the drop. I was oozing with confidence. Brian was mine. I didn't care how hard I had to run.
I looked up and spotted my sheep - my marker for where to descend. At first people might think thats crazy, sheep move! Well my logic was that the runners were coming up to the left of the sheep, so that means that the sheep would go further right, away from the runners. By aiming for the sheep, this shortened my descent distance.
I hit the vertical drop and I let go. I was keeping my weight back so if I fell I'd only slide on my arse. My legs turned over as quick as I could. My eyes began to water so much I couldn't pick out my foot placings. I used my sweat covered buff to try wipe my eyes clear - it did enough that I could see.
I could see Brian further down the slope. I was gaining on him. I could feel my legs take a hammering as I dropped. Studs at there limit. Waiting until the slope was no longer 80% so I could open up my stride and let it loose. I aimed for the ridge and ran hard. On reaching the ridge I went to its tip and let gravity do its job. I passed a marsh I remembered on the way up. I hung a right after the marsh and ended up in the re entrant, the same one I chased Brian up. This time, he was only half way down. He was mine. By the time he reached the bottom, I was ontop of him. I went for the river and got across before him. On the far side of the river, I got cragged out. It annoyed me as I should have remembered it from the way up.
I ran around and began to push the pace. I had to get to the second drop first. Get my preferred line coming down. I was bouncing through the marshy boggy ground. It was a perfect day to be shin deep in crap.
I made a bee line for the tip of the river, where it vanished from sight over the edge into the Fraughen Rock Glen. I was making good progress. I looked up and saw Brian, he was licking it along. He had managed to hit the track I was looking for. A few minor expletives to myself and I struggled across and up to the track. I cut the gap before the descent. I was on his shoulder as he begun the descent. This was make or break. I tracked his foot steps the entire way down. Picking 6 steps ahead and keeping the steady fall controlled. I didn't feel as comfortable as I did coming down the wall but I was keeping up with Brian. The race was gone purely tactical.
I noticed Brian almost take a slide on a root, took note and avoided it. We dropped down to the final flatter section and it was game on. Brian hit the rough track and he upped the pace. I tried to go with him but the legs wouldn't/couldn't respond.
I attempted to make deals and barters with them but they were having none of it. My legs were just heavy. No spring in them. With out the bounce I usually have at the end of a race I was paranoid as hell that Jason or Aidrian would be hot on my heels, ready to pounce at my first sign of weakness.
I tried to keep the gap constant between Brian and myself, or as constant as I could. He seemed much more relaxed, bounding along. He disappeared around the final bend of the fire road. A few seconds later I went around and began to drop down. The sight that met my eyes shocked me. Brian was running back up the track towards me. He yelled wheres the track. It my shock I said keep going. Its miles down. As we descended side by side. I was looking out for my boulder. Brian was looking for the tapes, well slower than full flight. Catching a glimps of the boulder, I looked left and saw the track. Brian almost went in too early, I gave him a nudge to keep going and he took the lead into the switch backs. He took a tumble, bounced up quickly and resumed the descent. I was about 1m back. He had maybe 20-30m on me before his error.
We dropped down through the first turn, then the second, onto the final piece of track. I catch a glimps of Izzy leg it off to tell Paul that runners were on route. I followed the tapes wide and ran back through the felled stuff the same way as I went out. Brian went straighter.
He got out onto the fire road first for the last 200m. I was just behind him. He kicked. I tried to go with him but the legs were shot. Completely empty. I gave chase but he wanted it more. Running with lead filled legs doesn't help in a sprint finish. 2nd place, 5seconds down.
If I said nothing, and got into the switch backs first, who knows - maybe I could have set up a grand final on Mount Leinster, winner takes all. However this year it wasn't to be.
For the Leinster Champs next year, I'll be stronger and there will be a hunger. Bring on more open mountain routes!!
Winning feels great, but its your loses that motivate you and get you out the door when its the last thing you want to do. To lose every now and then keeps the hunger alight.
Lugnacoille, Take 2, July 3rd. We'll see who's running scared.
Once Wounded, Twice as Dangerous.
Mick Hanney
21 June, 2010
Last year's inaugural Fraughen Rock Glen (FRG) race was a bit of a wash out. Weather conditions were dreadful and this was reflected in a poor turnout. What a contrast this year's race was. Wonderful un-Ireland-like conditions - sun shining, skies clear, temperatures up and little or no wind. Fantastic. Around 40 runners registered with Brian Furey among them looking to nail down the Leinster Champs with a race to go having already won the Black Mountain and Tonelegee and the Lake race, the latter yet another Paul Nolan architected route like FRG. Brian wouldn't have it his own way though as he had keen competition from Colm Hill. A rejuvenated Jason Kehoe was also present. Sadly no Peter O'Farrell who had other competitive challenges this weekend. Its an over-used word but Peter you missed a classic.
After the mandatory gear check we assembled across the Bavavore ford. We set off after a 5-4-3-2-1 countdown and headed off down the fireroad before taking a left through a recently tree felled landscape and following a series of single track zig zags which brought runners to the higher fire road. This road ascents around into Fraughen Rock Glen before it tapers out at the waterfall after some 2.5k. A leading pack had stretched out on this section. Others prominent near the head of the field were Adrian Hennessy and Des Kennedy. Zoran Skrba and yours truly followed, quite distantly even at this early stage.
The waterfall was flowing rather meekly after the recent dry spell. The steep and rough section up along the falls will have slowed most if not all of us. I kept Zoran within reach and he was joined by Dermot Murphy who ran into view and was climbing well. I followed Dermot along the single track which follows the recommended river route choice. Zoran and others were on the other side of the river broadly heading in the same direction. That direction was bringing us towards a relentless mountain wall that had to be ascended over grassy and rocky ground with fields of wild bog cotton all around. A wave to the awaiting John Shiels who was in the right place this year to snap runners who too were in the right place. Ground conditions were super. A nice spring in the ground, again such a contrast to the wet foot-sucking conditions of last year's race. The next part of the race I have filed in the dark part of my memory that I don't want to access too often as we laboured step by step up the face of the mountain. It was a case of not looking too far ahead. The only 'runners' I saw on this part again were Dermot leading Zoran ahead of me.
As the gradient eased out towards the top Brian Furey dashed past me on his return journey down the glen. Not long behind was Colm Hill with fire in his eyes. Was the gap around 30 seconds at that point? Out of the corner of my eye I saw other runners descending off to my right. Thought I saw Jason? Picked up the pace to head towards the cairn on Lug. Dermot had turned and he was on his way back. Then Zoran who had taken the race director's instructions to touch the cairn very literally by climbing the cairn and touching the trig point. He past me and I ran on and just to be sure I did exactly the same as Zoran. Anyone else who didn't touch the trig point has to go back and do it, okay?
Ran after Zoran in a northeast direction on slightly descending ground meeting other runners who were on the way to the peak. Alan Ayling was next in line from what I could tell. Very soon the ground appears to vanish from under your feet as it drops away into the glen and you head on steeply down, gravity carrying you, balancing fear and adrenaline to move headlong down the face of the hill, over grass and rock, passing ascending runners / climbers as you go - you almost jump over the heads of ascending runners at times.. I seemed to take a more efficient line down the hill as I went past Dermot on this section. Zoran was the only descending runner in vision and he was descending well. Heading downwards the single track we had followed on the way up wasn't as immediately evident and we probably lost time running on rougher ground. Running along by the river we soon came to the rocky section along the waterfall. Picked up some cuts and grazes along this section in the attempt to close the gap on Zoran. At least 2 falls didn't help. It wasn't to be as he picked it up when we got onto the fireroad for the run home. I was feeling the effects of the sun beating down at this stage and wanted the race to be over. Turning towards Baravore and into the single track switchbacks, through the treeless debris and onto the fireroad to the finish. Phew.
Runners finishing cooled off in the stream at the Baravore ford and very welcome it was too. First runner home was Brian Furey, following within 5 seconds by a hard chasing Colm Hill. 3rd was Adrian Hennessy a split second (according to the results) ahead of Des Kennedy who was first M40 home. Jason Kehoe was 5th having perhaps not taken the most optimum route choices. I finished 7th behind Zoran, with Alan Ayling having descended well to overtake Dermot who slipped a few places. Martin Francis was 1st M50 and Niamh Garvey was first lady home. Brian's winning time was c. 69 mins. That was some 15 mins faster than last year which shows what good conditions can do for you. By my watch the route was c. 11k and it lived up to its steep 770m ascent billing. With his win Brian wrapped up the Leinster Champs. Bravo. Last race is Mt Leinster in a couple of weeks. If the weather stays kind the tantalising hour mark might be broken there this year with Tom Hogan having come very close last year but Wexford won't let that record go easily. Today the sun shined and FRG shined. A great route and a great race. Thanks Paul and Izzy.