Bray Head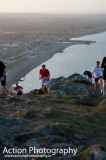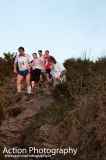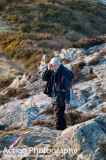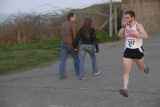 Authors
Colm Hill
16 May, 2010
When a car full of CNOC orienteers goes to a Hill run you know you'll be up for a laugh. Been crushed behind the long legged Ruairi Short in the back seat is something that has to be tried to be believed. Excusing a near fatal side sweeping it was all good.
Arriving at the start early, been 3rd entry on the list as usual gave me plenty of time to warm up and get the head sorted. Getting changed it was remarked how nippy things were getting. I knew this wouldn't last long.
For the warm up I headed up the hill, climbing slowly the legs felt fresh giving the track session the previous night. Hitting the mud, I cursed Gerry for his suggestion of flats... unknowing how far the mud and roots would stretch. As I hit the road at the bottom, I was joined by Paul Mahon and we went up again. I silently noticed how heavily he was breathing as we climbed slowly.... Race tactic sorted - go hard, burn em all off.
At the start there was a BIG crowd. I wiggled my way to the front and waited. Slightly nervous... waiting.
And with a go we were gone. I went out and sat at the front, watch Eoin Keith and Niall McA. Taking the race at my pace. Going up the climb, I stuck to the front and ran comfortable at my pace. Reaching the steps, I upped the pace, hoping to drag some of the guys with me to help me keep a high pace. No one took me up on the offer, so I wasn't going to hang around and run someone else's race.
I didn't look back, I just kept climbing at an up tempo pace. At a turn closing on the top I took a glance back and I had a big gap. Reaching the rocks below the cross I bounced up, happy out. As I looked behind on the final face up to the cross, I looked back and I reckon I had 30seconds on Eoin Keith. Happy days.
On the small descent I focused on keeping a good pace, then I came to the first junction. From the map and everything else I began to run straight through the junction... Suddenly the Marshal began to yell at me that I was going the wrong way, I looked back at him as he was pointing to the right, I hesitated and took off to the right, mean while, Eoin, beasting down the hill yelled at me saying that I was going the wrong way.... I stopped, completely confused. Eoin began to yell abuse at no one in particular, clearly very pissed off. After realising the marshal make a muck up, I took off again after dropped 10seconds (how the hell do you drop 10sec on a mountain run!). Running up the track my legs began to feel the burn. I set into an all right pace but my rhythm was gone. As I fought to get it back, Eoin passed me, closely followed by Drute of SligoAC. They were clipping along a little to fast for my liking so I decided to get them on the descent. On reaching the up to the second peak I was reeling them in, I heard the summit marshal scream at the two of them so they also took the wrong track...! As I reached the cairn, I took the corner really wide, not expecting such a tight turn around. Down the descent my vision was going blurry. I fought to regain focus, and my balance as I upped the pace. As I rejoined the main track back I saw Roar turn off for the final climb, he was running well.
Descending hard my right foot began to feel weird, I looked down and realised that my shoe lace had come up done! Another what the hell moment, I had forgotten to tape my shoe laces! I debated for a few hundred meters if I should continue to run or stop and tie it. After careful consideration, and realising that I may A) break my neck on the descent and B) lose a final sprint in, i skidded to a stop and tried to tie my lace. Although it seems like an easy thing to do, when your attempting to tie it with lactic flowing through every part of your body, your hands are shaking and your heart rate is close to 200, it makes it ever so slightly more challenging! (another 10sec down).
After the brief freak attack I was shocked that no one had passed me, I took off again, assuming that I would never see Eoin or Drute. As I climbed back up the small rise, I began to see pretty colours in front of my eyes.... This amused me and my pace dropped, but see'ing a different marshal at the junction switched me back on again. On the final descent I was at the limit of my kit, flat racers. Another WTF moment. I got blitzed by Healy coming down the muddy section, my road runners unable to give me the grip or confidence that my mud claws usually provide. As we neared the steps I saw a flash of yellow.... Turns out Drute can't descend either.... Hitting the final cement section I was pretty flat out.... I didn't have the same kick I had on Crone, shit happens.
As I ran by the finish, Eoin crossed the line to take the win, I followed in 4th, 35seconds down.
What I really love about IMRA is that they are more hardcore than the AAI. All the XC races this year have been under distance - they all claim to be 10km races but there usually 7-8km. IMRA however say its a 5km race, as with Bray... but when your racing for 29mins, you'd think its a dam slow 5km, until you look at your GPS that night and realise its actually 6.5km! WIN!
13% extra free :)
Jason Kehoe
20 April, 2010
Bear in mind my clock was started at 7:30pm, race started a bit later however. Also this is just for a bit of fun to see how you compared on the out and back journey. I could only manage to get the top 25 runners as they started coming thick and fast after that!
Men to Summit:
1st. Tristian Drute - 20:31
2nd. Eoin Keith - 20:
3rd. Colm Hill - 21:10
4th. Niall McAlinden - 21:16
5th. Richard Healy - 21:21
6th. Robert Healy - 21:30
7th. Rob Cleary - 21:40
8th. Paul Mahon - 22:12
9th. Keith Daly - 22:22
10th. David Healy - 22:25
11th. Zoran Skrba - 22:48
12th. Mikey Fry - 22:52
13th. Shane O'Rourke - 22:57
14th. Daniel Morrogh - 23:02
15th. Suzanne Kenny - 23:15
16th. Kevin O'Riordan - 23:18
17th. Paul John Brennan - 23:21
18th. James Dunphy - 23:25
19th. David Naylor - 23:28
20th. Patrick Ryan - 23:30
21st. Declan Horgan - 23:35
22nd. Joseph Mooney - 23:38
23rd. Eamonn Hodge - 23:42
24th. Mike Long - 23:48
25th. James Alexander - 23:53
Actual Placings with positions gained (+) and lost (-)
1st. +1 - Eoin Keith - 28:24
2nd. -1 - Tristian Drute - 28:47
3rd. +2 - Richard Healy - 28:51
4th. -1 - Colm Hill - 28:59
5th. +2 - Rob Cleary - 29:51
6th. +0 - Robert Healy - 30:11
7th. -3 - Niall McAlinden - 30:24
8th. +0 - Paul Mahon - 30:50
9th. +1 - David Healy - 31:18
10th. +4 - Daniel Morrogh - 31:37
11th. +0 - Zoran Skrba - 31:40
12th. +1 - Shane O'Rourke - 32:03
13th. -1 - Mikey Fry - 32:15
14th. +12?? - Robin Brady - 32:39
15th. +4 - David Naylor - 32:40
16th. +1 - Paul John Brennan - 32:44
17th. +9?? - Colm Moran - 32:47
18th. +4 - Joseph Mooney - 32:47
19th. +7?? - Ruairi Short - 32:56
20th. -4 - Kevin O'Riordan - 33:02
21st. -12 - Keith Daly - 33:11
22nd. +4?? - Rob Cummins - 33:15
23rd. +1 - Mike Long - 33:17
24th. +1 - James Alexander - 33:26
25th. -10 - Suzanne Kenny - 33:31
26th. -5 - Patrick Ryan - 33:36
32nd. -9 - Eamonn Hodge - 34:01
27th. -9 - James Dunphy - 33:40
28th - 7 - Declan Horgan - 33:44
Men Notable places:
At the top Eoin pipped Tristian when he took a wrong turn near the finish. Crucially Richie Healy gained two places on the descent taking Niall and Colm. Niall who was in 4th place at the turn then lost 3 places. Significant gains were made by Daniel Morrogh with 4 places. Statistical phenonomin Robin Brady seemed to pop up out of nowhere gaining 12 places! Either I missed him at the summit or he got one hell of a second wind. Same for Colm Moran, Ruari Short and Rob Cummins.
Runners who leaked places like an old bathtub were Keith Daly (training run?), first lady Suzanne Kenny (in comparison to the men remember) and Eamonn Hodge (saving himself for WAR on the sat although look at the winner Eoin who won both events!), James Dunphy and Declan Horgan also stopped to admire the views! ;)
Ladies to Summit:
1st. Suzanne Kenny - 23:15
2nd. Kate Cronin - 24:21
3rd. Catherine Devitt - 24:35
4th. Rosalind Hussey - 24:55
5th. Pauline Griffin - 25:04
6th. Aisling Coppinger - 25:22
7th. Hazel Thompson - 26:39
Actual Placings with positions gained (+) and lost (-)
1st. +0 - Suzanne Kenny
2nd. +0 - Kate Cronin
3rd. +1 - Rosalind Hussey
4th. +2 - Aisling Coppinger
5th. +0 - Pauline Griffin
6th. -3 - Catherine Devitt
7th. +1?? - Lisa McMahon
8th. +0?? - Susan Seager
9th. -2 - Hazel Thompson
Suzanne Kenny had a fantastic climb and was in 15th place overall in the race, crucial place gained by Rosalind to reach a podium spot and also Aisling done well in gaining two places. Catherine went from a podium position to losing three places on what was a steep descent.
Rene Borg
15 April, 2010
TEAM RESULT
MENS
1. Crusaders AC 20 (3 Richard Healy, 5 Robert Healy, 12 Shane O'Rourke)
2. Setanta 67 (8 Paul Mahon, 20 Kevin O'Riordan, 39 Andreas Kusch)
3. Boards AC 68 (1 Eoin Keith, 31 Eamonn Hodge, 36 Jeff Fitzsimmons)
4. GEN 101 (9 David Healy, 38 Alan Ayling, 54 Ted McCormack)
5. The Kyrgyz Freedom Alliance 203 (65 Eoin Hardiman, 66 Brian Conroy, 72 Viv Lavan)
6. UCD 271 (11 Zoran Skrba, 128 Stuart Scott, 132 Paul Morrissey)
LADIES
1. Crusaders AC 38 (11 Roisin McDonnell, 13 Lornie O'Dwyer, 14 Bronagh Cheetham)
2. Sli Cualann 65 (18 Aisling Renshaw, 22 Liz Ryan, 25 Maria O'Rourke)
Niamh O'Ceallaigh
15 April, 2010
Bray Head Race Report
Eva Fairmaner
15 April, 2010
I used always think it funny when old people (at 8 years old that meant anyone over 20 years!) remarked on how quickly the year passed, how the Gardai look so young etc etc. and I came to the realisation yesterday that I must have joined their wrinkly ranks unbeknownst to myself. Whilst walking to the DART I passed the Gardai outside Leinster House and surmised they wouldn't have looked amiss in a crèche and then it was on to Bray where it was reunion time with old friends and everyone queried where the year had gone?
Laura was busy running a tight ship with her able crew including Turlough and Vivian, the latter who never fails in his efforts to try extorting more money out of me than was necessary. I got my revenge though by pointing at a dirty, full ashtray and asking Vivian was he finished with it and should I empty it so he got some unimpressed stares from some new folk signing on! Well done to Admiral Laura and the crew as naturally a huge number of folk were signing on for the first time and the whole operation was running with a fluidity and smoothness that was hugely impressive.
It was a fine summer evening if a tad chilly but the sea and the views up to the Cross were magnificent.
Lined up and ready for the off we paid attention to Laura's directions, note of caution with regards to Black Beauty and her three friends who apparently were running loose up on the hill and Diarmuid's instructions and then we were off at the same intensity as the thoroughbreds at the Grand National.
A few brave souls attempted to chat at the various bottlenecks we encountered but then it was back to our roots and we scrambled up to the cross on all fours like Neanderthal Man and Cro-Magnon Woman! Many people heaved a sigh of relief when we got to the more level path and could once again run freely. It seemed a ridiculously short time to when we heard shouts and there were the leaders on the way back. Meanwhile the majority of the field were just starting the next climb up to Caroline for some encouragement and shouts and then it was all the way downhill back to the finish, me dreading the final descent through the trees as every year without fail I lose at least 10 places. This time it wasn't so bad, either I was enjoying myself so much that the worst was over quicker than I realised or I was so busy envying Aisling Renshaw's descent, she whom I had been close to throughout the race and was now just like an exotic blue bird darting through the trees (she paid me to say that!).
I had hoped to close on one or two on the final run in but the legs were saying "No, if you want to achieve that you will need to do some interval training for a change!
Well done to all the winners and category winners – great to see so many people enjoying themselves.
Roisin came over as we were all gathered around chatting about our private battles and unwisely reminisced…..
"Remember how we used get in for a dip after the race?"….she trailed off and I said
"Yes, come on lets do it"
"No Eva, I didn't really mean it…."
So after telling her that there are two things that she should never do to me – one is to dare me to do something and the other is mention getting into the sea we headed down to the Sea and took the plunge – well a couple of strokes amidst much screaming. One interested lady meandered over and asked was that part of our training that we had to have ice-baths after a race. I was tempted to tell her that I was Paula Radcliffe on holiday in Ireland and was trying out hill running but somehow I didn't think she would believe me. Mind you the same lady hung around for a while when she saw our very own photographer John Shiels rushing down to record the evidence.
For me I wisely accepted a lift home with Gilly and Sarah and sat with teeth chattering all the way home to dream of the mug of hot chocolate, marshmallows and toast after a soak in the bath.
Aaah life is good.
Seán Broderick
15 April, 2010
This is my second attempt at writing a race report as my first report on the Wicklow Way Trail race was scuppered by a rickety broadband connection! I didn't have the energy to write another.
I left work early to get out to Bray on time, and apart from some minor traffic on the Naas road all went smoothly on the way out to Bray. Quick stop off to pick up my mountain running virgin cousin Peter, in Nutgrove and we were ready to roll. We arrived around 6.45pm. Registration went smoothly as always and I had time for a quick chat with Gareth who was volunteering as he is doing the WAR race on Saturday. Best of luck to all who are taking part in that race!
The next 10 minutes were spent in the car watching THE WORST attempt I have ever seen at parallel parking EVER! My cousin and I got a ferocious laugh out of it. The culprits were 3 mountain runners in a black Renault. I hope they aren't too peeved with the mention and now find it as funny as we did!
Great crowd gathered for the start and I got chatting to my work colleague Paul who is getting back into the mountain races after an injury plagued 2009.
After the pre-race instructions we set off at a pretty cagey pace. I was happy that the leaders didn't look too far ahead at the steps. I decided to wear runners rather than trail shoes which overall was probably the right call apart from one boggy stretch near the start of the first climb. First climb up to the cross went pretty well apart from the short wait to climb the high rock. I picked up a couple of places on the first mild descent and even had time to exchange pleasantries with a girl I recognised from the WW Trail race. I then spotted Tristan (a friend from volunteering at the euro cross country) in second place battling away with Eoin Keith. Turns out he made a wrong turn at the promenade which cost him a lot of time. Definitely one to watch for this year if he catches the mountain running bug!
I started to struggle with a stitch at the turnaround all the way back to the cross. I paced off the same girl I spoke to on the way out which I duly apologised for after the race! Thanks Kate! At the top of the cross the final descent loomed and I picked up 2 places here. I am a bit of novice with the descending but I was happier that I was taking a few more risks than usual and even got a few jumps into mid air in lieu of slowing down! The wet patch near the bottom came back to bite me and I was grabbing onto trees to stay upright. Once the steps came into view I knew I was nearly home. I pegged it down the hill at full bore but then the shocking realisation that the finish was nowhere near the start line! DOH!!! Im sure a lot of people can sympathise with me here! Although I was pretty shot at this stage I dug deep and managed not to give up any places on the run in. I was just beaten out on the last 100 metres by Cliff who stayed on very strong at the end.
I finished in 34th place overall in 34min17seconds which I was very pleased with. Thanks to all the organizers and volunteers who made it all possible.
I am really looking forward to Howth already. Hopefully the turnout for the races will remain strong. Glad to report that my cousin Peter is officially hooked! See you all next week!
Sean