Circuit of Avonbeg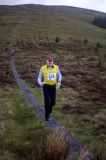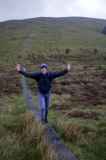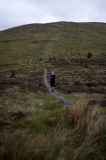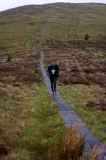 Authors
Alan Ayling
16 May, 2011
Some fine reports already written by others, but for what it's worth I'll offer some random thoughts of my own.
The fire road start is something I find hard. Never have quite the speed some others have. Glad to get to the open mountain, even if it means exchanging hardpack easy running for bog and slop.
Learned the hard way last year that the ride to the left off the fire road, leading more directly to the east end of Art's Lough, is a crap option. Staying on the fire road doesn't appeal at the time, but it's definitely faster. Met a load of runners coming the other way this year, bit of smugness that they had still to visit the control I'd already punched.
Then up the ramp, a good kicker it is too, followed by a wet but useful path most of the way to the top of Cloghernagh. Don't remember a path on the upper sections from last year, it was probably there but I was off galivanting in the heather away to the right somewhere. Glad of the path this year though. Had to walk a lot of it, managed to run some, picked up a place which was encouraging.
The section from Cloghernagh to the top of Lug is one of my favourites anywhere. Not much climb in it, but you're already towering above all the surrounding hills other than Lug itself. And the running is delightful, firm underfoot even when everything about is schlomp. The grim headwind did little to dampen my enthusiasm. Being passed by two runners was a problem, though. One of them was Kevin Grogan, with whom I'd embark on an epic battle over the next hour and a half, until he dropped me on the early part of the Lugduff ridge.
Kevin & I took a straight line on the Cannow section, catching Mick Hanney and another runner in the process. (Sorry whoever you were, I suck at names). The next while was pure mountain running bliss, flat out through the rocky section, trying to pick the best lines, hearing the others' feet behind me, knowing there was a long way to go but what the hell, it doesn't get much more fun than this. The climb up Camenabologue slowed things down, I took a line away to the right that I quite like, it affords straightforward and dry underfoot climbing and a scamper along the ridge; Kevin and Mick stayed on the messier but more direct path to the left. We all made it to Simon within seconds of each other.
Then split again. Kevin headed off right, quite directly towards Conavalla, Mick close behind. I stayed on the path towards the top of Table Track, before cutting right and crossing Table Track aiming for my planned route below the peat hags. Got it right, well sort of. A long enough bound down into the upper reaches of the valley, across the brook, and into the long walk up Conavalla. It's higher than most peaks in Wicklow, but seldom visited, mainly because it's an utter kip. Wondering where the others are, then see Kevin to my left. No sign of Mick.
Reach the top ahead of Kevin and strike out left, passing Diarmuid on the way to the western end of the Lugduff ridge. Feeling really good until I picked up the path, then suddenly felt a bit tired. Not to worry, just get into a good rhythm and keep it steady. That worked until Kevin charged past on the first descent of the ridge, I tried to counter but couldn't manage anything. Just as I was marvelling at how quickly the gap had opened, Torben came by and did the same thing to me.
Held it together along the Lugduffs, not feeling too bad but certainly not fast. The rain came on heavy. I was glad to have the jacket with me but couldn't bring myself to stop and put it on. Wind was right behind, so the rain didn't seem to matter.
Got to Ronan's lonely and bleak station and made my big mistake for the day. Declined the jellybabies. Regretted that bitterly when the going got tough up Mullacor. Toiled to the top without being passed, but when I turned to head down, there were two or 3 runners in sight.
Then I realised how tired I was. Normally, a steep descent like that is what I like to think I'm good at. But at that time I could barely keep a run going at all. Legs literally had nothing left, even with gravity in favour. Got to the entrance to the forest at the same time as Mick, who'd closed the substantial gap I'd made over Conavalla. He kindly promised that he had no plans to outsprint me, he'd be glad to finish within a minute of me etc. He needn't have worried! I had no petrol in the tank... running on fumes.
The way down was a world of unpleasantness. I just wanted it over. No fight left in me at all, for what should have been a really good flat out descent. Eventually, it was over.
3 hours 11 something. 3 minutes quicker than last year, despite the conditions. Some lessons learned though. Mainly regarding nutrition. Two gels is not enough. And when the nice man offers you sweeties, just take them, no matter what your mum warned you.
Also, knowing your way confidently makes a huge difference. I never once took out the map or compass. Yet my ninth place was very flattering, I certainly didn't deserve to finish ahead of Kevin Grogan, but he came in along the road a couple of minutes after Mick and I finished using the direct route.
One of the best races on the calendar without a doubt. So thanks to Paul N as RD, Paul J for the marking and to Simon and Ronan for marshalling in what must have been very unpleasant conditions. On that dreadful descent near the end, Mick remarked to me that anyone who marshals in a race like that on a day like that should be let off volunteering for 5 years... I couldn't disagree.
Ken Cowley
16 May, 2011
Apologies for initially putting this report on the forum, I should have put it up as a report but forgot you had to log-in to myimra to put up a report.
A truly spectacular race today. Relatively lucky with the weather, at the start I didn't think visibility was going to be good, but it picked up, and from the top of Lugnaquilla we could even see the sea! Otherwise it was chilly, windy, sunny at times, and about 3 big showers, but could have been worse.
Anyway, thanks to Aidan for all his navigational help around the course – we kept apace with each other for most of the race, and when we separated, I did get a bit lost I must confess, and wasted quite a bit of time scrambling around in miscellaneous forests near Conavalla, including falling on my ear more than once!
But, to start at the beginning – we took our time going up Lug (the first of about 6 peaks we were to climb), making it in a comfortable 90 minutes.
From there, we had the most enjoyable part of the race - must have been quite a few miles of the most blissful downhill mountain running you're likely to come across.
From there it was up to Camenabologue, the first manned checkpoint, and then down to the bottom of the valley, from where my aforementioned adventures happened.
But, no harm done (apart from getting soaked and a lot of minor scrapes on my leg), and managed to catch up with Aidan somewhere between Lugduff and Mullacor (the final manned checkpoint).
By that stage the whole field (35 runners) had got very spread out, and indeed I hardly saw anybody throughout the 2nd half of the race – of course by the time I got to Mullacor, the winners – and well done to Colm Hill on a sensational winning time of 2.30 ish (I think) would have long been in the clubhouse (so to speak).
Anyway, from Mullacor, it was basically down to the Wicklow Way, and a slow trudge back to the finish line, which I crossed in a not so impressive 4 hrs 35 mins.
But, hey, at least 30 mins of that was spent going the wrong way!
The entire race is approx 1100 metres of ascent, and is approx 26 kilometres in length, although I reckon I ran closer to 30.
So, lessons learned for next year (brush up on my navigational skills), and a great day out in the Glenmalure Valley (the most scenic part of Wicklow).
Highlights – the great descent from Lugnaquilla and the descent/flat parts from Conavalla through to the saddle between Lugduff and Mullacor.
Lowlights – I don't mind the sore muscles in my legs, but I could do without the 2 big blisters (one on each toe!).
Most of all though, I'd like to say thanks to the volunteers, especially the race director and the summit marshalls.
Looking forward to cracking 4 hours next year.
Ronan Hickey
16 May, 2011
Colm asked on boards for a version of the race from a marshall's point of view. It's not that interesting to be honest. Kinda like that Star Trek series (Deep Space 9?) where they all seemed to "Boldly just hang about while everyone else fecked off somewhere interesting" But here's a quick run-down. (Actually looking at it as it's pasted in here..it's not that quick!)
When I got to registration Paul Nolan was hand-checking everbody's kit
and taking no excuses. Any "Oh, that's back in my car" was countered by a quiet suggestion that the runner nip back and get it!
I strolled up the Wicklow Way and set out my stall around 12. I'd brought first aid, bivvy bag, compasses, whistles, extra clothes.
What use were they?? **** all use!! Except to try and weight the 4-6 person bright orange Emergency Shelter I'd dragged up with me from sailing away on the winds!
The combination of a massive orange billowing Bothy and Lidl's finest Orange Reflective Jacket meant that there was no way any runners
would miss me. Though it might have freaked one or two of the more hypoxic and hallucinating ones. And it confused a lot of walkers passing by
(I resisted the urge to tell them that due to the Queen's visit this section of the Wicklow Way was off-limits and turn them around)
Lying down to stay out of the wind I had a great view of the run up to Lugduff and suddenly Colm crested the summit. I had no idea
how fast the runners would be moving at this point but he really seemed to be moving fast. A gaggle of walkers asked me what his name was as he thundered
along the sleepers towards me and they shouted and clapped him in. As soon as he arrived the first thing he did was blurt out that there were 35 runners on the course, very important info, fair play! I offered water and jelly babies and he took a slug of water.
After he'd headed off one of the walkers berated me for not lifting the bottle up to him and holding out some jelly babies in my hand as
"He was obviously wrecked!" Mortified! Sorry about that Colm :-)
After a big gap (Colm had well crested Mullacor behind me before anyone else appeared) Eoghan Carton and Daniel Morrogh arrived one after the other
and then there was a stream of runners.
Despite the weather and the chronic exhaustion all the runners were unfailingly polite and didn't even give out when they had to undo jackets to allow me to clip their numbers.
I remember Gerry Brady coming through largely because a sudden hail shower swept in just before him and as I scrambled to turn my Bothy into a sort of large orange Calzone to keep my camera, bag and assorted gear dry, I dropped the feckin' punch and couldn't find it! I made sure I had a picture of him for any steward's enquiry and shouted at him to keep going!
You could really see the effort on every runner's face. It was taking everything they had at that point to keep moving. It was impressive
and bloody humbling stuff! Although one runner (who I will not name) arrived at my checkpoint saying "PLEASE let me not have made the cut-off!" :-)
Us marshalls are made of sterner stuff however and he was sent up Mullacor with the rest to finish out.
After I inquired how one runner was, he looked at me and said "To be honest, I'm shagged!" Another runner was having a miserable race after trying out a new
energy drink for the first time, with fairly predictable results and by the sounds of things had failed the whole IMRA "Leave nothing but footprints" ideology out on the course.
Torben Dahl took me by surprise, attempting as he did to attack the sleepers with some sort of surprise flanking move rather than the conventional straight on approach. But despite having taken a scenic traverse he had one of the biggest smiles of the day!
I have to make special mention of one hero though! The gent, I think it was Don MacKinnon?, who said "Oh...there's only 2 jelly babies left..sure I'll
just take the one!" *supreme sacrifice there*
And as to the rush of adrenalin and dread I felt when...3:25 on the watch..5 minutes to the cut-off...and Eamonn Kavanagh and Barry Tennyson grimly haul
themselves over the distant summit of Lugduff.
"Feck! They're not going to make it! Are they?" Both runners knew the deadline and they pushed it as hard as they could. I was in a real quandary.
Hovering over my right shoulder was that RD devil saying "That cut-off time is absolute!" but over the other shoulder was an Angel going "For the love of God. You can't DNF them now!"
I have to admit I thought about racing along the sleepers towards them but I held my position and sure enough both runners made it through to me before the cut-off. They put in absolutely supreme efforts so my squelchy rain-soaked thinsulate off to both of them.
Simon Fairmaner, who in fairness had a much rougher marshalling point than I did, being up on top of Camenabologue, ran as sweeper behind the field and once he got to me we both squelched down the tracks back to base. Except after saying I would guide us down I took us down the wrong fecking path and Simon politely took over the navigation from then!
A great race. I might even have a crack at it next year. But I think I'll have to put in some serious Nav practice before that!
Colm Hill
15 May, 2011
Warning: The post below contains youthful enthusiasm, cockiness and a complete disregard for anything and everything unrelated to Open Mountain racing. Trail runners do not read on as you may be highly offended by the views and language contained in the post.
...........................
Firstly, my thanks must go out to Torben for the lift out and back but more importantly, pulling into the ditch on route to the pub afterwards. Secondly, to Paul for RDing this route and to the summit marshals for getting battered by a strong north westerly and the torrents of rain that came close to the end of the day. Races don't happen with out volunteers.
I hadn't run since the Irish Relays the previous week. Went out and stretched the legs Thursday and I felt amazing. Up until that point, I wasn't sure I wanted to do this race again. Its a bit of a monster. After that "easy" run on Thursday, I was so hyper, I had no choice but to be game on for Sunday. On Friday, I found out we were racing Saturday. These things happen!
There was a lot of trash talking on Boards.ie leading up to this race. I was convinced 2:30hrs was doable. Everyone else, as usual, thought I was crazy. I even through up some made up splits on how to hit 2:29hrs. I didn't believe them, but it was nice to stir it a little bit.
Race morning arrives, short spin on the bike to get breakfast, a single coffee and a bit nervous. Got our lift and we're on route to Wicklow. Wicklow looked deadly. A mix of clear skys and rolling clouds of beautiful mist. Coming over the Shay Elliot pass and there is cloud on Lug. A really big dirty black cloud. I feel sick with excitement. Dropping down into the Glenmalure valley, Jeff is at the cross roads, waiting for Paul to blast through on route to revising what I thought was a stupidly unbreakable record. Then again, its not a record, its a marker than has to be beaten. Hats off to Paul (and his support team) going 7mins quicker.
Arriving at the kit check. I pull out my flask of coffee, my lunch box, jar of chocolate spread and a mug. Seeing the look of unamusment on Pauls face, I pull out my prepacked race bag. Looking up in Lug direction. I can see why he's in no mood for fun and games today. There's a lot at stake. Is this route too extreme? A bridge too far? Today would be the telling factor. A bit of banter on how fast it can be done.
I got a slap of reality after I inquired about waring just a singlet. Receiving a don't be stupid look the reality seeps in that it could be rough on top. Paul reckons 10mins slower given the conditions and that if I do it properly I'd probably end up doing it solo. I couldn't possibly keep up a high enough tempo by myself. I was thinking otherwise. Inside I knew Peters record was breakable. I made a few silly errors the previous year. Straight lining it to Camenabologue was not happening this year and a direct route from Mullacor to the carpark was not happening. Not for a thousand euros…. Well, maybe… I reckoned I could do it. Hell, the trash talking on boards, was I really trash talking. Hell. If I go hard I could go sub 2:30. I run my fastest times in shit conditions. Soft ground mean you can descend harder and the wind keeps you cool so you need less liquid to keep you sain. Cars move faster in the mist, so why not humans.
I was casually walking around and Paul blurts out that the reg is closing now. This was a surprise to me. It was only 10:50. I enquired why so early, apparently it was 10mins till start! Something else I didn't read apparently. Paul goes through the pre race briefing, two marshals at two check points and if it gets gammy, their bailing. Then its over the gate for the start.
I sit at the front, 3 to the 1 and we were off. I took off at the pace I decided I'd run at. After a few hundred meters, I eased off slightly and let Gerry catch up. I asked a question about the new Lakes route… Apparently, now was not the time. I took the hint and slowly injected some pace. I pulled away and began the climb up the switch backs. Up and up and up. Looking behind me, Torben and Zoran were close, less than 5om. I kept the pace steady, keeping an eye on my heart rate. This is not a race you want to go off too hard on. Sitting it on 170, I counted down the switch backs. I'm slowly increasing the gap. If I don't drop em on the fire road, I'll get lost in the mist. Finally, I hit the forest ride. Paul Joyce had marked it nice and obvious.
Up the short ride and into the heather, I attempted to straight line it but it wasn't happening. I jumped and bound in the heather. Making slow progress. Eventually I hit the fence and followed it along. The going was pretty shitty. She's going to be a long day. Control 1 in 24:56 (4.09km), I needed to hit 25mins to be on for 2:30. I was surprised. I didn't think I was running that hard. Oh well. I'll take it. I had a faint memory of needed 18mins to the first peak, and no idea for any of the others. One down, many more to go. I set off in the direction of the ramp. Getting to the ramp was messy. Very wet and sloppy. I couldn't remember what the ground was like the previous year.
Heading in the direction of the ramp, Gerry passes me going back towards the control. Starting to climb the ramp, I kept it controlled. Keep the running easy. Don't kill yourself yet Cully. Long way to go. Up on top of the ramp and it was into the heather. This was energy sapping. I plugged away but was getting nowhere. After a bit, I remembered that I ended up very far right last year. I was a bit nervous so I whipped out my map and just checked my baring. All seemed ok. Climbing a bit more and I checked my compass again and it was arseways! I chose to ignore it. Then I end up at massive peat hags and got worried, this wasn't meant to happen. I corrected my direction and I continued to climb further. Getting around the peat hag, I looked up and my eyes feel on a most awesome site. Lug, the summit covered in a dark cloud, but it appeared as if the sun was shinning on the cloud. This lit up the ridge in an almost erry glow, with the summit of Lug looking menacing. When I realised I was running in the direction of Lug, I knew something was wrong. A quick glance of the map confirmed that I was pushed by the contours. Easily fixed, as I corrected my direction and headed for the flat summit.
I summited a good 150m to the west of the cairn. I cursed myself as I took off in its direction. Paranoid that someone would have gained back time. Turning the cairn in 18:21, another 1.91km down.
Turning for Lug, I was hit smack in the face by an almighty wind. I had no choice but to put the head down and get on with in. In front of me was Lug. The summit covered in mist. It looked awesome. Climbing up the ridge, I began to catch the early starters. Catching Don and Ruth, Don tells me to catch Roisin who just summited. I couldn't see a thing, so I put the head down and kept climbing.
As I gained height, I meet Paul J on his way down. I somehow managed to convince him to climb with me for a bit. He was climbing very easily. I realised that talking expels oxygen that would probably be better served in the legs. Paul drops off after a minute or two and wishes me luck. I continue on up the ridge.
I enter the mist. I get giddy. I love running in the mist. More races are won and lost in white out conditions. I knew that if anyone was behind me at this stage, they would have to be on their game if they wanted to stay in touch. The mist was cooling and it felt like a proper day in the mountains. Seeing the cairn slowly loom up out of the whiteness is one of my favour views on a mountain. As I reached the cairn, (15:50, 2.84km) I refolded my map and checked my direction. I didn't want to end up down in Fentons. Out comes the compass again and its plain sailing. Coming off the summit, I let out a scream of jut sheer happiness. I was falling in style. Running downhill, flat out, in mist, only 95% sure of where your going. Massive massive adrenaline buzz. I shouted so loud, Don heard me on the far side of the mountain. Sound travels further and faster in mist!
Coming out of the mist, the North Prison comes into focus, its so sharp. Behind the Glen of Imall bursts into view as I leave the cloud cover behind me. It's a stunning sight. Down the Cannow Ridge, no breaks, letting the legs just turn over. All the way down to the bog beside Benleagh. At this point, I decided I would enjoy my gel. The 60ml of food I had brought with me to sustain myself for up to 3hours. I pulled it out of my side pouch and peeled off the top. However, I kept pulling and was fascinated at how the entire gel wrapped had split down the side. The gel leaking out looked cool. Then with horror, I realised that my entire gel had split in two and that its contents were fast leaking everywhere. I crammed the gel into my mouth. Wrapper and all. I reckon I got about 1/3 of it. Some ended up on my face, some on my map, some on my top, some on my legs, but the majority of it over my hands. And so it began. I attempted to get the gel off me and into my mouth. For someone on the outside, this must have looked hilarious. I was pushing the descent while attempting to get as much gel off me as possible. I'm lucky I didn't break my neck.
After this period of frustration, I got on with the game at hand. However, my hands were getting sticky and annoying, so the first bog I saw (didn't have to wait long) I crammed both my hands in in the hope of "washing" them and it worked a treat.
As I began the climb towards Camenabologue, I let my mind drift for a second. The following second, my face made friends with the ground. A sharp reminder of who was the boss. Don't prick with the mountain. It will make you suffer.
After a bit more running and climbing, I caught Roisin. I passed her by spectacularly by vaulting a deep ditch. I felt awesome. Then the climb started proper and I felt less awesome. For some reason, I reckoned this climb would be quick and painless. Quite the opposite! It seemed to go on for ever! After what felt like an hour, it began to level out. I saw the summit marshal leap up as if he was electrocuted. He waited, pin punch in hand, angled to minimise entry and exit. I mentioned there were 35 runners out on the course, so he knew when to abandon his position for lower ground. Punch and gone. (24:57, 4.77km)
Running off Camenabologue I took a "straighter but around route" (can be seen here: http://tinyurl.com/3grsxsw ).
The running was good and I somehow picked a motorway line through the peat hags. I will never find that line again. Crossing the river and starting the climb, I looked at my watch. 1hr33. I laughed and thought could I make it back in half an hour from my current position. Walking up Conavalla, that dream went out the window. A bit of peat hag jumping as I neared the top and I somehow landed on the line I take in Stone Cross to Lug off of the summit. No idea how, but I wasn't complaining. This lead me straight to the cairn. Total time of 1:42:22, compared to last years' time of 1:47:08. Split; 18:16, 2.63km
I took a pretty direct line off of Conavalla in the direction of the ridge. I ended up in peat hags. Lots and lots of peat hags. I was plugging away, up and down and up and down. I just couldn't find the track. I was now firmly on the ridge and it was just a matter of following it back home as fast as possible. Speed was not of the essence as peak hags appeared to grow in front of my eyes. I was jumping and stepping up. This was taking way to much out of my legs. I began to get pissed off. I couldn't find the track and it was frustrating. I just kept plugging away.
I reached the first spot height along the ridge and still no track. My legs were beginning to tire now. The climb up Lugduff reared its ugly head. I found a small track type thingy. It was all I needed. My pace instantly went up as the clawing at my ankles vanished. I knew I was tired, but I knew I was on for a good time. I wanted the record. As I passed Lugduff in 2:06 (split; 23:53, 4.24km).
I knew I would be close. This was no longer a Saturday skip in the mountains. Although I was enjoying it, there was suddenly a sense of urgency about what I was doing. Out of the blue, I appeared to get a hit of adrenaline. Having gotten the same hit a few times in the mountains, I knew it wouldn't last long and that the big "crash" was coming soon. I upped the anti. Heading down towards the Wicklow way, I was touching 3min/k at times. I had become obsessed. I knew I was running out of energy. I had half a gel and no liquid since my crust of bread with chocolate spread at 10:45 (good pre-race nutrition advice is available free of charge if anyone wants the secrets). I was wacking out by the time I hit the marshal at the Wicklow Way (8:41, 1.97km), he offered jelly babies and water. I took some water, got my number punched, said 35… 35 runners. And was gone again. I started to hammer the climb to Mullacor, I wanted maximum usage from this "free" energy.
200m. 200 fecking meters was all I got. I hit the wall. I hit it hard. From untouchable to a cramping mess. I was feeling muscles cramp I had forgotten I had. It was most unpleasant. All of a sudden I was at the top! It ended after a meer 6:35mins (0.65km). I was expecting a 15min suffer feast. I did an about turn to head back for the Wicklow way track. My head was in mind burn. On route up Mullacor, I was thumbing the map for Camaderry and couldn't understand why nothing was right. I knew I had to be careful in the forest. Just keep my head together and don't muck up in the forest. Down the tussocky slopes of Mullacor.
Hitting the Wicklow way track, I expected to be flying. I was nowhere near as graceful as I hoped to be. I had visions of myself gliding down it, not touching the ground at a neck breaking 2min/k.
No dice. I struggled down. One foot in front of the other. In a world of hurt. Brain too tired to process the information needed to descend at break neck speeds. On hitting the fire road, it was just a matter of turning the legs over and thumbing the map. Every time my feet hit the hard road, I felt all the tiny muscles laughing at me, on the verge of cramp. I needed to hit every junction. One down. Two down. Three down. Two more ticky sections and I'm in. The open terrain is my catching feature for the tiny row of rocks that form a deathly track. Slippery when wet, the body and mind is tired. It can all go so wrong so quickly. I hit the turning circle and dance down them gingerly. Down around another switch back and down the final single track. I look at my watch. 2:35… Record is mine as long as I don't break my neck. I bounce down and cross the line. I was pretty sure I had the record, but that wasn't confirmed until I got home.
After a bit of trash talking, I went down to Pauls van to get changed. I just sat there. I couldn't do anything. I stretched down trying to untie my laces and I cramped. The art of getting changed with cramp never far away is a mastered skill that one develops over time. One I have yet to master. Sitting in the van, cramping, the rain came, and it was heavy. My thoughts were with the summit marshals (and my flask of coffee). Waiting around, bodies begin to come in. Everyone gets down safe. A smile on Paul Nolans face.
It was 7pm before my body began to accept food. Its a fair guess to assume I pushed myself today.
Overall I am happy with my performance. It was a solo run. Fuelling up wasn't the best and I missed a good line on Lugduff. 2 hours 25mins is so doable!
Due hear that PN? ;)
Mick Hanney
15 May, 2011
Last year's Circuit of Avonbeg was one of my year's highlight results. At 25+ k over wild Wicklow mountainous terrain it's one of IMRA's toughest events. But last year I was running well at the time and the day's weather was perfect so a repeat of my sub 3 hr run was unlikely. In the lead up to today's race I was a bit nervous about it. I feared I didn't have the conditioning to finish it and the weather forecast was ominous. Still, early morning Saturday the sky was bright. I could see the local peak which is an omen for local weather so the deal was done and I set off to registration in the Glenmalure valley.
35 runners registered. The race director gave us our final instructions and we set off up the zig zag trail towards Arts Lough. My plan was simple. Run within myself. Last the pace. It was cold before we started so I was well wrapped up. Didn't take too long to start warming up when running though, but I was glad with the gear I carried as later in the race the elements turned against us.
I ran with Dan Morrough initially, until Arts Lough. At one stage I lost balance and slipped into a gripe. Backside down into a puddle. Only a few k into the event and I'm cold and wet. :-)
A bit of a chore of a climb up to Clohernagh. Then the ascent along the track to Lugnacoille which was under a bit of cloud. Much of this I ran solo as Dan had applied his fuel injectors and had gotten into a mini group of 3 that were running well in the distance. Found out later Dan had come 2nd . Fantastic running!
Met Paul Joyce along this section giving some welcome encouragement. I trotted on remorsely against the wind up to and around the Lug cairn before setting a bearing for next peak in line Camenabologue. Ran steady with a view to lasting the pace for the route. Didn't want to have to bow out early. Took a stready stream of jelly babies throughout, and an energy gel and mandarin orange. Must have worked reasonably well as energy levels held up. I was passed in this stretch by Kevin Grogan and Alan Alying both running well but I hung onto their coat tails and didn't let them stretch out a lead too much at least. Alan had beaten me well in my 2 recent races. I haven't ran much against Kevin but he's a great runner. Great climbing today by him.
Control point at Camenabologue, then ran on in the same bearing taking a longer line around to Conavalla than the last year's event. Convalla was a bit of a slog. Took my own line but could see Kevin and Alan each trying their own version. Ground was boggy in places but at least the wind was starting to be favourable for the walk run home. Okay walk and run, depending on the terrain.
The run to Lugduff was fairly uneventful but for the rain and hail? That started to fall heavily. Could faintly make out runners in the distance. Was that Kevin? Couldn't see Alan any more. The experienced orienteers were chameleon like into the landscape with dark colours.
Legs were getting weary now on the boggy trail. I remarked back in the pub that I have the unique knack of being able to lose a trail once I find it. Clicked through the Wicklow way control and was promptly passed by another runner I didn't recognise as I trudged up the far side. I couldn't react. The aim at this stage was to finish and a look at the watch showed I wasn't too far off last year's time so I was pretty happy so far.
To the 2nd of Mullacor's cairns. The small one. The same as last year. It could be nice if someone would mark the summits a bit more clearly Then down the tufty grass to the Wicklow way forest ride. Bumped into Alan Ayling at the entry point, surprisingly. Expected him to be well ahead at this point. We ran together for the next section of Wicklow way and started to look for the 1st of the tracks which would bring us towards the finish point. Found it handily enough, but when I exited it there was no sign of Alan. I wondered if I took the right track? Alan eventually exited going a lot slower than I've seen him of late. The last trail down to the finish proved a bit more elusive but we stumbled across it. I was half-expecting marking tape as was the case last year but truth be told its more a case of being able to follow the map properly and I would have been better served having the East-West mapping map which had more detail here.
Finished just ahead of Alan. Exhausted but chuffed to have crossed the line. We finished in respectable places and times. Some others ahead of us in the race had gone astray, I think the final stages and that had helped us. All part of the game. At least one runner finished from the road – from each direction!
Surprised to be 1st M40 home. Slower than last year but I'm running and can improve from here and wasn't dying after.
Kudos to Colm on a fantastic win and much improved time from last year and in worse conditions this year too.
Enormous thanks to the race director and the volunteers on the hills who make this event possible.
26.9k, 1274m elevation gain, 3hrs 11m running (and trudging) time.
Gerry Brady
14 May, 2011
With uncertain weather hanging over the valley and the likely prospect of a strong breeze against us on the way out, hat and gloves became mandatory kit. 35 runners started which is a sizeable turnout for such a long race.
From the off, Colm Hill made it clear that he was the man to beat but he dallied until the lake. Torben Dahl moved past Zoran on the forest path climb with both holding Colm to around 50 metres. All three took the forest path that brings you around to the north-eastern side of the lake while I took the forest ride that comes out on the south-east of the lake. As I approach the lake, I am scanning the fence only to realise that the control is another 80 metres on so by the time I get there Mick Hanney, Daniel Morrogh and Eoghan Carton are emerging and have gained ground.
Now for the tougher stuff as we all head up the platform before turning right towards Cloghernagh. Zoran has moved into second (Colm is long gone by now) and has taken a right turn towards spot height 790. Torben follows him and I keep left. By the summit I have a few metres on Zoran but he gradually opens a lead by Lugnaquilla. Paul Joyce gives us encouragement and Ruth Lynam and Don Short come into play. As he descends towards Imaal Gap he has gone a bit to the right but somehow he is still pulling away! Daniel and Eoghan come past followed by Torben a while later. We compress together again on the climb up Camenabologue, get punched by Simon Fairmaner (who got a hard duty), and I get to see the route choices.
Zoran has kept right to climb up through the forest towards Conavalla. Daniel and Eoghan keep left to contour around. Torben has the map out looking for the ride through the forest descent. I am in the middle running down the edge of the forest and then up the edge of the forest. By Conavalla it is difficult to be certain but I think I have edged into second. Then I keep going straight towards the ridge for too long and get into the turf banks. By the time I get back on track, Mick Hanney has closed in and I resolve to make up for it on the climbs up Lugduff and Mullacor. I discard the remainder of my water, take the third power gel, and start taking time gap checks on the runner ahead. Eventually I catch her (Roisin McDonnell who has started early and is moving well)! Torben has fared worse by dropping too low off Conavalla and he has joined Mick.
We all pretty much hold our places from there to the finish apart from Torben who contours Mullacor to the west and loses a lot of time to undo what could have been a top three finish. Ronan Hickey has some multi-coloured kite or shelter that signals the Wicklow Way and guides us in. A little rain has come in along the ridge but only enough to let you appreciate that it has held off for us!
Thanks to Paul and the volunteers and congratulations to Mick Kellett who just about had the fastest time on the day (on the M70 course) as Colm Hill stormed to a new record of 2:36 and a 21 minutes winning margin from Daniel, Eoghan and Zoran who all broke three hours.
Diarmuid O'Colmain
14 May, 2011
Well, what a race! Colm Hill didn't catch me until I was climbing Camenabologue. Ok, ok, I confess, I had an early start. How early? I'm not saying!
I had a lovely run/walk to the top of Lug wih Justin Rea. Roisin had to show off by starting after us and ambling past as we negotiated the route from Clohernagh. On the way down from Lug, Justin disappeared in my slipstream and I never saw him again - I think he took a shorter route later on from Camenabologue and finished ahead of me, but I haven't seen the results yet; should be interesting. Roisin went asleep and I got closer and closer until she saw my high visibility jacket and took evasive action - she also took the short route choice and finished miles ahead of me.
I had planned to take the short route from Camenabologue, down by the forest and up by the felled forest, but I got seduced by the thought of an easy run, contouring around towards the Three (or Two?) Lakes, and up Conavalla without losing much height - this was a good if slower choice for me. No, I don't mean I went to the 3 Lakes, just in that direction. I was lucky to hit a deer track the other side of Table track and this brought me a long way around towards the climb to Conavalla. At the top of Conavalla I looked for a kite but none was there so I continued on my merry way.
This is where Kevin Grogan and someone else passed me. I had decided to run a k or so east to hit the track along the Lugduff ridge; but when I saw them turn right a little early, I couldn't stop following them. So we all went flying along the ridge through peat hags and not great terrain until we eventually hit a dual carriageway (in MR terms). I cursed myself for not sticking with my plan but anyway the track was a bit hit and miss all along the ridge to Lugduff.
Then Martin Francis passed me, and promptly broke his leg (well, actually sprained his ankle). I advised him to walk to the finish, but he was having none of that and kept running albeit a bit impeded by his ankle.
I had recced the route from Mullacor and knew my way; still I had to really concentrate on the tracks. Some others who shall remain nameless ended up on the road, losing significant time to the finish.
This is a classic race route and not as hard as it looks. Many thanks to Paul and his band of helpers without whom, the race could not go on.