Powerscourt Uphill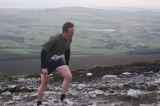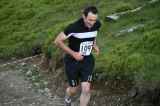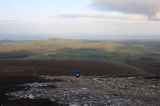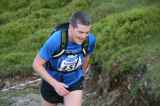 Authors
Ian Conroy
24 May, 2011
Paul Whyte, a host of Mars Bars and an American President
As usual with me this is belated. A belated report that is. So I'm able to type it after the visit of Barrack Obama, suitably buoyed by his uplifting and emotion stirring speech to the world but more importantly Ireland and his future voters back in the States. He said 'Is feidir linn' meaning of course, a rendition of his now synonymous slogan 'Yes we can'. Something which may have crossed my mind as I contemplated and undertook Powerscourt Uphill, or at least the similar sounding 'You can do it'.
A suitably grandiose intro for a grandiose (mostly) uphill race. Anyhow, the early evening started with a DART out to Clontarf where Paul (Whyte), my wonderful driver from the carpool was ready to take us (That's Brian O'Murchu and also Laura Schwirz) all the way to the familiar surroundings of Crone Woods carpark. We had plenty of time for conversation as it took us a few wrong turns (possibly my fault, unsurprisingly some would say) and over 90 minutes with all the traffic (thanks to HRH Queen Liz II and the Europa Cup final). The chit chat was varied and included politics/voting systems and parties, colour therapy and the merits of both Snickers and Mars Bars (especially those, says Paul). But arrive unscathed at the carpark we did, a quick stretch, a call of nature (for me at any rate) and up to the desk to register.
The pre race banter and glance at opponents took usual form, Des (Kennedy) pointing out to me who his fellow Wexford man Tom Hogan was, as well as who else was here. I expected Tom to have the lungs in the race so the plan was to take the immediate lead and work on it from there. That's pretty much what transpired, the two of us seemed to on our own from the get go after the sharp turn up the steep steps. From then it was a little bit of confusion as I kept looking for turns that weren't there in the gully section, but once we were out and on the trail it was going smoothly.
Next was the short descent to the river Dargle. Tom promptly overtook me and I suggested he stick to the grass (hope no environmentalists are reading) as the going was easier and quicker to boot. Which incidentally meant he opened up a gap! But it was short-lived as I realised I could descend in the same manner and we both hit the bridge fairly together.
Continuing onwards up the false flat to the final climb there was a while when we were side by side and I started thinking of the Tour de France, of Jacques Anquetil and Raymond Poulidor, going up some desolate road in the heart of the French Alps. This I realised was when it became more and more fun and I could almost feel myself smiling (inwardly at the very least). Sure what else would you rather be doing?!
So... we reached the bottom of the final climb to the summit of Djouce. In many ways running to that final summit is like reading a great book. You can't wait to get to the end but when you do you have to search for another just as good. So I just put one foot in front of the other, Tom's breathing seemed to recede, though I didn't look back. As Pat Hooper taught me when I was 16 'never look back'. I wasn't sure if he was speaking philosophically or metaphorically at the time, but I took it to bear in races anyhow. I gave words of encouragement to the early starters of the day as I passed them. Small cries of 'allez allez' between breaths as the theme of bicycle racing still bounced around in my head. But before I knew it the summit had been reached, no grandstand finishing tape finish or shouts of victory from me, just a quiet congratulations from the shivering group of marshals, huddled together for warmth. All that remained to do was to touch the cairn, which I did promptly. I gave a silent prayer to the mountain gods and turned to give encouragement to first Tom, and then the trickle of runners who followed.
There was a great sense of camaraderie in the biting wind at the top, where everyone after a few seconds donned their (mandatory) rain jackets. I had taken the advice Of Gerry (Brady) beforehand, ditched the extra weight of the bum-bag and tied and tucked mine under my singlet. Which, did make it look like I was carrying none, something Dessie (Shorten) was slagging me about on the race start line. However, some rules are NOT meant to be broken. Safety comes first, and I was glad as our now sizeable bunch started the slow descent. I really wished I'd brought a Mars Bar with me though!
So a great day out and thanks has to be said to the Race Director and everyone involved in the organising of the event. There's no race without officials and they did a brilliant job, some of which probably needed a few Bovrils and a nip of whiskey to warm up afterwards having been on the open mountain for so long.
P.S. Another final note, on the descent there was much talk about what kind of training each of us did and how each other was getting on in particular races. It seemed that everyone did something different, Tom with low mileage ('if it ain't broke, don't fix it' as Bill Bowerman would say), Peter favouring cycling to training and races (and cycling home too) and myself with my barefoot running on the smooth hills of Howth. But the common denominator was getting the body used to the terrain one races on. The cycling is the same as running uphill (muscle-wise) and I run where I do because the bare-footing strengthens my feet and body and I run uphill and downhill preparing my body for the rougher hillsides that I race on. Don't train harder, train smarter are the key words.
Peter O'Farrell
19 May, 2011
May God or the Queen have pity on the poor souls who commute daily on the M11. Unlike her majesty we lacked 600 Gardai keeping the roads clear but sure it all worked out OK and the parking marshalls had done a fantastic job. I'm sure we slogged up Djouce faster than we were travelling along the (120kpm speed limit) motorway.
After encouraging Zoran and Brian Furey on the merits of cycling to races the shame of being stuck in a car was in a roundabout way my own fault, constant badgering had eventually resulted in my good friend John agreeing to come to his first IMRA race and I'd like to think it was a good choice, not having to race back down meant he finished the evening with the energy to drive home.
The lateness of our arrival meant the 20 minute warm-up was reduced to a shuffle and hip-hop in the queue for registration and a quick few sprints with mr. motivated, Ian Conroy. Many thanks to Stuart Scott for a fantastic performance as race director although as always I wonder about the point of describing the route, the infamous 15 minute Ballinastoe route description always comes to mind. Follow the tape, follow the tape, follow the tape...
GO - and off they went at a great rate around the first bend. 25 runners ahead of me at the first steep bit including the revelation Emma Donlon. Am I in for a mudging, was I being a bit soft on myself, why is so hard? Intruding on these weighty thoughts via the retina swam the vastly reassuring sight of a lithe Paul Nolan on my shoulder and yea, I was reassured! I clearly see in my minds eye a photo of the start of a 3 rock race one year - Paul is miles back. He won that night.
Climb, fast fireroad descent, steep climb, steep zigzags, composed face for Gerry Brady's camera, rocky fast descent, climb climb climb climb climb.
Ian conroy wanted it the most, Tom Hogan learned an awful lot about the upcoming trial race, Emma Donlon and Jenny McCauley are climbing well and John Casey is a legend :)
Many many thanks to Stuart Scott and his team. The fact he was posting on the forum at 1.24am tells you all you need to know about his dedication to the cause.
Ken McDonagh
19 May, 2011
A view from the rear
Powerscourt Uphill – not the race to break your duck in the Leinster League but marathon training had intervened and I was hoping the Winter League had done enough to strengthen the legs for the climb ahead. A late arrival at Crone Wood didn't help, although kudos to the marshals for getting everybody in and parked – clearly all those years playing Tetris were finally put to use.
No time for a warm up, so with my shiny new tackies (that's runners to those not of Limerick/South African extraction) I lined up at the far side of the barrier, some pre-race banter where I opined that the new course would probably add an extra 5 minutes to the average time, then the race instructions (incidentally the idea of making headphone wearers run the course twice is genius – and likely to be far more effective than a DQ!) and we're off.
Gone was the leisurely jog up the Wicklow Way of past years as the new course threw us straight up the shoulder of Maulin, the brief respite on fire road was a welcome but short lived break before the body of runners snaking ahead swung right and up a gully that started steep and got steeper. Two of my carpool mates passed me on this climb and I cheerfully pointed out that both would be walking home if they made it to Djouce before me.
At the top of the ride, the course swung left before a sharp descent towards the Dodder, it may have been the grips on the new tackies or the help of gravity and the extra 30 odd kg's I had in ballast but I managed to reel in one my carpool mates on the way down.
Then I made the mistake of looking up. Ok, I'd been here before – this race last year, Powerscourt ridge - I knew I could make it to the cone running all the way, my legs took a bit of convincing but eventually they gave in and kept on turning. Despite this, half way up, gravity and that 30 odd kg's told and my carpool mate* went bouncing past without a thought of the long walk home...
Turning for the final climb it was a case of just keep moving, try not to think. On the way up I managed to pass a fellow runner, in our brief exchange he admitted this was his first IMRA run ever, I (lied) reassured him that they don't get any tougher than this...
Finally the trig point came into view and a last burst of energy carried me home...53 minutes or thereabouts, 5 minutes slower than last year as predicted – I must go buy a lottery ticket!
Thanks to the Race director, the marshals and other volunteers, it was a fantastic run!
*Note: No carpoolers were harmed in the production of this race report
Rene Borg
19 May, 2011
TEAM RESULTS
MEN
1. Rathfarnham WSAF 14 (3 Peter O'Farrell, 5 Brian Furey, 6 John Brennan)
2. Crusaders AC 29 (4 Richard Healy, 7 Jason Kehoe, 18 Jonathan Healy)
3. Raheny Shamrocks 33 (1 Ian Conroy, 9 Des Kennedy, 23 Brian O'Murchu)
4. Boards AC 73 (13 Jeff Fitzsimons, 29 Mick Hanney, 31 John O'Neill)
5. Sli Cualann 93 (10 Ben Mooney, 34 Jimmy Synnott, 49 Martin Francis)
6. Setanta 135 (20 Gerry Lalor, 51 Andreas Kusch, 64 Sean Hassett)
7. GEN 207 (8 Paul Nolan, 55 Alan Ayling, 154 Brendan Doherty)
8. Glenasmole 215 (52 Thor Christian Valle, 69 Justin Condon, 94 Thomas Galvin)
9. CNOC 285 (63 Brian Hill, 90 Conor Short, 132 Eddie Hill)
WOMEN
1. Crusaders AC 24 (3 Aoife Joyce, 10 Susan Seager, 11 Roisin McDonnell)
2. Sli Cualann 46 (2 Jenny McAuley, 19 Aisling Renshaw, 25 Liz Ryan)