Tonelagee and Clockwise lap of the Lake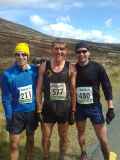 Authors
Sam Scriven
23 April, 2012
Tonlagee and the Lake
It was all very exciting getting out of bed. That warm fuzzy pre-race feeling. My first race in nearly a year, you forget the old routine - what to eat, what to bring, how much time to leave. Weather looked promising, bright anyway. Packed plenty of kit – you could expect spring, summer, autumn or winter today. Or all four together. Hit the road in good time. 80's tunes on the radio...'living in a box, living in a cardboard box'. Turned off the N11 and into more pleasant countryside. 'I am the resurrection'. Alright! I'll take that as an omen (although not one from the 80's if memory serves me).
A good crowd had assembled at the Wicklow Gap by the time I arrived. Registered in a stiff wind but still bright and any cloud cover was well above the summit for the time being at least. I'd been up to reccie this the previous Saturday when the ground at the summit was frozen, and the hail, sleet and wind that hit me at the top wouldn't be too easily forgotten. Once bitten twice wary. Decided to wear the rain jacket and woolly hat even though it didn't seem too cold.
I had struggled to find any real paths on my reccie so I had worked out a few angles in advance of the race. Follow the leaders up to the summit. Head only slightly east of north from there. Stay a safe distance from the really steep stuff down to the lake. Round the lake. Veer away from the lake's edge, not quite due south, up towards the summit again and then resist the temptation to head straight for the car park. Keep that road up to the reservoir well to your left.
A quick word from RD about the route, and we're off! Straight through the thick muddy bogland. No sense trying to keep your feet dry here. We started to climb steadily. About half way up I took a good look ahead, the leaders had opened a considerable gap on the chasers. Counted twelve or thirteen ahead of me, a gap to Mags ahead of me, and a few metres breathing space behind me. Happy enough but breathing heavily so slowed to a walk for a bit. Made the summit, weather was holding well. Took a quick glance at the compass. The runner ahead's direction looked about right so I set off in chase. Down through the peaty stuff which was very slippy. Almost took a tumble or two, so keep the head down, watch your steps. Then suddenly I came upon a fairly steep edge down to the lake so had to take a sharp turn to my left. A glance back and I spotted a couple of chasers cutting the corner off.
The ground was generally good at the start of the descent but it did get boggier and slippier the further I went. Took two good slides before I got to the lakeside. Had made two places but lost two too. Noticed Colm Hill pass me. Now what game was he playing? Sun was quite pleasant now. I heard the water lapping against the shore, sounded lovely, wished i could have stopped for a picnic, but keep going, save the Chardonnet for another day.
Rounded the lake, and veered away up through the heather. This was hard terrain, boggy and slippy and full of holes. I reached a well trodden path and began to climb steeply back up to Tonlagee. This was hard going on quickly tiring legs. Not a lot of running going on now. Traded places with a few people on the climb; Ruairi, Mags and Ronan, but didn't make or lose any serious ground. And presently the summit appeared, well relieved in the knowledge that a couple of leaps and bounds down the hill would take me to the finish. Path found and its a super descent down. You've got to concentrate watching every step while keeping half an eye ten metres ahead and half an eye on your general direction down to the tape, but you can get some serious speed down here if you want. Ground underfoot is very wet by now but who cares. There's some hot coffee and a change of socks at the bottom.
I really enjoyed the run. Great day for it. Short but tough, brilliant course. Wicklow at its beautiful boggy best. Two hard climbs, heavy underfoot but forgiving on knees and feet, two fast descents. I measured 6.8k so I must have wandered a little. But it is great to be back.
Thanks to Mick and to the volunteers and marshals.
Ronan Hickey
22 April, 2012
I LOVE Tonelagee and the lake. I've run all three and it is definitely my favourite (non Wicklow Way Relay) race. Ever since picking it as the shortest and therefore easiest (yes, I really am that dumb) Leinster Champs race to do 2 years ago I've been hooked.
It is insane how much pain can be sandwiched into only 6Km. But to compensate there are the beautiful views from the summit and one of the most exhilarating descents in the calendar.
The day was bright and clear but with a cold wind and after Dermot signed us in, and RD Mick Hanney checked our kit (loving last year's Leinster League jacket: whistle built in and enough room to cram in hat, gloves, map and compass) we returned to cars to warm up and look nervous.
Mick gave us our final instructions and after a short countdown set us off. The going is always boggy for the first section and seemed even more waterlogged this year. I started off towards the back and tried to pick people off with that whole cheeky "Run until you're just past them and then restart walking" schtick. Halfway up I came across that rarest of Wicklow fauna, a Colm Hill standing still. I called out asking him if he was injured but he replied easily enough saying he was taking it handy as himself and Ruairi were going to do the course twice.
Twice
Because one Tonelagee and the lake isn't enough.
I found out later that Paul Tierney, who won the race, had gone for a 2.5 hour training run around Glendalough beforehand and wasn't able to pick up his prize afterwards as he'd gone to cool down with another 2.5 hour hill run.
What is it with Tonelagee? Didn't Peter O' Farrell cycle to the race as a warm-up, the first year? And last year I passed Martin Francis running up from Laragh to the start-line. Is 570m of ascent in 6km of sloppy bog not enough for you guys!? Will the race director insist on press-ups at the summit next year? Maybe I could get some of you Energiser Bunnies to carry my mandatory ki..oh no wait..let's not go there.
Colm very kindly offered to jog up with me (an offer I would have accepted if I could have said anything other than grunt) and gave me some advice on the way up about picking out running routes and encouraged me to keep moving.
We hit the top and cheered on by Aidan set off down the scary descent to the West side of Loch Iolar. It was sloppy and boggy as hell and I found it hard going. Denis Deasy and Stephen Doorly cruised past me here and I realised too late that being on the path was the wrong option and dove into the heather. Is it heather? Who the hell knows, I'm not a botanist.
We hit the lakeside and having crossed over had to decide on whether to stay low, skirting the lake, or gain height early on. I won't say which I did, (Recce it yizzer selves!) but it seemed to work out and when we started the climb I had drawn level with Stephen Doorly with Mags Greenan and Sam Scriven just ahead of me and Denis Deasy just behind.
It's a tough drag back up the hill..running a few steps and then climbing and then running a few more. We hit the top and started to pick up some speed again. I usually lose places on descents so I tried to attack a bit more and managed to sneak past Mags but as soon as the steeper stuff started the gap between me and Sam increased and I had no chance of another scalp. We passed Colm and Ruairi on their way back up cheering us all on.
Towards the end I had some sort of brain freeze, losing sight of where I was going and disappearing off to the right, leaving a bemused Mick Hanney to go "What the hell did you go over THERE for?" when I finally finished. All I can say is it looked like the right way at the time! With Mags, Denis and Stephen closing fast on me I was happy we ran out of course and I was able to splash across the finish line.
My time was slower than last year, but 1 place better and in fact my highest finish in any IMRA race so far so I'll take that!
A brilliantly organised race and much thanks to Mick and the volunteers. And to anyone who hasn't run this, you've GOT to put it in the calendar for next year. It's a gem.