Tountinna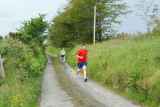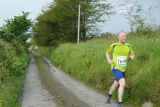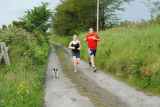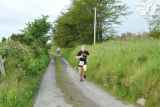 Authors
Brian Flannelly
04 September, 2012
The fifth race in our Munster Wednesday League was held last Wednesday night in Tountinna near Ballina. It was a dry evening after days of rain, which was a welcome blessing for the 38 compeditors who came along to the hills in West Tipperary. Colm gave the route description when the cars, who pooled from Ballina, arrived on the west side of Tountinna and the race started, following a section of the Lough Derg waymarked trail. It lead up towards the top of Tountinna, incorporating rough trail running with two tarmac stretches at the start and towards the summit. Athletes had opportunities on the return leg to take in the views of the hills across the Shannon river which will host the next Munster Wednesday League in a weeks time. Mike Cunningham held off a strong late challenge on the night from Shane Mullaney, with Adrian Linehan coming home in third after an impressive climb. Loretta Duggan once again won the ladies race, with Andree Walkin taking second after a tumble on the descent and Fionnuala Keogh the remaining podium position. On returning to Ballina, the group converged on O'Riains pub to take in European Championships and enjoy some refreshments.
Full race results are now up at:
<http://www.imra.ie/events/view/tab/results/id/974/>
With photos at (thanks Jane):
<http://www.imra.ie/events/view/tab/photos/id/974/>
Thanks a million to race director on the night, Colm Phelan, to Jane Griffin once again on photography and Sharon Lucey who volunteered to come along to do both registrations and timing. Thanks also to Sean Harte who transcribed results and Kevin for submitting them to the IMRA database.