Howth Winter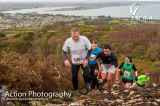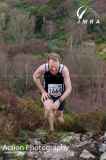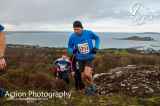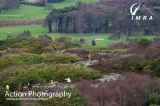 Authors
Peter O'Farrell
21 January, 2014
A cracking little race on a very varied and interesting course. Great craic indeed. I must come out to Howth sometime to see the GAA team play. They surely do have an amazing view out over the sea and Ireland's Eye as they line up the free kicks, or the sly digs..
There were no sly digs in the frantic rush to the first corner, just honest jostling for position in a surge reminiscent of a cross country event. I pity anyone who might fall in that fast start, 250 pairs of boot would pass over his back before he could get up again.
As with the original charge of the light brigade, many if not most of the early bolters faded leaving a strong quartet ahead to fight with all their might for the three podium places. Endurance man Eoin Keith and myself kept watch from a safe distance - ie: we couldn't catch up - as the foursome gradually shook itself apart under the relentless pressure of Des Kennedy. Laura Shaughnessy had a good win in the ladies with both Mags Greenan and Maura Matthews showing the good vintage of a fine wine. The five juniors looked they would have showed a clean pair of heels to many in the senior race and it is always a pleasure to usher in yet another new year seeing Seamus Kilcullen out on the course. Only second M70 today though I believe as Brendan Doherty has joined him in the ranks.
Conditions were perfect, dry calm and clear. Even the mud underfoot was of the sticky and grippy consistency. The course itself has to be watched, with many tight sharp turns and dips down single track between the towering rhododendron which had been cut back by a very hard working Gerry Brady, not only out marking his cutback course but taking many photos as well.
On the course we had the usual few doggies out but a novel and welcome addition were the cheerful and cheer-leading large group of American students who we got to meet both coming and going and who should be booked for all the Winter League courses if possible.
The open finish and half lap of the field gives a super vantage point for watching close battles and lung bursting efforts in the closing straights, or should that be straits?
5km later we were all back where we started with remarkably similar tales and questions. Fast start, hard kicker climbs, fast bits, muddy bits, great fun, are you a vet?
Much thanks has to go to the excellent organising team very ably lead by Sam Scriven. They have the patience of saints and the skills of the gods.