Annacurra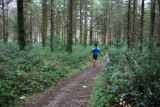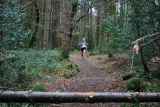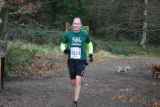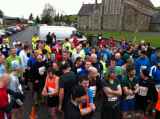 Authors
Jerome Dupuy
04 March, 2014
ANNACURRAGH report 2014 #Jerome
PROLOGUE
As a Frenchman living in Dublin, I discovered the Wicklow Mountains and hill running thanks to the sensible mentoring of my friend and fellow Crusaders teammate Oran 'No recce' Murphy.
First experiences with IMRA were as beautiful as they were traumatic: the Wicklow Way Trail, the Stone Cross to Lugnaquilla unmarked open mountain relay with the 'Rubber Arm Squad', guess where the name come from!
Somehow, I was hooked…as if I had the choice...
Having, in turn, convinced my partner Aisling (through many subtle Christmas and birthdays presents comprising of specialist fell running items) about the invigorating virtue and benefits of running the mountainous and mucky terrains of obscure and sometimes unnamed hills during the Irish winter, we signed up for the 2014 IMRA season and the anticipated Winter League as enthusiastic relative newbies.
ANNACURRAGH
At arrival I was friendlily greeted by Brian Surgue and Mikey Fry who were 'dooring' the community centre ensuring the registration process went smoothly.
After having naively inquired to Mikey about the compulsory nature of the rain jacket, and being laughed at, I understood I was still a bit tender on the IMRA front.
Paperwork done, including the signing of a comforting pre-race disclaimer, I had a chance to get a few tips from race director Mick Hanney. He said : 'after 5-6k you will see a 'pool', depending on where you are during the race at that point, you can decide to avoid it by entering the forest, or strategically cut throw it to gain time... but beware it is quiet deep'
A nice piece of advice I was not too sure what to do with … I decided to go for a warm-up in the woodlands...
THE PRE-RACE
Annacurra was my third 2014 Winter League race; and after Ticknock and Trooperstown, I have developed a better understanding of who's who and also about where to 'fit' in the IMRA racing pack!
I did reasonably well during the previous WL races and knew I should aim for a top 5 finish.
Annacurra, is the most 'remote' of the 5 WL races and I hoped it would make for a more open race than Howth or Ticknock for instance.
I was right: no sign of Des Kennedy or Eoin Keith… Ben Mooney and Eoghan Carton were surprisingly missing too.
However, I could see in good order: Adrian Hennessy, whom I sensed was a real contender and the ever reliable Bernard Fortune. Also there were the familiar faces of Gareth Little, keen on completing his 100th IMRA race before Q1 of 2014, Cormac and Niamh O'Ceallaigh , Zoran Skbra, John Buckley, Alan Ayling, Rory Campbell and my Sandymount mid-week training companion Fergal Daly.
A new classic of a race was about to unfold.
TIME FOR THE RACE
Mick acrobatically climbed on top of the pillar at the entrance of the forest trail and activated the speakerphone in a very dramatic fashion …. It was time for the race… no messing around anymore. He provided us with the most important advice of all during an IMRA race: NO EFFING HEADPHONES.
After this loving health and safety announcement the start was swiftly given.
Rory Campbell authoritatively took off straight away and led the chasing pack onto the very nice trails of the Annacurragh forest.
After the first few hundred meters running through the thin and steep forest path, the race took shape with Adrian Hennessy in a controlling lead, followed by 'unnumbered' Tim, with myself, Ronan King, Zoran, Rory and Damian McParland chasing each other as we moved onto the first fireroad climb.
After 2k of racing, before entering the 'open mountain' I managed to catch up with Tim. As I was edging up beside him, he asked me 'do you know how many climbs' left?' … I shared that according to the race profile it should be uphill for 3k than a consecutive 4k of ups and downs and finishing with a 3k downhill.
My answer including 'the 4k of ups and downs', which I thought was pretty accurate, did not seem to reassure him at all…
I sensed that my intensive preparation of the race (i.e. checking the profile of the race online) was giving me the edge; and I confidently increased the cadence on the grassy uphill section and started chasing Adrian, who at this stage had managed to create a decent gap.
We were now into the 'pièce de résistance' of the race… 'The 4k of ups and downs'.
Benefiting from some good flat/downhill sections I managed to close the gap and eventually caught up with Adrian.
At that stage we had a relatively comfortable lead over the rest of the field...
It was still early enough in the race but the win would very likely be decided between us two.
Knowing his abilities since Ticknock where he demonstrated a master class of uphill running, I was not 100% confident I could pull this one out of the bag.
I had 2 things going for me tough:
First, I felt good on the downhill sections and had managed to generate a gap of a few seconds with Adrian.
Secondly, I had Mick's advice at the back of my mind… 'the pool Jerome, the pool...' the moment of truth was imminent… and the Force was with me !
After a brisk downhill, I could now see the 'pool', which some would have qualified as a lake and with Adrian few strides behind me I decided to go 'strategic' and ran straight through it.
Mick was right about one thing: it was deep.
I had to stop half way through with water up to my hips and decided coldly and shyly to climb to the border of the lake, gripping trees branches, and managed my way to the dry land. Not a paying move, especially since I then took a wrong turn back into the wood, going in the opposite race direction, and ended up face to face with Adrian! 'Shite, What a beautiful athlete! '
There's went my lead!
Note to self: do not go too 'strategic' next time!
So Adrian and I were together, once again, with just over 4k to go …
The good news for me was that most of it was downhill at this stage and I knew I would stand a chance.
I took off, once again, in the steeper downhill section of the race and managed to create a gap that I would conserve and increase until the end of the race.
With 2k to go and no immediate sight of Adrian behind me I knew I was onto my first IMRA win. On the way down I cheered at the marshals with excitement; and Brendan Doherty, the evergreen IMRA veteran champion, even cheered back to me in French which I found was very cool! Merci Brendan.
I entered the forest, and the photographers, had lined up readily behind the tree that was blocking the trail in the forest. This is it; I had a chance to prepare for my best IMRA action pic yet… or an epic fall! Pressure was on once again… this race and its organisers are relentless… after rehearsing my jump, over some of the dogs wandering undisturbed on the trails, I managed to jump -gracefully enough- (pic will tell) over the tree and ran towards the finish, where 'deputy marshal' Petra Tolarova, a running friend of mine, was cheering, obviously as pleasantly surprised as I was to see me finish in the winning position.
I meticulously ended over my number and turned back to see Adrian coming in second place followed by Tim and Bernard.
We congratulated each other.
44.04 was the time, which apparently was a 'great time'. Even faster than the almighty Des record from the previous year. I was dubious. After re-checking, it seemed that the course was 600m or so shorter than in 2013.
I was chuffed anyway: in fact one may say I hold the record for this shorter course ;)
--- Garmin activity report : http://connect.garmin.com/activity/454085484 ---
10.4 or 11k. it did not matter anymore as Aisling was bursting through the finish with a strong 4th ladies place. All happy out… my future IMRA race hope was still alive.
CREDITS
Prior to the post-race refreshment, we decided to go for a warm-down in the very well maintained trails of the Annacurra forest… thinking of how great the Aughrim valley is for running with Cushbawn hill, the Sean Linehan trail along the Macreddin river and the unnamed hills of Annacurragh.
Thanks again Mick for sharing it with us and to everyone involved for having organised an authentic race on the IMRA calendar. Kudos to the Parents association of Annacurragh for a great set up and for making this event a memorable social occasion too.
As been said by Vivian O'Gorman, the hospitality was second to none...even comparable to the ones down in the country... I understood I was experiencing something special even in a county adjacent to Co. Dublin...
Vive Wicklow. Vive Annacurragh.
Moire O'Sullivan
03 March, 2014
It had been nearly 18 months since my last IMRA race. In the interim time, a baby and a move to Northern Ireland had put pay to my mountain racing days.
But then Mick Hanney started posting pictures on Facebook. They were of rocks and mountains and muck and puddles. There were views from descents and there were trees to hurdle. It was too much to resist. I had to attend his mountain race.
It was made all the easier given that, earlier in the year, I had moved back to the Wicklow area. And so, on Saturday morning, I followed Mick's precise instructions of how to find the little village of Annacurra at the 'other' end of Wicklow.
I was as much looking forward to seeing old IMRA faces as I was to running around the hills. I wondered how people were getting on in the intervening 18 months since I had last encountered them. I expected of course that these mountain runners would be a little older, a little fatter, a little wiser. But nothing could have been farther from the truth.
The first person I bumped into was IMRA stalwart, Joe Lalor. He looked much fitter than how I remembered him before, retirement having inadvertently reversed Joe's years. Next I met Niamh O'Ceallaigh. Her babies are now fine young children, but she doesn't seem to have aged a day. Richard Nunan was now a wafer of the man I recall, his 2013 UTMB and Costa Rica World Series Adventure Race having knocked him into a younger version. And then of course, Brendan Doherty, the man that never grows out of his effervescent youthful exuberance.
I felt old in comparison as I lined up at the start line for the noontime showdown. And even here, things seemed to have stood still in the IMRA time warp. There were the usual race director instructions, the usual banter and slagging, and the very informal sending off.
There was no point going anywhere fast as we ran the first few metres. A fallen tree and a narrow gate were always going to cause bottlenecks. But after a few minutes, we were ascending on fire roads and the race truly began. I had forgotten though how to pace a mountain race. All I remembered was to run so that it hurt, but not so much that it prevented you from reaching the finish line.
The Facebook images flashed past as I ran up one ascent, a second ascent, and then a third. I waited to hear a girl breathing on my neck, but only heard a few male gasps as they flew past me on the downhills. And before I knew it, we were back in the forest and at the finish line. We had returned prematurely as it transpired, the compassionate race marker knocking off a few hundred metres on part of the hill. No one was complaining.
A perfect race was rounded off with a smorgasbord of food. Soup, tea, sandwiches and cake were laid on by Mick and his Annacurra crew. And with nothing else to do on a springtime Saturday afternoon, it was only polite to stay on and polish off the fare.
It was good to finally return to IMRA, this elixir of youth where nobody seems to age. I subsequently went home and threw away my l'Oreal, vowing to substitute this ointment for a few more IMRA races later on in the year.