Wicklow Glacier Lakes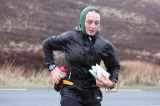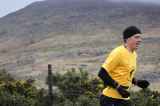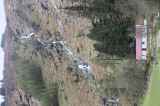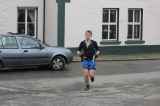 Authors
Gareth Little
09 April, 2015 - Gareth Little
https://summit2summit.wordpress.com/2014/05/30/wicklow-glacial-lakes-solo-april-2014/
Ruth Lynam
15 April, 2014
Wicklow Glacier Lakes, the concept is lovely, the name is enough to put it on the to do list, and this year I managed it. There was no great plan, no long-term plotting, we just suddenly, a day before the race, had a team – Maeve, Ruth, Kevin, Mags.
Maeve was the first of the competitive starters, we had a handicap of 50 minutes, and sure enough she arrived first at Wicklow Gap, sending me out ahead of everyone else though I didn't think that would last long. Up the shortcuts was fine, when I came out onto the ESB road there was a vicious headwind, it was a battle to keep running, and I was already behind target time at the top of the road.
Moire passed by just before the top, she went round above the quarry but I had already decided to go below, less climb, less distance, and there is a bit of a path most of the way. It could be a reasonable choice in good weather on dryish ground, but slopping through bog into a headwind with thick fog hiding all the features I think the high route would have been better. But I found the nasty peaty col with no problem, vaguely hoping to have caught Moire but there was no sign of her, and I was soon so immersed in navigating I forgot about everyone else. I managed to strike the uncertain path which leads to L Firrib, and followed it with one eye constantly on the compass until the little lake appeared below.
That was the easy bit, I've been there several times this year, Three Lakes needed blind trust in the compass. I couldn't see far enough to pick a good route so there was a lot wading through bogs and scrambling up & down gullies. Looming cliffs turned out to be peat hags, minor rivulets looked like major valleys. But I was sure of the first stream when I got to it and being cautious I counted paces from there. At about the right distance I came to a stream rather than a lake, thought it must be the stream flowing out of the lakes, so I went on for a minute to be sure then turned to the left and almost immediately a paler patch of cloud materialised as one of the lakes. A minute or 2 lost, but that was all.
The navigation basically over it was a very sloppy traverse into the valley and down the stream towards Glenmalure. I grew very annoyed with the poor little stream which kept twisting back across my path forcing me to jump it over & over again. But at last the valley steepened and the stream gave up meandering, a bit of a path leads down to the track and then it was just a matter of charging down the valley as fast as possible, with Gerry and his camera to provide distraction on the only little uphill.
Any number of people could have passed without me seeing them, so I was a bit surprised to find I was first in, Moire had evidently gone astray somewhere and no-one else had made up our big time handicap yet.
Kevin went off on leg 3 with a 5-minute lead on Adrian Tucker. Conditions seem to have been just as bad as on leg 2, at least between Art's and Kelly's Loughs, and Adrian had a great run coming in 10 minutes ahead of Kevin who had estimated 90 minutes and did just that. Meanwhile Mags wanted to check the start of her leg over to Glendalough, so for her warm-up we went up to the top of the zigzag path, a bit too fast to count as my cool-down.
When Kevin arrived Mags set off and ate up the road over to Glendalough. I drove round to give encouragement at the Upper Lake, and she got to the Finish before I did, 2nd runner in!
A great day out. It's a classy route with legs to suit everyone, and the relay format makes it good and sociable. And a very nice surprise to be 2nd. Well done team!
Moire O'Sullivan
14 April, 2014
The Glacial Lakes Race - Three steps forward, two short steps back
I've always wanted to run the Glacial Lakes race since its inception in 2012. This year, I was finally in the right place at the right time, and was able to put in an entry.
IMRA's Glacial Lake event is a 43km race with 1,783 metres of ups and downs. It is primarily designed for relay teams of four people, racing between lakes in four stages within the Wicklow Mountains. To add a bit more spice, individuals are given time bonuses if they are female or old. Elderly females are therefore graciously given the biggest and best bonuses.
There are a few mad people who decide to run the whole course. Last Saturday, I was one of them. Being a young-ish female, I qualified for a 40 minute head start. Only one other team got more time than myself, Ruth Lynam's team of 3 women and 1 man who received an additional 10 minutes.
The weather looked fine down at the start in Glendalough, albeit a little breezy. So it was with expectations of a fast and fine run that I set off at 9am on Saturday morning. I set off at a brisk pace, racing to catch Ruth's first leg runner, Maeve O'Grady, whilst knowing that a bunch of men were to set off after me 40 minutes later.
The first stop was Lough Ougler, at the foot of Tonlagee Mountain. I could see from St. Kevin's way the col that I needed to cross to descend into this lake. The summit of Tonlagee was hidden behind a cloud of mist. I wasn't worried. I knew where I was going. I had my compass bearings already calculated, and I had recced the route 18 months before.
Dropping into Lough Ougler, I saw Maeve climbing out from the waters. By now, wind was blowing strongly across the lake, whipping up some waves. And the rain threatened us with some cold drizzle as a ominous prelude. I pulled myself up the steep slopes and contoured around Tonelagee to the south, keeping a close eye on my altimeter. Down below, I could see a host of cars parked at Wicklow Gap, where relay handovers were waiting.
I checked in with the Leg 1 marshall as I heard Gerry Brady announcing, "Ruth is just two minutes ahead of you". I could see her disappearing up the side of the Turlough Hill, the start of Leg 2. I set off after her, finally catching her near the top at the reservoir on the tarmac road. The mist was thick, but I wasn't worried. "I have my compass bearings already calculated", I thought". "And I recced the route 18 months before". I planned to scoot south of the quarry and to take a straight bearing to Lough Firrib. This is what I thought everyone would do. Only to see Ruth, the master orienteer, dive to the right and head down towards the quarry. "Don't get lost", were her final parting words to me.
The temptation to follow her was immense. But then again, I thought, I know how to navigate. I have my bearings. I'll be fine.
It has been four years since I've really used a map and compass. I did the Wicklow Round back in 2009, a feat that requires navigation. Since then, I've lived in South East Asia and had a baby, neither of which permitted me to do much mountain running. Over those four years, I also forgot what a navigational nightmare Lough Firrib and Three Lakes are in the thick mist. I had forgotten about the peat hags and zero visibility. My amnesia and four year hiatus meant that I soon lost my nerve and abandoned my compass bearing.
I was lost. And worse, I was alone. I thought of Ruth ahead of me. I thought of the men 40 minutes behind. I dropped down out of the clouds to relocate, but with little success. And then, after half an hour of wandering around, figuring out what to do, I saw a band of merry men rushing across the bog. I ran after them to find Alan Ayling and Gareth Little in their midst. And unashamedly I shouted, "I'm following you", and did so until we reached the fire road leading to Glenmalure.
But I was ashamed. Terribly so. People think I can navigate. I've even written a book all about how I learned from scratch. I now felt like I had returned at square one, having taken two large navigational steps backwards.
Arriving into the end of Leg 2, I knew I had screwed my race royally up. But I still wanted to finish. I had waited two years to take part. And I was kind of looking forward to Leg 3 and a bit more mountain running. So I soldiered on, catching up with Gareth Little at the base of Art's Lough as he exclaimed, "This is a b@st*rd of a climb".
Adrian Hennessy was by now charging ahead of us, having also had a minor navigational mishap near Three Lakes. I watched him disappear up and over the ramp, and followed him around Cloghernagh until the mist again finally whisked him away again. I was left alone with the sheep on a steep misty grassy hillside. Soon though Kelly's Lough appeared out of nowhere, with not even the craggy wall behind it visible to warn me of its eminent arrival.
By the time my foot hit Kelly's waters I knew that the worst was over in terms of navigation. All I had to do was follow the river down to the zig zags, and I'd be back on tracks and trails.
There was a crowd of cars at the start of Leg 4 in Ballinafunshoge car park. I grabbed a bottle of water, checked my map, wished the remaining runners luck, and headed up the steep climb to join the Wicklow Way. My feet were a little worse for wear, small stones having worked their way into my shoes on the previous mountain sections. The fireroad descent off Mullacor gave them a chance to work up some nice friction burns on both my big toes. Only the enticing waters of Glendalough could provide some soothing comfort.
I lost a place, then gained a place as I ran on down the hill. I then accidently took out a tourist or two on the trail linking the lakes. Did they not know I had a race to run, as they casually strolled along without a care on this fine Saturday afternoon?
Crossing the line in 6 hours 11 minutes, I was happy to be home. Sure, I had regressed when it comes to navigation. But I progressed in other ways. Since having my baby nine months ago, I've worked hard to get back into shape. Getting around the Glacial Lakes course showed me that my training is definitely working. And, as any new mother would say, my priorities have slightly shifted. At the finish line were my husband and son. And I was so glad to see them there. Who cares if you lose a few minutes finding a lake when you have such a family waiting for you at the finish?
Rachel Cinnsealach
14 April, 2014
Well, the Glacier lakes relay was on yesterday. It really is a great event! A big thanks to Gerry for organising and to all the volunteers, Dermot, Seamus, Aoghus and John. I had hoped to run the whole thing solo, but I realised after my time at Art O Neill, that my training was not on target! So I did it "like it was originally intended" as a relay. How did I get on... Well really not great to be honest, but I guess you have good and bad days! I was doing leg two. From the wicklow gap car park, down to the an oige youth hostel near barravore. My 1st leg runner came in, at 11.00 ish and I set off up the fire road... Fire road climb for about 15- 20 minutes the worst part of the run! Then it would a right turn onto the hills. It was so foggy, you could barely see 10 metres ahead of you. I had my bearings written on my hand, and the estimated times I'd get to lough firrib and the three lakes. I found lough firrib easily. Just followed the bearing and there is kinda a track to follow, though it's not totally clear! I got there sooner than I expected. I also met a good few other runners on route!!! Then onto the there lakes. I reckoned this would take me about 25- 35 min... I set off! Totally on my own, no-one in sight.... Just trust the compass... just trust the compass. The ground was boggy and flat, I managed to get stuck in the bog at one stage, but I know from experience the best thing to to is sit back, and just pull your feet out, one by one, and hope your runners don't get stuck in the bog! I kept going, expecting to cross a river at some stage (after 20 -30 min) but I didn't...., I kept going... for what seemed like ages, the ground stated to drop this confused me slightly. I came across a river! but it was flowing south... I wondered could a river flow "into a lake" but I knew that was not the case!!! I began to make my way back "up the river" thinking I must have over shot the lakes! I was not confident though as to which exact river it was (as I looked at the map later it was obvious which river it was, but when you are standing in the mist, getting cold, knowing your team all all waiting for you... it's not that obvious!), I had seen nobody since before lough Firrib. I was aware that I'd been out for ages and that people would be beginning to wonder "where I was" and that two members of my team had yet to run... I knew roughly where I was and I knew if I headed south, I would reach te track.. I followed the river south, and very soon, the forest came into view, (I was a good bit further south than I had thought!!, Once I saw the trees, I knew where I was, I contined down along the river, on a "kinda trail" I knew this trail from the Art O Neill race. I hit the track, and ran to the hostel... I tagged my team mate and off she went..... I then had the moral dilema,.. do I keep my mouth shut and keep my team happy, and content that we (the only all female team had completed the relay, all the others managed their legs grand...) or do I come clean and admit I hadn't found the lakes, it would have been a no brainer if it was just me running, but I really didn't want to disappoint the girls.. but hey, I'm not very good at keeping my mouth shut.... so hey I came clean.... The girls were all so lovley, so a big thanks so Maike, Daniela and Joyce. They didn't seem to care at all. They all said they'd had a great day and they loved the atmosphere and the running. So roll on next year... I am determined to make sure I complete it next year, be it solo or part of a team. There is also the lug relay to look forward to, which is another great IMRA Relay race. A big congatulations to all the teams.... Well done to the winners, Greg, Finbar, Adrian and Richard. Fair play to Maeve, Ruth, Kevin and Mags, for giving them some stiff competition. Well done to all the solo runners..... there are far to many to name, To Zoran, who was the first solo runner and to Moire, the first female to ever complete the event solo!!!!
Adrian Tucker RIP
14 April, 2014
When you have a challenging task ahead - such as: running the Wicklow Glacier Lakes race,and try and break the record, it's nice when a few experienced Wicklow Rounders are prepared to row in behind you and give a dig out.
And so it came to pass that a potential record breaking team came together and entered for this classic Marathon (almost)Distance event for 2014.
You'll see from below that not only can these guys run at phenomenal speed across wind swept cloud covered mountains with deep slop and bog everywhere, but they can also tell a tale or two about their endeavours:
Could the record that has stood for two years be broken?
Leg 1(Lough Ouler)-runner Greg Byrne (Team: Glacier Runners)
Wicklow Glacial Lakes presents an unusual challenge with a chasing start on a course requiring navigation. Preparations began with the formation of a team and only get more interesting from there. This year Adrian Tucker was putting our challenge together so that meant we'd be starting at least 5 mins ahead of the field. No Zoran or Mahon to follow, no concept what the 'race pace' would be for the chasing pack, no idea what route they would plan & take or if the runners in front had gone out fast from the gun.
The draw was made and I got Leg 1. The Internet is great... GPS tracks were inspected, routes discussed and a recce booked in for the Tuesday before the big day. The big question on Leg 1 is whether to summit Tonelagee or to contour. Strong climbing and brave descending could make the summit route quicker, but low growth with a dash of good luck in finding decent tracks would mean contouring could be optimum.
Plan A was to 'contour' and this was recce'd on a lovely bright clear sunny evening. I stumbled onto a nice little trail up a streambed to the Brockagh ridge. A cairn sits nicely in the middle of the saddle below Tonelagee. 20 metres right of the cairn is the optimum descent into the lake. How to get out of the lake was confusing. A steep ramp SSW of the lake or back up to the cairn? Then the contour... a lovely evening meant Turlough Hill made for a very inviting target.
Race Day cometh, cloud, mist and possibly some rain arrive as well. The recce may have familiarised me with the route, but a lack of hiking this year meant that the conditions would be a first for 2014. 09:34 ticked over, Gerry called the obligatory photo. 09:35 and we're off. Chris Dunne and Stuart Scott provided me with some company on our 5 min head start. Stephen Walsh, Paul Buckley, Jim Schofield & Joe Lalor were to play the rabbit. The real targets were Moire O'Sullivan and Meave O'Grady out at the front of the field. Moire was 35 mins ahead and Meave started 45 mins ahead of our trio. With an estimated leg time of 70-85 mins I was not expecting to catch them, but closing the gap was expected of me. The size of the gap to the leaders meant there would be no idle banter on the run out St. Kevin's Way.
Hitting the climb below the abandoned mines I caught sight of my first two runners. Steadily they were reined in before we hit the tarmac. Off the tarmac and 2 more runners come into view. Cloud line is about 650 metres. This was above my target stream, but Tonelagee was well hidden. I hit the stream too low, but coming out the top I sighted a runner to my left. This kept the motivation going. No looking behind, focus stayed firmly on the bowl below the saddle & cairn. Coming out the bowl I shared some encouragement with Jim Schofield. As the ground levelled out I rounded a peat hag, was happy to see the targeted cairn sitting 5 metres away on my left. Minor victories over the conditions always provide a welcome confidence boost.
Heading into the lake a swift shadow flickered on my left. Maike was making her escape from the lake, but the steep ground kept my focus firmly on my feet. A quick dip into Lough Ouler and I headed for the steep ramp to a rocky outcrop at 685 metres. Back onto the ridge and I stumbled onto a trail heading around the mountain. The bad luck of an open shoelace had caused the stumble, but I tried to focus on the good luck of finding the path. The mist was down and the summit route offered a well-worn track, but instead I made for the trail and committed to the contour. The mist meant there is no way of knowing how high or low I was on the mountainside. I did have the bearings written down; run until I contour onto 260 and then turn onto 230. Only problem is they were written on the map in my bag... the inviting descent means I keep going and the bag stayed shut.
Eventually I saw the outline of some trees on my left. The only trees on this side of the Wicklow Gap are 400 to 600 metres east of the car park. Thus they marked time to lose some height. I was picking up random trails at this point to keep the pace as high as possible, but this led to some erratic directions. Eventually the car parks became visible and I could take the direct route. I was hurdling as much as running at this point. The odd glance up to check the direction was still good gave me a glimpse of the bodies emerging from the shelter of their cars. Just as the audience achieved critical mass I clipped a hurdle. Face first I entered the bog. Back on my feet I kept running for the road... a clap of hands and I sent Finbar into the misty abyss. We'd moved from eighth up to third, but this still left us 23 mins behind Ruth Lynam.
Review of the route... the streambed worked well as a handrail, but next time I would think of coming up to the cairn from the lake. Contouring versus summit is a question for the ages.
Leg 2 (Lough Firrib & Three Lakes)-runner Finbar McGurren (Team: Glacier Runners)
Wicklow Gap car park, we're early. Greg is out there doing his thing as we sit and wait patiently. The topic of debate is route choice of course. Over the top or back up to the saddle and contour. Which one is it to be? The summit is covered in mist but the saddle is visible. We wait. Eagle eyed Adrian spots the first runner against the skyline, who is it? They stay very high and contour around to the path. It's an early starter. I manage to pick a body out in the heather, they're moving well. It must be Maeve. A little back we spot another, its Moire chasing hard on a very direct line to the car park. The mist starts to descend further; the saddle is no longer visible. I go over my small carefully trimmed map and bearings for Lough Firrib, the Three Lakes and Avonbeg. Mag's has played her strongest hand with Ruth on leg 2. No margin for error. It's raining now, cold and the wind is blowing hard. Jacket and buff are sourced from the boot of the car. Ruth and Moire are gone and we wait. Greg emerges from the mist; he's easily spotted in a bright yellow t-shirt eating up the ground in front of him. It's no time before we tap hands and I'm off.
The plan is to go out hard all the way up to the quarry taking the two shortcuts on the way. It's a tough climb; the headwind and rain aren't helping... or are they? With no other runners around to use as a reference it's hard to tell. It's pretty wild up at the top and visibility is poor. I slow right down to double check my bearing from the corner of the quarry. Nothing silly, just be patient, trust the compass and the contours on the Harvey's. I wasn't wavering from my bearing for any obstacle the challenging terrain put in front of me. Keep going you still haven't gone far enough, fall, crawl, pick yourself up, scan the surroundings repeat and there it is. I dipped my toe in Lough Firrib but I might as well have jumped in. I ended up saving that for the Three Lakes. Bearing adjusted I set of and after negotiating some more peat hags I actually found some lovely "fast" running ground. I upped the pace determined to claw back every second I could. The head screamed relax, be careful with the nav! I slowed and within a few minutes I spotted the Three Lakes on my right. I almost missed it, I'd been running alongside but failed to notice that the lake and mist looked like they had merged into one, it was impossible to separate the two. Touching the water proved tricky and I ended up submerged above the knees before finally making my exit. Bearing adjusted for Avonbeg I picked it up very easy. I hadn't done a recce so I wasn't sure of the best route to take to the fire road. It was all downhill and I just focused on going fast. I hurdled the river numerous times before finally making the road. I had seen no one on my travels, was I still chasing? Doesn't matter just keep going hard to the end. Gerry pops out from a bush with his camera as I bomb past, "7 minutes down and catching" he shouts. 7 minutes down on who? How many are still ahead? I taught... silly questions just go faster and let Adrian worry about that. The descent was a blast; I crested a small hill before I could see Adrian ready and waiting at the hostel. We tap hands and he's off. Richard tells me I'm ahead of schedule and we're 5 minutes down on the leaders. It's looking good.
Leg 3 (Art's Lough & Kelly's Lough) – runner Adrian Tucker (Glacier Runners)
Finbar's ETA to Glenmalure Hostel for checkpoint 2 was at best, approximately 80 minutes from when he departed Wicklow Gap, possibly 12:05pm. That was, if he managed to stay out of all those bog-holes as he fought his way through the wind, rain, and clouds that covered Lough Firrib and the Three Lakes area. And also, only if he had a perfect glitch free nav.
11.45am and myself and Richard are already in place waiting at the Hostel. We could see from down in the valley, that up toward Conavalla and the Three Lakes it was just totally grey, one could only imagine the carnage that was going on up there.
11.55am and the first runner is spotted coming down the Table Track, someone wearing a blue jacket. That's the only telltale as to whom it might just be. Ruth? Moire? Finbar?.
Nah, Moire was definitely wearing black, it has to be Ruth or Finbar, Or…..
The runner comes around the corner and into view of the checkpoint, it's Ruth.
One minute later she reaches the checkpoint and away Kevin O Riordan goes, map in hand. Word from Ruth is that Moire had passed her somewhere close to Turlough Hill, taking over the lead at that stage, but Moire hasn't arrived here yet – strange!
Ruth's rock solid navigation has paid dividends for their team, they're still comfortably in the lead, as they have been for most of the morning.
12:01pm and ahead of schedule Finbar comes within sight of the Checkpoint. 12:02pm and I'm away. Both Greg and Finbar have blasted their respective legs, and have managed to reduce the 45 minute bonus of the leading team, number 34, down to a mere 5 minutes now. No pressure, but I think I've got to close that gap now.
The start of this leg is a steady uphill run on wide track towards Fraughen Rock Glen. Dipping off the track then, and a small stream crossing leads you to the long haul up about a 200 metre climb toward Art's Lough. As I approach the stream I can spot Kevin well on his way up the hill. I'm guessing that the five minutes lead he had on me at the start of the leg is already reduced to about three.
Steady climbing up along the hill, there's no running here, the ground is too steep and rugged, better to just walk up the natural staircase and conserve energy.
Kevin disappears over the brow of the hill and I'm not too far behind him. Clear views around the lake and I get to dip my foot into it just at the right spot and turn on the jogging switch again. Visibility up the ramp toward Cloghernagh is also quite good, so there's still no need for any serious navigation.
As I climb up along the ramp I'm steadily closing in on Kevin. The debate that's going on in my head is whether I'll keep climbing after we hit the top of the ramp or take a straight line across while staying low on Cloghernagh and contouring around on the far side. Kevin gets to the top of the ramp just 10 metres ahead of me and seems a bit undecided as to which route he's going to go for. If he goes straight I'm definitely going to the right and higher. He goes right, that's it so, my mind is made up, and we're both going climbing higher. A short distance further up and I've passed him by. I plough on in the knowledge that he had been struggling a bit up the first section of the ramp, things can't get any better for him, and now I'm in the lead. There's nothing like that feeling to give you a little bit of an energy boost.
I get to about the 675-metre contour line and set off south to cross the main track that leads to Cloghernagh. The cloud is down now at this level and visibility is poor. Two hikers are on the main track as I cross it in front of them. I'm sure they must wonder??
I have the compass out and stick rigidly with it's pointer even though at times I'm very tempted to drop further down off the hill and ignore where it's telling me to go. There's no sign of Kelly's Lough through the greyness and I eventually reach the expected stream crossing. I know from the boulders around me I've gone a little too far, I readjust my line and then straight in to the Lough – perfect.
Turn around straight out from the Lough and across the stream again. A compass bearing brings me straight along the Carrawaystick brook staying high enough on the left bank away from the marshy ground below in the brook. I'm just below the clouds so visibility is quite good. On reaching the stile/fence crossing, I get an opportunity to glance back along the brook, Kevin is history.
The run down along the zigzags is a blast without a hint of the cramp that put a stop to my gallop here two years ago on this same event.
Cross the river and up onto the 1Km tarmac road section toward checkpoint 3. Reaching the checkpoint at 13:16pm, leg time about 74 minutes, and I hand over to Richard. Quick exchange of info as to the whereabouts of the chasing pack and away Richard goes happy in the knowledge that he doesn't have to chase any team down as was expected, he just needs to keep them all behind him.
Leg 4 (Ballinafunshoge car park to Glendalough Upper and Lower Lakes) – runner Richard Nunan (Glacier Runners)
Recced the start and the finish on Wednesday night kind of reckoned the rest was leg 5 of the WW relay in reverse. Finbar had come in 5 minutes ahead of where we thought he would be, but Ruth also had a blaster of a section 2. Adrian left 5 minutes in pursuit of Kevin Riordan and we looked up into the mist while Finbar described how the clouds and the lakes had become one on leg 2. Stories of mud up to his ass along with being on hands and knees were enough for one to realise that I had got the better deal for sure. We were second into the car park – Mags did stop to give us a cake in advance. You gotta love IMRA here have a cake before we race our asses off against one another on the last leg. So we waited in anticipation of the leg 3 runners to come in. Kevin or Adrian!! Finbar had originally planned to go out on the course but I guess he felt we had enough done at this stage. And he was right as we could see Adrian in the distance moving spritely up the road – as we touched he told me I had plenty of time – and not to worry. Adrian had brought us from 5 minutes behind, to 5 minutes in the lead. I left the Car Park with Mags asking for me to wait at the top. It's a sharp climb of 1.6km out of the car park and you need to run at a good rhythm so as not to blow up. I was glad I had done the recce. I puffed up the climb maintaining a quicker pace than before. Having 3 good legs in front it was no longer about chasing or being chased but actually putting in a descent effort as each of the team had done previously. As I climbed out of the track onto the fireroad there was a runner ahead of me. This ended up being John (Mag's husband) out running ahead of Mags. As I climbed up the "Tunnel of Love" (Mags reference) along the Wicklow way he told me if I walked to the finish now I would win it. Nice to know. Onward I followed the Wicklow way puffing the 3.1km until I hit the boardwalks. From there I knew it wouldn't be long before the Fire road would start.
I pounded down the fireboards, IT bands and quads being put to the test, as I checked the map as I wanted to come off the Wicklow way at some point. I came off the Wicklow way at the correct point but the trail to your right as you round the bend doesn't seem to be there anymore so I ploughed on and had to double check the map to make sure I was coming down the right trail as its no longer the leg 5 route. The right turn is then fresh fire road and more downhill, I was actually hoping for a bit of flat but on we went. I then crossed a bridge and then passed the leg 5 bridge and followed the waterfall down to the crowds.
There were a lot of people crossing the lake towards me – I ran to the Upper Lake, touched the water to the weird looks of people photographing the scenery. Then ran cross the grass to the sound of Italian and Spanish tourists loud voicing one another. Back up on to the green mile path, where you have to duck underneath camera lenses pointing in the direction of the waterfall. As I moved along the path it was incredibly busy. Often 5 abreast strollers, therefore I took the path edge, and in doing so missed my Lower Lake entry point. I ran back touched water, kicking myself, then onward with the Tower in the short distance. Crossing from there I interrupted another set of photographers. Then the hurdling of a dog lead as I crossed the bridge into the cemetery. As I ran up the final big steps, I saw a lens pointing at me, distracted I headed slightly to the left, Greg appeared behind the lens saying wrong way!! Pointed to the right and it was to the exit of the graveyard. Across the bridge to be greeted by my girls as I headed still sprinting toward the finish line!! There was no chase, no mist, very dry, little nav, but severe lack of Mo Farrah signs. I was greeted by Gerry and Dermot holding out the imaginary finish tape!! It was a good time (I clocked 51:07 but some time strava/GPS aint that accurate)
Thats it - Job done, new record set:4hrs 35mins & 45secs.
But not in stone!!
James H Cahill
13 April, 2014
On the basis that a picture tells a thousand words here is a sort of a race report in video format: http://youtu.be/OWxQ2wfymLE
Not sure how to make it live on the site, so you'll have to copy and paste it into your browser.
Gerry Brady
12 April, 2014
Richard Nunan led home his team in first place in a record time of 4:35:45. Greg Byrne had given them a good start with a fast time of 69:15 on leg 1 pulling 22 minutes back on Maeve O'Grady who was with their main contenders. Finbar McGurren started to reel in their main contenders, Ruth Lynam's team, on leg 2 and Adrian Tucker ran well on leg 3 to ensure our President would have the membership following in his footsteps!
A record 23 teams completed the race despite the misty conditions and the elusive Three Lakes.
Overall results
Team, Leg 1, Leg 2, Leg 3, Leg 4, Finish, Start, Race time
13, 01:09:15, 01:18:25, 01:14:01, 00:54:04, 14:10:45, 09:35:00, 04:35:45
34, 01:31:53, 01:35:48, 01:29:34, 01:10:55, 14:38:10, 08:50:00, 05:48:10
15, 01:14:46, 01:26:25, 01:25:20, 01:04:00, 14:50:31, 09:40:00, 05:10:31
21, 01:18:30, 01:32:42, 01:25:45, 01:05:48, 15:02:45, 09:40:00, 05:22:45
10, 01:38:48, 01:35:31, 01:24:14, 00:56:39, 15:05:12, 09:30:00, 05:35:12
19, 01:16:30, 01:26:55, 01:32:42, 01:10:13, 15:06:20, 09:40:00, 05:26:20
6, 01:23:40, 02:08:38, 01:31:32, 01:07:42, 15:11:32, 09:00:00, 06:11:32
35, 01:22:43, 01:26:23, 01:31:29, 01:15:54, 15:16:29, 09:40:00, 05:36:29
12, 01:26:30, 01:49:03, 01:32:43, 01:03:43, 15:26:59, 09:35:00, 05:51:59
30, 01:20:28, 02:05:31, 01:07:21, 01:17:46, 15:31:06, 09:40:00, 05:51:06
25, 01:24:08, 01:27:15, 01:40:39, 01:25:26, 15:37:28, 09:40:00, 05:57:28
31, 01:22:43, 01:35:42, 01:39:11, 01:21:42, 15:39:18, 09:40:00, 05:59:18
20, 01:16:39, 01:49:41, 01:37:12, 01:15:54, 15:39:26, 09:40:00, 05:59:26
7, 01:36:02, 02:05:43, 01:35:29, 01:13:28, 15:40:42, 09:10:00, 06:30:42
27, 01:28:36, 01:40:23, 01:38:37, 01:18:56, 15:46:32, 09:40:00, 06:06:32
26, 01:21:22, 01:33:33, 01:48:47, 01:24:47, 15:48:29, 09:40:00, 06:08:29
22, 01:23:42, 01:29:18, 01:49:58, 01:26:50, 15:49:48, 09:40:00, 06:09:48
11, 01:29:53, 01:52:07, 01:44:46, 01:10:12, 15:51:58, 09:35:00, 06:16:58
18, 01:27:18, 01:41:22, 01:52:45, 01:23:01, 16:04:26, 09:40:00, 06:24:26
29, 01:24:30, 01:55:30, 01:57:27, 01:26:04, 16:23:31, 09:40:00, 06:43:31
2, 01:44:05, 02:06:07, 02:22:05, 01:44:35, 16:26:52, 08:30:00, 07:56:52
24, 01:38:51, 02:00:01, 02:00:50, 01:21:42, 16:41:24, 09:40:00, 07:01:24
5, 01:57:31, 02:42:21, 01:45:30, 01:22:58, 16:48:20, 09:00:00, 07:48:20
Leg 1
Team, Runner, Category, Leg time
13, Greg Byrne, MS, 01:09:15
15, Zoran Skrba, M35, 01:14:46
19, Paul Mahon, M40, 01:16:30
20, Rory Campbell, M40, 01:16:39
21, Adrian Hennessy, MS, 01:18:30
30, Peter Bell, MS, 01:20:28
26, John Ryan Preston, MS, 01:21:22
31, Raghnall O'Donoghue, MS, 01:22:43
35, Tim Charnecki, MS, 01:22:43
6, Moire O'Sullivan, WS, 01:23:40
22, Alan Ayling, MS, 01:23:42
25, Gareth Little, MS, 01:24:08
23, Brian O'Meara, MS, 01:24:30
29, Mike Jordan, MS, 01:24:30
12, Chris Dunne, MS, 01:26:30
32, Sam Scriven, MS, 01:26:55
18, Michael Heatly, M40, 01:27:18
27, Laurence Colleran, MS, 01:28:36
11, Stuart Scott, MS, 01:29:53
34, Maeve O'Grady, WS, 01:31:53
7, Joe Lalor, M60, 01:36:02
10, Stephen Walsh, M50, 01:38:48
24, Feidhlimidh Wrafter, MS, 01:38:51
2, James Cahill, M40, 01:44:05
8, Jim Schofield, M50, 01:49:30
16, Fergie Mohan, M40, 01:52:01
5, Maike Jurgens, WS, 01:57:31
9, Paul Buckley, M50, 02:00:40
Leg 2
Team, Runner, Category, Leg time
13, Finbar McGurren, MS, 01:18:25
35, Tim Charnecki, MS, 01:26:23
15, Zoran Skrba, M35, 01:26:25
19, Paul Mahon, M40, 01:26:55
25, Gareth Little, MS, 01:27:15
22, Alan Ayling, MS, 01:29:18
21, Adrian Hennessy, MS, 01:32:42
26, John Ryan Preston, MS, 01:33:33
10, Colin Walsh, M40, 01:35:31
31, Raghnall O'Donoghue, MS, 01:35:42
34, Ruth Lynam, W60, 01:35:48
27, Laurence Colleran, MS, 01:40:23
18, Michael Heatly, M40, 01:41:22
12, Stephen Brennan, M50, 01:49:03
20, Rory Campbell, M40, 01:49:41
11, Martin McCarthy, MS, 01:52:07
29, Mike Jordan, MS, 01:55:30
24, Henrik Pettersson, MS, 02:00:01
30, Brian Fennessy, MS, 02:05:31
7, Eoin Syron, MS, 02:05:43
2, James Cahill, M40, 02:06:07
6, Moire O'Sullivan, WS, 02:08:38
16, Fergie Mohan, M40, 02:23:19
23, Brian O'Meara, MS, 02:30:30
9, Stephen Bailie, M40, 02:37:08
5, Rachel Cinnsealach, WS, 02:42:21
Leg 3
Team, Runner, Category, Leg time
30, John Bell, MS, 01:07:21
13, Adrian Tucker, M50, 01:14:01
10, Frank Brazil, M50, 01:24:14
15, Zoran Skrba, M35, 01:25:20
21, Adrian Hennessy, MS, 01:25:45
34, Kevin O'Riordan, MS, 01:29:34
35, Tim Charnecki, MS, 01:31:29
6, Moire O'Sullivan, WS, 01:31:32
19, Paul Mahon, M40, 01:32:42
12, Paul Daly, M40, 01:32:43
7, Joe Lalor, M60, 01:35:29
20, Rory Campbell, M40, 01:37:12
27, Laurence Colleran, MS, 01:38:37
31, Raghnall O'Donoghue, MS, 01:39:11
25, Gareth Little, MS, 01:40:39
11, Stuart Scott, MS, 01:44:46
5, Daniela Boehm, WS, 01:45:30
26, John Ryan Preston, MS, 01:48:47
22, Alan Ayling, MS, 01:49:58
18, Michael Heatly, M40, 01:52:45
29, Mike Jordan, MS, 01:57:27
24, Shay Foody, MS, 02:00:50
2, James Cahill, M40, 02:22:05
Leg 4
Team, Runner, Category, Leg time
13, Richard Nunan, M40, 00:54:04
10, Derek Walsh, M40, 00:56:39
12, Juju Jay, MS, 01:03:43
15, Zoran Skrba, M35, 01:04:00
21, Adrian Hennessy, MS, 01:05:48
6, Moire O'Sullivan, WS, 01:07:42
11, James Curran, M50, 01:10:12
19, Paul Mahon, M40, 01:10:13
34, Mags Greenan, W50, 01:10:55
7, Eoin Syron, MS, 01:13:28
20, Rory Campbell, M40, 01:15:54
35, Tim Charnecki, MS, 01:15:54
30, Brian Kehoe, MS, 01:17:46
27, Laurence Colleran, MS, 01:18:56
24, Feidhlimidh Wrafter, MS, 01:21:42
31, Raghnall O'Donoghue, MS, 01:21:42
5, Joyce Carey, WS, 01:22:58
18, Michael Heatly, M40, 01:23:01
26, John Ryan Preston, MS, 01:24:47
25, Gareth Little, MS, 01:25:26
29, Mike Jordan, MS, 01:26:04
22, Alan Ayling, MS, 01:26:50
2, James Cahill, M40, 01:44:35