Wicklow Way Relay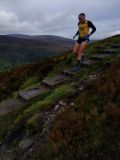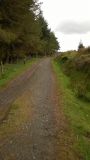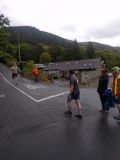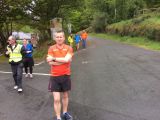 Authors
RUNNERS WORD HOLLAND ARTICLE
11 May, 2018 - Jason Kehoe
Translation from Runners World Holland who sent a reporter to cover the 2017 event.
Author: Wiep Idzenga
Translated: Google and interpreted by Jason Kehoe
**************************************************************
A relay trail run of eight stages over 100 kilometres through 'the garden of Ireland', that is the Wicklow Way Relay. The swagger with which the Irish rebels come from these mountains fought the British, lives on in the free character of the contest and the mutual humour of the Attendees. "Yeah, just take it easy, it's only a race."
It is about ten o'clock on Saturday morning. At the change point at the bottom of Djouce Mountain (727 meters) panic arose in the team from 'The Gap Trail Runners'. According to the schedule it would be their second runner of the day, Andy Stafford, already at least twenty minutes outside the schedule. Emily O'Conner has her warm-up ceased. She now nervously flips back and forth between the point where the runners from other teams and the fence where she will relieve her teammate in this rugged relay run of some 100 kilometres and 3500 altitude meters. Where is Andy? Is he lost? Injured?
Even worse? The moment they search for a telephone signal Emily wants to put on her long pants and jacket again, there is a scream. "There he is!".
Here, at Lough Tay, an hour's drive from Dublin, the view is spectacular. Rounded peaks with heathland that merge and flow into each other. In between the troughs formed by glaciers many shades of green and the sharp yellow of the gambling thorn. Pine forests around Lough Tay, the lake that just like a lot of land around, it is owned by the beer brewing family Guinness. Andy has no eye for all that beauty. He concern is located on the narrow and stretched railway sleepers who raised it over the muddy peat bog to form a path. Despite a torn eyebrow, two knees torn open and a right leg where he barely can stand, he tries to get down as fast as possible.
He does not want his seven teammates to fail today to get a good result in the sixteenth edition of the Wicklow Way Relay. Hopping, half stumbling, he finally reaches Emily according to the rules of this relay with a handkerchief on the wound. 'What a man, what a man" someone says. It is a compliment. Andy's torture is coming to an end. On his leg, a piece of 15 kilometres with more than 600 vertical meters through the woods, along the lakes and over the tops of the Wicklow Mountains, he crashed after a quarter of an hour on a path with rock boulders.
"Stupid, stupid, fecking stupid," the Irishman shouts with his pony-tail and savage beard. Made of wiped wipes, water and he does not want to know anything else. He, mountain man and nature man, who tried as much as possible to avoid running on asphalt, just needed to better look out from under his cap.
Someone asks if he thought of giving up, Andy or he looks like a Marmot, sees a violin playing. Cursing, he shakes his head. He is disappointed by the loss of time; the pain in the head and legs does not interest him. He is not the only one. The man who came in something like more than an hour earlier was the fastest runner (Des Kennedy), did so with his left forearm in plaster. There is no one today whining about the strong wind, the pouring rain with which the day began, or the thorns that scratch deep in the legs.
IRISH HUMOR
Not far from the spot where Andy massaged his aching leg is a small memorial against a boulder. 'To the memory of J.B. Malone, pioneer of the Wicklow Way" it says on a semicircle of stone. The Irish army cartographer was an avid walker. He called the Wicklow Mountains, 'the garden of Ireland' - unlike many Irish landscapes, not rocky and bare, but full of bushes and trees. Hamlets with coloured houses carry names like Coolboy, Ballinaclash, Knockananna and Woodenbridge. Malone discovered one long zipper like path of amazing hiking trails that he add up to 127 kilometers merged and promoted as the Wicklow Way. Years later, someone thought that distance was fine too to form a path. It became a relay race for teams and at the same time a fundraiser for Irish junior mountain runners on foreign trips. For parking problems on the narrow roads they avoid a number of points, and it remains a small-scale event with a maximum of 30-35 teams. The route has recently become a reality as a solo event once a year, as an ultramarathon.
In the car on the way to the end of leg 3, says Pól Ó Murchú, the president of the Irish Mountain Running Association (IMRA), that he because part of the group feeling this event actually looks better. 'Running is lonely. Today you see that everyone bites through the pain, harder than they run normally. Healthy group pressure. You want your team to not be disappointed. That's why the injured ran Andy through. He had to and would finish. "Normally Pól also participates with his own team, 'All The President's Men', but after a fall with the mountain bike he can barely walk. Later with his leg hobbling along past waiting participants, he hears that one man is not made to sit on a bicycle. Pól smiles, but if he was one of them later that day by car passes, he calls through the window 'wanna lift?' and gives smiling gas.
The Wicklow Way Relay is for some teams one hard, competitive race, but this is Ireland. There is always space for craic, the talent that many Irish possess to everything from the cheerful side. Not surprisingly, craic acts weather. Take the edition of a few years ago, for example imagine, when due to the severe heat runners disoriented turned up staggering from dehydration on farms and dived in the river along the way. That morning at 7 o'clock one starting runner, while it poured rain, that it'll be 'a grand day between the showers'.
Craic is also friends until just before the point that it becomes offensive, hoping for one smart rebuttal. 'Keep in your fat ass,' says a car driver against his skinny teammate if he is on a close path at a switch point and wants to pass. 'Buy a car that does not compensate for anything, 'he gets back.
On the way we see runners after a diversion around a felled piece of forest left the asphalt, a farm lane on that they have to share with sheep. Then the path quickly runs steeply up through a next forest, past a waterfall. It's alright along rivers and through stretches of moorland. A hill in the distance in the clouds. There is no meter flat. The field, after three and a half hour of running is already completely disintegrated. Runners are especially on the lookout along on the route marked; there are black poles with a pictured yellow man with a backpack and walking stick.
The runners are lucky that the fog of the past days has gone and the rain has stopped. Also with it romantic grazing light that now shines on the hills, it is the speed and the effort difficult enough the right follow path. After three legs the race seemed to have a time difference of many minutes already struggled, but there are already teams lost more than twenty minutes on the road to get lost. That can happen to the others. The runner-up from last year, team Rathfarnham AC, runs through a big detour with their second runner now in ninth place. The man who went wrong has gone home disappointed and returns that day no longer back. That is unusual with the Wicklow Way Relay. Team members take each other off and pick each other up at the next switch, encourage and take care of food and drink. Sometimes, after their own course, they arrange the times or record the transit times.
WHAT RULES
At Glendalough, 'valley of the two lakes', pass the runners remnants of a monastic order from the sixth century: one round tower, a gate, crumbled churches and a catholic drail. They are one of the oldest Christian relics in Europe. After almost 50 kilometres with thorns, loose stones, gusts, rain, soggy surface and roomy 1600 altitude meters, the participants come here new obstacles against: selfie sticks, cameras and large bags. The Saturday morning and the monastery is full of tourists.
Andrew Hanney (43), IT Director at a large bank, is coming, there is a loud call for him to make way through it the crowd. The born Northern Dubliner with his red beard even fulminates against unsuspecting holiday gangsters who move neatly next to the path. It will be the benign team captain of The Kilcoolers, from the nearby Kilcoole, not charged. It is his and their first participation. Weeks training and preparation must to come out right now. Hanney, who has been running for three years, has the terrain and distances in detail studied. He and his team members have several weekends in the Wicklow Mountains spent to explore the various pieces needed. The organization recommends such a recce (reconnaissance, military reconnaissance) strongly- you have to run it before you race it. You can get lost in bad weather and it can be dangerous. Moreover, everyone recalls the team from Cork that lost so much time when in a well winning position looking for the right path that it is with difficulty and ended fourth. With all information from the exploratory tours and the abilities of being teammates laid Kilcoolers team-captain Hanney the logistical puzzle.
The cars and the right people on the right place, not too early but also certainly not too late. If Hanney during his own run a little later his lungs slightly back in his chest and has in a nice cadence looks over the Lower Lake from Glendalough he knows that his experienced brother Mick has not exaggerated: the Wicklow Way Relay is addictive. Andy Stafford does not have the blood on his knees yet his face swept when he talks to Glendalough finished teammate. It is more than three hours after his fall despite a vague smile he is still not with himself the clean. "How could I be so fecking stupid?" He gets a slap on the shoulder from a marshall that checks afterwards whether a departing participant does have a rain jacket with him. It's after a case of hypothermia in the past one of the few obligations imposed by the organization. To go further it is very Irish. There are some rules - two women and one master (40+) in a team of eight for example - 'but, basically you can do whatever you want, 'says IMRA president Pól Ó Murchú. 'We assume a certain degree of honesty.' There are no checkpoints and no one carries a chip. Just call out the number of your team upon entry to the handover. It becomes a laugh, as they switch, the departing runner tells the finish man that the keys are in the tracksuit top and that in it the car is still enough food to eat: "Do not hold back." the incoming man shouts.
KNEUZENHELDEN
In Drumgoff, where Leg 5 turns into Leg 6, Pól Ó Murchú points to a skinny man who is at a crossroads doing traffic marshalling. That's Paul Mahon, the guy who brought multi-sports to Ireland. He should be shot." Mahon laughs and does a dance. The former engineer saw many in England (combined) endurance sports events and wondered why so little was organized in Ireland. The answer could be 'The Troubles'. Although it ethnic-nationalist conflict mainly occurred in Northern Ireland it also regularly regulated the Republic of Ireland with violent outbursts. It was in the seventies and racing is not recommended in a short pants and a shirt over the military roads and the hills to run. The battle between the nationalists and loyalists delayed development of endurance sports in Ireland. In Drumgoff, at the end of the Glenmalure valley against the English in the 16th century Irish rebels fought, shows how small and the shelf of long-distance runners. We know us. Lillian Deegan was the first woman to run the Wild Atlantic Way (2700) kilometres along the Irish west coast). She did it in 47 days. Back injured from the Marathon des Sables Morocco - 'I hate the sand, love the green hills' - today she is a handover marshal.
The Irish marathon runner (2.36) and winner of the European Championships in 2012 Linda Byrne runs today the last 10 kilometres before Hurt Squad. She is on her leg not even the fastest, Laura Shaughnessy defeats her 36.57, and at the same time defeats all other men and women. Most athletes also try to follow Jason Dowling, a former participant and ultra-runner who just ran the Wicklow Round today solo. He has a 24-hour time to all 26 hill peaks in this area, more than 100 kilometres with 6,000 vertical meters. In Drumgoff he crosses the Wicklow Way Relay.
There are encouraging words from experiential experts Ó'Murchú and Kilcooler Liam Vines. They already walked around the round in time. All encouragements come for Dowling too late. It has been beautiful, un-Irish weather for two weeks, but just tonight, at the start of his attempt at the 24th to be the one that completes the round within the time, all hell broke loose. Squalls and torrents almost blew Dowling from the start. He got lost regularly and is already lying far behind schedule. Ten kilometres later, he will give up the battle. Now he fiercely fires the waste from his pockets to the floor of his father's van. Dowling crammed bananas inwards, spoon cups of yogurt empty and sets a new world record of using f-words. "I'm fucking hoping that from fucking now on the fucking wind is fucking at me back." He is not a stranger to swear words. If Jason asks Dowling sr. 'What time it is', he answers that: 'It's fucking time to go.'
If Dowling has left again, there is hilarity at the waiting athletes in Drumgoff. Cedric Martin, a Frenchman who has sunk in Fast Fingers, the team of his Croatian girlfriend, is much faster than expected. (Please note the two are not the only foreigners, there are also one in Ireland living and working Malian.) Martin comes down the hill rushing around the corner towards the next runner who is not ready yet. A moment later he rolls out of a car and still has to change into his running clothes, there is a lot of comment. 'Yeah, just take it easy, it's only a race,' is the mildest variant.
Ten minutes later, it is also in the same place cheerfulness at the traditional mass start. The first team has already passed over two hours earlier as the sixth runners of the teams of which the fifth runner is not yet inside can also start. In the past, some people sometimes finished teams in the dark, when the rest was already home. In a few other competitions would be these runners at the restart Crashes are seen at the Wicklow Way Relay they are welcomed as heroes. One of the applauding spectators is the now dressed and blood-stunned Andy.
He must be there now on his second pint or bear for the ground. Three hours later at the award ceremony at a pub in Shillelagh all tables are full of big glasses of stout and lager. Guinness is good for you, even after a long trail run. The last runner from winner Trinity Track Racers is already more than two hours inside the next team, the team finished with an average of exactly 14 kilometres per hour. On the entire women's team 'Agony or Defeet' it is another hour and waiting for 45 minutes.
Which they have ended up in the back of the field, but they do not mind. The weeks of preparation have been fantastic for their friendship and 'oh my, god' it's the Wicklow Mountains that keep them going.
In addition, one of them remarks they are the only team that has not gone wrong is. 'So, what about "women can read maps"? Sláinte! "
The Kilcoolers- part 1
20 May, 2017 - Andrew Hanney
A Wicklow Way Adventure - The Kilcoolers
I don't even know how it happened really, but somehow I got landed with the task of putting together the first Kilcoole AC team to enter the prestigious IMRA Wicklow Way Relay. I'd been listening to stories over the years from my brother Mick and other IMRA buddies about how great a race it was, so it seemed like a natural next step to me as I'd done quite a few of the shorter races by now.
So, I just needed 7 more willing participants – I already had Liam Vines, who suggested the idea on the club forum and then disappeared. I had Mark Byrne, Mark had been one of my first victims of IMRAisation (the process of converting road runners to hill runners to the extent they wonder why they ever ran roads). Mark is a good friend of mine and was a huge help in putting things together on the day. As days passed, lots more people jumped on the idea, some people I didn't really know but would get to become life-long friends as weeks progressed, frantic messages arrived on my phone, sleepless nights had, but all culminating in what would be one of the best days ever. In the end we had Ian O'Donnell, John Baugh, Sandra Pegman, Susan Lawless, myself, Mark Byrne, Liam Vines and Maria Messitt. Due to injury John was replaced by Lydia, then two days before the race Lydia gets injured... panic sets in, how will I get somebody who knows leg 2 at this stage? I turned to sub number 2 Brian Gurrin …I texted Brian if he was doing anything Saturday, two minutes later the answer was 'it looks like I'll be running leg 2 of the Wicklow way'… legend!
I took the task of organising the legs quite seriously, I put together a spreadsheet of legs, runners, estimated times…. But then came transport... I mean how do you bring and collect people to and from 8 relays legs from Dublin to Wexford? I stared at the sheet for a while and turned to Mark for the answer… less is more, less cars with more people was obviously the way to do it. From that point on everything went like clockwork. As one kind message from my team mate said afterwards, all they had to do was run.
Finally the day arrived. Mark Byrne kindly drove Ian and Brian to Legs 1 and 2 despite being tasked with running leg 7 much later on. I got the message at 7am from Mark that we were underway.
I had set each runner an approximate time, and from the start Ian ran a determined race and finished ahead of his time, setting a trend which continued for the whole day… it was the best start possible.
Race Leg Reports.
Leg 1: Ian O'Donnell
Why would anyone want to stand in the rain in the freezing cold at 6:30 a.m. on a Saturday waiting to run up some very steep hills? That question certainly crossed my mind when I was waiting in Kilmashogue Woods for the Wicklow Way Relay to get underway.
As the first member of the first Kilcoole AC team to participate in this event I was delighted but also a little apprehensive. The quality of the field did nothing to settle my nerves!
As I was warming up I chatted with a Cork athlete who had completed the first leg last year in 1:12. My target time was between 1:10 and 1:15 so I thought that if I could keep him in sight this would work to my advantage.
We set off, bang on time, under the watchful eye of the IMRA organisers and a journalist from Runner's World (Dutch edition) who was reporting on the event.
Having done a recce of the route a couple of weeks previously with Mark Byrne I had an idea what to expect but there is quite a difference between a leisurely jog (which included time to get lost and wander back on track!) and a race where the pack took off at a pace more fitting for a road race.
Within a kilometre or two I was on my own but there were always runners visible ahead of me. As so much of the first section of this run is uphill I had no time to enjoy the scenery and struggled to get a decent rhythm going. Having not done much mountain running this was always going to be a challenge. I had decided that I would keep running no matter how slowly rather than walking any of the uphill sections and I persevered with this. When we came down off the hill and onto the road at Glencullen I was feeling better and began to stride it out a bit. Then it was uphill again, though on a perfect surface of forest trail and I was beginning to appreciate the natural beauty around me.
The final piece of the first stage is downhill although a bit technical in places. Aware that Brian Gurrin was waiting to take off I accelerated as much as possible and completed the stage in 1:13, just behind the Cork man I met at the start.  Not even breakfast time and the job was done. I cannot think of a better way to begin the weekend!
Leg 2: Brian Gurrin
I wasn't really sure what to expect from my first hill-running race. I had put my name down as second substitute for The Kilcoolers. I reckoned I was pretty safe as second sub. Like; what were the chances of two team members having to pull out? A fortnight before the race we had our first dropout, so sub no. 1 (Lydia) was drafted in. At the last training session before the race the team had a final strategy meeting. So confident was I that I was in the clear for Saturday that I stood aside chatting while they hammered out the logistics involved in conquering the Wicklow Way. I regretted that casual approach when with less than 36 hours to go I got the text asking me what I was doing on Saturday morning since Lydia had been forced out with injury.
I'm from the north side of Dublin; and us Northsiders don't do 'rural'. Sure; I watched The Riordans and Glenroe when I was a young fella; but more out of curiosity than interest. Where I came from, 'rural' is for the holidays. And anyway, if God had meant us to run in the countryside then why did he invent tarmacadam? And why run up and down hills when flat and straight is quicker.
But sure; running is running, isn't it? And it can't be that difficult, can it? Hill running must be just as much a case of one foot in front of the other as road running is? My responsibility on the day was to get myself from Curtlestown (wherever that is?) to Lough Tay in as short a time as possible. Though coming late to the party I was pretty impressed with the organisation that had already been undertaken. Our team captain (Andrew) had prepared and circulated a schedule with ETD times for all of our runners, and on Friday morning the final touches were being made to the transport plan. I had little to do but to examine the printout that I had been given showing me the profile for Leg 2.
Oh God. What's that big monster of a mountain in the way? It's got to be a computer glitch. I've practiced marathon training on hills. A quick nip over Windgates or a blast around Altidore. 100 metres – even 200 metres – of elevation is no bother. But Leg 2 is crazy. 600 metres plus of elevation over 14 kms. That's like a vertical wall to me; nosebleed territory. Maybe it's time to feign injury…
Saturday morning. Alarm set for 5 am; eyes wide open at 4 am. Up and nose around the house. Deal with some pre-race necessitates and then hammer into a bowl of porridge. Another check of the elevation profile – maybe I'm looking at the printout upside down??? Into the car at 5:50 and drive to our Leg 1 runner's house where we meet with Mark, our coordinator of transport, and off we set for Kilmashogue, arriving with 30 minutes to go. Raining steadily up there, so sheltered under the trees, and then some quick photos of the off; back in the car and chauffeured to Curtlestown (wherever that is?). According to the team schedule Ian, our leg 1 runner, was due to arrive at Curtlestown (wherever that is?) at 8:15. Since I didn't know anything about the route Mark drove down a side road, parked the car and we jogged down a trail, at the end of which he showed me a path through Lackan Wood. He saved the day there; if he hadn't done that I would have gone wrong early on. So at least I knew enough to get me to about 2k in. His other bit of advice – if you don't see a black post with a little yellow man on it every 5 minutes or so then you're gone wrong, so turn back – was sure to get me the rest of the way to Lough Tay.
7:57 and the first runner is home and leg 2 is under way. Over the next few minutes a few more power home and tag off their leg 2 runners. We expect to be under way at 8:15 and sure enough Ian flies around the corner about 2 minutes ahead of schedule – tags me, and off I go. Legend Ian; well done there!
I start off about 10 seconds behind a runner. He's a pretty pacey guy, good running form. I catch up with him on the way down to the turn that Mark showed me and give him a holler. We're climbing at this stage and there's another runner a bit ahead of me again. He led the way through Lackan Wood but I drifted past him on the steep drop down to Glencree River. At the River we swung east and with no runners in front of me I had to keep a check on the two runners behind to make sure they were following. I reckoned that if they coming after me either they were lost, too, or I was on the right track.
The bridge over the Glencree River – 4k in – marked the end of the easy running. Now we faced into 8k of climbing. I can't remember a great deal about that 8k. Hallucinations must have set in, I think. I do remember a steep ascent over loose rocks with a runner taking a walking break there. We were running tight on a trail at the back of Powerscourt Waterfall, so wits had to be kept to ensure ankles were safe. This was tight running, and I was looking forward to getting to Djouce for two reasons. 1 – it was nearer the end; 2 – at least there was a chance that I might see some runners up ahead of me. And so it was; when we approached Djouce I could see a string of maybe 3 or 4 runners spread out along the trail. Had a quick few words of encouragement for a runner from Cork who was making good progress out of a valley at some stage in the route. From about 9k – 12k there were a few runners ahead of me and I set myself the target of catching them. This was really tough climbing, though. I've never tackled a climb as sustained as this. At one stage I was tempted to walk but I kept ploughing on, albeit slowly, painfully and with decreasing velocity, until finally the track flattened out, before it plunged downwards, for a fast decent towards Lough Tay. Up on to the boardwalk with a raging wind coming from my left, so strong that a couple of times I was nearly hurled off it, into the bog. I'm not great on uphills, but am reasonable on downhills, and with runners tiring after the Djouce experience I managed to squeeze past a few more on the fast decent. And so to Lough Tay, a few seconds inside my target time. Great support from the team there as I tried – unsuccessfully – over the last 400 metres to catch up with one final runner who was powering home. I tagged off Sandra, our 3rd runner, then we all barrelled into cars for a quick nip to Oldbridge and more fun, games and merriment on a memorable day in the hills.
Leg 3: Sandra Pegman
Leg 3 of the Wicklow Relay Race was from the upper car park at Lough Tay along the Wicklow Way to Old Bridge and measures roughly 8 Km.  As the leg is mostly downhill and well sign posted, it was deemed the best leg for me to try as I would get lost in a downstairs loo and have no sense of direction - I got lost on 2 of the recce runs.
The weather on the day was forecast to be quite rainy but the sun shone beautifully that morning.  After a quick tinkle in the forest amongst the nettles chatting to the midges, I waited for the speedy marathon man himself - Brian Gurrin - a vision in red shorts, a red cap and donning his KAC singlet to come over the hill by the JB Memorial and tag me for the start of my leg.  Brian made fantastic time on his leg and finished to cheers from his KAC colleagues.  We were 13th position overall when I started my run, posing for the odd photo along the way.  The initial part of the run was over a fire road and down through a forested area on a steep and slippery board walk stairs.  My run took me past Lough Tay with views of the Roundwood Reservoir and Lough Dan.  The scenery was spectacular and amazingly I ran the race pretty much alone.
I left everything out on the course that day and finished the 8km in 43 minutes which I was really delighted over.  I handed over to the fantastic Susan Lawless who set off on her leg like a bat out of hell.
The day itself was only EPIC.  It was amazing to be part of such a wonderful team.  A big thank you to The BossMan for his supreme organisational skills, my chauffeurs on the day, Maria and Susan for sharing their food with me when I forgot mine and my fellow team mates.  You are all EPIC!
Leg 4: Susan Lawless
Leg 4 of the Wicklow Way Relay was my first ever IMRA run. Having recce'd the course a few weeks earlier, under strict instructions from our fantastic team captain, my quads didn't know what hit them and I quickly realized I was taking on quite a challenge. MY leg didn't get off to the best of starts as I had only started my warm up when my speedy teammate came in so I had to quickly get myself together. After giving out to myself for a while I decided to focus on getting to the end knowing that my teammates were waiting. Besides one heart attack moment half way through when I thought I'd gone wrong I enjoyed the course and was very relieved to hand over to the 'Boss' and emotional to have been part of the first ever team from Kilcoole AC to take part in this wonderful event. A massive heartfelt thanks to all the organisers and stewards and a huge well done to my team mates and fellow competitors. Might make a 'mountain goat' yet....
Leg 5: Andrew Hanney (team captain)
I always aspire to running around Glendalough, so I was always taking this leg. It's not technical, except for a staircase made of boulders, but it's a straightforward slog uphill for 7km and then you get the reward of a flowing downhill. I had done my homework and made two recces of the course, an easy recce to know the way, then a second one to try run the whole climb which we did… this was important as on the day itself I never had any thought about slowing to a walk.
At 11:07 I was waiting at the handover point not too far from the visitors centre, Maria and Sandra had stationed themselves at the bridge to give a shout when they saw Susan. Susan sprints into view, I knew that she had done another excellent time, so far all of my runners were ahead of schedule… everybody seems to be cheering, as Susan runs in I get under way.
I tear off down the visitor walkway towards the upper lake, the plan to take it easy goes out the window, all of team are ahead and I am not letting them down today. As its 11am on a Saturday morning, the place is jammed, everyone is walking with selfie sticks, taking photos of a rock etc.., bet they didn't expect to have somebody screaming at them to make way! I was shouting at everyone to make way even people who weren't in the way, they got it too. I got to the steps and stuck to the program, ran the first two levels, but then marched up the rest. This place is jammed with students gawking at the waterfall, thankfully they decided it was better move aside as I approached. Up off the steps and back to running, I know this climb, I actually like it, as I start up the ramp, I catch sight of a girl a few hundred metres ahead and I see a guy in a yellow jacket about 30 seconds after me. I decide not to focus on this, but keep to my own plan. I'd mentally broken this climb into three parts, and picked each section one off. As I approached the top it was raining quite a bit and the wind had picked up, I have memories of punching the air and shouting bring it on… Some walkers came around the bend, they must have been confused and slightly worried to see a guy in a singlet punching the air and roaring in the middle of nowhere
As I suspected my road runners didn't stick too well on the wet boardwalk, so I slowed down a bit to stay upright, similarly on the wet messy boulder steps I had little grip, yellow jacket guy passed me out here thanks to his trusty trail shoes, however then I spot the girl who had been ahead of me having a hard time on the steps, so I quicken my pace to get down as fast as I can, I need to pass her before we get on the fire road, and I do. She tells me she is from Le Cheile. I tell her I'll probably see her again. Then I'm on the fast section, the next few kms are down down down down, with a few slight sneaky climbs, but you can basically go as fast as you can here. The thought in my head now is the team waiting for me, I need to get there. A quick check of the watch…I'm even surprising myself. The rain is still driving down, but I'm loving this section, there is nothing to think about, just keep those legs turning. I finally hear the river and back onto the road. I see three of my team mates waiting on the road, I can smile and punch the air, I see Liam Vines, the mountainy man waiting for me and I send him on his way. Estimated leg time 1:20, actual time 1:14:55.
Leg 6: Liam Vines.
It had been 7 weeks since I had run …damn foot!!! 
I was the one who threw the idea of chasing the little yellow man across Wicklow out there and Andy had grabbed it like a dog grabbing a bone and now it was time to run. 
I hadn't been worried until I got to Glendalough and heard everybody was running their socks off now I was going to have to put the effort in.
We were miles ahead of the mass start so off down the road I went all on my own. I had hoped to run all the way to the new sleepers but I am afraid my legs got the better of me and ended up power walking on a few occasions while I tried to get my lungs back into my chest.  It's much easier to keep running when you come out onto the road. Nothing to do with it being road! No more to do with the fact that your team mates might see you walking. So it was a jog all the way to the top then drop the hammer on the downhill and to my surprise my legs wanted to go fast.
Back onto forest road and the last bit of up it was good to be back running. Didn't fully commit on the downhill to the hut but as soon as I got back on fire road it was flat out to the finish even the last tricky bit where the heels were burning off of me them socks went straight in the bin.
Hand over to Mark and I was finished thank god it wasn't the full WW.
It had been a while since I had raced for Kilcoole AC hopefully more to come very soon.
Leg 7: Mark Byrne
It's just over a year ago since our awesome captain Andy Hanney introduced me to IMRA running and I can honestly say that I fell in love with them. So when the challenge of the WWR was put to me, I responded straight away. Having a chance to experience this race with my club mates was too hard to resist. After the team was finalized we were allocated which race leg we would be doing and as Andy is my good friend, he decided to give me the longest and loneliest one (leg 7) thanks mate.
Andy gave us strict instruction that being part of his team, required that everyone must recce our leg to have an idea of the course and get an approximate time that it might take on race day. Andy's big brother (Mick) kindly offered to bring me out on my recce and I must say that it was invaluable on the day. Big thanks to Mick for giving up his time.
So my challenge on the day started with an alarm call at 5.20am to transport our leg 1 (Ian) and leg 2 (Brian) runners to their starting points. Early start given I wasn't running until later that afternoon. As Brian was only drafted in as sub on the Thursday evening and didn't get a chance to recce his leg, I felt it was only fair to him that he was showed the trickier part of his route before he started as many a runner go off course at this section. At 7.00am in the wet and cold, we say Ian start with the rest of the WWR runners, from there we hopped from leg finish to leg finish until we came to the start of my leg (Ironbridge). With each team member running faster than their predicted times, the pressure was on to uphold this trend.
 After doing the recce with Mick a few weeks previously I knew what was ahead of me for most parts. The first km, not being so difficult but this being followed by 3km constant climbing. It took a lot of mental strength to keep running this section and not to walk a bit but I just thought about how the rest of my teammates came across their challenges during their legs and overcame them. No walking at this point for me so! After getting to the top of this section I knew I had a couple of km downhill with fairly runnable ground so I gave it a bit of a lash. It's always nice to let the legs go on sections like this. I also needed to remind myself a couple of times that I was running a half marathon so couldn't go too mad. I decided to run up and down the hills as best I could and when on the road sections kept my running at hm pace, so not to blow up before the finish.  
It was about 8/9km in that I realized that I hadn't seen a runner in front or behind me the whole time since the start. Racing over this distance completely alone and trying to keep myself disciplined was really difficult and it was one aspect of the race I hadn't thought about. But on I went with only sheep and the odd horse being the only living creatures around and a fecken dog that frightened the crap out of me. At least he was behind a fence so couldn't get out, thank god!!! After a few more kms on the road I came to the next hilly off road section which was tough given that there were many stiles and gates to climb over, though I was glad of the breather I was getting when climbing over them. I must get hurdle lessons before next year's race as I reckon I could shave off a few minutes of my time if I could jump those. I knew from the recce that once I came to the 17km mark I had 3km of downhill to contend with before the beloved laneway of hell. 
After finishing the downhill section and hitting the 20km mark I cross the bridge and on to the main road, the legs feeling very heavy now, not good knowing that laneway was ahead. I could hear people on the laneway but around every corner, seemed to be another bloody corner. God where is the finish !!! At last I see a group of runners waiting for their own team members to arrive and then suddenly I see Andy waiting with camera in hand to get the best photos of me struggling up the hill. I just keep telling myself to lift those knees. At the top I handed over to Maria for the final leg of the WWR.
So after many hugs and pats on the back from my teammates and fellow runners off we went in the cars to catch Maria finish The Kilcoolers brilliant journey together. It was my first WWR but it was truly an amazing race and I'll be back next year.
Leg 8: Maria (The Easy leg) Messitt
My first race report ever.........
Oh what a day..... It's been a long held wish of mine, to belong to a team and enter the WW Relay event. So my stars have lined up, been back training with my childhood athletic club Kilcoole AC for a few months. Luckily Andy Hanney, fellow club member and new best friend forever, has an even greater passion for the Mountain Racing sport and drives the formation and organisation of 'The Kilcoolers' (my Team )
Up at cock crow , collect Susan and Sandra and the craic starts. Sandra has her race face on, I know it, we all know that face, I forget completely that it'll be me eventually today and surrender to my spectator/supporter/transporter role for the entire day. BEST DAY EVER
I am so so impressed with our team. Brian came in looking like an elite (5th overall) his finish was super exciting and made Kilcoole AC super proud. I was squealing, I'm not gonna lie. Sandra was impervious to my excitement and remained focussed, heading off in a controlled manner..... impressed. We fly down to leg 4, Susan warms up, gorgeous Lydia has brought us coffee and choco biscuits, Susan heads off to warm up and put on her race face after calculating that Sandra will arrive in 10 minutes..... Sandra arrives in 1 min..... Susan's face is etched in my brain for eternity. We are well pleased with ourselves right now, we jostle Sandra back to the cars and head to the big V valley Glendo.... Captains up next. So far so good, we wait at glendo for Susan, her leg is killer, I'm worried for her, she comes in sprinting for hand over and off goes Captain Andy. Girls first mountain race ever.... Kudos....... Next up 'Art ONeill Himself' and Glenmalure.
I'm not tiring of this, I want there to be 20 legs, I'm getting nervous, I've decided I don't want to run, I think I've convince Mark to keep running through leg 7 to the end. I think I've found my calling, I think I might be the best supporter ever??
We find Liam V ( Art Himself ) ready to rock at Glenmalure as we arrived, no need for the ' how did your recce go? 'conversation here Right? He is looking fine, flying the flag, rarin to go...... Andrew comes in looking buff and controlled, like a man who's plan has come together. Hands on hips breathing deep he looks thrilled, he took all the good out of that, I can tell. We head to the start of leg 7, Liam comes in after a strong leg and Mark heads off..... me next.
'Here he comes Maria!' shouts Andy and I exhale, fizz and blood and guts gather where my heart sits, I turn to watch Mark climb the last 50m of that gruesome end to leg 7 like a freaking Chief. He looks like he has nothing left, he shouldn't, he has just killed it. That dude had a plan and he just followed through. I kinda have one too, I'm not the fastest person on this leg by far but I am on a club team, in that, these guys can run!! Shit!!! I can run! so my plan is to not be handing out lollies as I get passed out, my plan is a kinda damage limitation plan, oh and I'm intending on enjoying all the downhill too. This being the 'easy leg', there is quite a bit of downhill... I love downhill forever and ever.
So I take off, well hydrated, well fed, well rested, well trained... no excuses really. THE PRESSURE...... I never bloody factored in that I'd be under this pressure.... awesome super fit, amazeballs Kilcoolers were now relying on me to a) get into a race pace b) keep her lit c) not get lost d) stay upright and not break a leg e) not have a heart attack from THE PRESSURE......
Ok Ok Ok Ok .. Okey dokey..... okey dokey......thoughts for the first KM........ gates are all open, DEADLY..........Is that someone behind me??? No...... Rain Mac on Legs... Run faster anyway, chin rising, breath dragging, Why can't I ever start with poise and control??? Feck it...... recover on the downhill. I'm running the Bohereen , almost at the end, when this guy comes from behind, I toy with the best trail for a nano second then let him past, the guy is flying, he thanks me (????) and leaves me for dust. I'm not gonna pretend this didn't affect me but a minute later i was reminding myself of the job at hand...... No lollies for passing Maria today, keep her lit. Besides I knew I was starting a massive downhill section, I had my favourite shoes on for the job and I knew I was going to floor it and let my lungs recover from the uphill burn. Off the bohereen onto the road, Left then right, then right, Right?? YES!!YES!! every time i recognised something reassuring I was buzzed, right track, right pace, I was starting to enjoy this, taking full cleansing breaths ready for the climbs after the road crossings. Oh that hurt, tough hills tough wind, short lived though, I felt my energy return as the gradient lessened quite soon after the Dying Cow dip.... this was the last hill, I knew it, so I dug in. Near the top i started feeling nauseous (it happens to me over short distance races) I did contemplate vomiting, various economical ways of doing so, and its effect on my pace and over all time, I was deep in thought on this matter when I saw ahead 'The other Lad' and 'The young lad' standing on the side of the road......Well Balls anyway I thought...... now I've got to not get sick at all..... having all my vomiting options torn from my addled brain was traumatic, smiling and waving as Mammy, trying to make myself appear like a playschool presenter running jauntily into the wind after a killer climb HARD WORK but how cute was he...'That's my Mommy ' he said to nobody, the cuteness.......... back to business, all downhill from here.... keep just a tinsy bit for the bend to 'Kennys'.......lovely lovely lovely downhill, a little check to see if the coast was clear, twas, nobody behind me at all. Coming round the corner was awesome, I thought I was running another 300m on the flat to the finish so was chuffed to find i was done!!! I did it! I didn't screw up!!! Kilcoole AC finished in a respectable position, we had such an awesome day, i met some super new people... Can we do it again?
Summary:
I'll take this opportunity to saw how proud I was to captain the first ever Kilcoole AC team in the relay, I was blessed with the team mates I had, the soundest people you'll ever meet, we all shared a really special day together, we put in a good shift and we cannot wait to return and go again. We also shared a great day with lots of friends from other clubs like Glendalough AC, friends and rivals on the same day. Thanks to René Borg, Jason Kehoe and all the other volunteers on making the race possible. Thanks to Lydia Webb who supplied the team with coffee and goodies at Oldbridge. Lastly, thanks to big brother Mick for showing me the way into the awesome hill running world of IMRA. Roll on 2018.
Andrew Hanney
"Not Much Faster But Certainly Furiouser!"
15 May, 2017 - Keith Mulvey
Having adopted a post-race intensive rehydration strategy I've re-emerged feeling like a grizzly bear who having raided the honey-pot prior to a two month hibernation has managed to open one eye. In this state I wonder was it all a dream when I sat in my car at Lough Tay updating Tommy's time on the spread sheet and Anne rang me to ask me if she should take her clothes off now. I almost destroyed my laptop spitting out the chocolate protein milk that I was drinking. This was going to be a great day!!!
An early 4am rise opening the curtains to thunderous rain I set-off at 4:30am to stash my change of clothes bag in Curtlestown and head to the race start. I arrived in Kilmashogue to an empty car park had a 15 minute nap and woke to a full car park and race time! It was still raining and I chose to remove the rain jacket as it was quite warm.
The start was blistering fast as the elite teams battled for clear air on the ascent. I checked my pace and slowed down slightly so I'd survive the immediate climb! It stopped raining near Tibradden and made up some good ground on the technical section and descent, briefly stopping to tie my lace which had undone for the first time ever whilst running! Maybe it was meant to happen as I then saw one of the runners had contemplated following the 'other' yellow man towards Tibradden. A quick shout had him back on track. He then passed me later!
An uneventful leg after that but I ran well (for me), got a PB on the leg and managed to gain two places on the final descent to an abrupt halt at the barrier to see Tommy off. Turns out my stomach didn't stop and I headed for the forest to reap a bit but thankfully didn't get sick. As I emerged from the forest no doubt looking like a drowned rat and covered in pine needles from digging my bag from under a branch, the welcome smiley face of Sorcha appeared as my chauffeur to rescue a few exhausted runners and bring us to Kilmashogue. Thanks a mill Sorcha for this. Legend. Sorcha wished us well and asked for updates and pics!
Arriving at Lough Tay I watched a runner come down the board-walk and disappear! I took the opportunity to get a cool down at this stage and ran up to where we last saw him. He had gone wrong and I met him as he came back up from the road. Tommy then appeared looked fresh considering the washing machine like conditions over Djouce and White Hill, getting blown off the boardwalk and powered well off the JB Malone to a sprint finish to hand over to Eamonn and an excellent leg time of 1:39.
I chose not to discuss Anne's phone conversation with me to Eamonn before he set out on leg 3 as the thoughts of his Sister seducing the c/o team Captain may have impacted his leg 3 timing! Eamonn rang very strong through what many runners described as a humid leg and finished in 41 minutes and in the top 20% for that leg.
Anne (fully clothed) ran an amazing leg 4 having estimated 1hr 15 minutes the previous evening ran a stunning 1:02 instead, no doubt eager to get back to strip off some clothes! Not only that but when handed a Snickers bar at the finish she proceeded to 'drop' it into the river at the bridge and head into the water for a wet tee-shirt show! Thankfully Eamonn took Anne home after this before any further inappropriate behaviour could occur!
The handover at leg 5 for Anne to David was difficult as Anne had to tackle a very busy greenway in Glendalough weaving and shouting at droves of trekkers. After eventually untangling Anne from a trekking couple who stood blocking David he ran a strong tough leg in difficult conditions, even getting back in a leg time of 1:25 to Drumgoff at 1:10pm to spare a relieved Co-Captain Jeff from the mass start.
After a lot of banter, a few pics, we watched a runner sprint down the hill in Drumgoff to find his hand-over not there. What followed thereafter reminded me of a Benny Hill clip with a car screeching down the hill and the late runner jumping out to a cheer and trying to get into his running gear, his HRM and then asking which way!. This was very amusing with 20 people looking on!! We headed in convoy to Iron Bridge to await Jeff's arrival. Here I bumped into an old classmate Sinead who I hadn't seen since my leaving cert a few years ago! She had taken up running recently and pushes her son who has special needs in a specially adapted chair, brilliant! I couldn't get parking on the road or car park so drove across the bridge to add my name to the IMRA list of illegal parkers. Sorry 'bout that. I watched Jeff descend well on the final insane track down to the bridge to handover to James Cahill for the dreaded leg seven. Jeff ran his leg in an impressive 1:08, two minutes under his predicted time.
Myself James Clancy and Jeff then headed back to Glenmalure Lodge for a bite to eat. The two Co-Captains didn't feel even the slightest bit guilty praising both James' for giving us a two-hour window to chomp on burgers and chips. James opted for two coffees as leg 8 wouldn't work with half a cow and field of potatoes in your stomach. (Thanks Jeff for the sneaky bill payment, much appreciated). We toasted James Cahill's efforts on such a very tough and long leg and each gave our reasons for not wanting to do leg 7. Mine was the early rise to spare the team, other reasons included not knowing that leg, never recced it and the possibility of getting lost like Rathfarnham earlier. I think we were all unanimous that James' efforts on leg 7 on behalf of the team were very much appreciated and that he was the strongest Man / Woman for the job!
Whilst waiting for James to come into Crossbridge we watched runners arriving in various states of distress whose efforts of a sprint finish after that hilly road section were dampened by sheer exhaustion, the heat and dampness. James was no different in his arrival having spent every last bit of energy to collapse in a heap. His leg 7 nemesis collapsing on the ground beside him attempting to speak. I thought I could make out the ground discussion with words to the effect of "you owe me" and "pint" among various other expletives I can't mention here.
James hugged a bottle of Heineken and Snickers on the way to Shillelagh whilst debriefing to me about the Devil takes hindmost type race between himself and Paul Mahon, an epic battle of stamina. James managed to hold him off catching him to the end, a fine performance in 2:03 pretty much bang on his estimate.
And to our final patient runner James Clancy, having watched us all stuff our faces and consume various beverages kept his race calm and discipline in order and went off like a bat outta hell and continued like this in a blistering performance within the top twenty percent for this leg @ 43:58. James finished so fast I didn't even have time to take my leg down off the decking in the pub, swallow my Guinness and put down my pint glass but he did us proud.
Our teams finishing time was 10 hours and 6 minutes, and 26th place, a fine performance in tricky conditions. WELL DONE to all for turning out, to my co-Captain Jeff and the various team support / lifts etc during an epic day out doing what we love most. A big shout out to the race organisers Jason, Rene, Lillian and all the other tireless volunteers for making this happen and appear to run seamlessly.