Ironbridge Nav Challenge 1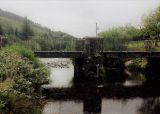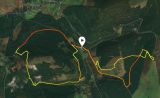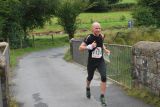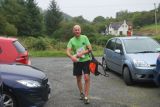 Authors
Iron Bridge Nav Challenge
23 August, 2017 - Sandra Pegman
I participated in my first ever nav challenge on Sunday in Iron Bridge which is no mean feat for somebody who has no sense of direction. (I got lost on the way up to marshal the Downeshill IMRA race last Wednesday!!)
I went onto the forum and made arrangements to run with two other runners also newish to navigation challenges. To prepare I bought a compass specially selecting the one with the air bubble which I presumed was to show you it was level - turns out bubbles are bad in a compass - and watched youtube videos. Turned up Sunday morning and met my two new buddies and off we went. Well, it was the BEST FUN EVER!! I really enjoyed it. At first, we stuck to roads and marked trails but ended up running cross country through bogs, recently felled trees, enchanted forests straight out of Lord of the Rings and through streams which was much more fun.
When the challenge was finished, there was the usual IMRA post race chats and goodies courtesy of Mick Hanney - the date & oat cakes were the best.
In hindsight, perhaps it is better to work out a route before you start running because we ended up running up and down and all around. If you are nervous or unsure of your ability, I would definitely recommend running with someone and organising it on the forum beforehand.
A big thank you to Mick Hanney and his little team of elves for a superb challenge and I will definitely be back next Sunday.
A race of two halves
22 August, 2017 - Andrew Hanney
I'd been looking forward all season to the Nav challenges. Last year, I had done my first two of these as part of a team to learn the ropes and this year I was keen to see how I got on by myself this year, I also did two excellent courses with Paul Nolan. I was now quietly confident that I know my way around a map, could count my pacing etc. It was great to see so many people at this race, the place was buzzing with a lot of nervous looking people being introduced to a compass for the first time (by me which is ironic considering what happens later on).
So the RD is big brother Mick, he who makes people slide backwards down Annagh hill every March, I'm expecting a tough course. The maps are handed out and I orient the map immediately whilst not paying good attention to what Mick was saying about control 2, and crossing the river by bridge only which in particular would haunt me later. And then we're off, control 5 is to be first, I see some people immediately leave the road to climb to the fire road, I decide this is not the best policy and I run down the road 200 metres and take a less steep, runnable ascent which brings me to the fire road and then the control after two minutes of running (12m20), I then decide to hit control 3 as its just involves about 2k of running without the map, I see some people shoot off to the left, down towards the road and I wonder where the hell they're going. Control 3 done (25:46) then it's about a 800 meter northwards track to control 1 and I put this down as mistake number one, as I know it will be an out and back journey which eats up time on these challenges. This is reinforced when I see Liam Vines and then shortly after, James Cahill descending from this control, clearly the experience is showing there. The last two hundred metres to this control involved some nasty ground with trees lying on their side and other hazards, I hit the control and hear people coming so am determined to get out of there asap (37:45)….
Back down the hill I go, finding a better track on the descent close to the river… back down past control 3 (duh)… I know control 2 is not too far away, again just have to navigate some crappy recently deforested land, I can see Barry Cronin skipping down the hill. I get down to where I think the control should be and walk around a bit, I can't see it, but I can hear people through the trees, of course I hadn't remembered that Mick said the control was just off the WW beside a monument. I get onto the Wicklow way and I see people buzzing around, still can't see the control, I see James Curran coming out of a trench and in a moment of frustration I ask him where it is and immediately feel bad,…. "it's down there somewhere" he says, Control 2: 53:14)…
.Control 4 on Ballycurragh is next, I look at the map, and know I need to take a left turn in about 600 metres, I can put the map away and enjoy, taking out a yorkie bar and munching away as I half ran the climb up taking it a bit too easy. I see Connie in front and just before the top I see James Cahill again descending. As I climb, I take the time when walking to see my next move and I see the trail curves around and is a better way to get down on the road. I hit control 4 (107:50) John Bell is there too … and now the dilemma that would come back to haunt me later, continue on the long or keep to the short with 5 controls done already….. If I had finished at the point I would've been back to base around 1:20.
Again I look at the map and see a trail going back to the river, I should be able to cross that I say to myself. I descend quickly, passing Val and as I get to the road Hilary is there too…. And as Val says in his report, "Andrew swung left around the U bend"…. This could be amended to "Andrew swung left around the U bend, never to be seen again for the next 50 minutes". I descended this fire trail at speed, and make a major error in taking a turning right, which I thought was the trail marked on the map to bring me close to the river, but it's actually not on the map it's a new trail. I try to push through to the river but the trees and vegetation here as basically wall to wall, making very slow progress I see the river, and its more than waist deep and flowing fast, I decide it's too dangerous for a solo crossing and try push on, to cut a long story short, I get stuck here repeatedly trying for the river and getting more frustrated as I can see the road, I get completely frustrated as I thought I should be able to see the bridge, eventually too much time is passing, thoughts of mountain rescue having to extract me on big bro's race come to mind, and I decide to head back to the road as I am getting wet and cold. Looking at the map just after only confirmed my stupidity, and I forgot the most basic rules….Stop, think, look at the map, count the pacing!
I hit the road at the same point as I entered (where I left Val) except I've wasted nearly 50 minutes, I make way for the finish, and feeling quite sorry for myself try to sneak in unnoticed past the finish line ready to hide in the corner in embarrassment, but of course the usually IMRA smiles, biscuits soon melt my troubles away. Then in the chats after, I realise mostly people got lost anyways. What I find about NAV challenges is that worse than league races, they don't allow you sleep at night, as you wish you could run it again and do things differently. One thing is for sure they are great fun, exposing strengths, weaknesses, slips ups etc and have a laugh about it after. I was delighted for my clubmate Sandra Pegman (new to IMRA this year) teaming up with Tanya and some others for her first NAV challenge. Well done!
I see in the race routes later that the winner of the long course took the trail I got lost on but found a way to the bridge, and I had been literally 50 metres from that point (duh!!!). In the end I am happy that I methodically found the first five controls without much fuss and there is room for improvement.
Well done to all. Thanks Mick for all the time and effort in arranging the course and to the volunteers as well. Onto the next one, can have more of these in the calendar? Go on…
Control 5…. 12m20
Control 3….25m46
Control 1….37m45
Control 2… 53m14
Control 4…. 1h07m
Lost in the woods 45 mins ;)
Finish time 2h:14
My route is here: https://www.strava.com/activities/1143074154/overview
CHOICES... SO MANY CHOICES!
22 August, 2017 - Alan Ayling
Route choice galore. More route choice than you could shake a big stick at.
A crowd of a little over 60 gathered at Iron Bridge. Some notable quick orienteers – Angus Tyner, Shane Lynch, Paul Mahon. Some notable fast runners too – Adrian Hennessy, Barry Cronin, John Bell... how are they on navigation? I realise I'm not sure, but there is plenty of competition at any rate. And just about anything can go wrong for any of us in these events. A huge part of the navigation skill is judging what on the map matches what on the ground and especially when it's such an inexact science. Forest features can be brilliantly mapped at the time; mere months later the map might as well be of somewhere else if felling takes place, new fire roads go in, old trails become overgrown etc. These things challenge the experienced and the new alike!
But what really struck me was the level of route choice. So many options, very few obvious ones. Having to get 8 from 9 controls added extra intrigue – which one to leave out? When Mick instructed us to turn over the map he was busy explaining a couple of key things about certain controls – 2 and 9 in particular. But the mind is racing ahead now we can see the map... which way, which loop first, which way round the loop, which control to drop... ?? The other race reports indicate I wasn't the only one not really listening anymore.
Briefing over, we're off. I'd decided by then to skip #4. Long way out of the way and on the OS Map, which I trust far less than Barry Dalby's normally excellent and much more recent East West maps. That did mean including #8, which was a bit of a climb, but looked straightforward navigationally. Thing about finding the top of a hill – you just keep going up, the top is up there alright. Getting the right way down is usually the tricky bit. Anyway, getting ahead of myself there.
Opted to go out on the eastern loop first. Initial plan was hit #9 first, but changed my mind on the road running out. Went for 7 instead – didn't really need any nav at all, just follow the road to an obvious junction and turn in to the control. Left plenty of road running time to look at the map and assess options for later. Also allowed a nice route out towards 8 – up the fire road, fork right at 1st junction then straight out along a ride at the first sharp bend. A neat route that would have been difficult to pick up if running the loop in reverse.
Out to the edge of the forest and opted against the direct route up the heather to the hill top. Didn't look inviting at all. Alternative was 2 sides of a triangle but a nice looking path on the map. In fact much of it was a crap path, complete with a dead sheep, and the path didn't really lead to the control, but that didn't matter. Leaving the control , passed John, Adrian and one or two others running the loop in the other direction – I reckoned I was ahead of them, indicating they'd had some problems.
#6 was just stay in touch with a couple of path and fire road junctions, all well mapped, no issues. Took the lower route towards 9, some of it hampered by a new 6 foot deer fence but still passable. Then at the end of a fire road, the map indicated a path leading on towards the control. The ground indicated more of a swamp going nowhere fast. When forestry changes and the map is no longer accurate, the one thing that probably hasn't changed much is contour detail. Identifying the steep ground where the crag had to be, I realised I was heading too far east, cut downhill west through some godforsaken terrain and picked up the traces of a path, which led to the control. A little luck perhaps, but I'd like to think mingled with a bit of judgement.
Leaving 9 I'll be honest, the map is plain wrong. The path leading down to the road is nothing like what's mapped. No wonder people got confused. (In fairness all you really had to do was listen to – and remember – Mick's race briefing!).
No point going all the way to Iron Bridge to cross the river, right? There's a path mapped off the road leading right down to the river. There sure is. There also sure is man-eating gorse all over that path, rendering it completely impassable. Sensible option: bail out on that and head to Ironbridge. Stupid option: persist with gorse-ridden path. Questionable (Alan's) option: bate down through 7 foot high bracken directly to the river. Got there, but it took time and several falls. The river crossing was handy enough, got a shallow spot. Up a narrow field to the road beyond. Unfortunately, a lot of brambles, a steep bank and a barbed wire fence meant the road wasn't so easily attained. An extremely undignified bit of manoeuvring involving a tree and I eventually made the road.
Turned off the road, into a bit of old fire road with a Wicklow Way sign on it. Looking for a little ride up to the right that should lead close to the control. But no ride there... uh-oh. I was genuinely out of touch with the map at that point. I'd miscounted the number of roads between the river and the control. It can be quite difficult to count to two sometimes. Copped the mistake when I scrambled up through a short band of forest and emerged onto tarmac rather than gravel. Felt pretty stupid but at least now I knew exactly where I was. Bit of a scramble up through a felled section, Brian O'Meara behind me, onto the next fire road, knew I had to turn right, sure enough there was the control (#5).
A short backtrack, a right hand bend, briefly uphill, left into a quite pleasant track leading towards #2. Map spot on around here. Out onto the fire road parallel with the WW, up that to quite close to #2, remembered the one bit of briefing I'd actually paid attention to – the contol is at a memorial ON THE WW. So crossed over the stream and up the WW for the last hundred metres, found the control no problem.
#3 wasn't a great problem – uphill but only gently so, and across a felled area that proved surprisingly runnable. Aimed off a bit (aimed deliberately a bit right so I knew when I hit the fire road above I had to turn left) – worked well – hit the control with no delays.
3 to 1 was fire road then over a felled area and down through runnable forest – greeting Vivian and Tommy along the way. Stayed deliberately a bit right so as not to miss the end of the lower fire road where the control was – hit it bang on.
Straight down to the tarmac road, negotiated some brambles, then a bit over 2 km of downhill tarmac to the finish with no need to resort to the map. A nice benefit to doing the western loop that way around – that tarmac would have been a horrible climb, but was a lovely way to finish without having to tax the brain.
Delighted to have come in second. Almost 6 minutes behind Shane, who had some slow points on his route. He's just much quicker! Interestingly, his route was almost totally different to mine! He opted to skip number 1, that would never have occurred to me.
Great chat and route comparisons with lots of people afterwards. Big thanks to Mick – great course, offered so much route choice and so many talking points. And brilliant to see people of all experience levels relishing the challenge and learning from each other.
A final thought – the compass stayed in the jacket pocket throughout. Simply no need for it. Might have come in handy to help set/orient the map if in doubt, but that'd be about all. Navigation is really about the map and the ground and judgement. The compass has its place, it's a nice tool to have and to use – and satisfying when used effectively, but this event was not one that required it. Next week that may not be the case!
A Beginner's Perspective
21 August, 2017 - Joseph Boyle
Race report from the perspective of the beginner, newbie, virgin, whatever us, first timers are called.
For a beginner the Nav Challenge doesn't begin on the morning of the race it begins weeks before, trying to decide if you'd be able for it, reading forum articles, purchasing a compass and map, looking at on-line tutorials about how to read the map and take compass bearings. Finally on deciding to do it, there's the apprehension of what it's going to be like and what using the compass will be like in the real world.
Arriving in the car park on the morning of the challenge (I won't call it a race, as it was more a case of finishing) it was good to see that there were a good few other beginners also concerned about getting compass headings and trying to get some valuable last minute hints from experienced Naver's (is that a word, it'll do for now).
Eventually a few minutes before the off we're given instructions and handed the map but not allowed to look at it until the start is called. When the off is given instead of picking out a desired route, the first thing that comes to mind is to run across the bridge as there are five control points over that side and for the short course there are five points needed. (Lesson 1: Spend a few minutes looking at the map, it could say 10 times that later).
Running up the roadway from the bridge I'm behind James Cahill and I know he's experienced at this as I'd asked him some questions at the Glen of the Downs Trail League round, what should I do, stick with him or go my own way. He made my mind up for me at the tee junction at the top of the hill, he went right and I'd decided on control 5 first, so we parted company. Heading to control 5, I decided to follow the road and trail instead of cutting through the forest, due to my lack of experience. When I got to the right turn for 5, I decided I'd do that on the way back and head on to 2, I don't know why as this meant I had a much longer double back later. I also decided that 4 looked too difficult and that I'd do 9 instead later, apparently as it turned out 4 wasn't that difficult and as mentioned in the forum I eventually spent about an hour with various people looking for 9. (Lesson 2: Don't decide if something looks too difficult based on the map alone).
Back to the story, I eventually found 2, although I doubt I would've except for the fact that there were a lot of experienced people around that couldn't find it either, this leads me to another beginner error that I only found out on the next control number 3, that you stamp the boxes on the back not the actual point on the map. (Lesson 3: Requires no further explanation).
From there I climbed up the clearing to the trail road and across to 3 (Lesson 4: I only learned this at the end listening to others, that it was easier to go up through the forest then through the open area where the trees had been felled).
From 3 and up the fire road to the end before cutting diagonally through the forest to control point 1, unfortunately I didn't stay high enough and ended up on the road below and at this stage was beginning to wonder would I be one of the ones heading back after the agreed time limit and even if that was the case would I end up going the wrong way on the Wicklow Way, I even wondered was I still in Wicklow. Even with the doubts in my head I climbed back into the forest and eventually came out onto the fire road at 1, although from below you couldn't tell where the road was until you actually climbed the ridge. This is the last time I say anyone else for quite a while and his words bring me to lesson 5 (Lesson 5: Don't wear shorts, wear leggings as my legs were still stinging that evening).
Finally a chance to run along the fire road back towards 5, that I should've gone to earlier, looking at the map when I got to the bend in the road there should've been a forest track going straight on, however I didn't see one and continued on for a few hundred meters before deciding I'd gone wrong. I went back to the corner and found the trail, that wasn't much of a trail, looked for the firebreak to bring me down to the fire road towards 5. I couldn't see a particular fire break so I made my way through the forest, reached the lower fire road and made my way across to 5.
From 5 I'd decided that 9 looked the best bet, as it didn't look too far from the finish as I was doing the short course and only needed one more gate. I made my way down through the forest to the road below and headed back to Ironbridge. After crossing Ironbridge, I looked back and who was behind me none other than James Cahill, whom I knew would've completed the 5 control gates on the other side and if I'd have followed him I'd be finished now. (Lesson 6: I'd have learned a hell of a lot less if I'd just shadowed someone else).
Anyway I was happy at this stage that I'd only a short run down the road, up a trail, punch in at 9 and back to the finish. It didn't quite work out that way and a few more valuable lessons were learned. As I ran along with James C about 50 to 100 meters behind me I assumed that he was also going to 9 so I kept looking back to make sure he was still there and he was (Lesson 7: Don't try and figure out what someone else is doing). I ran about a kilometre too far and decided I'd stop and ask James was he going to 9 and he wasn't, he was heading to 7. At this stage I was at the entrance to the fire road, so looking at the map I climbed up the road, turned left at the junction and reckoned it should be no problem finding 9 and heading back to the finish having completed a couple of extra kilometres. I think I must've been with the two guys who wrote in the forum along with various other people who appeared, decided on a different approach and left. Two lads decided to cut their losses and head back to the road and push on to 7 as they just wanted to finish. I was very tempted to follow them when my guardian angel (Ger Power, I found out later) arrived. This is when I learned the most valuable lesson (Lesson 8: It's very easy to make the layout of the land match your map). We still spent quite a while here and when Ger decided that we were too high up and too far along the road we started to make our way through the forest back down to the road. At this point we met two other lost souls heading up (I believe to be Conor O'Meara and James Curran). To cut a long story short we eventually found 9 and I made my way back to the finish about an hour after crossing the bridge.
It shows the difference between experienced participant and newbies, as at the end I'd completed 15.5km through not looking at the map close enough and maybe spending more tome checking distances. The eight lessons above were the main ones I took from the challenge, I'm sure you never stop learning lessons.
What an experience however and I'm so glad that I finished my first Nav Challenge. I'm now looking forward to the next one with a lot more optimism. That'll be Nav 3 as I'm away next week.
Thanks to Mick Hanney and all the volunteers for a great day out as I'm sure there's a huge amount of work and time in putting this together.
Apologies for boring anyone with this report, but I keep reading reports from the front of the field and I thought it was time to give another perspective.
Intrepid Adventure
21 August, 2017 - Val Jones
Arrived at Iron bridge at 9.40 after a lovely drive in from Arklow. The cars were already gathering and it looked like there'd be considerably more intrepid adventurers here than the last time I was at a Nav Challenge at Iron Bridge ten years ago. That time we went to the top of Croghan Moira and circled back to the top of Ballyteige. I was tempted to take the early start but Mick said the 160% rule still applied.
After the briefing I took a minute to choose my route. I considered leaving out 4 but decided on 8 which would reduce climb. Started up the road to the west, then at the junction had a look at the forest, it looked mature, so took a chance and went up through it to the fire road. Steep going, hands on knees stuff. As I ran along the fire road towards 5 saw Conor O'Meara coming up through the felled area, then others coming through the forest further on, which might have been a better choice. Turned up right at 5, then decided to go up through the forest if possible before the road started to drop off, saw a small path going into the forest and took that. It was really just a deer trail and the forest was thicker than the first one but got to the fire road. I needed to take off the rain top and James Curran came along and passed me. I took off downhill after him and arrived at 1 just after. Set off up through the forest towards 3, James went further over and up along the stream outside. He got ahead of me at the top as I struggled to get to the path over some felled stuff. After 3 he went down through felled stuff while I stayed in the forest, both were tough going.
On the road a bunch gathered, including Vivian, Tommy, and Connie as we ran up and down the road then down and up the Wicklow Way looking for 2. I only spotted it because Hilary Jenkinson was at it. After that went back down the Wicklow way then right for number 4, mostly flat except for the last bit up to the flag, where I walked to pace myself. Hilary was coming back down as I came to the flag. I continued on past 4 and down to the road. Andrew Hanney passed me on the steep fire road descent, not my favourite route type. Hilary was at the entrance to the lower forest, not sure how she arrived there. We continued on down, Andrew swung left around the U bend, but after a quick consultation Hilary and myself went straight on. We seem to be going further than the map indicated to start descending onto the road where the bridge was. That's the problem with being on the OS part of the map, the forest roads may be years out of date.
Hilary decided to go down a forest ride and I followed her to the river. We waded across it, holding onto rocks, since it was quite fast flowing. At least it wasn't freezing. When we came out on the road on the far side I saw the bridge was only 100M to the left, dogh!
Hilary decided to just complete the short course and headed up the road. I remembered coming down through the forest ahead at the previous Nav Challenge, so headed up towards the fire road. It was nice and mature but at this stage it was more walking up with hands pushing knees. Ran around the fire road to the graveyard - there was a control there last time. Out on the road I came to the forest entrance on the left where I expected 7. Ger Power came back down the road having gone passed it to look for the flag. We knew this must be the correct junction so we headed in, and found the flag at the barrier. (Well done on winning the Long Ger, a W60 winning overall a 1st on an imra run?) A straight run up and around left to 6. I then followed the deer fence down and then left down to the forest road. Met a few coming the opposite direction, including James Cahill who had climbed over the fence. Was there better running on the other side?
Came to the end of the road and expected a path through to 9, but it disappeared into gorse. I clambered up and down and eventually got onto the other side of the path. I was almost giving up thinking I'd gone too far or was on the wrong road when I came to 9. The path down to the road was going in the opposite direction to the map. I went down then there was another vague path going in the right direction so I took it. But it ended about 30 M above the road. It was struggle through gorse and brambles to get to the road, then a run to the finish. Ran on any green grass in the middle of the road as rocklites are not the best for tarmac. Finished in just over 2 hours, happy with that.
Lovely flapjack with raspberry, thanks to whoever provided. I spoke with winner Shane Lynch afterwards. He had a similar route to mine leaving 9. He also went up to 7 further north than me but got into some really rough stuff. He said leaving out 8 was probably the optimal but he wanted to get in the uphill training!
Thanks Mick for a very enjoyable event. I love these Nav Challenges where you can take the safe route but I'm always tempted by the shortcuts even though they might work out or I could end up in jungle. They mostly worked out today.
My route is in the photos
Race Directors Report
20 August, 2017 - Mick Hanney
I'll concentrate more on the race organisation as we have lots of reports of the event itself. Would definitely recommend the organising role to people as its lower key than other events, very friendly and less onerous on-the-day in terms of logistics. It is good fun planning it out and you get a kick out of people enjoying the event.
The journey started many weeks back when Gavan put out a call for help with the nav challengs. I was injured at the time and had some ideas in mind so offered to assist. Got tasked with Nav 1. After initial emails, to confirm we weren't planning to use the same areas for a nav, I settled on the idea of using Ironbridge as a base and to start planning from there. One of the reasons for Ironbridge was my wish for people to experience some lesser known hills in this area. Also, to see some previously hidden features like that memorial 'off' the Wicklow way. Many will have travelled the Wicklow way but very few will have ventured off left or right south of Drumgoff. There is scope for lots more down here too, we have just scratched the surface.
Over the course of weeks a great many recces were done. Many drafts of maps with controls done too. The original draft included more hill tops inc. Barnagapoge and Ballyteige. However, given the difficult ground on those hills, with demolished paths and upturned trees and stumps, and the relative difficulty in finding a clear objective - like the peak - the plan had to adapt.
One of the considerations is the range of experience of the competitor, from experienced to novice. Another key consideration was the distance and ascent guide. This is a hard one to measure. A long distance via trail can be quickly shortened by the adventurous 'as the crow' flies competitor - much of which was seen on the day. Weather would be a critical factor and, as it turned out on the day, it was pretty good which helped a lot.
Lots of emails back and forth to Gavan let to more recces to check out various paths and non-paths. We agreed a compromise of a merged map to gain as much detail as we could from the East West map.
It was Gavan's suggestion to have an opt-out of a Control and I think this worked really well on the day adding greatly to route variety. Race day approached, maps were printed and controls put out. Skip forward to race day and the various reports show fun, and some frustration, was had.
Congratulatons to the winners and well done to all who took part on the day. The winning time on the long course is admirable. I was a lot longer demarking one side of the course and I knew the trails well! If I could have anticipated some of the difficulties people had with certain controls I would have tweaked them. It is hard to anticipate all the eventualities, e.g. control 2 being approached from the North. So for control planning one needs to think like an orienteer, that any direction is possible :-)
Roll on the next nav.
Iron Bridge
20 August, 2017 - Gerry Brady
The first navigation race of 2017 started from Iron Bridge near Aughavannagh. It is a much under-used area and if the trees were left to grow, it could be a fantastic natural park as it stretches in many directions including towards Greenan, Glenmalure, and Lugnaquilla.
Mick Hanney was the maestro and he planned an excellent course with the added advantage of the two parts of the course being joined by passing through the start. Gavin Doherty was the tailor seamlessly extending the EastWest map by joining it with the OSi map to the south even though they must have been at different scales. Unbelievably the results were already up as a race report before I got back home.
Everyone starts together but soon they scatter in all directions and you end up on your own. From the start, the eventual long-course winner, orienteer Shane Lynch pushed ahead as he was the only runner who quickly entered the felled area on the way to number 5. This saved distance as he could cross the felled area diagonally rather than taking the climb straight on. Watching him from the road below, while looking for a place to jump the ditch, was a reminder of why he is one of the country's top orienteers. He was probably also the only person on the long course to choose control number 1 as his optional skip. This left him with a very challenging route from 4 to 7 and left the organisers not knowing who was leading as he did not have to lose time by passing through the start to switch between both halves of the course.
My own route took 15.05 km with 541m climb. One of the photos has my route.
Control, Leg, Cumulative
5, 10:11, 10:11
2, 13:15, 23:26 (lost one minute missing a right-turn)
3, 4:33, 27:59
1, 10:48, 38:47 (kept high to make sure I hit forest road)
9, 19:57, 58:44 (9-6-8-7 looked safer than 7-8-6-9)
6, 11:18, 01:10:03 (saw the winner on his way back)
8, 13:22, 01:23:25 (Paul Mahon cheers me on as he descends)
7, 11:52, 01:35:17
Finish, 10:44, 01:46:02