Dublin Peaks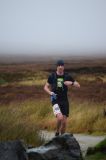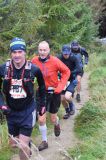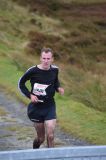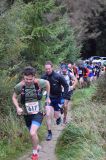 Authors
Mud, Blood and more Mud
09 October, 2017 - James H Cahill
Some issues with landowners seemed to have the Dublin Peaks on the verge of abandonment, but Joe Lalor expertly "poured oil on troubled waters" and the route was adjusted to include a control at the South end of the Mountain Meitheal Boardwalk on Cruagh to keep runners away from the private land and the race could go ahead.
Dropping kids to school and hockey meant that myself and John Condon arrived very early at about 9.30am - plenty of time to register and have a chat before the 10.30 start off.
Some words about the route from Joe were preceded by a sobering minutes silence for Mountain Rescue Volunteer Kevin Hallahan who had died in a terrible accident when training with Mountain Rescue the week before.
At just after 10.30 Joe counted down from 1 and we were off. Climbing towards fairy castle I secured last place and held onto it admirably. As Fairy Castle came into sight, I met Warren Swords coming the the other way. He wasn't feeling well and choose to DNF early. Every cloud has a silver lining and that moved me up one place in the field!
First checkpoint at Fairycastle done and on along the rocky track towards Tibradden. I chose to take the muddy lower path and then cut up to Tibradden and this route picked me up a couple of places.
Control at Tibradden clicked I ran a short distance down the boardwalk and then bore left down to the open forestry and out onto the road which I ran down to Cruagh Wood.
There were now lots more runners around, off the road, across the river and followed the small muddy track to the upper fireroad.Tessa Walker and Darragh O'Farrell climbed strongly past me and we joked about who would be back first. Then out onto the forestry road and picked up the boardwalk and up to the new control I followed some small tracks over Cruagh and then a couple of hundred meters open mountain to white sands track which I followed for about 800m just behind John Condon.
I intended bearing off South after 800 m to run 1km across to the hard packed track directly opposite the Bog Road. I knew the area was very runnable, if I aimed to hit the track about 200 / 300m from the road. I met Gordon Place (winner of the short course) on his return leg of the short course on the runnable featherbeds. Unfortunately good visibility meant I could see the Bog Road early and this magnetic attraction encouraged me to veer towards it and through 500m of mucky poor ground. I could see myself losing places as runner after runner sprinted down the road whilst I trudged through the mud!
Arriving at the Bog Road checkpoint manned by Barry Murray's Dad and Adrian Tucker, They generously observed that the road seemed a little faster and I should consider it on the way back! Spurred on by foolish navigation decision I set off on the bog road. I could see all those places given up in the bog of the featherbeds tantalisingly in front of me. Kippure was a bog fest and at the top I met Liam Cannon and Conor O'Farrell, who appeared to be having a picnic! Despite the mud Kippure was relatively kind to me, and I managed to make back the lost places and some more on its muddy slopes. On the bog Road I managed to get by Darragh and Tessa who I had met on the muddy ascent to Cruagh.
Back to the bog road checkpoint I decided to run back entirely on the white sands track rather than chance the featherbeds open crossing. I got by Joe Boyle on the road and heard footsteps right behind me. I assumed Joe was using the "elastic band technique" and sticking with me, but in fact it was Liam Cannon finished his picnic and looking energetic. When I came off the road, I promptly cramped and Liam trotted ahead. Not good to get crampy legs with 10km still to go! Luckily I had a couple of packets of dioralyte to hand and down they went with some water and the cramps passed. Reversing the route back I managed to pick off some places here and there and went back exactly the way I had gone out.
The mountain meitheal boardwalk was lethal on the descent and I was very happy to skate down to the fireroad and remain intact. Down by the river to the road, up the road to the forest. Then the excruciating short climb to Tibradden where some walkers enjoying their sandwiches told me that they were with me in spirit!
Myself and Liam passed and repassed one regularly on the route back
Off the side of Tibradden to the lower muddy track and the long slow climb back to Fairycastle which was a run / walk combo strategy, leaning significantly more towards the walk than the run. I could see Liam ahead but was not catching him.
I was running in some very battered holey inov8's which I had "repaired" with Gaffer tape at the start line. The Gaffer tape had given up its battle to remain adhered on the road between Cruagh and Tibradden, and was now in my pocket. The end result was shoes full of boulders (pebbles really…..in fact probably grit…..but it felt like boulders) for the climb to and descent off Fairy Castle.
Painfully, shoes filled with boulders, down the boneshaker, then the muddy cut through and out onto the road for the last km to the finish line where I managed to catch and pass Liam one last time. Off the road down through the forestry to the upper car park and the onto the last 200m down to the finish line. I was going as fast as my legs could carry me, and I looked up saw some walkers in front and wondered should I pass on the left or the right. Instead I chose a third option which wasn't in my original consideration, caught my toe on a rock and face planted right behind them. Picked myself up, hobbled past them on the left and reached the finish line with cut hands, knees, elbow, forearm and left hip…….all achieved within 150m of the finish line!
3 hours and 58 minutes of fun in the hills…….my finishing time was 3 hours, 58 minutes and 12 seconds. Those 12 seconds were spent face down on the track 150m from the finish line, and that was not categorised as fun in the hills!
However my scrapes were nothing to John Mollohan who had taken a heavy fall on the road to Cruagh courtesy of an errant lace, and was receiving tender care from John Bell. Biking.ie kindly allowed me to use their hose to wash off my cuts and scrapes, then a few dressings from the IMRA first aid kit and I was as good as new(ish).
Speedy recovery to John Mollohan and also Richard Cyganiak who had taken a bad fall on the skating rink that was the Mountain Meitheal Boardwalk.
A great day in the hills, thank you Joe, Liam, Berndt, Adrian and Brendan, IMRA and the landowners.
Peaks
09 October, 2017 - Barry Murray
I was feeling a bit rusty getting ready for this race since it was back in August since my last imra. First time lining out for this Dublin Peaks sort of race, sort of nav challenge, sort of run.
With races over the years like the Kerry Way 200km and Lakeland 100miler, I was thinking ah sure whats 30k.
I was reminded harshly of what the simple law of specificity means on my way back over Tibradden with just 20K+ in the legs. It simply means, if you are not used to doing something, don't expect to be able to do it well !
It was back in March since I last did a race over the 1.5hr mark. Back then it was the Maurice Mullins Trail, and I had good training in the legs. Over the summer, it was just leinster league and a few championship races..... which are all 1-1.5hr long for me on average. Its easy to think you have the fitness to go longer, but its another thing to have the conditioning in the legs to be able to sustain your pace, whatever it is, once you go over the time length you are used to.
Anyway, we had a small crowd gathered in Tickknock carpark on a cloudy autumn morning. Not too big a crowd given its longer for most and isn't marked plus the very sad news of a funeral being held for a Dublin Rescue member.
A minute silence was held , Joe have a few simple but important instructions , then we were off. Warren went off like a hare.... lasted about 100m, and then eased off telling me "no point being in the lead at this point!" He pulled up with a niggle not soon after, and retired. Alan Ayling seemed to have a spring in his step at the start too, but I passed him after about 200m and he didn't seem to be too fresh. Off head of me were what seemed to be the orienteer experts, Niall Mcalinden and Laurince Quinn so I knew that I should just keep them in my sights.
I did as we passed over Fairy Castle, then took the short cut over to Tibradden on the first of many boggy trails. We had Conor O Keefe with us now who didn't seem to be quite the orienteer expert as the other guys. So the 4 of us clipped the control in Tibradden and then descended through the heather out onto the road. I knew the next section having recced it with John Bell the previous week.He wasn't far behind us either. A steep climb up the single track brought us out onto the Dublin way and I had the 3 lads just ahead of me and then Colm Moran right beside me too. Niall took a little diversion through the tree's , lots of little short cuts if you know them, but I just kept to the boardwalk that took us up the 3rd control.
The next section I wasn't sure of and had never done it before. Its open mountain from Cruagh over to Military road. I had the 4 lads just about 200m ahead of me so I could follow their route. It seemed simple enough and it brought us out onto the road which led us to the infamous bog road on the way up to Kippure.
Adrian and my Dad were there at the barrier, misty enough, but I had the 4 lads in my sights and I knew the up and down Kippure section.
I usually find something appealing or enjoyable or nice about every mountain climb in Wicklow. But I have to say, and I have only done it twice, that I find nothing at all appealing about Kippure !
It's the boggiest, marshiest, long, boring , trudge up a mountain I know. You are trying to find a place to put each step that doesn't sink your foot a few inches or feet. Then when you eventually get to the top, which has been foggy/misty each time I've been up there, you can't see any sort of view. The descent then is just a mud bath. If you don't fall at least about 3 times, you are either a pro at keeping your balance, or you are walking at snails pace. If you are very lucky, you will miss the really deep boggy sections. I wasn't and ended up almost chest deep in the bog. Had to literally climb out like I was getting out of a sand pit. All the falls are soft too so its kinda fun and doesn't hurt.
I had lost of few yards on the lads by the time I got back on bog road. Could still see them though. Back then over to Cruagh and a little mist descended again and I lost sight of the crew ahead of me. I was on the only section of the course I didn't know. Its open mountain, a few fences, and heather. I followed the wrong fence, went through the wrong part of heather and ended up heading towards the hell fire club. I stopped and looked around, and just couldn't work out where I actually was. Took the map out then and again, was just discombobulated. I was just on a part of the mountain I wasn't familiar with and I couldn't make out any reference points. Eventually the map made sense to me and I headed back up along pine forest to the boardwalk control at cruagh.
Must have lost about 15mins or longer at this stage so was feeling like my race was over. Plodded back down to glencullen road and then realised we had to climb back up Tibbraden. An absolute sufferfest.... vertical ascent practically through heather. My deconditioned legs were feeling it at this stage. I thought a good few must have gone ahead of me but I could see the red jacket of John Bell climbing up through the heather in front of me. He looked like we was feeling it too.
Back then on the short cut from Tibradden over to the Dublin Mountain way. More bog. The rocky section then back up to Fairy Castle was a slog, the legs were just empty at this stage. Plodded down on the last trail by 3 rock and then it was straightforward back to the finish. I had eaten nothing on the journey, just 2 swigs of water, so was feeling a tad empty at the end. John Bell had just arrived ahead of me and was happy to say he beat me on a long course ! Looking at the split times, I was 1-2mins only behind the lads on the way back through bog road. I lost over 30mins to the winner Colm Moran from there, so with my diversion accounts for a chuck of that. Still certainly lost time due to tired legs.
Hung around the finish for a while to see many more suffering faces. Alan Ayling had his "wasn't feeling good before, felt worse during" face on. One of the things I like about Imra folk is the can do attitude and Alan is definitely one of them. Some others came back with more serious cuts and John had to patch up a victim. James Cahill wasn't looking too good either, with despite having got through the whole course without injury, fell with 70meters to go on rocky terrain and cut up his hands.
Still though, everyone enjoyed the suffering and just seemed happy to be once again out in the mountains, in the elements and overcoming the challenges. Even Niall McGuinness who only took up IMRA races this year (there you go, your first mention!) looked happy.
A pint with John Bell on the way home cured us. A good day out.
Thanks to Joe Lawlor for making this happen despite all the irate farmers and deer hunters. Fair play to Adrian for manning bog road and taking a few pics. My old man was there too helping out with punching our cards.
I might not make the great Powerscourt Ridge race as I'm relocating out west. So I'll sign off the 2017 season here. Just remember, if there is something in nature you don't understand, the chances are it works in a far more sophisticated way then you thought ;-)
Deep Bogs and Featureless Moors
09 October, 2017 - Richard Church
Joe kicked off with a minutes silence for Kevin Hallahan and a lecture about staying off the private land which seems to be most of Cruagh and Glendoo mountains now and that the National Park have now bought Kippure which will prevent an 'up and down' race next year. Then, realising the time for the start has passed, its off up the tracks of Ticknock and I'm somewhere near last place being at the back of the crowd for Joe's lecture.
By the time we hit Fairy Castle its in the mist and a bit grim but then a good run along to Tibradden and starting to get into the pace. I followed the crowd for a new shortcut (to me) up to Tibradden summit then pick a good line into the woods above Glencullen valley.
Over Cruagh the mist is down again and I've not picked the fastest line as I overtake a couple of guys I was in front of a few minutes back. Through the Old Bog Road and on for the slog up Kippure (and it was). Half way up and the orienteering lads come sprinting out of the mist with the lead 5 all pretty close together. Finally the cairn is tagged and its back on the bog rollercoaster. Half way down and my lead foot enters a bottomless hole and I'm waist deep in the mud - switch to swimming and digging myself out with the compass and back on the feet. Try to only plant the feet on solid ground for the rest of the hill.
Through the checkpoint and I'm heading back over Cruagh following Paul Keville. The track ends and I realise that he doesn't know where he is going either. Beginner error - don't follow. Compass bearing and I turn 90 degrees to see the top of Cruagh Wood realising I'm near Glendoo summit. Into the wood and down the now slippery boardwalk and onto the track alongside the Owendoher River. A foot tripping branch is ready and waiting and I face plant and cut my hand with the now unused compass. Paul is breathing down my neck as we ascend to Tibradden and then its the run back to Fairy and down through Ticknock. I pick a fast line down through Ticknock and pop out at the final path just in front of Paul.
Probably my last IMRA race of the year and it was a great one and good training for the Run the Line. Many thanks to Joe for overcoming the landownership issues and lets hope something similar is possible next year.
Dublin's Pretty Peaks
09 October, 2017 - Colm Moran
Really cool race.
I arrived characteristically last-minute (10:24), and a mad rush ensued to tape my laces, get my number, pin it on, sort out the little things, and catch the end of the briefing.
The start came a bit out of nowhere, I was mid-pack, and had to work a little to catch back up, but was probably 10sec+ behind the leaders.
Climbing consistently up to fairy castle, but was probably back in 8th with Alan Ayling & Paul Keville just behind. Not ideal. Was hoping to be contending this race. Still, I knew where I needed to be conservative, and where I needed to be aggressive, and I had time.
Descending fairy castle I kept it controlled, wanted to keep it smooth, I wanted to gain back time, but it was way too early to be pushing.
Again through the rougher stuff & climbing up to Tibradden tried to keep it smooth and strong, and sure enough popping out of the trees I could see the front group ahead, cool, probably only a minute or so.
Descent off Tibradden, I took pretty quickly, chance to get back a bit, through the rough stuff must have gained a bit back, and in the forest I'd almost caught O'Keefe & McAlinden, and had done so just as we hit the road. Up to 5th now, Barry Murray with us as well, and Laurence a bit up the road. Conor pushed on a bit to catch him, but I didn't see the need yet anyway.
Was back with Niall & Barry climbing Cruagh, they got a gap going up the small trail, unsurprisingly. I've never been a climber. But kept my rythym and minimised it. Saw Niall cut through the forest as per my recce, and then join laurence and Conor in the lead, knew I wasn't far back now as I cut through, probably still 1min - 90sec.
Punched the control, and coming through the terrain, and I started to get moving. This was a time to be aggressive, I came down the rocky trail fast and moved right back up to the leaders, and hitting military road I had closed down to 20sec or less on the front 3. Cool, all good again now.
Up old bog road this stayed pretty constant, but I made a wee effort to catch them before the foot of kippure as I thought it would help on the climb. Got them just at he foot, and greeted by Quinn "ah there he is, you've been missing all the fun".
Stuck in, nobody was flying. The way I saw it, if I could slow down this climb, it would suit me nicely. It was messy in the mud and none of us could keep much grip but Conor in particular had poor shoes, and the most troubles.
About halfway I fell back a bit but kept a rythym again, and did what I could to keep within distance. In the end Niall got a gap, about 15sec to the other 2, and a further 15-20sec to me, maybe. Barry probably only another 30sec back behind too I would guess. Halfway through now, and still 5 of us very much in it.
Turned on the descent and knew here it was, if I was to have a hope I had to go for it here. Conor ran a 15:12 5k two weeks ago, so I needed a gap on him. And the other two are stronger climbers than I.
Flew down, no control and slipping like never before but mostly stayed on my feet and picked off Conor early. Got back to Niall after a bit more work, and was just behind Laurence after maybe 2/3rds of the descent. Went by but didn't put much more into Laurence.
Took a gel here now (~90mins, foot of kippure). I was with Laurence, and we worked together a little on the stony bog road, I'm sure the other two were gaining back, but we were keeping a solid pace so I was happy to save a little.
Took on a little water at the checkpoint and worked a bit on the road to get back to Laurence.
I was just ahead starting the Cruagh climb, so don't really know what happened behind me, but I got into a better rythym and was strong enough climbing. Conor came close to catching, but as soon as we hit the terrain I started to open a little gap again, maybe 30sec - 1min. Took the Cruagh descent pretty hard and got all my lines alright. This was good, knew I'd open up a bit more gap, but didn't know how much.
On the 200m road took my 2nd gel, and got ready for the rough Tibradden climb. Walked most of this but kept strong and it was over quick enough. Know I shouldn't have, but had a cheeky look back and didn't see any sign below me as I neared the top, so started getting confident.
Still, cruised the rough trail at a nice pace. Minor battle up the final trails to fairy castle, but I was still moving alright.
I went well down the final descent. Knew I had the Course record time very much in sight, but not by how much.
Legs were feeling surprisingly fine so pushed on, and ended up with a 5min win, as the other 3 filtered in.
Delighted with the win and the time, didn't expect it at all. Probably had myself as 4th best before the race, but here we are.
A great day out, a great race, and great competition between the lot of us who shared the lead at various points.
One to remember - no need to lead too early!
Thanks very much to Joe & his team for the hard work - I hope this race can continue long into the future!