Corrin Hill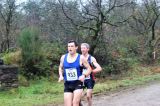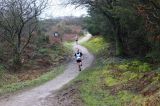 Authors
Munster Convert
15 January, 2018 - Barry Murray
Now that I'm a Munster resident, might as well give my first race report of the year. Having moved recently from Wicklow to Kerry, I was keen to kick off the season with the first MMRA race on the calender.
I have a bit more driving to go now to get to races so it means early morning departures. After finally reaching the Fermoy Golf Club, it still took me a while to actually find the race start !
Corrin Hill it was. A cool enough soft morning and wet conditions underfoot. No fancy timing chips or online race registration with the Munster folk, but they still have things under control. "old skool" pay on the day and manual time recording.
Great to see a big turnout for the youths race, some good runners there. I was getting a warm up done in time for the 11am start. Nothing seemed to be happening at 11, so went off for another jog. Came back at 11.10, and then Robbie announced race start would be in another 10mins. The leinster IMRA folk would have been screaming ! But no big deal, most people just trotted off to keep warm for another few mins.
Race then kicked off at 11.20, and it was like a 100m sprint at the front. Downhill start and the waiting around had people fired up. I tried to keep up with the front pack but didn't want to overcook the first km. Easy for me to blow a fuse early on especially in the first race of the year. Didn't have the usual Leinster heads around me to gauge myself, but had about 6-7 fast folk ahead of me. Knew we had one main climb, and we were soon flying up it. Nice single track threw the wood. Tried to keep running but some steep sections and hopping over fallen tree's had me with the hands on the knees .
Up over the first climb by the cross and we had our first downhill. Pace was fast and only seconds between the first few of us. I knew we had one more hill to go so tried to keep my pace steady. Not easy in a race like this were the trails are fast and you are close to the guy in front and behind.
Up the last climb and I passed 3 guys but got overtaken by 2 at the very top ! Final fast descent and I was feeling okay and tried to catch the lads just ahead of me but ran out of road.
Came in 7th and just happy to get a good first blast in. Nice course with mix of single track, fire trails and 2 little climbs. One of these races that is hard to pace and has no real let up.
Tea and sambo's after in the golf club was well attended. A great start to the MMRA race season and a good crew of organisers. I'll be looking for helpers at Brandon ;-)