Glendalough Tucker Trail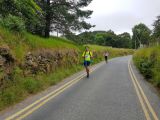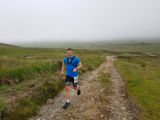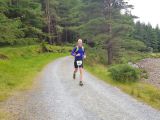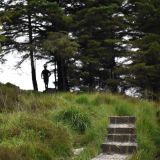 Authors
Race Director's Report
07 July, 2019 - Greg Byrne
The Glendalough Clover Ultra returned for a third year, this time retitled as the Glendalough Tucker Trail. Another new date, but the same setting, same 80k and same vagaries with the Irish weather. Once we got over the confusion that people did NOT have to be on a team we were all set to go…
THE START: 43 brave souls toed the start line, and then Gavin came sprinting from the car park, but then I suppose if you're going to be the champion you should know how to make an entrance?
LEG 1 took the runners over the Spink. Being July there was no sunrise for the runners to admire this year, but the crisp morning vista is always enjoyable on fresh legs. Peter & Gavin were amicable foes, while Karina and Aoife watched for early moves. After that the Wicklow Gap was more stereotypical, wind and rain. By the time the runners had returned to Glendalough many smiles and wicking shirts had been replaced with sodden expressions and muddied calves. By this stage Gavin and Aoife had gone clear. Gavin and Peter's recent achievements made us wonder if fatigue would be a factor for either or both. Aoife meanwhile grew from her recent exploits and powered ahead while Karina's day ended early. Shame as it was shaping like a cracking head-to-head, but there will always be another day.
LEG 2 has always been the tester… looks flat, but actually has the greatest accumulated climb of the three legs. No bother to Gavin who was first to reach Joe Lalor's exquisite picnic spot. Gavin's course experience coupled with the ability to see Peters position on his return meant the gap was managed well. Eoin was also starting to show the merits of a refined pacing strategy. Aoife meanwhile was looking stronger and stronger… topping off good form with the benefits of running sections of the course in training is a lesson we should all learn.
LEG 3 usually offers the sting in the tail, but maybe it is respite for those who prefer long continuous winding climbs through forestry? This climb brought the runners back up to the level of the mist, and away from the carnivorous midges. The leading duo of men were not going to be budged, but Eoin had his eye on the podium and the pacing strategy to match. For the ladies Aoife was storm outstanding, but bad luck befell Karen, with a missed turn causing her to drop from second to third behind Siobhan… and so it stayed.
Thank you to all who turned up and contributed to an amazing evet. A part on the back for all who finished. Congratulations to the prize winners.
Finally this year's outstanding volunteer and recipient of the GOLDEN CLIPBOARD AWARD is the one and only Gerry Doyle.
GLENDALOUGH TUCKER TRAIL 80KM ULTRA RESULTS
Ladies
1 Aoife Mundow F 10:03:15
2 Siobhan Hayes F50 10:35:15
3 Karen Duggan F40 10:45:15
Men
1 195 Gavin Byrne M 7:48:15
2 1240 Peter Gorman M 8:02:15
3 1926 Eoin Keith M50 8:12:15
Category Winners
F40 Mairead O' Keeffe F40 11:22:15
M40 Anthony Cahill M40 8:37:15
M50 George Flynn M50 9:45:15
TUCKER TRAIL TEAM CHALLENGE
Mixed team of 3, combined finish time to count
First Place Team
Karen Duggan, Eoin Keith, Finbar McGurren
28:39:45
Second Place Team
Siobhan Hayes, Stephen Gregg, Karl Fitzgerald
29:55:45
Third Place Team
Mairead O' Keeffe, Paul Duggan, Karl Richards
33:02:45
TEAM SCORE EVENT
Teams of 3to5, best 3 to score, category position, existing prize winners handicapped.
First Place Team (32 points)
Scoring Members: Torben Dahl (6), Mark Horvath (12), Laszlo Barkoczi (14)
Non-Scoring: Peter Gorman (302), Gordon Place
Second Place Team (37 points)
Scoring Members: Peter Thompson (4), Fabio Baltieri (10), Tiernan Swan (23)
Non-Scoring: Anthony Cahill (305), Aoife Mundow (301)
Third Place Team (60 points)
Scoring Members: Donatas Jocius (16), Sean Higgins (18), Paul Twomey (26)
Non-Scoring: Siobhan Hayes (602), George Flynn (319)
TEAM PRIZES
Team prizes were an open selection from the spot prize table. Not all teams were present unfortunately. In this case the prizes are foregone and were presented as spot prizes to those lucky to be drawn from the hat. We regret if anyone missed out, but please understand that the team event was intended as a bit of fun on top of the race and the timing of the prize giving was selected to respect the long day that volunteers had already provided.
IMRA ULTRA CHAMPIONSHIPS
Congrats to Gavin Byrne. By my maths Gavin is now the winner of the 2019 IMRA Ultra Championships.
On the Ladies side things are not so certain. Aoife has now brought her score down to 9 from 4 races. Eilis has 8 from three races… will there be a showdown in Aherlow?
A challenge to the runners while you recover…
A lot of different criteria need to be satisfied to agree the IMRA calendar, but feedback from the runners is always a key ingredient. If you have an ideas or opinions, then let it be known in a constructive fashion. Incremental improvement will make this championship a fixture on all our calendars.