Scarr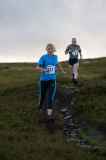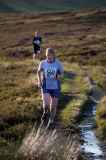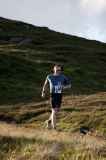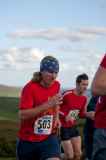 Authors
Rene Borg
18 June, 2009
The women's race tonight was a captivating contest as winner of the Euro Trial on Saturday Mags Greenan led out a strong Clonliffe side that also now features newcomer Sonja Fuhrmann. With Mags continuing her winning ways and Karen and Sonja 4th and 5th women, the Clonliffers recorded a stunning 10 points for victory.
Behind them Wicklow Rounder Moire O'Sullivan led a Setanta team also featuring Hazel Thompson and Jackie O'Hagan to a narrow 2nd for behind them Sli Cualann, with former Olympian Jenny McCauley, Mourne Half-marathon winner Mary Dawson and Aisling Renshaw chasing. Defending champions Crusaders were fourth on the day with Niamh O'Ceallaigh, Roisin McDonnell and Eva Fairmaner.
Tonight's result mean Clonliffe need only score 48 points in their next race to overtake Sli Cualann for 1st unless the ladies of Wicklow can better their current tally. Setanta also closed in ominously on Crusaders in 2nd.
On the men's side, tonight kicked off with excitement surrounding the three-way battle that has developed for the Leinster League title with Crusaders and Clonliffe chasing Sli Cualann.
Dynamics have changed as most teams now have 5 results recorded and are now looking to better these by scoring as low as possible.
Sli Cualann were well-positioned to do so fielding a killer line-up of Cormac Conroy, Hugh McLindon, Ben Mooney, Hugh Kinsella, Jimmy Synnott, Martin Francis, Patrick Wolahan and race director Brendan Lawlor.
Crusaders on the other hand had Richie Healy, Jason Kehoe, Gavan Doherty, yours truly, Mark O'Sullivan, Diarmud O'Colmain and Dave Williams to take the fight to them while Clonliffe had Anthony Malone, Greg Byrne and Dermot Murphy. Sportsworld also deserve mention for fielding another good side of 6 runners, three of which finished in the top-40.
A lot of the team's runners had already done themselves good credit competing either at the weekend's Club Championship at Clohernagh (were absent Rathfarnham and North Laois put all to the sword) or at the Mourne Way Marathon and Half-Marathon in the North.
Eoin Keith led Boards AC home to another individual victory for the ultra-runner, but first runner from the "rivals in front" was Richie Healy who took his first top-3 finish after Bernard Fortune in 2nd. With Cormac Conroy 4th, all was still open, and when Jason Kehoe took another step up the rankings by claiming 9th, Crusaders were ahead but Hugh McLindon and Ben Mooney battled each other down in 10th and 11th and snatched victory. Myself and Gavan once again had a battle for secure a low finish for our team, and once again the wily orienteer won out giving Crusaders 2nd spot on the night.
Mick Hanney and Finbar McGurren finished 20th and 24th to take 3rd spot and great credit to Boards AC though who had an impressive 10 runners out on the night. Clonliffe were 4th and behind them Setanta, Sportsworld and UCD had a very tight battle with UCD long in the lead before dropping to 7th.
Still while Sli Cualann managed to shave 10 point of their points, Crusaders took off 13 on the night and there's now 11 points between them with 4 races to go. Clonliffe could not improve on their figure and are now 24 points adrift but have a solid lead in third. It was a profitable day for Boards whose good result took them 45 points down.
In general the table has "moved together" and competition for final positions will be fierce.
MEN
1st - Sli Cualann 25 (4 Cormac Conroy, 10 Hugh McLindon, 11 Ben Mooney)
2nd - Crusaders AC 31 (3 Richie Healy, 9 Jason Kehoe, 19 Gavan Doherty)
3rd - Boards AC 45 (1 Eoin Keith, Mick Hanney 20, Finbar McGurren 24)
4th - Clonliffe 52 (7 Anthony Malone, 12 Greg Byrne, 33 Dermot Murphy)
5th - Setanta 87 (22 Kevin O'Riordan, 28 Terry Lawless, 37 Shane Enright)
6th - Sportsworld 94 (23 Colm Kennedy, 33 Liam McFadden, 38 James Benson)
7th - UCD 94 (16 Niall Fox, 18 Zoran Skrba, 65 Patrick Ryan)
8th - Tumbleweeds 166 (51 Ben Moore, 91 Danny Ward, 124 Stephen Letch)
9th - Glenasmole 258 (61 Cillian Stewart, 87 Thomas Galvin, 110 Paul Stassen)
WOMEN
1st - Clonliffe Harriers 10 (1 Mags Greenan, 4 Karen Duggan, 5 Sonja Fuhrmann)
2nd - Setanta 17 (2 Moire O'Sullivan, 7 Hazel Thompson, 8 Jacqueline O'Hagan)
3rd - Sli Cualann 21 (3 Jenny McCauley, 6 Mary Dawson, 12 Aisling Renshaw)
4th - Crusaders AC 50 (15 Niamh Ni Cholmain, 17 Roisin McDonnell, 18 Eva Fairmaner)
Rene Borg
18 June, 2009
Scarr, meaning "sharp rock" from the word sceir or scor (just what every runner wants to hear), is a bit of an odd-mountain-out by Wicklow standards. Cut off from the main range by deep Glenmacnass on the West and the Lough Dan valley to the North and East it stand aloof and independent just as the Trooperstown massif further up the Glendalough road.
This 649m summit set the stage for one of the few races I have now managed to do in all my three seasons with IMRA. I remember it for Peter O'Farrell's first victory, for James McFadden's record set in horrendous conditions last year, for three falls in the rain here in that same race, and for always leaving the race with mixed emotions as to what to think about the evening's run which is a pity, for the spiked green slopes of Scarr matches the views you catch from its top for beauty.
Today would be no different, although conditions certainly were, the splendid dryness of 2007 had been ruined by the last few days' rain, but there was no sign of the torrential conditions of 2008 as a friendly dry day greeted runners in the new and extended car park provided by the local friendly farmer.
There was some warning from Mike Gomm and Moire O'Sullivan about very windy conditions and wet patches on the top. Having tested my racing flats here on Sunday I chose to ignore the advice to go with fell runners. Anyway, I had forgotten the insoles for my Trailfoxes and they aren't very comfortable without them.
Martin Francis had "most interesting footwear" of the day, featuring a "Nike Free"-like shoe that allowed his feet to grab the terrain with the same skill as our brethren the mountain apes.
The first climb of the day is the longest and steepest before the route flattens as you approach the long array of false summits that dot the elongated pathway to the summit cairn of Scarr (in the race you turn at the first, a second cairn allowing you a view to Kanturk and Brown Mountain is further back). To cope with this I had listened to some good advice from Peter O'Farrell and Kevin Keane at Saturday's Trial on the importance of a long warm-up and strides. But while myself and Hugh Kinsella did some fast sprints on the farmer's field before embarking on a 20-minute jog, Eoin Keith once again did his customary warm-up arriving on bike from Dublin. Rafael Salazar also took the environmental route has he jogged from Roundwood.
I had reasoned, right I believe, that conservatism would be prudent on the first climb in order to launch an attack on the flat stretch. Having choked down a Red Bull Cola before the race, things somehow went awry from the moment the gun went. As the top of the field climbed up towards the turnstile were the race route diverts from the Wicklow Way (and were some runners nervously ogled the freely grassing cattle), Eoin Keith, Richie Healy and Cormac Conroy were the only runners to establish a decisive lead.
While not graced by the current crop of international runners, today's field was a strong one both on the men's and women's side and every runners position should be viewed in a positive light from that fact although it can be difficult when raw statistics tell no such stories.
The Red Bull must have lived up to the commercials as I felt utterly at ease up the first part of the climb, breathing was easy, and no tiredness in my legs, so I decided to ignore both planning and reason. When I passed Jason Kehoe I merely assumed that last year's rivalry would finally be renewed, but when I passed Jason Reid and Ben Mooney and then saw Bernard moving up on my shoulder, troubled thoughts started to emerge in my mind.
Bernard would go on to finish a strong 2nd, apparently stripping of his singlet as the wind caught it and affected balance going down. Richie promptly copied the trick and pounced home in third after the Wexford man.
I had lost my momentum on the flattish bit and by the time the next climb came I was hit by a meltdown of nuclear proportions and for a moment it felt like you could have filled Madison Square Garden with the number of runners who passed me out. Looking later at my trusty Garmin, my speed dropped so low here that I lost 2-3 minutes in the space of a kilometre. This was an unusual blow-up as it seemed something (the cola???) had blocked out all warning signs.
Luckily, one runner who caught up with me was Jimmy Synnott who gave me a strong push in the back. The surge from this, mentally and physically, didn't last long, but meant I held off a few more runners for a little longer. When Kevin O'Riordan caught up with me approaching the penultimate false summit, I was feeling better and decided to take along. Coming off this false dawn I passed him out again before we repeated the game towards the final summit. The final climb struck like lightning and I staggered over it unable to even greet Marshal Joe Lalor politely and fully unable to launch my customary "transition attack".
Half in a haze and immediately slipping around in my racing flats, I lost composure on the next few descents and as I was fighting to get back to my senses and out of the way of ascending runners a number of bizarre route choices led me through heather, high grass and the deep tarns that had suddenly appeared since my Sunday recce. A lot of good that surveying trip did me...
Still, recovery came, and Mags politely let me pass her out as I tried to push the final half of the ascent. The damage had been done by now as clever descenders Martin Francis and Mick Hanney had caught up with me and before them Gavan Doherty in his usual fearless style.
Once the route levelled and dried somewhat, I got a bit back catching up with Conor O'Meara, Garrett Murphy and Paul Smyth and possible other runners as the drunken cloud around my head was only starting to lift now. Upset by the tactical blunder I was determined to make the most of the last steep but bone-dry ascent down to the finish and while I once again missed out on breaking the 20kph barrier, I did pass the last 1000m in 3 minutes and 27 milliseconds, a new personal record for me and something nice to take away from a race. That the descent was furiously fast could be seen from the fact that I reached speeds of 26kph on this stretch. At this stage, my mind begged for the route to continue longer, or as Moire would say it later "it was about 10 kilometres too short". Yet it didn't stop her taking 2nd after Mags with Jenny McAuley 3rd in another welcome outing from her in the hills.
All times on the day should be seen from the perspective of the slightly changing history of the Scarr route over the last three years. The first year the route was 7.9km long with 367m ascent, the year after slightly shorter at 7.5km with 340m ascent before this year's new start location raised the route to 8km with 362m ascent. The 500m extra from 2008 explain partly why times look a bit slow in 2009 compared to previous years.
My final effort enough to pull back Kevin O'Riordan almost on the finish line but Mick Hanney and Gavan Doherty just about maintained the leads build earlier on the descent and slammed the door shut on my return to the top-20 for yet another week.
"You sly fox, you", I said to Gavan. "Ye' feckin' eeijit", Mick said to me and laughed at my shoes. Before the race he'd said "let's compare notes after". We forgot but I had a feeling his looked better.
Someone also commented sardonically on the fact that 9 out of 20 men in the top-20 were M40s or M50s. Richard Askwith commented in his book "Feet in the Clouds" that fell-running as a sport is aging, but I would take the more optimistic view that many hill runners have taken up athletics late in life or have chosen to maintain an unusual level of fitness well beyond what is customary in many sports. The unique strength and endurance demands over raw speed may also have a part to play but this is a discussion for another day.
There was an impressive crowd of 175 runners out, a good bit more than last years, but 3 of these unfortunately DNFed. Category winners were Eoin Keith (first M40) with Bernard taking the plaudits as Eoin won overall, first M50 was Martin Francis, first M60 again Diarmud O'Colmain, and M70 was Charlie O'Connell who beat out Mike Gomm. Eileen Walsh of Donore was first F40, Ger Power won the F50 as runner-up to Mags Greenan who took the overall women's, and Clonliffe's Jean O'Neill was first F60.
There was a very good battle on the short course between the juniors as four M14 fought it out. Cian Galligan, with dad Michael running along, won in front of James Alexander, Ciaran Sullivan and Robin Mooney.
Gerry Brady
18 June, 2009
COUNTY RESULTS
There were 168 finishers on the long course on Scarr, of these 120 or 71% recorded their county. Richard Healy led Dublin to victory in the men's race. Wicklow were a close second, with Cormac Conroy having a good run in fourth, ahead of Cork and Wexford. Kildare were fifth ahead of Westmeath, Donegal and Mayo.
In the women's race a very close contest in the club competition was mirrored in the county with Dublin winning from Wicklow. Jenny McCauley made her first appearance of the year and placed third.
If you have not yet listed your county team, you can email it to Gerry.Brady@imra.ie. Preferably use your county of birth.
Women
1. Dublin 10 (1 Mags Greenan, 4 Karen Duggan, 5 Sonja Fuhrmann)
2. Wicklow 21 (3 Jenny McCauley, 6 Mary Dawson, 12 Aisling Renshaw)
Men
1. Dublin 14 (3 Richard Healy, 5 John MacEnri, 6 Jason Reid)
2. Wicklow 25 (4 Cormac Conroy, 10 Hugh mcLindon, 11 Ben Mooney)
3. Cork 62 (1 Eoin Keith, 22 Kevin O'Riordan, 39 Kevin O'Reilly)
4. Wexford 63 (2 Bernard Fortune, 23 Colm Kennedy, 38 James Benson)
5. Kildare 102 (27 Joe Flynn, 33 Dermot Murphy, 42 Eoghan Carton)
6. Westmeath 135 (7 Anthony Malone, 63 Alan Collins, 65 Patrick Ryan)
7. Donegal 182 (32 Liam McFadden, 58 Shay Foody, 92 Adrian McGettigan)
8. Mayo 224 (55 Enda Walsh, 76 Stephen Holleran, 93 John Coleman)
9.Cavan 113 (24 Finbar McGurren, 89 Phil Ward)
10. Louth 137 (40 Padraig O'Dwyer, 97 Pol O'Murchu)
11. Kerry 187 (84 Gavin Driscoll, 103 Berndt Heim)
12. Meath 190 (75 Eamonn Hodge, 115 Peter Cooney)
Moire O'Sullivan
18 June, 2009
Just for a change - The Story of a Race's Marking
So off I plodded around 4.30pm on Wednesday afternoon to mark the race route for Scarr. Not wanting to be blamed for any navigation errors, I placed tape every hundred metres or so.
When I eventually got to Scarr's top, not only did I find the summit cairn but also a pristine orienteering kite all ready for some punching. With the Irish 6 and 24 hour Rogaine fast approaching, I wondered if this was a control laid out for that event. However, it all seemed a little too early to be placing controls out, especially with the Rogaine still four weeks away (still time to get your entries in lads and lassies at http://www.setantaorienteers.org/rogaine.html !) I know the organisers, Setanta Orienteering Club, are brilliantly efficient, but this was a bit much. Anyhow, leaving the kite as I had found it, I headed back down to the start to run the race myself.
As I reached the summit for the second time that day, Joe (the marshall on top) shouted something at me about the Rogaine. The wind was howling and I was puffing, so I had neither the energy nor the time to fully consider his comment.
I finished the run, got in my car, and happily headed on towards the pub, a good day done of marking and running. As I was leaving the carpark, Richard Nunan smiled and waved goodbye. Whilst one hand was waving, the other one was holding... that very same orienteering kite I found at the summit. Oh dear. The IMRA guys had taken the kite away.
I rang Joe from Roundwood. Apparently, at the summit turn around, he wasn't trying to engage me in polite conversation about the merits of the Rogaine. He was in fact asking me a question whether this was my kite or one for the Rogaine. It was a valid question. Seeing that I hadn't really replied, Joe instead decided to use his own initiative. The kite had Setanta's name on it, and seeing that I'm a member of Setanta, he figured I must have brought it along for IMRA's Scarr race. I would therefore obviously want it back.
Enter the pub, Dave Weston. Dave is the Setanta Club Chairman, who happens to live in Roundwood and who also happens to like drinking the odd pint with runners. Maybe he could answer the question of why the Rogaine controls were already out a month in advance, when they are so prone to being stolen or tampered with before the actual race. "That's not a Rogaine control. That's one of the army's". Oh dear. Dave continued. "They're running an event tomorrow. So you better get that control back up to the summit before then".
The last I heard, the kite was in the back of an undisclosed IMRA car. Whether it gets back to the top of Scarr before the army arrives on Thursday morning is entirely another matter.
Wouldn't ye think with the sheer number of hills throughout Wicklow, orienteers and hill runners could at least use different hills on different days for their events. But wouldn't you know, of all the summits on all the mountains in all of Wicklow, those orienteers had to walk into ours (cheers Humphrey).