The Sugar Bowl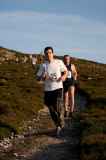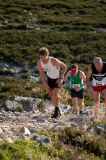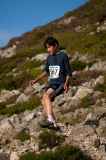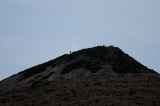 Authors
Gerry Brady
17 July, 2009
COUNTY RESULTS
There were 202 finishers from 18 counties on the Sugarloaf with 48% recorded their county. At club level there were 32 clubs representing 38% of finishers. Dublin won both county teams led home by Sonja Fuhrmann and Jason Reid. Wicklow were runners-up in both categories with Aisling Renshaw and Hugh McLindon doing the honours. An ever improving Kildare team were third with Daniel Morrogh from the Army their top finisher. Wexford (92), Westmeath (111), Cork (127), Meath (208) and Mayo (293) completed the list of full teams.
The inter-county championships are on 8th August in Crone Wood. There will be championship medals for the first three county teams in the men's and women's categories.
Women
1. Dublin 8 (1 Sonja Fuhrmann, 2 Karen Duggan, 5 Niamh O'Ceallaigh)
2. Wicklow 38 (10 Aisling Renshaw, 12 Liz Ryan, 16 Maria O'Rourke)
Men
1. Dublin 25 (4 Jason Reid, 7 Greg Byrne, 14 Robert Healy)
2. Wicklow 31 (8 Hugh McLindon, 10 Ben Mooney, 13 William Powderly)
3. Kildare 71 (19 Daniel Morrogh, 22 Joe Flynn, 30 Brian O'Meara)
4. Wexford 92 (5 Bernard Fortune, 23 Colm Kennedy, 64 Eoin Mahon)
5. Westmeath 111 (6 Anthony Malone, 45 Patrick Ryan, 60 Alan Collins)
6. Cork 127 (1 Eoin Keith, 29 Kevin O'Riordan, 97 John Fitzgerald)
7. Meath 208 (54 Eamonn Hodge, 73 Michael Boyce, 81 Kevin Magee)
8. Mayo 293 (68 Stephen Holleran, 93 John Coleman, 132 Denis Carey)
9. Laois 15 (3 Martin McDonald, 12 Derek Coogan)
10. Kerry 114 (27 Paul Mitchell, 87 Berndt Heim)
11. Galway 121 (41 Damien Cunningham, 80 Cathal Lally)
12. Cavan 153 (25 Finbar McGurren, 128 Phil Ward)
13. Louth 189 (83 Padraig O'Dwyer, 106 Pol O'Murchu)
14. Sligo 257 (126 Brendan McLoughlin, 131 Andre Tully)
Rene Borg
16 July, 2009
An eventful team competition drew to a close on the unpredictable course that is the Sugarbowl. North Laois looked bound for victory in the men's when their 3rd man took a wrong turn and DNFed, Crusader Jason Kehoe was well up in the top-10 with less than 500m to go but also found himself out of bounds with the course and there were many such stories meaning the winner was up in the air for a while.
In the end though, the stalwart trio of Hugh McLindon, Ben Mooney and Jimmy Synnott took the honours for the xth victory of the season. Rathfarnham's crown has been taken, and Sli Cualann are the new Leinster League champions.
Behind them Clonliffe Harriers had to hold off Crusaders whom they had only overtaken in 2nd at Ballinastoe. An upset never looked in the cards, however, when Anthony Malone, Greg Byrne and Kieran Rocks brought Clonliffe hom in second. Just a point behind them were Boards AC led, as always, by Eoin Keith but followed by the ever-improving Finbar McGurren and indefatiguable Mick Hanney.
Paul Mahon, making a rare appearance in the League, brought Setanta home in fourth and then came Crusaders. With Jason DNFing, newcomer to the hills, Oscar Nieto Cid, got the chance to score for his team with brother Rob and Jeff making up the other members of the team.
Sportsworld were 6th and Zoran Skrba finished a great season off as he registered as first man for UCD in 7th.
Sli Cualann's women would not be put in the shade by their male counterparts and won ahead of Crusaders and Setanta to record 9 wins! Crusaders had a good 8 point margin over Setanta but it was too late to fight back to 2nd overall which Setanta claim this year. Clonliffe again looked poised to dominate with their women finishing 1st and 2nd, but were again short a 3rd scorer.
SEASON STATISTICS
This season saw 14 men compete in the men's and 4 in the women's against 13 and 5 last year, however, the number of overall club runners was much increased so this small increase isn't totally reflective. Sli Cualann won with 33 points down to Clonliffe and 38 down to Crusaders in 3rd.
Sli Cualanna equalled Rathfarnham's 2008 record of 8 victories but Rathfarnham can still be considered record holders as they achieved their 8 out of only 12 races instead of 13. Rathfarnham's record 67 points for the 5 best still stands against Sli Cualann's 102 this year.
Lowest score of the season was set by Rathfarnham (7 points) but they failed to better their own record (6 points) both set at Three-Rock Ticknock. Clonliffe set the lowest for the women with 10 points at Scarr but could also not improve their own record from Hellfire and Brimstone last year of 8 points.
Most improved team was Clonliffe who moved from 11th to 2nd space from 2008 to 2009. Setanta suffered the biggest drop going from 3rd to 8th. In the women's Setanta moved from 4th to 2nd and Crusaders dropped from 1st to 3rd.
On the women's side Crusaders may have lost their title but retained their record, Sli Cualann's 8 victories and 98 points could not match the 11 victories and 71 points set last year (this remaining the benchmark to beat for 2010). Competition in the women's was much improved in the breadth, however, as no team other than Crusaders managed to complete 5 races last year against 3 this year.
The overall competetiteveness of the league has improved though: Three teams managed to score lower than 200 points (only Rathfarnham achieved this in 2008 and competition for 4th to 6th was much fiercer with UCD having an almost 500 point gap down to 6th last year and only 80 points separating 4th and 6th this year (indeed only 3 between Boards and Rathfarnham). Average score for all teams dropped from 122 to 104 for the men and from 37 to 35 for the women.
With the hopeful return of Aoife Joyce next season, Crusaders will be motivated for a rematch for the title lost this year with Sli Cualann. Next year should also see a renewed Setanta challenge and hopefully a return of the Clonliffe and Rathfarnham women in the hills (in force).
On the men's you will expect all of the main teams to return stronger next year and give us another enthralling contest, and who knows, perhaps Rathfarnham will return to attempt to wrest "their" title back from Sli Cualann, the double-champion club of Wicklow.
See you next year...
MEN
1. Sli Cualann 42 (8 Hugh McLindon, 10 Ben Mooney, 24 Jimmy Synnott)
2. Clonliffe Harriers 51 (6 Anthony Malone, 7 Greg Byrne, 38 Kieran Rocks)
3. Boards AC 52 (1 Eoin Keith, 25 Finbar McGurren, 26 Mick Hanney)
4. Setanta 72 (11 Paul Mahon, 28 Kevin O'Riordan, 33 Shane Enright)
5. Crusaders AC 124 (14 Robert Healy, 32 Jeffery Healy, 78 Oscar Nieto Cid)
6. Sportsworld 147 (23 Colm Kennedy, 27 Paul Mitchell, 97 John Fitzgerald)
7. UCD 152 (20 Zoran Skrba, 52 Ben Dromey, 75 Philip De Chazal)
WOMEN
1. Sli Cualann 38 (10 Aisling Renshaw, 12 Liz Ryan, 16 Maria O'Rourke)
2. Crusaders 47 (5 Niamh O'Ceallaigh, 19 Deirdre Ni Chearbhaill, 23 Mary Collins)
3. Setanta 55 (4 Hazel Thompson, 21 Melanie Walsh, 30 Caitlin Bent)