Stone Cross to Lug Relay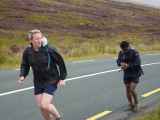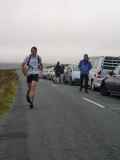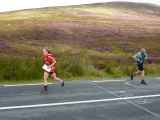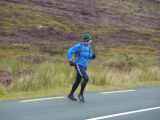 Authors
Niall McAlinden
06 September, 2010
Stone Cross to Lug, Leg 1:
I started the day by being rudely awoken by Colm ringing me. It was before 6 in the morning and he informed my that he was "pumped" and asked was I "pumped". After living with him for a year I've got to know Colm's levels of enthusiasm and he was really on a high… probably a 3rd cup of coffee already that morning high. So as per his orders I got up had a nice bowl of porridge and headed for the Saly gap. The morning looked great as I was driving down the M11 but just after the turn off for the Sally gap I could see the clouds up ahead. When I reached the gap there was 5-10m visibility and a nice strong wind, perfect conditions for our team but maybe not great for a record attempt.
I got a lift from the 3 cork lads to the start of the race which was very much appreciated, they were going to do the 3 legs together and were discussing food and tactics. I let them in on my tactic, go hard from the start and don't let anybody follow me. There was some time before the start so I did a few km warm up and chatted to a few of the other runners. Shea arrived about 15min before the start to wish me good luck and explain the pain I would be put through if I messed up.
From the start I pushed hard up the fire road, I knew that 2 or 3 corners in there was a turn onto a small path that has been a little bit blocked by tree felling and if I had 25m on the chasers it would be doubled while they hesitated before turning. The plan seemed to work as I couldn't here anybody behind me from this point. I pushed hard up Seahan following a straight line up a ride then onto the open mountain. I was ~9min to the top and felt good. I took a few seconds at the top to make sure I was heading towards Corrig, myself and Jeff had gone wrong here in our recce so I was being extra careful. Visibility was about 10 m so I couldn't see anything I was just following a barring.
Corrig was picked off quickly and I was on my way to Seefingan. The wind coming across the ridge was making my right arm and cheek freeze but I was enjoying the run. I was carful to stay on the path through the bog and was really glad when I started climbing and saw the warning sign for killbride range. I knew I was bang on course. I pushed very hard up the hill knowing its where I'm strongest and hoping to gain time on the chasers behind me. I was ~32 min to the top of seefingan but now visibility had gotten even worse.
I knew to follow the small drainage ditch down towards Kippure but this ends after ~300m and then I was following my compass. Initially from the shape of the land I though I was too far left so corrected a small bit. My running was slowing as I was being extremely careful to pick off all the details. I figured there was no point getting lost and losing 10 min. Next thing I saw the fence that runs on the right hand side of the ridge… I don't know how that happened but I don't think about it. I push on keeping it in sight. I know I'm on the right of the ridge adding a small bit of distance but at least I know where I am. Knowing where I am lets me up my speed again and I get back into a fast stride.
When the fence turns down hill I turn up and start climbing Kippure. I hit the summit and am amazed how bad visibility is. You can't see a thing. I get around to the road and run down it for a few hundred meters then cut into the bog. I know the barring to follow and know I will hit a fence that I can follow. However because the visibility is so bad I'm careful and aim slightly left so that I'll hit the fence sooner. I get slightly nervous coming down and just as I'm starting to slow down to get a fix on my position I spot the fence and follow it to its junction with another fence, and then its follow that fence across two rivers, one I believe is the Liffey. When this 2nd fence turns I cut onto the road.
My legs are tired now but I know Colm wants a good time from all of us so I hit the accelerator. Im running well, I run the 2km on the road in ~6:45. When I spot the cars I get a big cheer and its clear I'm first one back. I look out for Shea and of course he's not ready, he's peeing on the Saly gap sign… He finishes up quickly and tags me. In the end I had gained 8 min on the next runner so happy days. I text Colm to let him know and head off to get a coffee, job done.
Thanks to Philip Brennan and his hardy group of volunteers. It's a very long day for them but it's a fantastic and historic race so I hope it stays on the calendar.
Colm Hill
31 August, 2010
Warning: The post below contains youthful enthusiasm, cockiness and a complete disregard for anything and everything unrelated to Open Mountain racing. Trail runners do not read on as you may be highly offended by the views and language contained in the post.
Its 0500. I still haven't slept. Alarm rings onto deaf ears. The waiting is over. Its time to race. Kit packed. Coffee/Glucose mix drank by the litres. The phone call to make sure Niall is awake. He sounds calm. A little too calm for what we are attempting. Over to the O'Boyles. Drive to Shorts. First legs leave. The wait begins. 0900 comes around. Still no phone call. The wait is sickening. The phone rings. Heart rate quickens. No dice. No one has returned from Leg 1. I begin to feel sick with worry. Phone vibrates. I lunge for it. The news is good. Niall has done his job. Seamus has a 7min lead. Into the car again and off to Wicklow Gap. Get changed. Warmed up. Struggling to stay calm. No matter what happens I have one eye on the crest of Tonelagee. The mist is swirling. It looks beautiful.
The clouds part. A silhouette appears on the crest of Tonelagee. I scream out loud. Seamus is minutes from the hand over at the Wicklow Gap. My week of hell is over. Its game on.
People begin to laugh at me in the car park. No one believes Seamus has come over the top. I scan the mountain side. Seeing nothing, I get slightly concerned that I might be hallucinating again. Sleep deprivation messes with ones head.
I saw the black blob bouncing again. I scream out in triumph again. Ripping off my CNOC squad jacket and warm up bottoms. I run out onto the Wicklow Gap road. Eyes fixed on Seamus bounding down the hill. I have to fight the urge to scream abuse at him. I know that in the wind he won't hear my blood curling abuse.
I pace up and down the road, watching Seamus push himself to his limit. All I focus on is Seamus. I hear muffled cat calls from behind me. They don't concern me. My system is flushing my body with adrenaline. My mind is gone into over drive. Shea nears the road and I start to jog off. He hits the tarmac and sprints off after me. We tag hands, clock on. I start to accelerate. He follows, screaming instructions. Watch the compass, watch your compass. He looks complete wrecked. I try take his words of wisdom on board. A cheer from the car park as Seamus drops off. Its all up to me now.
I switch on and drive up the hydro road to Turlock Hill. Keeping my strides short and fast, my HR at a controllable level. Trying to squash the waves and waves of adrenaline trying to take over my brain. As I cut the first corner of the road I have managed to calm myself down. Its just my own personal open mountain TT to see how well training has gone. I scramble up the sheep track and out onto the road. Up 30m and off the road again, up the massive earth bank and into my first taste of Wicklow heather in 2 months. I am welcomed back to hell. The small branches brush and fight against my legs, every stride is a fight. I got a little panicky. I wasn't strong enough for the record this year. No worries, we'll just enjoy it. I take a cheeky glance behind me, no sight nor sound of any runner descending Tonelagee. We have the win. Its just a matter of surviving and enjoying the view.
I climb through the heather, down to a fast walk. Looking up, I see the short grass that signals the upper road. Making a bee line for it, I hit the sheep track and pop out onto solid tarmac. I instantly get the legs turning over short and quick. Keeping an eye on my HR as I climb up the road. I try to settle my nerves and cram the adrenaline back into its box. I'll need it later. Its was going to be a long day. Give or take 2hours on the mountain, with severe cramp at the end.
Looking up again, I see the cliffs. I'm thankful I'm running this leg, I would be concerned if we had put Seamus on this leg, I'm not sure if he could have resisted a quick climb. I can see the track leading to the communications hut. Cutting the corner through the short heather, my self confidence comes back. It feels so cool to be just floating across the ground. Out onto the track and following it along, skipping across the puddles, trying to keep my socks dry. Around the bends and I catch a glimpse of the small aerial that stands tall on the hut. Running over, touching the building and off we go on the first route choice leg of the course.
(I covered the first section in 15:25min compared to my previous best of 16:35, which was a blood thirsty sprint been chased by Tucker...)
Setting off to Convalla, I decided on the slightly, ever so slightly right of straight line. Descending through the heather, it felt as if I was just hovering across the ground. I wasn't pushing the pace but my HR was sitting exactly where I wanted it. Down to the river, I had to back track slightly to get a nice crossing point. Leaping across, keeping my socks dry. So far so good. The second climb of 4 started. Head down, leg stride short and rapid, watch the HR. I was in complete control. It was a run in the mountains. Up through the heather. Looking up and picking out the nicer ground. It felt great. I summited the first spur and caught a glimps of the Lugduff Ridge and Conavalla behind that. Behind that again was a barrier of mist and low lying cloud. Sitting a top Lug. After summitting Lug 3 times the previous year, each time I was baked in what some people call "perfect" weather. The swirling mass of mist was my perfect weather. Dropping down off the first spur, I just floated down. I didn't drive the pace, just cruised down. Feet flying, brain casually picking my foot holds. I couldn't put a foot wrong. As I descended I looked up and looked for a good line up through the peat hags. Imaginary lines pop up all over the terrain, looking for the optium route. I see a line that looks squeeky clean. I can't believe my luck. Down off the spur and into the climb up Lugduff Ridge. At this point I begin to swing myself back in a straight line to the cairn on Conavalla. I have to jump a peat hag or two, but that was the extent of it. The ground I picked was solid. My luck was holding out. I crested the ridge and scanned the ground. Conavalla seemed dam flat this year. How the hell did it look flat! I wasn't complaining as I picked my lines again and went for it. Jumping a few serious peat hags, dropping and climbing. My mind is flashed back to 2008, I was running scared. My legs were cramping, all the god dam peat hags. This year, I was avoiding them to the max. I got across the section of peat hags and saw the gravelly section that I ran down in the CoA. Gravel = soild fast running ground. I began to make a straight bee line for it. Squelch. Up to my ankles in soft wet marshy peat. The ground looked so flat and dry. I was gutted. I got so far with dry socks! Worry one was out of the way. I hit the gravel and was up onto the flat summit, hanging a lefty to the small cairn. On hitting it, I hit lap and looked down. 19:25. I was pretty happy, as far as I remembered, the previous years I had run it in 20ish mins. I was on target for sub 2hours. Something that I had completely forgotten about.
(I covered the 3.09km in 19:25 with my previous fastest split been 23:21.)
I was approaching the 2nd last climb of the day. Conavalla to Tabletrack and Camenbologue. In CoA I ran this in 20mins. As I had completely foored it in CoA, anything close to 20 I would have been happy with. Heading off of Conavalla I keep a cool head, my legs want to floor the descent, I keep myself cool. No point doing anything stupid. Dropping down, I can see the valley, I pick my spot and head for it. I think I went slighty too far to the right, but I corrected it as quickly as I could. On reaching the far side of the valley, I began to tough pull up. The ground here is always grotty. Deep heather, and I still couldn't find a sheep track in the area. Keeping the HR steady I climb up. I can see the track up ahead, out onto it and I've nailed it again! Just below the corner. Perfect, I put the head down and get up the track, I can see a hiker further up the road from me. I have a pulling target. Get to the junction before they do. The rutted track is like a motorway, hitting the pole, swinging around it and off again. Up through the peat hags again, running through the maze before popping out onto the flat short grassed summit. Head down, legs turning over. Hit the cairn, hit lap, dumfounded expression has to appear on my face. 18:27 on the watch. In CoA, I was over 1:30min slower. I was ripping the mountain apart. I shelved the thought and began the descent from Camenabologue.
(From Conavalla to Table, I covered 2.27km in 14:07. From Table to Camenabologue was 760m in 4:20. My previous bests were 15:42 from Conavalla to Table - so I took over 1:3o off and I even knocked off a further 20sec between Table and Camenabologue.)
I begin the descent. My mind is in over drive. I was flying without pushing that hard. I knew my shoes were in bits from the summers racing and training in scandi so I had to take it careful. I flung myself at the slope. Waiting for that one moment where the tracking would give. After a few hundred meters I realised that in the mud, my shoes weren't amazing so I dropped back the pace to a get through it pace. I was sticking to the trail that I avoided on CoA. It wasn't amazing but gave faster running than the deep heather and peat hags. Down and down and down. The mist cleared briefly and I caught a glimpse of the Cannow Ridge leading up onto Lug. It looked steep and hideous. Across the last of the descent. It was now time for the final climb of the day. The big one. The daddy of them all. I put the head down and got into a rythem. Jumping from rock to rock. Solid ground to soild ground. Step after step. This was not the usual blood thirsty sprint. It was a calm, calculated climb. Get to the top with just enough energy to go flat out on the fireroad at the end. Guss and Ger were giving chase. I was the hare. I was swollowed up by the mist. Passed the first group of hikers, looking up, spotted another. Head down. One foot in front of the other. I had found my rythem and it felt great to be comfortably hurting running up Lug. My mind went numb to all thoughts. All of my energy was now been pumped into my legs. This was a maximum effort. I felt a little tweek in my leg. The onset of cramp. I shoved my thumb in it. It was going to shut the f up until I reached Fentons. I caught the next group of hikers. I was off the trail and onto the short grass of the Cannow Ridge. It all looked the same. I got a bit panicky so I whipped out the compass. Map still in my pocket, I took a random baring. Looking all cool to myself. I didn't meed a map. I can't get lost on Lug.... Then a little voice in my head came back at me "Colm, can you imagine the sheer grief you will get from Seamus, never mind anyone else, the grief from Seamus, if you f**k up now". Needless to say I whipped out the map, took a proper baring and began to thumb the map. The brain does messed up things when craving for oxygen. I am close to the top. I could feel it. But the ground kept climbing. Head down, I can't really over shoot Lug - be quiet a challenge! The mist is swirling. I think I catch a glimpse of the cairn to my right. I resist, trusting the compass and contours. An extra 100m and I see the cairn loom up out of the mist. Bingo. Game, Set, Match, CNOC. I am most pleased with myself. Hitting lap I look down. 28:36. I almost trip over my jaw that has landed on the ground. I take a baring and head off in the right direction off of the summit. I begin to play with my watch - see what total time I was 1hr20mins. My brain goes into over drive. "Its a 20min descent from Lug to the gate. The best descent time is 16ish mins. I usually run it in 20mins... ooh shit oooh shhhhiiitttt. Thats the f**king record been broken by seconds".
(I covered the 4.9km to Lug in 28:36, with a previous best of 34:35..)
I tried to calm the elation I was now on. I wasn't running, I was floating across the ground. Running across the flat summit I was constantly checking my bearing. I couldn't afford to throw away this perfect run. I reached the rocks and took it gingerally. I did not want to smash myself now of all times. Slowly picking my way down through the rocks. I hit the nice boggy heather. I take off. I'm bouncing with each step. Across bog and peat hags and beautiful short heather. Its perfect. I was whipped back to my sences as I couldn't see a thing. It was still a white out and I hadn't reached the path. I got a little nervous but my compass said I was right. We had kissed and made up in Norway so I wasn't going to not trust it today. After what seemed like an eternity I popped out of the mist and hit the track at the same time. The entire valley openned up in front of me. A crystal clear day. It looked amazing. I took the rest of the descent at a fun descending pace - not quiet toying with death as I usually do, I could still see the line of sanity. I was floating down. I neared Camarahill and I waited for the kick in the teeth, but it never came. I hit lap again, but I with held myeself from looking at the watch. I didn't want to be tempted and risk everything. Down off Camarahill, skipping at this stage. Hit the gate, 1:21min off the record. I was freegin bouncing. On hitting the road, I wanted to go sub 7 for the last 2km. I got the finger out and upped my cadience. I didn't care what my HR did now, all the work was done. Rocked over the last 2km in 6:46. Ran past the statue, hit stop, screamed the usual crap, on a serious high. Looked around, no one there. It was kinda funny. After I came to my sences I looked over and saw Philip over in the car. Time check done. Gave me a coffee which I gladly took as I rambled on about my run. A few mins later, the CNOC car pulls in.
Seamus, been Seamus, jumps out and begins telling Niall, "I told ya, didn't I tell ya, I knew he'd be here". Needless to say the sambo they got me was delicious.
I got down from Lug to Fentons, the 7km in 26:03. My previous best was +28mins. A good day on the mountain by all accounts. A challenge at the record looks more likely year, after year.
The record will fall, eventually. Its only impossible until its done.
Stone Cross to Lug title back where it belongs, in CNOC hands
Map is located http://www.cnocmaps.totalh.com/show_map.php?user=c.hill&map=41