European Trial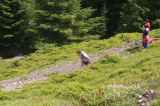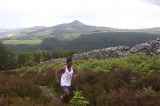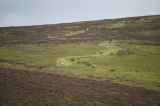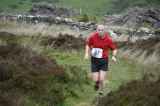 Authors
Rene Borg
21 June, 2011
MST report: http://www.mudsweatandtears.co.uk/2011/06/20/conroy-and-mccormack-win-irish-euro-trial/
Ian Conroy (Raheny) made good on his recent promising performances in the Irish hills, having won Powerscourt Uphill and run the fastest Leg 2 of the Wicklow Way Relay, to win the trial for the European Championships at Djouce Mountain…
Conroy hung on grimly behind Mark Ryan, who had surprisingly recovered from injury. The Rathfarnham man felt the pain late on the climb, however, and Conroy build a minute buffer by the time he summited in first.
Behind him Tom Hogan, Racing795, held third throughout most of the race, before dramatically losing out on third in an uphill sprint joust with Eoin Flynn who practically duplicated his effort from the World Trial 2010. With Brian McMahon pre-selected and training in Kenya it means the Wexford man will likely have to settle for first reserve.
The women's race also saw some late changes: Sarah McCormack who plies her running trade with Scottish hill running club Moorfoot and won the Ben Lomond race in early May had an excellent debut on her home soil to win with a minute six seconds on second-placed Michelle Finn. Sarah held off an early challenge from Emma Donlon to break away with Sarah Mulligan, DSD, as her nearest pursuant on the initial ascent in Crone Wood. The trio of Donlon, Helen White and Michelle Finn followed behind her as the field hit open mountain.
Here Michelle Finn worked her way into second. Sarah Mulligan held on to third nineteen seconds ahead of Aoife Joyce, Crusaders, who came through the field strongly to secure fourth. In the junior race Louise Hill-Stirling, Clonliffe, won the girl's race and James Egan, DSD, took the boy's.
European teams will be confirmed shortly by the Irish selectors. The top-2 runners in each race will automatically qualify and as the third and fourth-placed runners in the senior men and women's races met the criteria of finishing within 10% of the winner's time, selection will depend on previous performances in the 2010/2011 season in road, cross-country and hill running races.
Performances in the trial will also be considered when selecting the Irish team for the Snowdon International Race.
Rene Borg
20 June, 2011
IRISH CLUB CHAMPIONSHIP
MEN
1. GOLD - Rathfarnham WSAF 11 (2 Mark Ryan, 3 Eoin Flynn, 6 Brian Furey)
2. SILVER - Crusaders AC 41 (10 Richard Healy, 15 Amidou Dembele, 16 Jonathan Healy)
WOMEN
1. GOLD - Sportsworld 20 (5 Helen White, 6 Lucy Darcy, 9 Ciara Foster)
Gerry Brady
18 June, 2011
While many established mountain runners elected to miss the trial race, those who did run ran some excellent times on a day when the sun and the rain played games with each other as the runners wondered were they in for a soaking! As it happened, the sun largely won out and we had some excellent racing on a wet course.
First off were the senior women and junior races. Emma Donlon led the early pace even though she has been struggling recently with a knee injury. American born Scottish resident Sarah McCormack (Clonliffe) was competing in her first Irish mountain race. Sarah worked her way into the lead on the gully climb and never looked back to win in 34:56. Former junior international and runner up in the 2010 Irish steeplchase championships (beaten by .04 seconds), Michelle Finn (Duhallow) worked her way through the field for 2nd in 36:03. Sarah Mulligan (DSD) has been running well on the roads and cross-country and finished 3rd in a much faster time than her run over the same course last August in the trials for the World championships. Aoife Joyce (Crusaders) is improving with every race and her time of 36:55 indicates an improvement of around 90 seconds on her time in the longer Leinster League race over the same course in May. With Lucy Darcy (6th) and Ciara Foster (9th) Sportsworld won the team title.
James Egan (DSD) led the junior men from start to finish with James Griffin (St. Laurence O Toole) chasing him all the way. Scottish based runner Louise Hill-Stirling had a strong run over the junior womens course (see race report on that event page) ahead of Harriette Robinson (DSD). Louise has Irish parentage and will be making her debut for Ireland in the Europeans.
Mark Ryan (Rathfarnham) ran 67 minutes on leg 2 of the Wicklow Way in training around three weeks ago. Since then he has suffered with a hamstring injury and a fever. None of this stopped him from taking the lead from Ian Conroy (Raheny) in the middle section of the race. However Conroy was biding his time for the long climb to the finish and won in a fast time of 34:49. Tom Hogan (Racing 795) held third position for most of the race but Eoin Flynn (Rathfarnham) came through in a furious sprint for the line. Anyone who has raced up the final very steep climb to the summit of Djouce will know that this is one of the last places in Wicklow where you would want to have to sprint with a place on the Irish team at stake. Behind them Robert Malseed (Mayo AC) and Brian Furey (Rathfarnham) worked their way through the field on the final climb for fifth and sixth. This gave Rathfarnham the team title ahead of Crusaders. Roger Barrett (Ballina AC) ran very well for 8th place in his first ever mountain race.
Thanks to all of the volunteers at registration and at the three finishes. The teams for the Europeans and Snowdon will be announced shortly.