Powerscourt Ridge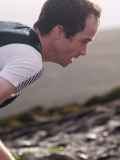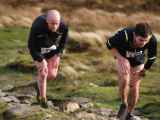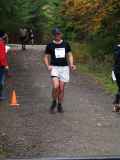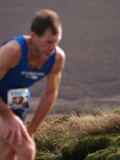 Authors
Turlough Conway
15 November, 2011
A beautiful morning continued to greet us in Crone wood for the annual AGM day Powerscourt ridge race. The concerns over the broken bridge and resultant river crossing leading to runners being swept over Powerscourt waterfall were lessened by a lack of recent heavy rainfall. Runners were greeted with an alternative crossing about 20m upstream of the bridge site and a helping hand from Hanny if needed.
Im in the early stages of marathon training but have good mileage in the bag and was expecting to last the going and finish fast. I might struggle with some of the climbs i reckoned as nearly all the training has been on the flat.
Vivian described the route, Brian listened eagerly the Irish champion betraying the signs of a man used to having no one to follow at the front of the field. Which wasnt a good sign.
My plan was keep it controlled until the river and take it from there.
Off we went, Mike Cunningham and Brian taking it up. Steady climbing and turning. As we flattenned out half a k before the Maulin ride i took it up and increased the pace. Figured it was better to keep the pace honest on sections where i was strong. After we turned i was quicjly passed by Mike climbing well. Mike was hard to work out. He had ran the Dublin marathon only two weeks earlier but was showing no signs of fatigue. Brian passed too..and i had to fight a little to keep third. As the climb steepened i passed Brian who was alternating walking and running. This was unusual for Brian and meant that he may not have that much hill work done. This was good news as although the climb was hurting me a little, i knew i could sustain it. I saw Mike meandering a little on his climb a little ahead and i tookm a direct climbing line into the lead. I crossed the fence quickly and kicked down the path quickly. I could hear a gap and pushed on. The climb up Maulin itself was hard. I kept pressure up but could never really crack a gap of more than 10 secs on my pursuers. Nearing the summit i saw my lace was opened and figured it best to tie it now rather than later! I cursed as Brian passed mid lace tie. Stupid mistake not tying them properly.
Off i went after him and regained the lead quickly on the descent. I felt that Brian was using the early part of the descent for recovery: a natural tactic but it encouraged me to think that i may have an advantage in long distance fitness later in the race.
Had a middling descent but it was painless and the strong legs from the marathon mileage seemed to benefit descending.
Hitting the river and passing Henny and a quick look behind tells me that Brian and Mike are in close attendance. Off up we go and Mike flys past. When is the marathon in his legs going to kick in to this man?
Brian followed suit. I wasnt too concerned as i knew that i could hold my own later in the climb. Brian sumitted Djouce about 10 secs ahead of Mike with me another 20 back. I was confident now and intended to attack and have a lead by the river. I descended well and was within 10 secs of Mike and 15 of Brian. I got it down to 5 before i lost concentration and fell forward. I didnt sustain an injury although it was a rib shaker and it took me a while to get up from the awkward position. I saw the lads dissapearing over the hill ahead where they would shortly pass the point wed turned off the WW to climb Djouce. I was a little shook but forced a relaxed fast pace as the view opened up down the WW i saw that MIke and Brian were having a fierce duel. The gap on me was large.
They were soon hard to distinguish against the climbing runners and i knew my challenge was probably over. Descending to the river i saw Brian with a small gap climbing the far side. Nearing the top of the climb myself i looked back to see ben Mooney being chased by a Posse. Any dilly dallying and id be sucked into that fight. Kept a strong pace. I eventually passed a female runner moving very swiftly. It was Dervil Devaney who had been leading the womans race only to sustain a very bloody cut that wouldnt stop bleeeding. She wisely turned back while climbing Djouce instead of running further away from help that looked like it may be needed.
I kept a strong pace till the end. Heard that Brian had kept his gap and suprised that the two guys had put 2 mins on me. I couldnt really see myself completing the course 2 mins quicker than i did so i was happier with my placing. Brian showed excellent racing tactics again and ominous that he can run 77 mins on that course while not in full mountain running fitness. Great performance by Mike 2 weeks after Dublin.
Well done to Jenny NcAuley on a good run in a very good time to take the female win. Good run by Zoe to take second and Denise Mathers in third.
I remember my first Mountain race was on this exact course in 2002. Robbie Bryson ran 70 mins something and Paul Nolan 72 something. Ive been 10 years getting from 90 mins to 80. Another 10 and the lads times will be dust. Even if that doesnt come to pass the decision to run that race in 2002 was a very very rewarding one. Roll on 2012!