Nav 1 Ow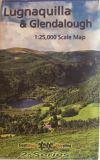 First race of the annual nav challenge league
Wicklow
Sunday 25 August, 2019
10:30
600
17.00
8 (2,3,3) - Moderate Terrain, >500M ascent, >10Km
- Route not marked
No
Navigational Challenge
Short course and Long course routes are available. Short course approx 10k and Long course approx 17km route choice depending. The route is completely unmarked. Those taking on the long course need to be capable navigators as you will be on rough open mountain. The short course will be more straight forward with controls on tracks/trails and will require the ability to read and follow a map but less navigational experience.
The race start and finish point is at Aughavanagh Bridge,GR T055 861. ***Please note** The Half Ironman Dun Laoghaire is on the same day** The cycle route travels from Dun Laoghaire, Kilternan, through Enniskerry, Roundwood and on to the Sally Gap Road** If traveling on the M11/N11 consider Rathnew, Rathdrum, Greenan, Glenmalure, Aughavanagh as an alternative route from the previous Roundwood, Laragh, Glenmalure, Aughavanagh mentioned before. Please give yourself plenty of time to get to the start of the race. If traveling from the city centre the N81 is probably a quicker option.
The Nav Challenge is an navigation race where competitors use a map to find checkpoints.

The Nav. Challenges are returning to the earlier version where runners provide their own map for the event. The map recommended for this event is the East West Lugnacuilla & Glendalough 1:25,000 series (2018 version). The laminated option is great (please refer to the forum page for information regarding map purchase over the coming days).

A list of six figure grid references and control site descriptions will be given out at the start of the race. To make the race as inclusive as possible 5 minutes later a master map may be inspected for those wanting to ensure they have transcribed the grid references correctly. You will not be allowed to take a photo on your phone of the master map! You will also be given a card to punch at each control found at the allocated grid reference points.

Registration will open at 9.15am and close at 10.15am. There will be an early start for those who feel they need it. Please make yourself known to the RD if you wish to avail of this option. There will be race voucher or online pre-registration only at this event.

Mandetory Kit: Running Jacket with a hood, whistle, compass, relevant map for the area, mobile phone (for safety). You will also need to bring a pen/pencil/marker to mark your grid references on your map. (If you have the laminated version, a white board pen can be used and simply wiped off afterwards). Runners doing the long course should consider bringing some food and water.

**Please note there is no mobile phone reception at the start/finish area of the race so please know your race number and have proof of purchase of race vouchers if required as we will not have access to the IMRA website**

We are right beside the River Ow so bring your towel for a dip afterwards and all home baked goods welcome for post race nibbles!
At race finish
Volunteers (Non-Running)
You need to have done 2 non-running volunteer roles in a calendar year to qualify for end of year prize
Volunteers (Running)
Check with race director if they have a need for people volunteering and running. Race directors need a minimum number of people available throughout the race to make the race work so non-running volunteers are preferable. While it can be helpful, volunteering in a volunteer and race capacity does not count towards qualifying for end of year prize
Carpool