Ticknock Winter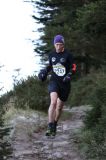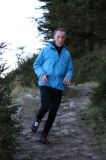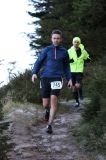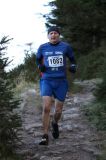 Authors
The Ticknock Tick Tock
01 March, 2020 - Brian Kitson
It can take over 100 hours to sharpen a Japanese katana sword. Many believe that the ancient katana were among the finest cutting weapons in military history. A prime katana is not just sharpened, it's polished to an edge that can cut right through a steel pipe. Like fine blades, it takes time to hone fitness levels to a sharp edge. I say this because following a number of relatively indolent months my fitness is less katana sword and more steel pipe. I hadn't planned on returning to mountain racing this early in the year but I love the trails around Ticknock and at just six kilometres I couldn't pass it by. 'Even lacking full fitness', I thought hopefully, 'I think I can manage a six kilometre race''. This, of course, was the beginning of my rude awakening.
But there was a snag. Outdoor events across Dublin were being cancelled due to weather warnings. Not because of actual weather, mind you, just the warnings. The IMRA forum hit peak traffic the night before the race. Some were hoping for news that the race would go ahead while others, who decided to cut their loses and go to the pub, hoped for just the opposite. Finally, a message appeared which went something like, "we start at 11am, home and hosed by 12.30, Armageddon weather arriving at 1pm. Bish, bash, bosh, we're racing". Top marks to our Race Director Peter O'Farrell and his Deputy Orla McEvoy for making the call to crack on.
Their common sense was rewarded with a cracking morning. Vivid and bright with a vigorous breeze that hit the face more like frigid water than wind. Myself and Warren Swords gave Angela Flynn and her daughter, Kate, a lift up the hill to the start and were greeted when we arrived by many familiar faces from the Leinster League. It was good to be back among them.
The start of the race represented the end of my bullishness. I put in a decent showing for the first 800 metres until the sharp climb through the old Wicklow Way forest section. Ben Mooney whizzed by reminding me that the rare victory I had over him last year most certainly did not represent a changing of the guard. John Buckley took off too and despite the effort still managed to look like someone from a Hugo Boss TV ad. The climb was a killer. I already found myself resisting the temptation to check my watch for the distance remaining. I fell in behind a couple of runners to make up the anchor in a triplet up the final hump.
At last the descent. I waited for the two runners ahead to kick on but they seemed to have settled into a rather stately groove. This was no time for grooves. A short section where the single track widened offered a brief opportunity to pass and I flew off down the hill. I managed to catch a few runners including John Buckley and Ben Mooney. I've only recently gotten to know John, he's a quality mountain man and I figured he'd give chase. Myself and Ben duelled plenty last summer so was certain he would.
Mountain running is a straight-forward concept. You run up the hill and then run back down again. Except, of course, when you don't. Like at Ticknock. Maxed out on the steep technical descent, I looked forward to seeing the finish mats which were surely only metres away. No harm in checking the watch though just to make sure and was horrified to see my distance so far. Only 3.9km. Surely a technical error? How could it be that I was about to boink just 4km into a 6km race? Like someone in an old movie I felt like tapping the screen of my watch and holding it to my ear to listen for a ticking noise. But Garmins don't tick. I was still flying down the hill but my leaps and bounds over tree stumps and roots were growing noticeably less spritely. I finally arrived at the fire road section and the end was near. Unbelievably, my watch said there was still a mile to go. The end was nigh. The fire road levelled off and then began to rise. I eased off out of necessity rather than strategy. 1.2km still to go and now climbing again. Bloody hell. By then I was looking at my watch so often I must have looked like a man waiting for a bus which was appropriate because I felt like I'd been hit by one too.
Then things got worse. As I write this report Storm Jorge is raging outside sending garden furniture and trampolines flying past my window. But nothing flew past me like Mooney did as I struggled through the soggy section. I was almost walking by then and pointlessly checked my watch again. All cognitive functions had shut down and I'd forgotten what the watch said before my brain had the chance to process it. I was on back-up generators and if the finish line didn't come soon it would be lights out. I heard the sound of footsteps rapidly approaching from behind. It could only be Samurai Buckley on a quest to put me to the sword. I could almost feel his well-groomed goatee on the back of my neck. Thankfully, fortunately, miraculously I managed to pass the line a couple of seconds before he passed me.
Six kilometres? Sometimes the shortest races feel like the longest. Time to get sharpening that katana again.
IMRA races are all about heart and the guy with one of the biggest hearts I know of would have loved the race at Ticknock if he could have made it. Instead, Caoimhin MacMaolain was recovering from having open heart surgery earlier in the week. You were missed, pal, but we look forward to seeing you back amongst us soon enough.
Peter O'Farrell
01 March, 2020
Great report there Brian and super photos Gareth.
Many thanks to Conor O'Farrell and all the other helpers behind the scenes for getting the results up.
The winter league is a funny beast, much like the 29th February it sits awkwardly in the calendar.
There didn't appear to be any traditional ladies with a burning question to ask so we just set the race off on time and got off the mountain in good time. The short length of the course helped with that and the weather in the afternoon was as forecast.
The two F14 juniors hopefully had a good time, enjoying both their course and their nutritional chocolate bars afterwards. The 3 marshalls and 1 finish line volunteer dedicated to their course also got chocolate.
If you have the time I would wholly recommend volunteering as Race Director for a weekend event, it's very interesting seeing it all come together in the days beforehand and the volunteers do all the work!