Kilmac Running Festival - Sugarloaf - Djouce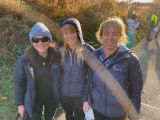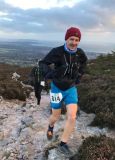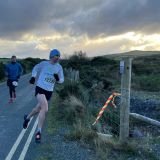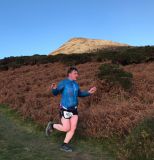 Authors
Sartorial Errors
29 November, 2021 - James H Cahill
Needed to test my endurance and resilience with DWMRT Run the Line last week before committing to signing up for the Sugarloaf - Djouce race. Suffering level only reached 9.9 on the naught to ten scale during the Run the Line Race and I felt the remaining 0.1 gave me plenty of leeway and capacity to take on the Sugarloaf - Djouce Combo.
Having run relatively little over the past few years and accumulated many extra kg's courtesy of COVID Lockdown (reads in reality as too much sitting around stuffing my face!), completion seemed to be a reasonable and possibly even achievable target.
A nice early start and super-efficient well organised registration completed at 08:00am, gave me plenty of time to contemplate the weather forecast, which was cold and windy with -14 degrees' wind chill predicted for atop Djouce. Convinced that my additional adipose tissue would offer warmth and protection required I opted for shorts!
Proceeded down to the start at the beginning of the locally funded and constructed Sugarloaf way. Our illustrious race director and out and back Wicklow Way Completer, Graham Bush gave some introductory, and probably important, instructions which I couldn't hear as I was too far away in my position at the very back of the field.
Promptly at 08:30 am we were off with a nice uphill to the shoulder of Djouce. I clung to last place grimly but there was some significant competition for that spot and I found myself moving up the field a few places. At the base of the Sugar Loaf Mick Hanney directed us up the steep climb to the top of the Sugarloaf. Not having read the route directions correctly I thought we were skirting the Sugarloaf (perhaps there was a hint in the name of the race. It wasn't "Shoulder of Sugarloaf – Djouce" race). Anyway up I went and down the steep rocky descent. Utilising my unstoppable momentum (thank you COVID Kilos) combined with a brains off, brakes off approach, and my patented "falling down a mountain" technique led to a few more places and before I knew where I was I was on the Red Lane heading to the crossing to the Commons.
Andy Hanney was on duty with his trusty camera to take photos as we headed across to the Commons (always useful for the Mountain rescue search as "last known position and photo of……")
Crossing the commons and then the Upper Calary road into the Djouce Carpark led to a lovely forest descent before picking up the upper fire trail to the dry lake. The fireroad awaited and a couple more places were picked up, more by luck than by design. Then on to the stile and the ascent of Djouce.
As I ascended to the shoulder and Wicklow Way Marker the leaders of the race were starting their descent, and Mikey Fry announced his exhaustion as he passed! Mikey was being genuine in his exhaustion as he then reported a lot of hiking most of the way home!
Up Djouce and another place gained. The -14 degrees forecast didn't come to pass and it was balmy almost Mediterranean -11 degrees with strong gusty winds. I now deeply regretted my sartorial choices……..it was bloody freezing.
A reasonably uneventful descent utilising the unstoppable momentum (thank you again COVID Kilos) combined with a brains off, brakes off approach, my patented "falling down a mountain" technique previously mentioned now added to by the thought "I cannot feel my legs any more and I think a finger may have a fallen off, I need to get off this mountain quick", led to a bit of distance between myself and the runners behind.
However, all was soon lost with what is commonly and technically referred to as a "pearler" of a fall on the ice on the track rounding Djouce. A scraped knee, cut leg, bruised shoulder and shattered ego, led to a very tentative skirting of the remainder of Djouce. Worst of all John McCann (a long time adversary) passed me, shortly followed by two others. This was all now most unpleasant.
I did get to see John jousting for position with the two other runners, all the way back to Djouce car park where Joe Lalor was marshalling. Joe merrily told a lady with a dog there was mountain race on, and he was just waiting for the last of the stragglers at this point. My already shattered ego was now trodden on!
Keeping John and his new running compatriots in close sight, brought me back to Andy Hanney who announced he thought I might even make the finish!
As I approached the gate to the Sugarloaf I was passed by a gleeful and way too energetic Stephen Brennan. Who knew that passing me was the joyful equivalent of a lottery win……..but there you are!
Stephen then passed John and his compatriots whilst I shuffled along in rear. A lovely and occasionally steep descent, with no places gained and none lost, led back to the road to the GAA pitch and the welcome finish line. Burgers and coke awaited with a Wicklow Way Mug for good measure.
What a great route, great fun and great day out. Some of it was even type 1 fun (fun at the time).
Won my age category comfortably (I was the solitary M55 entry, but hey you can only race against who shows up on the day).
Thank you IMRA for a great season in difficult circumstances. Roll on booster vaccines, pi, rho, sigma, tau, upsilon or whatever COVID variants these strange times throw at us, you can't keep IMRA down!
Wrecked ….
27 November, 2021 - Mikey Fry
So have to say well done to everyone on Graham's team of amazing troopers what a good number of races folding around each other boom and we're off up the sugar loaf way my first long race so I have to take it easy so loads of chats with all the guys around a couple of horses tried joining in on are race and I was tempted to jump on tayto and lash around the coarse up and around finally were at the bottom of the loaf up and over and down nice and quickly getting into jointed first with Gavin had some nice chats but on the road pace was getting bit too fast for me so good few lads pasted me through the common's Pete passes me little chats past jo down nice steep descent sharp left he slowly gets away I just take my time past the dry lakes and that stinky fire road Horrible for me Brian comes by and others eventually past viv up djouce slowly and down again some ice I skidded on up again very tired at this stage back down towards viv my knee starts the classic little niggle I struggle down I grab some barbed wire cut my hand it's all going so well make it to dry lakes knee sore walk up hill Mike tells my not far to jo I run 5feet then I'm walking pretty brutal to be honest get to jo water jelly's saved my life but not my knee I literally struggled walking most of the way back with nearly everybody passing me out even John bell doing the 5tops passes me that's it on to finish line phew finished at last lots of food coke and nice chats….will I be back maybe with a bit of prep work for the 5 tops ….thanks again everyone who made it happen….completely wrecked….mikey out with nice orange jacket thanks Imra:))