Wicklow Way Relay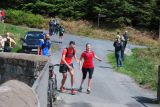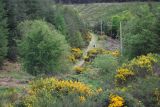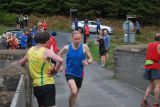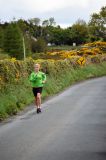 Authors
Leg 7 for UCDO
21 May, 2016 - Laurence Quinn
This was going to be tough after injuries limiting my training recently but I was looking forward to it. We were in a great position, 4th but it looked like the gap to crusader's would be too much. Still there were many teams nearby so placings were up for grabs. Aonghus told me to keep it easy for the first half on the changeover. I went off at a steady pace. I was happy with how I was moving up the first climb but it did drag on. Then over the top of the hill and a few nice downhill kilometers followed.
I took a bit of water from Crusaders manager around 10km, I was through there in around 41. This was two minutes quicker than Rene Borg in 2009 who finished in 93 so my aim of 90 was on the cards. I had used his run on Strava to decide time markers to hit while running. Jason Kehoe also told me around here that I had a 3:30 gap behind me, nice to know as I had seen the runner behind me start just over a minute behind.
I kept moving well enough. I dropped a few seconds backtracking to check a junction but there was no WW sign so I followed where I had originally chosen and it was right. Got to the ford not long after that for some more water, this time from the team.
It was around here I was feeling tired. Even though I had kept it steady the distance was getting to me. My recent weekly mileage has been in the range of 30-40km and I could tell. I was slow up the climb but I was moving. It flattened out but with that I was very flat myself. I was crashing a little, craving sugar. But I kept it moving, with a bit of walking, for the next two uphill k's.
Mangan's wood suddenly came into view, thank god, I needed some downhill. It was pretty dark and rocky here. I checked behind me a bit as I was worried of being caught after slowing down. The downhill came and I tried to move as best as I could but I wasn't going to recover from a sugar low and was slow. The gate climbing was a killer.
But it wasn't long before the road came into view and I was on it. I checked the watch a lot, almost every 100m, as I counted down the distance left. The last uphill kilometre was very tough and the rain started to poor down. I was barely moving but I was moving. I then saw my parents and picked up the pace a bit and I managed a smile when I saw the changeover.
I didn't get to do a recce of the leg but was pretty confident throughout as I had done a good bit of research, mostly from Rene's Strava route from 2009 and his race reports on the leg. How fitting then that I would finally end up running a time only 2 seconds different to his!
Started off in 4th and finished my leg in 4th, so I was happy with that. On Strava it's disappointing but expected to see how much I dropped off the pace I was running at. In general I was happy with the run, I should have expected to crash a little after the last few weeks of training. My speed was good and re-initiating a small bit of consistent training again would sort out the stamina issue.
I was glad to see the gap behind was large enough and it looked like Aoife wouldn't be caught. She was running really well when we passed her. Actually the last runner for Crusader's got lost and we were able to take 3rd place which was awesome. Well done team, great runs from all!
Thank you to all the volunteers, especially Rene and Jason. This was my second year running in the relay. It's a really nice team race. The bad weather that was forecasted even stayed away for the most part. It's only when you're making the long drive back to Dublin from Shillelagh that you realised the enormity of the day's effort!