Annagh Hill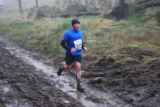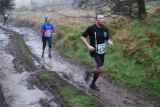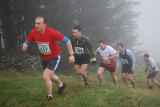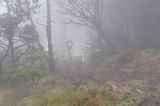 Authors
Kevin O'Riordan
14 February, 2012
Report from Jason Reid:
*************************
The first thing we saw when we climbed out of the bus outside the race
registration was the 'the wall'. This was the name aptly given to the
'face' of Annagh Hill which, on this day, rose forebodingly up into
the clouds. There would be no messing around with switch-backs or fire
roads here: we would have to follow a rustic stone wall directly up
the side of Annagh hill.
After a seamless registration process and a briefing from Race
Director, Paul Joyce, the race kicked off at a pace that hinted at the
trepidation of the leading runners. After 800 metres we took a right
hand turn onto the side of the mountain and changed into a low gear
for the climb. Turlough Conway took to the front early on, with the
rest of the field close on his heels. By the time we reached the first
summit and negotiated the ditches at craters across the grassy ridge,
visibility was down to about 25 metres and I was chasing the shadows
of Turlough, Allan Kelly, and Eanna Cunnane in the mist ahead.
I lost sight of the lads as the route descended and turned right into
a forest. When I entered the forest I wasn't sure whether to cross
over the stone wall or to keep to the left of it. The markings
indicated a different route from what I had expected. I stopped to
assess my options and tentatively scouted down the wrong trail, before
Eoin Keith called me back and took off with Paul Tierney down what
turned out to be the correct path. I went after them, frustrated but
glad for the company. I didn't know it at the time, but just moments
earlier Allan and Eanna had taken a wrong turn at this junction.
Immediately I fell into a deep bog up to my thigh, went in with my
hands and then awkwardly attempted to 'race' back out of it. Paul
Joyce had warned us of three huge puddles on the latter section of the
course, but we weren't there yet. Apparently relative to other
hazards, this enormous mud-pool hadn't even warranted a mention.
The next section was a nasty muddy section through a partially felled
forest. Fancy footwork and intense concentration was required to plot
the optimal route around/or through the mud, over or under branches
and logs that blocked the track. Before long we reached the relative
sanctuary of a fire-road. Free at last to open up and inject some
pace. My road running instincts kicked in and I careered down the
trail around the back of the course in pursuit of the lads. I moved
ahead of Paul and Eoin as we hit the inclined switch-back fire-road
back towards the ridge. However, the nice firm gritted trail wasn't to
last. A few minutes later we were back on the boggy ridge. Eoin was
gone, but I was closely followed by Paul. Surprisingly we were still
climbing, back up towards the top of Annagh Hill. I knew it was going
to be a close contest.
Oh right… here are the big puddles. Well, at least they're puddles
(perhaps the term 'lake' would be more appropriate) rather than
mud-pools. The first two lakes passed by without trouble since we
could skirt around the edge. The third pool required commitment. It
feels wrong to run at pace into water, when you can't see what's
underneath the surface and wonder whether you might end up completely
submerged. But it was essential, so I accelerated into the water at
full speed, and became engulfed in what seemed like a wave of freezing
water. My lungs seized as if I'd just dived off the 40-foot pier on
Christmas Day.
Happily we reached the top of Annagh hill and took a hard left towards
home. Paul passed me out before the brow of the hill, and I sat in
behind him, ready to turn it up on the descent. This was the infamous
and treacherous descent known as 'Enduro Falls', where Eoin Keith took
a fall and broke his leg in a battle with Kevin Keane in last year's
inaugural running of the event. I could now fully appreciate the
potential for carnage on this hill. For those who weren't there:
imagine the jagged rocks and gradient of Croagh Patrick combined with
the mud of Powerscourt ridge. Nasty.
I was adamant that this race would not end my season before it has
even begun. My new pair of Inov8 Talon 212 held on exceptionally well
and the mud under the rocks meant that there was more give in the
surface, so Paul and I flew down the steep trail that wound right and
left towards the start finish line. Paul clipped his toe on a muddy
rock at one point and just about repeated history, but managed to stay
on his feet. This did nothing to sway his confidence, and I wasn't
able to overtake him on the jagged path. We reached the fire-road at
the bottom, I was a few metres behind him. I wasn't giving him an
inch, but neither was he. With 400 metres to go, I tried to draw on
last year's speed work to produce some sort of kick, but unfortunately
Paul also put the hammer down and all I managed was to hold ground and
follow him over the line.
Not the result I was hoping for, but nevertheless a satisfactory start
to the season.
Well done to Turlough Conway, who continued his run of form and
dominated the race from start to finish. A big thank you to Paul Joyce
and his team of volunteers, without whom this event wouldn't have
taken place. Thanks to Mick Hanney for the pics.
Warren Swords
14 February, 2012
A great day's racing. Conditions were muddy and sloppy so perfect for the descent.
My plan was to be up the front for the steep, hands on knees, climb and then hope to be dragged up it by the fast climbers.
Felt really good on the climb and settled behind Martin Francis and Dermot Murphy, both strong climbers. Martin beat at Howth with some v good pacing after I went too early.
Resisted the urge to push on as it was a long race and I made that mistake before.
Eventually popped out at the top in around 15th I'd say. The ridge was really sloppy and hard to find a rhythm with the uneven surface. The descent was a bit hairy as the grass was like a putting green, very slick. Made up two places here. One runner ahead of me disappeared into a puddle.
I'll run around that one so. It was at this point I felt a runner breathing down my neck. Held him off through the trees but he was v good technically and was gliding over the rocks and brashings.
Great to watch as he gained metres on me without making any extra effort. Kept him in sight though.
Onto the fire road and the long drag back up. Out of the mist I spotted a group of 3, including one guy who I have some good tussles with. This is why I don't wear bright clothing at an IMRA race. It's like a big shiny target and he stood out in the soup.
Started to reel them in as one got shelled out the back. Back toward the ridge and was feeling v tired. The group had broken up and I eventually caught up with one of them. He looked like he was on the verge of bonking. He's a v strong runner so sat behind him for a bit. The three big pools didn't help. Took a real effort to keep legs going.
Decided to risk it and increase speed to try and drop him after the pools. As I past he said mentioned he was starving and was struggling.
Onto the descent. Great fun. Could really attack it due to combination of mud and innov8s. Felt like you were dropping from the clouds. Spotted two lads up front and chased them down. I'm a decent descender and made up a huge amount of time relatively quickly. They looked to pick the wrong lines and were holding back.
Passed the two in one swoop on the second last descent and I knew the finish line was close.
However one of them came straight back at me on a small section of flat and surged past me. The last hill was fast and furious. 9km of hard running and it's down to a sprint. Balls.
Popped out of the forest and he's ahead by 5 metres. I see the finish line and go all out. Get onto his shoulder and slightly in front. He responds, I can't feel my legs. Finish line comes and he just pips me. What a race! Great running by Ciaran Aylward.
Check results and I'm in the top 10 for the first time. Didn't expect that. Knocked off around 5 mins from last year. Delighted. Still 5 mins behind the winner Turlough who had a savage race.
Pints afterwards to round off a great Sunday afternoon in winter. Organisation was superb, bus was great, even had a toilet on board for those who indulged in some pints afterwards.